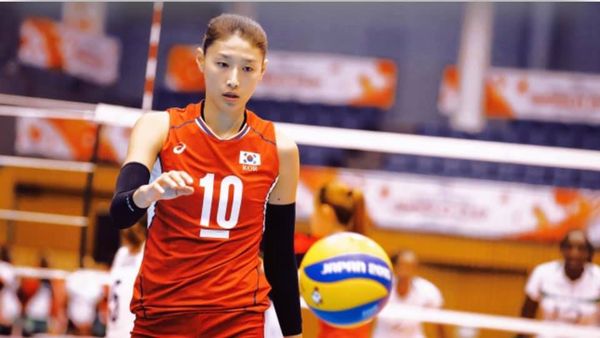 One of the hardest working players, her successes long heralded by all
"Love, trust, soul, passion, star, hope, effort, dream, respect and one and only," said South Korean volleyball superstar Kim Yeon Koung on the words that come to mind to describe her and what she has stood for in the last 10 years.
The one and only – a description which suits her to a T.
"The experiences of the past 10 years are like a beacon of light that guide my path. Being active on the national team and playing in prominent overseas leagues are not just the destination of my dreams, but rather the beginning of a new stage of my long journey.
"I've been breaking sweat harder and stronger than anyone else in the past 10 years. Those efforts will support me to face difficulties and it will be the beacon that guides me on dark roads."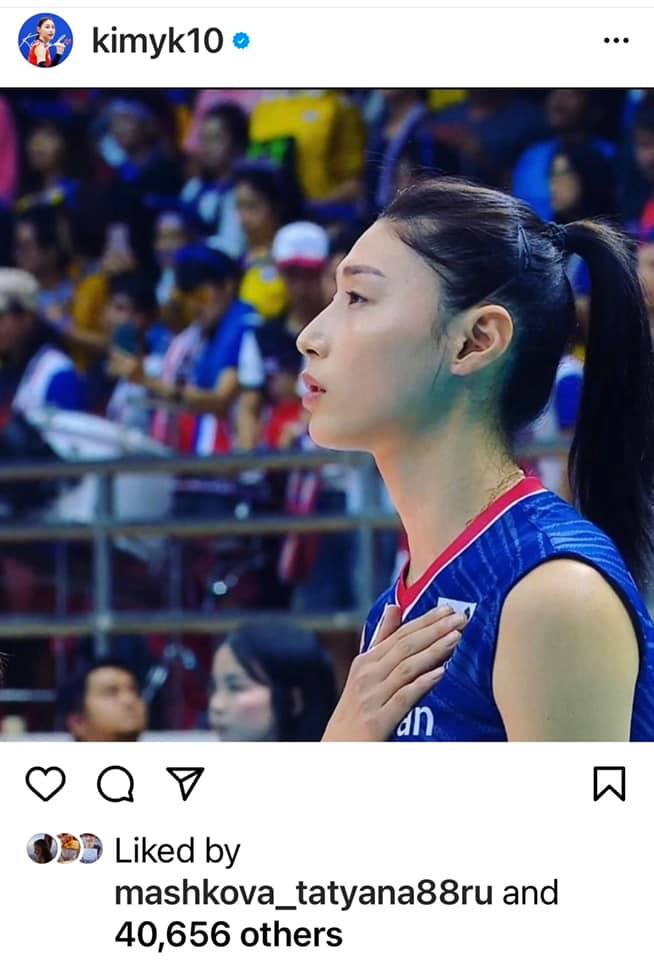 Kim has turned her hard work into great achievements. She has won five Asian Championship medals, three Asian Games medals, three FIVB Volleyball Club World Championship medals, a European Champions League title, and many individual awards. She has made two Olympic appearances so far and is awaiting her third stint at the quadrennial in 2021.
At age 32, Kim is still putting in solid work on the court, always on top of her game and leading her teammates.
"My best career achievement is to be at three consecutive Olympic Games. The Olympics is a dream stage for every athlete. To be able to reach that dream stage for the very first time and be in the semifinals were great achievements. I was not able to win a medal, but I was happy to get the best result for Korea since 1976. It was a great honour to be the MVP of the 2012 edition, which was a first in the history of Korean volleyball.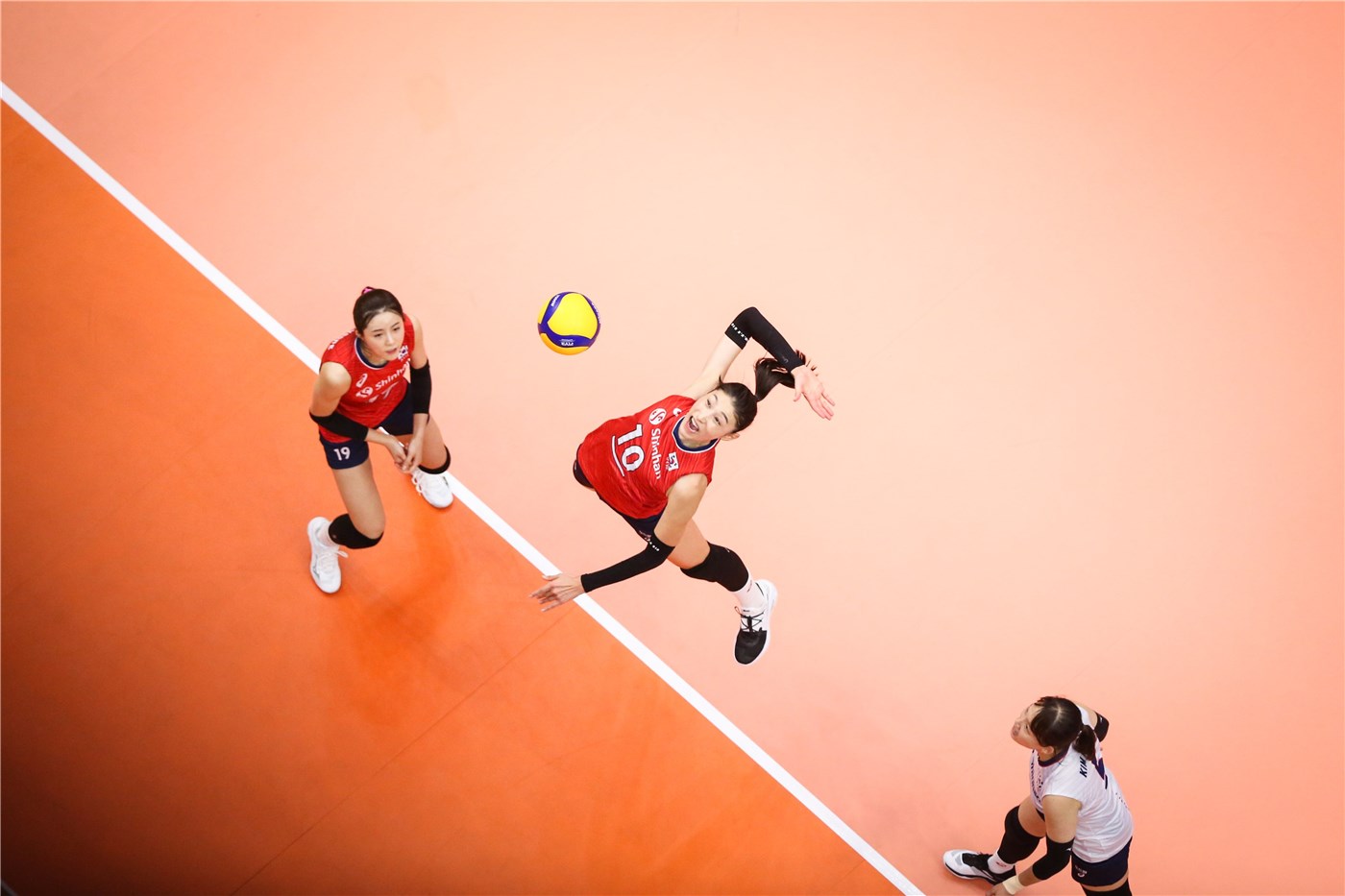 Kim Yeon Koung on the attack
"I remember the 2011-2012 Champions League, which was my first European league appearance. I was playing for Fenerbahce, which was considered a dream team because there were a lot of star players in the team and we also had a well-known coach. It was a great honour to work with these players and the team staff. We won the European Champions League title for the first time in the club's history and I was also the first player in the history of Asian volleyball to receive an MVP award in the Champions League."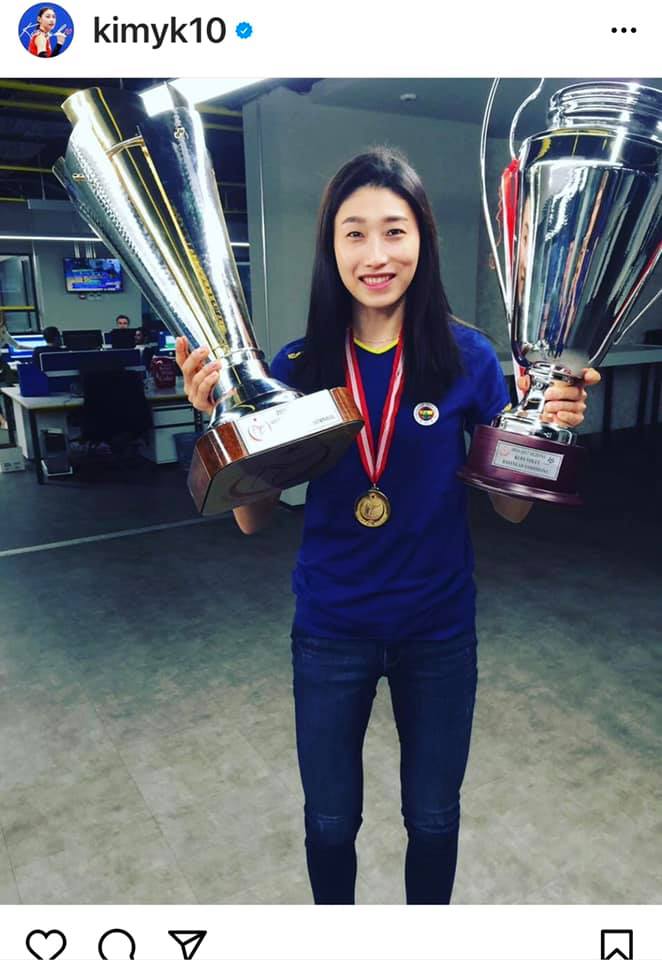 Kim did not just become an instant superstar at age 17. Her career started with a long build-up of when she put in a lot of hard work to get her to where she is today. She had 11 years of playing overseas, starting with her journey in Japan, followed by a couple of stints in Turkey and China. She has returned to Korea to play for Heungkuk Life Pink Spiders.
"I went through a lot in the last 11 years, from living alone in foreign countries to having communication difficulties, cultural differences and different lifestyles. I learned that everything was up to me and I had to endure and put in an effort to be able to achieve something.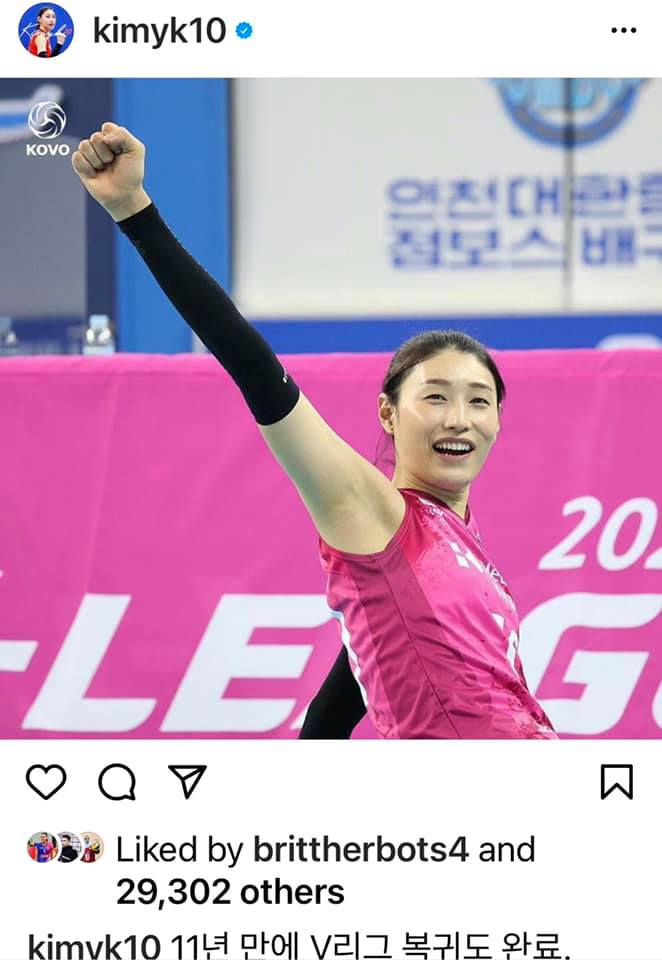 "During this long period, I gained a lot of experience and I became stronger physically and mentally. I also developed the will to win and the drive to become a better player.
"Anyone who dreams of achieving something must work hard and must keep trying even when things don't work out. Because that is the only way to get closer to achieving a dream."
New stars like Zhu Ting and Tijana Boskovic have emerged in the last five years, but Kim welcomes the healthy competition and respects them as stars in their own right.
"These two players (Zhu and Boskovic) have shown great performances based on their inherent talents. Even when they are doing well, they are not satisfied with the present and they try and train harder than anyone else.
"It's easy to say 'work hard and try hard', but it's really difficult to put this into action. Working hard and putting it into action is the greatest strength of these players, and that is why they are recognised as good players.
"They also have a strong sense of responsibility as main spikers of their respective national teams and clubs. They are in a position to score points and carry a lot of responsibility for their teams, as well as overcoming burdens in crucial moments. They are the ones who do these things very well and that makes them wonderful and strong players."
Related links of AVC
AVC Website: click www.asianvolleyball.net
AVC Facebook: click www.Facebook.com/AsianVolleyballConfederation
AVC Twitter: click: https://twitter.com/avcvolley
AVC Instagram: click: https://www.instagram.com/avcvolley/?hl=en
AVC Youtube: click: Asian Volleyball Confederation
AVC WeChat: Asian Volleyball Confederation