Nakhon Pathom, Thailand, August 11, 2022 – Formidable Korea survived a huge scare from Japan to stop the rivals' winning streak in hard-fought five-set thriller 25-18, 27-25, 26-28, 21-25, 15-13 in their round of last eight teams in Pool E at the Nakhon Pathom Provincial Gymnasium on Thursday.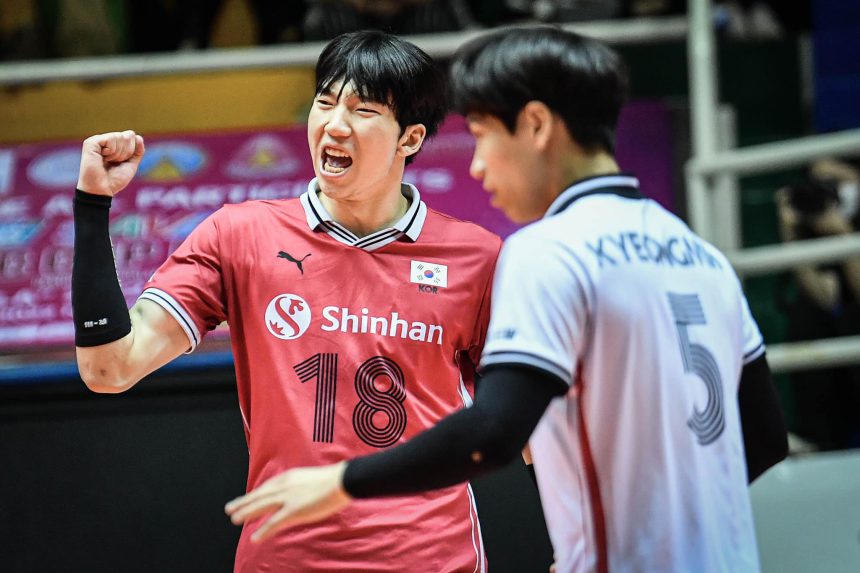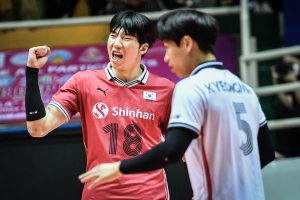 Playing in front of their faithful fans, both teams played an attack right from the very beginning of the first set. Scoring machine Heo Subong, who registered a sensational game-high 33 points in their match against Australia at the recent FIVB Challenger Cup in Seoul, and Lim Sungjin methodically tore the Japanese defence apart with their spectacular attacks to take an early 16-14 lead.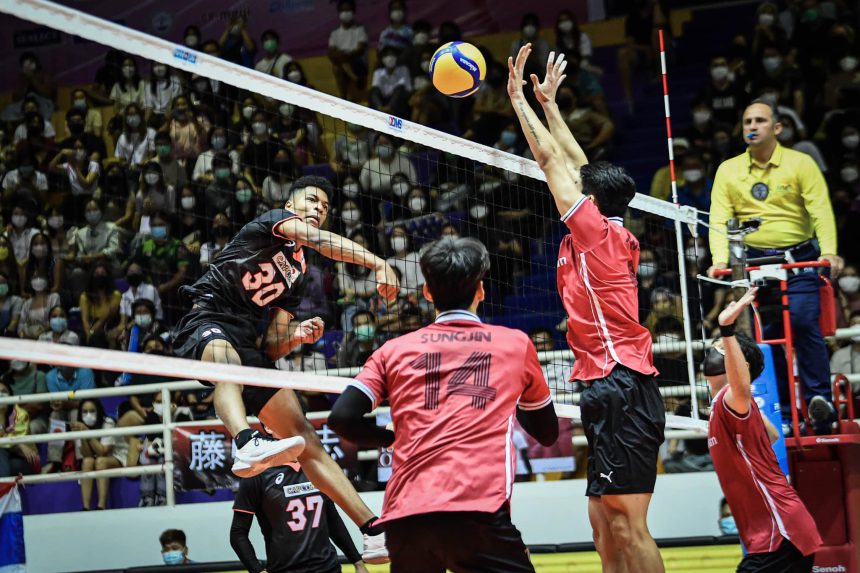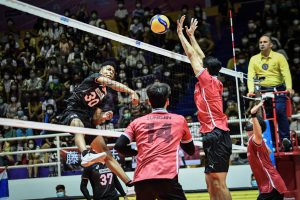 Hoping for the brighter fashion, Japan clawed their way back into game, with star spiker Otake Issei firing aggressive attacks. Still, the Koreans performed impenetrable defence, allowing the Japanese scoring difficulty. Na Gyeongbok and Choi Minho solidly blocked Otake and Heo Subong hammered thundering off-the-block attacks to gain back-to-back points to help Korea stretch it to 22-15 and stormed on with that brilliant form to win the thrilling set 25-18.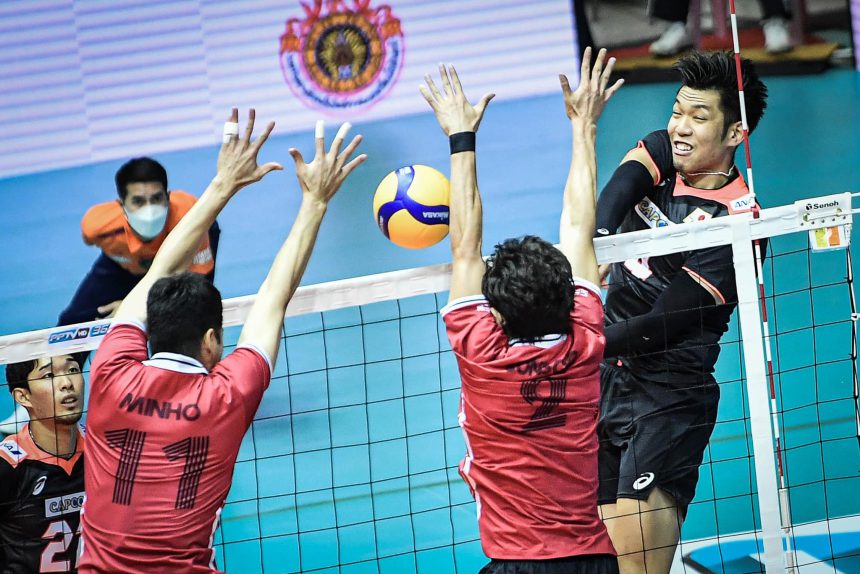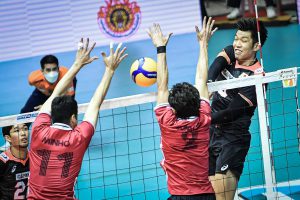 The second set turned out to be a hotly-contested battle. Korea took the lead with a three-point advantage at 4-1 and widened it to 8-5, thanks largely to Subong's exceptional performance. Shortly after that, Japan upped their tempo and gradually their defensive work started to bear fruits. They had too much power with Tomita Shoma a constant thorn in the Korean defence with his explosive attacks at the net.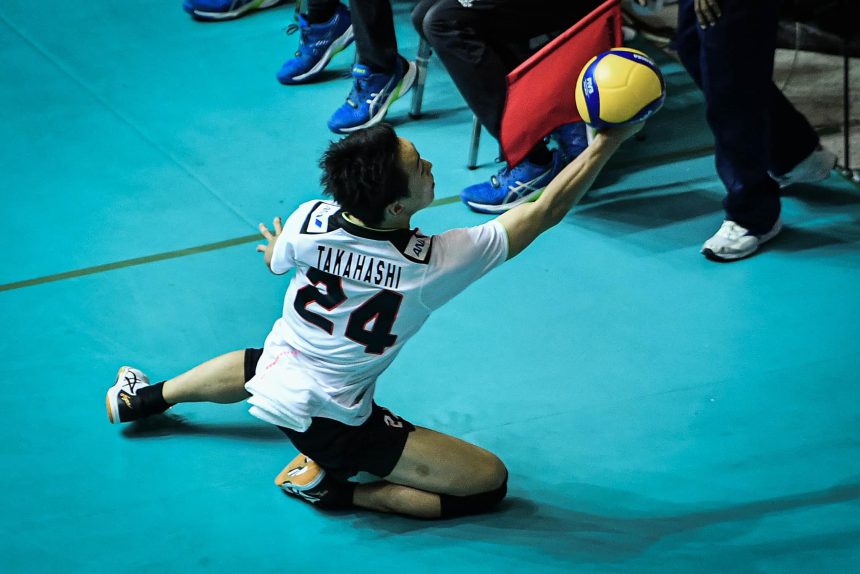 Japan played more consistently with combinations and scintillating blocks to catch the strong oppositions at 22-22, but Korea did not give up easily. They attacked heavily and blocked solidly to fight Japan neck and neck. Levelling 25-25, Lim Sungjin landed a spectacular attack to the back court to move Korea ahead 26-25 and the Koreans jumped for joy after seeing a spike from Ozawa Hiroki go wide.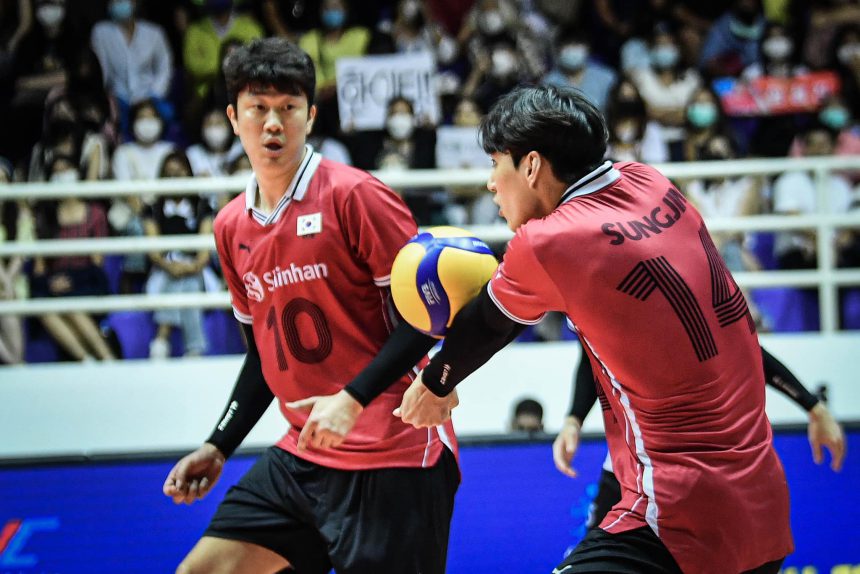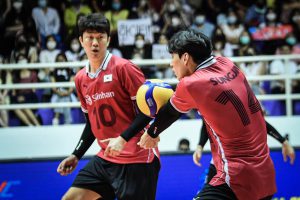 Holding 2-0 advantage, the Koreans remained in awesome form in the third set. They gained the upper hand initially to lead 12-7 and widened the margin to 21-17, thanks to the mighty attacks from Heo Subong and Na Gyeongbok.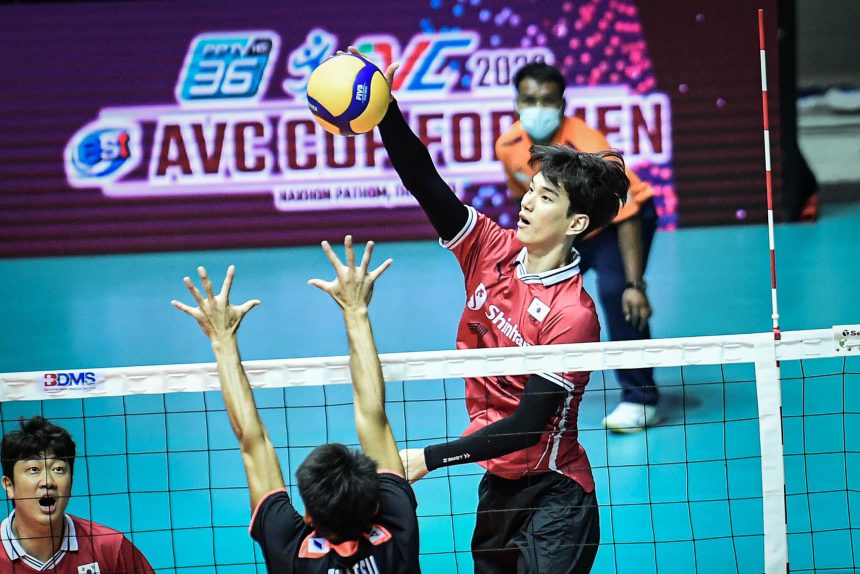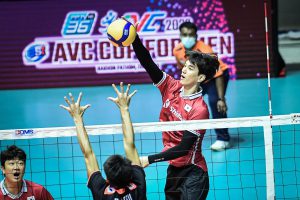 However, Japan did not surrender easily. Tomita Shoma brilliantly orchestrated the team's offence whenever he was in play and shaking the opponents' reception from the serving line. Japan were well in control shortly. After trailing five points at 18-23, the Japanese gradually pulled their game together to reduce the gap 21-24.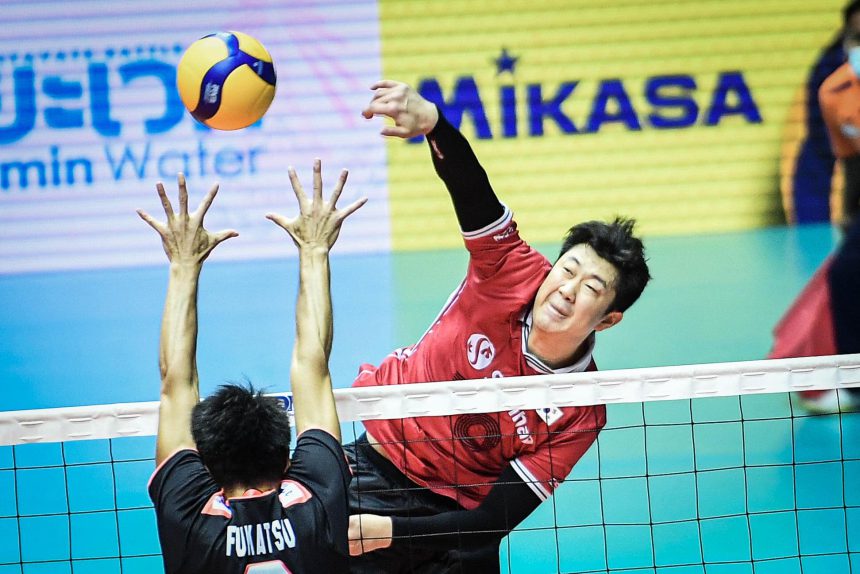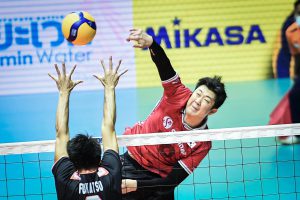 As Korea badly needed one more point to capture the set and match, they just let the third set win slip through their fingers. Japan turned the tables on Korea, putting the pressure on them with four points in a row, catching the strong rivals at 24-24 and surged ahead 25-24. From then, both sides gave everything to win the set. Japan fared better at the final stretch to win it 28-26.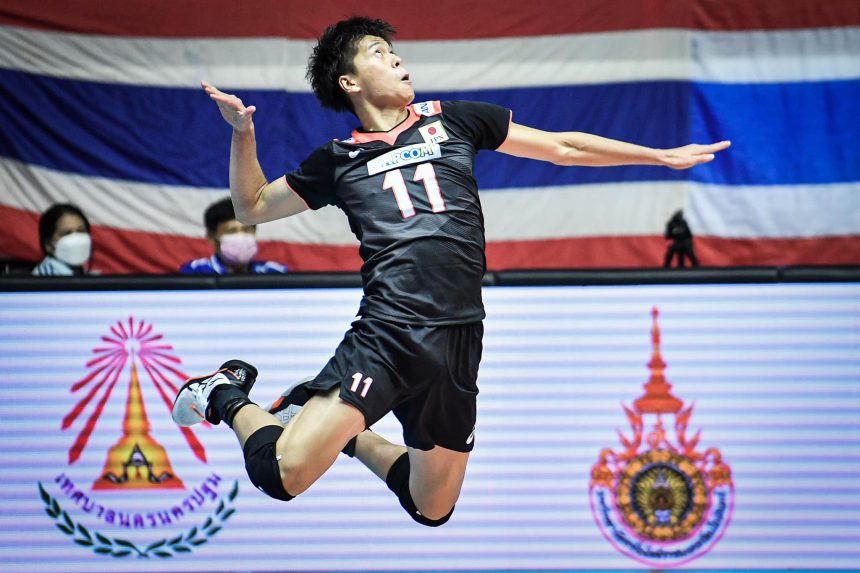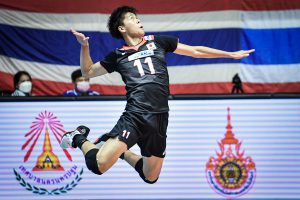 The rhythm was with Japan in the fourth set as they led 5-3. Korea replaced Heo Subong with Im Donghyeok and he did not let the team down. Coupled well with Na Gyeongbok and Choi Minho in finding the gap in the Japanese court, Im Donghyeok attacked devastatingly to help the team catch up with the Japanese at 18-18. However, inspired by a successful comeback, Japan gave it everything they had and their more determination was handsomely rewarded as they stormed on to win the set 25-21, forcing a tie-break to determine the eventual winners.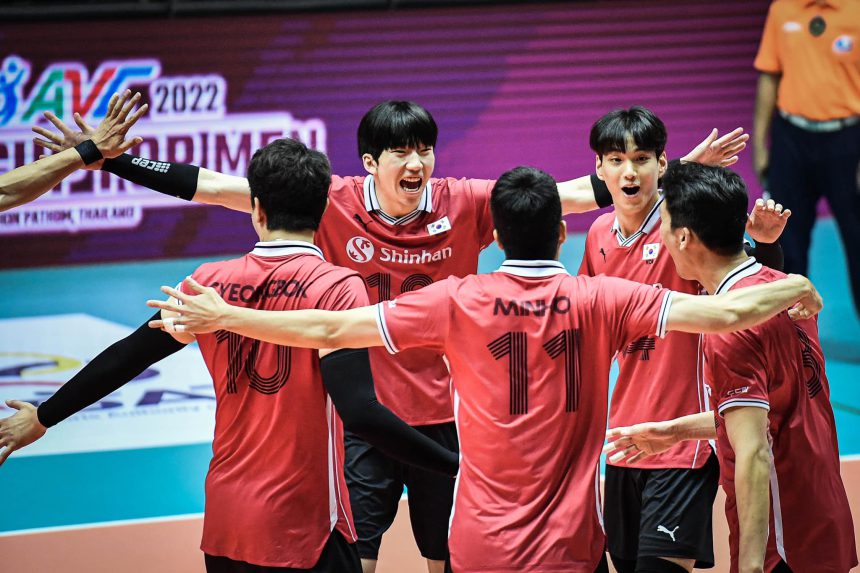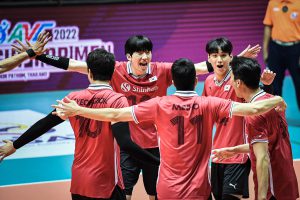 The decider remained a tense battle, with both sides trading attacks and blocks. With Heo Subong overpowering the smaller blockers with his attacks, Korea took a two-point lead at 12-10 before Japan struck back to narrow the gap 12-13. Lim Sungjin produced a dazzling off-the-block attack to move Korea ahead 14-12, but the Japanese saved one set point when a serve from Lim Sungjin went wide. Korea head coach Im Do Hun asked for a timeout and after getting back to the court, Na Gyeongbok erased all Japan's hopes for a comeback after he produced a soft touch off the block. Korea sealed the thrilling 15-13 and match.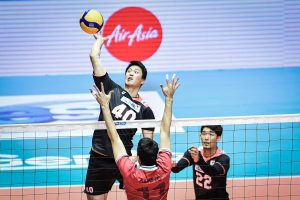 Na Geongbok scored a match-high 21 points for Korea, while Heo Subong added another 20 points. Tomita Shoma led Japan with 19 points, with Otake Issei and Namba Takahiro adding 16 and 13 points respectively.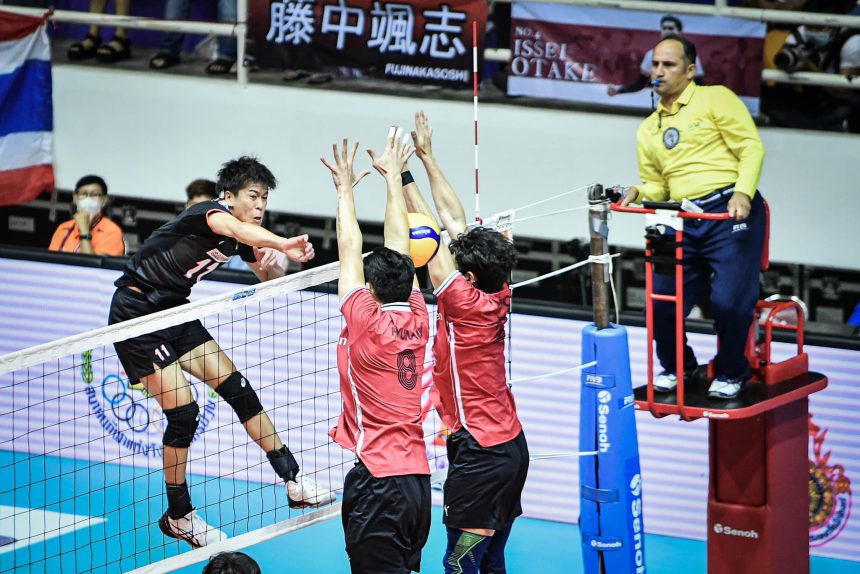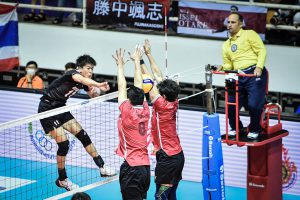 "I admit that Korea are a strong team with great performance in this match. However, what we have to do is we forget this loss and try to do our best in our next match against Thailand," Japan's star spiker Otake Issei said after the match.
Related links of AVC
AVC Website: click www.asianvolleyball.net
AVC Facebook: click www.Facebook.com/AsianVolleyballConfederation
AVC Twitter: click: www.twitter.com/AsianVolleyball
AVC Instagram: click: https://www.instagram.com/avcvolley/?hl=en
AVC Youtube: click: Asian Volleyball Confederation
AVC WeChat: Asian Volleyball Confederation