Lausanne, Switzerland, October 3, 2020 – "Lebanon will be back. In our 5000-year history, Beirut was destroyed and was rebuilt seven times. The city will rise again. It will remain resilient because of its people who will never give up on their country," says 17-year old Joseph Mounir Chahine on the blast that sent a destructive shockwave through the capital city on August 4.
Chahine was not in Beirut at the time of the explosion, but he felt its painful effect on his compatriots.
"Beirut is located in the middle of Lebanon and I live in the north. I was fortunate to be far from the incident, but as a Lebanese citizen, I felt very sad for the people of Beirut. One of my friends became blind in one eye because of the blast. Seeing the massive destruction in the capital hurts a lot.
"Lebanon was already suffering before the explosion happened. And volleyball was affected as there were no championships being organised because of the political, economic and health situations.
"I hope Lebanese volleyball will be back soon because we have talented players and we have a great future. Volleyball in Lebanon is more and more popular and a lot of people are now getting into the sport. I hope volleyball will have a big comeback at the end of these crises."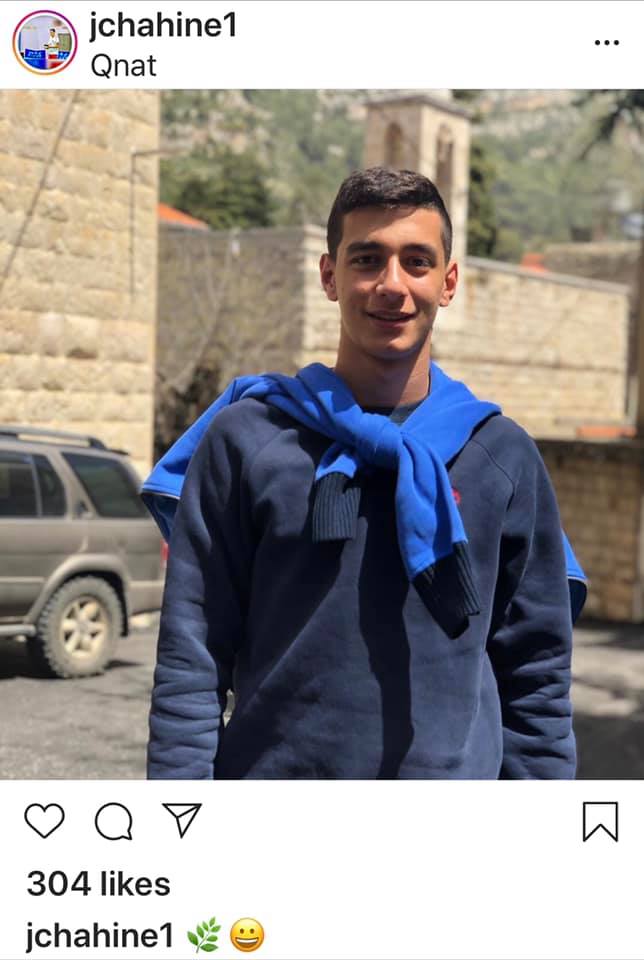 Chahine started by playing football but the volleyball genes kicked in when he was 13. The transition to volleyball was straightforward as his grandfather, his father and his uncle all played the sport.
"I started when I was 13 years old. I played volleyball with my dad who was a former national team player. He was the one who developed my love for the game. I would go with him to the court and watch him play with his friends. I fell in love with volleyball and learned about all its intricate details.
"I joined my hometown club CRS Qnat. My grandfather founded the club and my father and uncle also played there. I joined the club's volleyball academy, but at first I was not making much progress in learning the basics and didn't play much in my first year.
"When the club hired a new coach, however, he worked a lot on developing individual skills and taught us the basics. At that point, we had dreams of winning the Lebanese youth championship. In order to fulfil that dream, I started working on myself every day. My father helped me too by bringing in a private coach.
"I was 14 when I got the chance to play competitively after hours of training during the summer. I wasn't a starter, but played a lot and continued training hard until I played the third year as a starting player in the youth squad.
Chahine started as a receiver but did not always enjoy playing in that position. "I wanted to be a middle blocker," he says, even if his father and coaches thought it would be better for him to play in position 4. "I chose to follow what was on my mind and that was to play in the middle position. It helped take my game to a new level.
"I trained as a middle blocker for two months before the national championship started again, and my coach allowed me to play that position for the first time in my life. I had a good performance in my very first match as a middle blocker and ranked as one of the best players in the championship.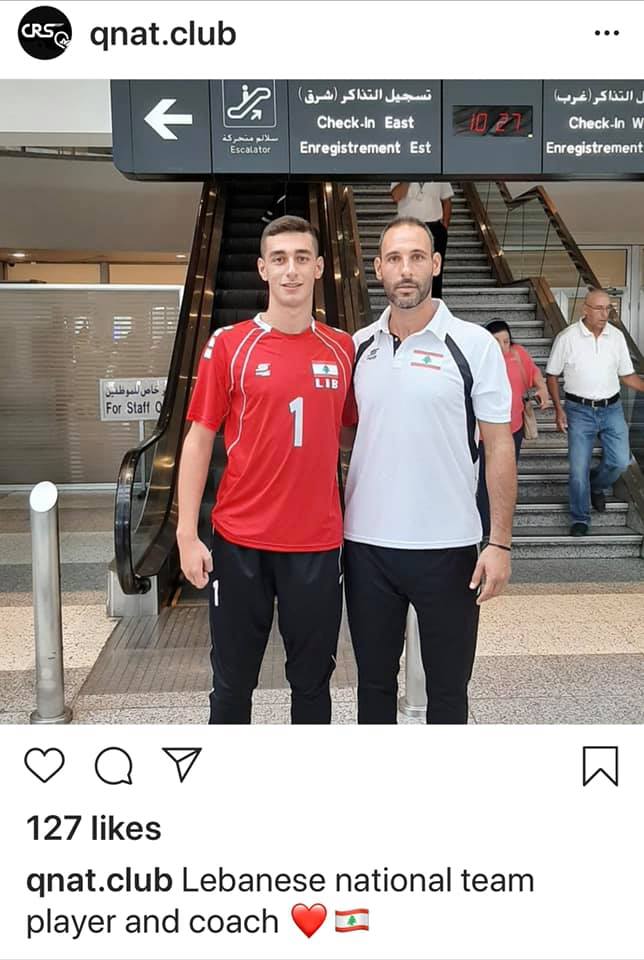 "Confidence and playing from the heart to win the championship were key. We succeeded in that and won the U18 national league against a team that had seven national team players and eventually won the U21 national championship.
"After that, I was selected for the U18 national team, where I made my biggest progress as a middle blocker. At age 15, I was the youngest player in the team and soon became the youngest player starting in a first division team in the national league.
"Everyone thought a 15-year-old would not be successful in playing first division, but I had faith in myself and had nothing to lose. My first match was in front of a full house against champions Speedball Chekka, but I managed to handle the pressure and played well.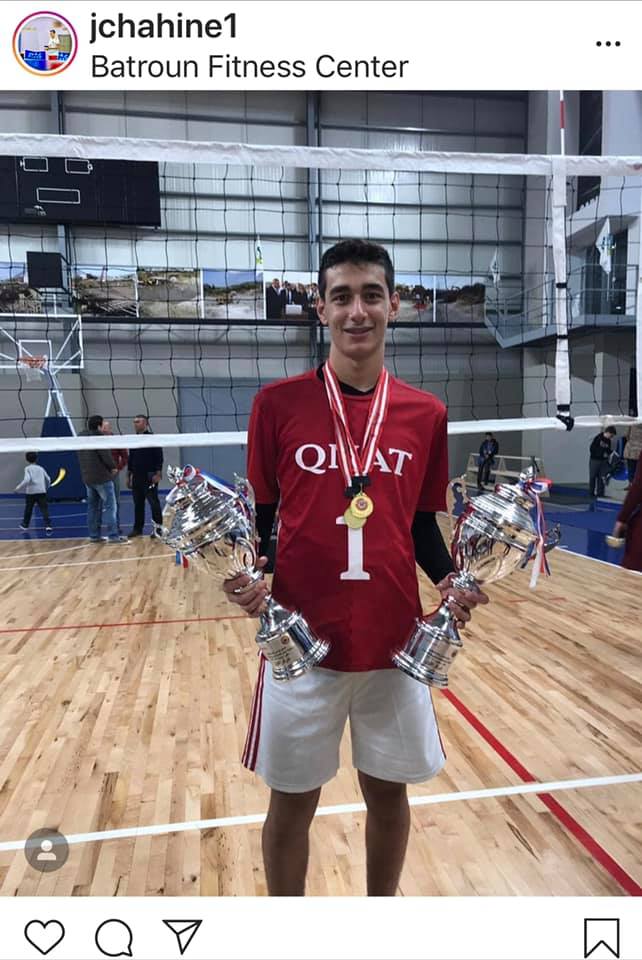 Chahine went on to represent Lebanon at the Arab Championships, when he ranked as the team's top blocker and the third best blocker in the tournament. And he achieved this all in the span of just four years. He is still young, and knows his studies are also important.
"I study hard and I dream of pursuing a career in the medical field. I got good grades in school and this is my first year at university studying medicine splitting my time between volleyball and school so I can work on both well.
"The most important thing is to be positive and to work hard and have faith. A person who is nobody can turn into somebody if that person is hard working."
Chahine has a bright future ahead of him. But for now, he likes to explore and learn things about volleyball. And in the future, he hopes he will be able to make his mark as one of his country's top talents in the sport.
"I played beach volleyball to learn new things that I can't learn in indoor volleyball, especially as a middle blocker. It was an opportunity to learn a lot of techniques which have helped me to become more mature on the court.
"A dream is to win a championship with my nation. We played only one international tournament this year. We enjoyed it a lot because it was a new experience, but we had to cut a beautiful experience short because of the pandemic."
Chahine looks up to Adam Khoury, who is one of the best middle blockers in the country. But his eyes light up when he sees Iran setter and captain Saeid Marouf on television.
"Watching Lebanese middle blocker Adam Khoury is great. It motivates me as a young player.
"In international volleyball, I also enjoy watching Saeid Marouf create his magic. I love his style and his genius sets. It would be a dream to play with such a legendary setter.
"He likes to play the middle a lot with Seyed (Mousavi). He has created a new level of setting and has played like no other setter has done before. I could watch him all day because of his combination plays with middles. His teammates play better because of him."
Related links of AVC
AVC Website: click www.asianvolleyball.net
AVC Facebook: click www.Facebook.com/AsianVolleyballConfederation
AVC Twitter: click: https://twitter.com/avcvolley
AVC Instagram: click: https://www.instagram.com/avcvolley/?hl=en
AVC Youtube: click: Asian Volleyball Confederation
AVC WeChat: Asian Volleyball Confederation