Credit: Sze Lai Cedric Chung
Chiba, Japan, September 15, 2021 – The 21st Asian Senior Men's Volleyball Championship and COVID-19 were never going to be compatible when it comes to controlling an infectious disease is to limit the contact people have with one another. Referees officiating at this topflight competition in Japan are no exception
The 21st Asian Senior Men's Volleyball Championship is taking place in Chiba and Funabashi, Japan from September 12 to 19, 2021, serving as the Asian qualifying tournament for the 2022 FIVB Volleyball Men's World Championship in Russia between August 26 and September 11, 2022. Only the top two teams will take the tickets for next year's world tournament.
All the international referees must stay in the secure bubble (Organizational Quarantine), that is, hotel and competition hall while they needed to take COVID-19 test every day and to avoid contact with other participants. Unusual arrangement is applied on the court for keeping social distance and prevention of COVID-19, which face-mask is compulsory referees interact with team-members. Also, extra sterilization on team separate chairs (no benches), playing floor and the net during set-intervals.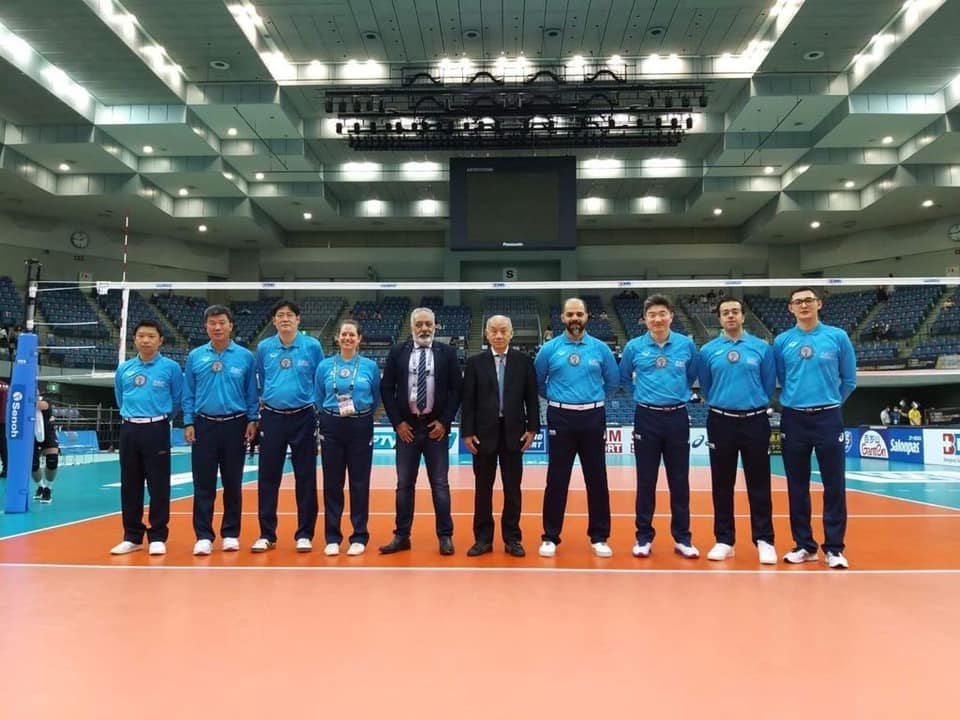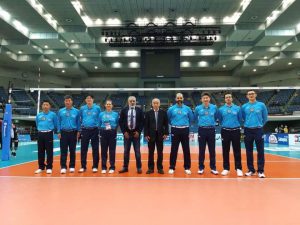 Referee Delegate Takashi Shimoyama (JPN), fifth from right, poses for a group photo with referees officiating at the Chiba Port Arena, the main competition hall, in the 21st Asian Senior Men's Volleyball Championship in Japan. From left to right: Ken Nakayama (JPN), Lai Chun Cheng (TPE), Luo Wenshen (CHN), Carla Hoorweg (AUS), Referee Sub-Committee Mohammad Shahmiri (IRI), Shimoyama, Hani Sannan (KSA), Jae-Hyo Choi (KOR), Abbas Ahmad (KUW) and Aidos Akhmetov (KAZ).
Referee Cedric Chung from Hong Kong considered even though JVA as well as AVC were facing huge challenge under the COVID-19, they had tried their best to hold the Championship in responsible way.
"AVC and JVA have been doing a lot to make the championship being a safe and pleasant environment for all the participants to enjoy volleyball. Referees can also concentrate on the officiating as the organizer and AVC provide extra support and care towards teams as well as referees on Hygiene protocol." he said.
After separation from their delegation, all international referees were divided into two groups, with Referee subcommittee members, checked the facilities and equipment of each venue, especially the updated e-score system, referees' communication devices (head-sets) together with the video challenge system during the refereeing clinics in Chiba Port Arena as well as Funabashi Arena. The experienced referees shared their practice wisdom on using the technology with their fellow referees on-site.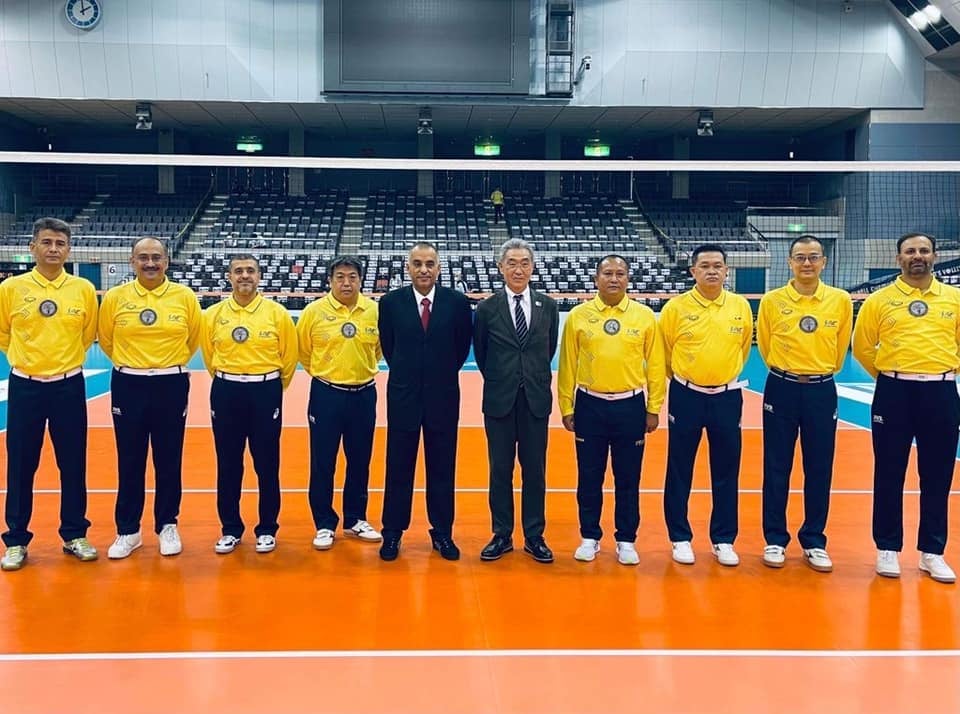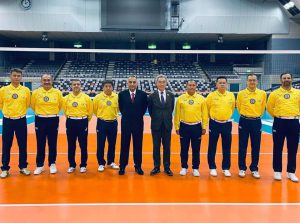 Referee Sub-Committee Shigeru Koshiba (JPN), fifth from right, poses for a group photo with referees officiating at the Funabashi Arena, the second hall, in the 21st Asian Senior Men's Volleyball Championship in Japan. From left to right: Davood Naffey (IRI), Fahad Ismail (QAT), Muneer Maki Ali Juma (BRN), Shingo Yamamoto (JPN), Referee Sub-Committee Ibrahim Al Naama (QAT), Koshiba, Romeo Singh (IND), Jirasak Pumduang (THA), Sze Lai Cedric Chung (HKG) and Ubaidullah Shah (PAK).
Having completed the preliminary round, all the referees came together in the rest day to have face-to-face meeting with referee subcommittee members in order to prepare the second and final rounds of the championship which the teams should be closer. During the referee meeting, technical issues in match officiating were thoroughly discussed for better decision and accurate judgment. Furthermore, questions from referees as well as suggestions from referee subcommittee members were clearly shared.
The 17 accompanying referees, including those top referees who joined the previous FIVB World Championships, have been nominated by AVC to officiate at the tournament under the guidance of Referee Delegate Mr. Takashi Shimoyama from Japan, with Referee subcommittee members Mr. Ibrahim Al Naama from Qatar, Mr. Mohammad Shahmiri from Iran and Mr. Shigeru Koshiba from Japan.
Referee List is as follows:
Ms. Carla HOORWEG (AUS)
Mr. Muneer Maki ALI JUMA (BRN)
Mr. Wenshen LUO (CHN)
Mr. Sze Lai Cedric CHUNG (HKG)
Mr. Davood NAFEEY (IRI)
Mr. Romeo SINGH (IND)
Mr. Shingo YAMAMOTO (JPN)
Mr. Aidos AKHMETOV (KAZ)
Mr. Jae-Hyo CHOI (KOR)
Mr. Hani SANNAN (KSA)
Mr. Abbas AHMAD (KUW)
Mr. Ubaidullah SHAH (PAK)
Mr. Fahad ISMAIL (QAT)
Mr. Jirasak PUMDUANG (THA)
Mr. Lai Chun CHENG (TPE)
Mr. Ken NAKAYAMA (JPN) for UBZ
Ms. Yuka KITAMURA (JPN)
Related links of AVC
AVC Website: click www.asianvolleyball.net
AVC Facebook: click www.Facebook.com/AsianVolleyballConfederation
AVC Twitter: click: www.twitter.com/AsianVolleyball
AVC Instagram: click: https://www.instagram.com/avcvolley/?hl=en
AVC Youtube: click: Asian Volleyball Confederation
AVC WeChat: Asian Volleyball Confederation