By Marie Louise Principe
Chiba, Japan, September 14, 2021 –The Preliminary Round of the 21st Asian Senior Men's Volleyball Championship concluded on Tuesday with hosts Japan, Iran, Chinese Taipei and Australia topping their respective pools.
Pool A in Chiba Port Arena
Japan finished the Preliminary Round – Pool A without dropping a single set.
The home team completed their sweep after winning 3-0 (25-15, 25-15, 25-18) against India.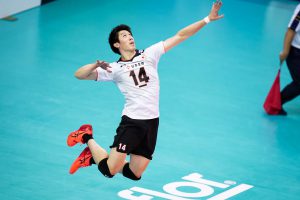 The main event at the main competition hall welcomed cheered on Japan's captain Yuki Ishikawa, as he played once again after recovering from an injury. He posted a total of 18 points, from 13 attacks, 3 aces and 2 blocks.
"I'm satisfied with tonight's result. I'm happy to play well in my opening match of this tournament. I think our performance tonight made us feeling more confident to play next coming matches," said Ishikawa.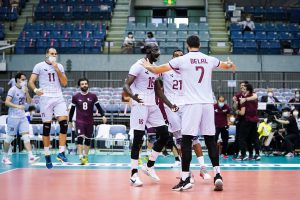 Earlier, Qatar captured their second win in three matches, as they served a straight-sets match on Bahrain (25-19, 25-20, 26-24). Youseef Oughlaf scored 15 points in the victory, which brings Qatar to the second spot in Pool A.
Pool B in Chiba Port Arena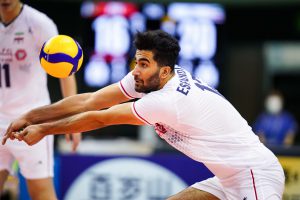 Iran will get a good chance at title defense as they emerged on top of Pool B, after taking a 3-0 match (25-20, 25-19, 25-15) against Pakistan. The titleholders led on all scoring fronts, posting 46 attacks, 8 blocks, and 5 service aces.
Iran swept all their matches in the Preliminary Round without dropping a set, and will progress as one of the top eight teams to continue their title contention.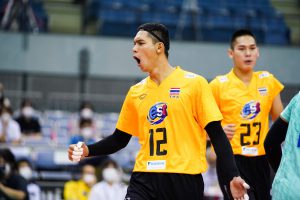 Thailand took their first win after a 3-1 match (25-22, 17-25, 29-27, 25-18) against Hong Kong, China. Buaket Chaipipat proved to be the scoring sparkplug, igniting with 25 points in Tuesday afternoon's victory at the main competition hall.
Pool C in Funabashi Arena
Australia stormed past a two-set deficit to force the tie-break win (25-27, 20-25, 25-21, 28-26, 15-12) against China on Tuesday evening.
Edgar Thomas tallied 27 points (25 attacks and 2 aces) to help the Volleyroos gain the top spot in Pool C.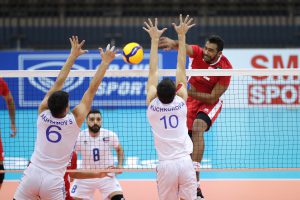 Kuwait went for their first win with a 3-1 match (29-27, 16-25, 25-21, 25-21) against Uzbekistan. Key performances came from captain Mansour Abdullah (18 points) and Almutawa Abdulrahma (14 points).
Pool D in Funabashi Arena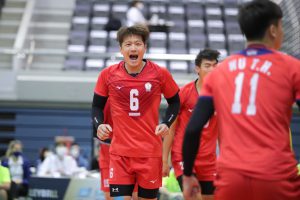 Chinese Taipei claimed the top spot in Pool D after taking a 3-1 win (23-25, 25-21, 25-20, 25-21) against Korea. Wu Tsung-Hsuan and Chang Yu-Sheng combined for 46 points in the victory, while Korea's chief scorer Han Kukmin led all with 31 markers.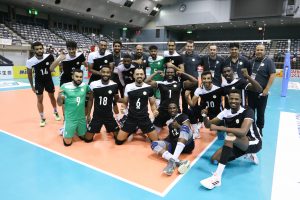 Saudi Arabia completed Pool D with a 3-0 win (25-23, 25-21, 25-23) over Kazakhstan. The straight-sets victory places Saudi Arabia in the third spot of the pool.
The 16 teams head for a rest and recovery day on Wednesday, as matches resume on Thursday.
The top eight teams, as defined after the Preliminary Round, will cross over and convene into Pool E and Pool F, in order to determine the contenders for the Semifinals matches on Saturday, September 18.
The remaining teams will be grouped into Pool G and Pool H as the classification pathway for the 9th to 16th places.
The champion and vice-champion, to be determined in the Finals on Sunday, will directly qualify for the 2022 FIVB Volleyball Men's World Championship in Russia.
September 16, 2021 Schedule (local times)
Pool E in Chiba Port Arena
Qatar – Australia 12:00
Japan – China 18:00
Pool F in Chiba Port Arena
Pakistan – Chinese Taipei 09:30
Iran – Korea 15:00
Pool G in Funabashi Arena
India – Kuwait 12:30
Bahrain – Uzbekistan 15:00
Pool H in Funabashi Arena
Thailand – Kazakhstan 10:00
Hong Kong – Saudi Arabia 17:30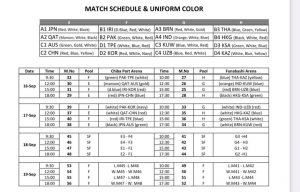 Related links of AVC
AVC Website: click www.asianvolleyball.net
AVC Facebook: click www.Facebook.com/AsianVolleyballConfederation
AVC Twitter: click: www.twitter.com/AsianVolleyball
AVC Instagram: click: https://www.instagram.com/avcvolley/?hl=en
AVC Youtube: click: Asian Volleyball Confederation
AVC WeChat: Asian Volleyball Confederation