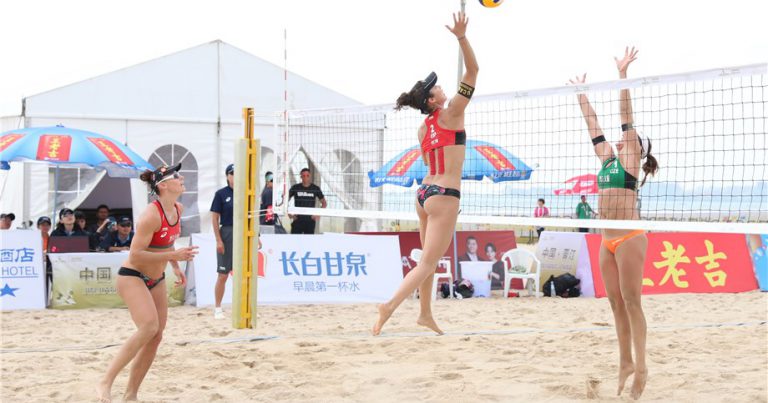 Jinjiang, China, May 24, 2019 – Spain's Liliana Fernández Steiner and Elsa Baquerizo McMillan top the pool by defeating number one seeds Barbara Hermannova and Marketa Slukova at the FIVB Beach Volleyball World Tour Jinjiang 2019.
Spain's Liliana/Elsa secured a second round spot by overcoming Jinjiang top seeds Hermannova/Slukova, 2-0 (21-18, 21-19). In the fourth meeting between the two teams, Liliana/Elsa knew they were capable of the win, defeating Hermannova/Slukova during the 2016 Rio Olympic Games in pool play.
"We knew it was going to be tough because they are number one in the tournament and they are playing great last season and this season. I think we did a good job, we were pretty constant and that maybe made the difference, so we're very happy," said Elsa.
"It was tough, they were serving on me and I struggled a little bit in some points of the game but I think we went through it, we fought for the game and we really got it," said Liliana.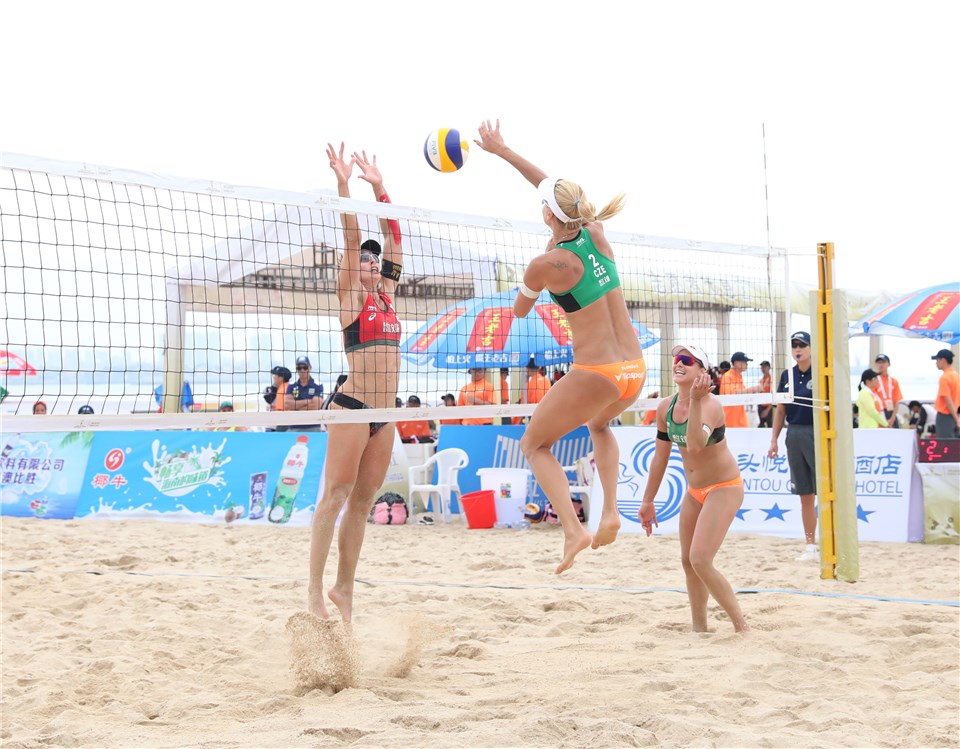 Liliana & Elsa are one of the few long-term pairs on tour that have stuck together throughout their career, which began in 2007 at the Junior World Championships where they reached the final four. Their only break came in 2017, when Liliana took the year off to have a baby.
"I became a mom and I been losing points so it was tough because we were on qualification and the list comes out 20 days before, so we were like qualification, qualification, qualification. We were making good results and this year finally we are again in main draw and we want to keep that and reach again the medals like before," said Liliana.
Liliana/Elsa's last time on the podium came before their break in 2016 at the Long Beach Grand Slam where they earned silver.
"I think we are growing again as a team because it was all starting over again in a way and I think it's very important that we win against these great teams. They are very constant, they're always in the top so I think that means something for us and it means that we can also be there or at least try. And we're getting there, we still have to try and maintain our level in all the matches and all the points and we still have a lot of things to work on, but the win is important for us," said Elsa.
Brazil continue their dominating form in Jinjiang with three teams topping their pools in Agatha Bednarczuk/Eduarda Santos Lisboaa, Maria Antonelli/Carolina Solberg Salgado and Ana Patricia Silva Ramos/Rebecca Cavalcanti Barbosa Silva.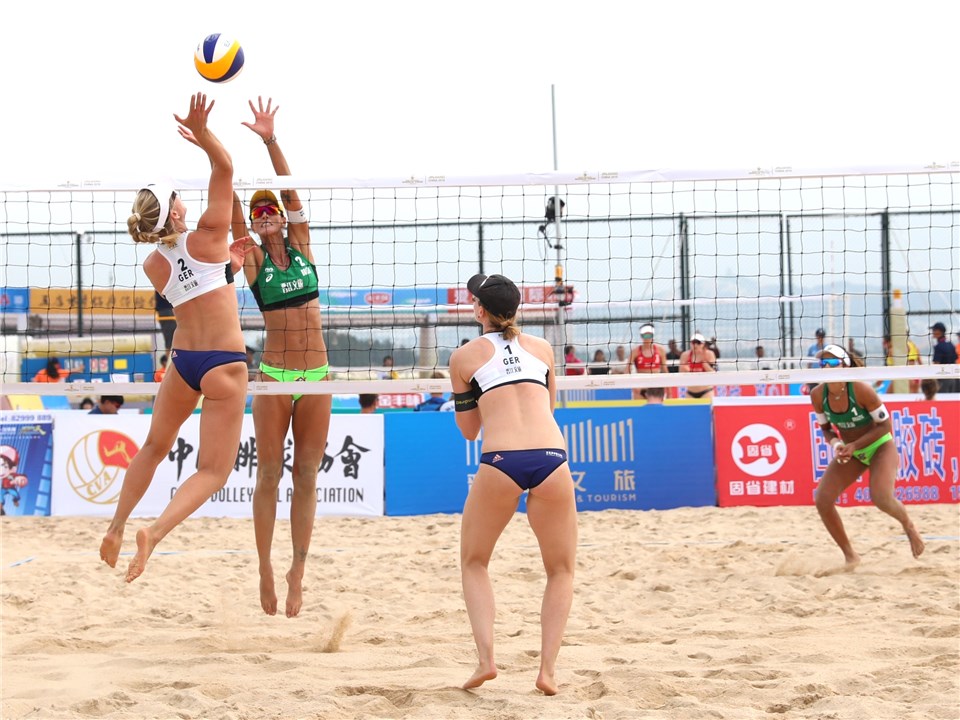 Talita Da Rocha Antunes/Taiana Lima also progress after beating Dutch pair Joy Stubbe and Marleen Ramond-van Iersel in the first round of qualification, 2-0 (25-23, 21-18). They are joined by Barbara Seixas De Freitas/Fernanda Alves who are through after defeating Joana Heidrich/Anouk Vergé-Dépré, 2-1 (16-21, 21-12, 15-13).Karla Borger and Julia Sude where the ones to beat Barbara/Fernanda to the top of the pool, 2-1 (18-21, 25-23, 15-12).  Also for Germany, Laura Ludwig and Margareta Kozuch held on in their first round match to secure the win over Japan's Megumi Murakami and Miki Koshikawa, 2-1 (19-21, 21-18, 15-13). USA also sees two teams winning their pool with Brooke Sweat/Kerri Walsh Jennings and Sara Hughes/Summer Ross. Betsi Flint/Emily Day faced Kelly Claes/Sarah Sponcil in the first round single elimination with Claes/Sponcil progressing into the final sixteen, 2-0 (21-17, 21-17).
Related links of AVC
AVC Website: click www.asianvolleyball.net
AVC Facebook: click www.Facebook.com/AsianVolleyballConfederation
AVC Twitter: click: https://twitter.com/avcvolley
AVC Instagram: click: https://www.instagram.com/avcvolley/?hl=en
AVC Youtube: click: Asian Volleyball Confederation
AVC WeChat: Asian Volleyball Confederation