Quang Ninh, Vietnam, May 13, 2022 – Philippines and hosts Vietnam registered their first wins at the 31st Southeast Asian Games Volleyball Tournament at Quang Ninh Gymnasium on Friday, as reigning men's champions Indonesia cruised to straight-set victory against embattled Myanmar.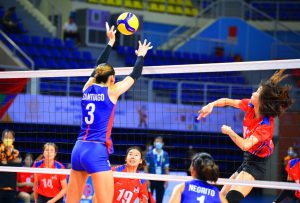 In-form Philippines brushed off gallant Malaysia 3-0 (25-14, 25-20, 25-15)
Philippines, former six-time SEA Games winners who came to the 31st edition in Vietnam with their high hopes of ending a 17-year medal drought since they last claimed bronze medal in 2005 on home soil, got off to a flying start with a pulsating straight-set win in 67 minutes.
The Filipinas were strong with the likes of the 195cm-tall Alyja Daphne Santiago, who played professionally with Saitama Ageo Medics Club in Japanese V.League, hard-attacking, left-hander Myelene Paat and ace spiker Alyssa Valdez, while Malaysia were spearheaded by Danesh Mathivanan and Kong Wai Kit.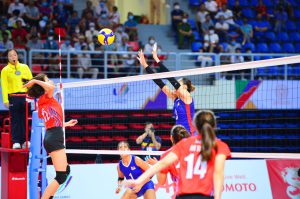 The opening set turned out to be one-way traffic as the Philippines came all-out to clinch the comfortable set 25-14. They still gained the upper hand to race to an early 8-1 lead in the second set, but Malaysia recovered from a slow start to catch the tough rivals at 12-12.
The determined Malaysians upped their tempo to surge ahead 17-14, seizing the chance when the Philippines became more prone with unforced mistakes. However, their good show was short-lived as the Philippines mounted a strong comeback to win the thrilling set 25-20.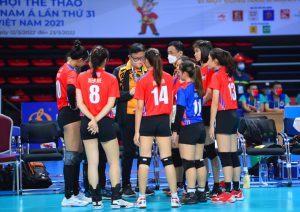 The momentum was with Brazilian Jorge de Brito's girls and they continued to put the younger rivals under enormous pressure in the third set to lead with 13-point clear at 19-6 and though battling hard to revive their fortunes, the Malaysians found the well-organised rivals too strong to go down 15-25 in the set.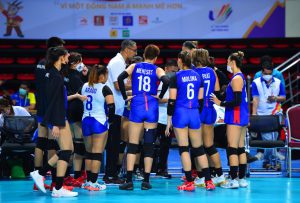 Alyja Daphne Santiago led the team with 15 points including 10 attacks and 5 blocks for Philippines and was well supported by Frances Xinia Molina and Myelene Paat with 12 and 9 points respectively. Danesh Mathivanan topscored with 16 points including 14 attacks for Malaysia.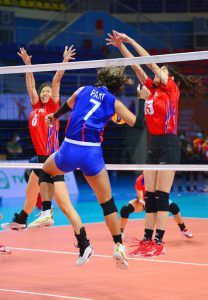 After the match, Brazilian Jorge de Brito, head coach of the Philippines women's volleyball team, expressed his satisfaction over his team's performance despite a sluggish second set.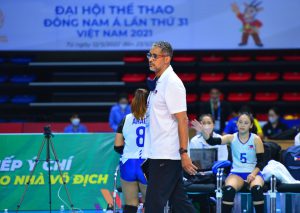 "This is our first match and I think my players are nervous, but they still played well. I know both teams are nervous, but we can improve in the next match. We will have a tough match against Thailand tomorrow as they are a very strong team, but I also expect much on my players.
"In the second set, we left Malaysia far behind 8-1, but they pushed us hard to catch up with us and overtake us at some moments. However, I don't think this is a serious mistake. My players started to play well also, but this kind of mistakes always happens in matches all the times. Still, we have to fix this problem and it's also good for my players sometimes as we can put some others on court to test them and they did well. For Malaysia, they still have chances to improve, but I praised them for good selection of players and they have a lot of opportunities to improve."
Title-holders Indonesia powered past Myanmar 3-0 (25-22, 25-17, 25-19)

Indonesia kicked off their title defence with scintillating straight-set victory against spirited Myanmar in the men's event.
The first set was closely-contested with both teams fighting tooth and nail, but fielding more individual talents including brilliant Rivan Nurmulki and hard-attacking Hernanda Zulfi, reigning and 10-time champions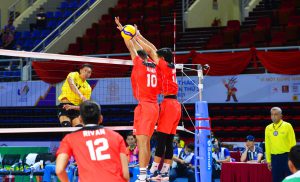 Indonesia sealed the victory in the hard-fought set 25-22, with Rivan firing home a fierce attack which went unanswered.
Conceding one set, Myanmar, powered by giftedAung Thu, tried hard to make strong comeback, but the Indonesians played exceptionally well to foil their determined efforts. Indonesia captured the next two sets 25-17 and 25-19 for the match.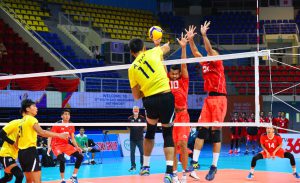 Rivan Nurmulki scored a match-high 18 points including 16 attacks for Indonesia, assisted by Farhan Halim and Doni Haryono with 15 points apiece. Aung Thungkham led Myanmar with 15 points including 14 attacks.
"We played very well although this is our first game. The first set was very tight because both teams played well up to their standards. Myanmar defended well, but they are a bit short. We will have a break tomorrow (Saturday) before next taking on hosts Vietnam on Sunday. We will study their game and try to cope with their tactics when we play them in the Sunday's match," Chinese Jiang Jie, head coach of the Indonesia men's volleyball team, was quoted as saying.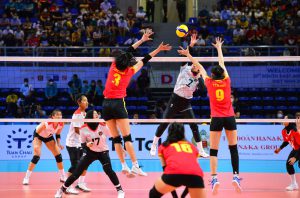 Vietnam delighted home fans with 3-1 (25-17, 25-18, 18-25, 25-20) demolition of Indonesia
Indonesia's sweet dreams of making double success on the first day of the 10-day tournament were entirely shattered when hosts Vietnam overcame a sturdy challenge from the Indonesians to see off the 1983 winners in thrilling three-setter.
Vietnam, chasing dreams of winning their unprecedented SEA Games title, fielded a formidable lineup led by powerful Tran Thi Thanh Thuy, while sensation Megawati Hangestri Pertiwi spearheaded Indonesia.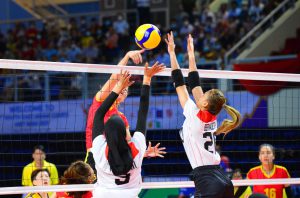 Boosted by a large crowd of home fans, Vietnam were quick and powerful early on and found themselves 16-7 in front in the first set, courtesy of Tran Thi Thanh Thuy's aggressive cross-court spikes and and their solid defence. The Indonesians put their acts together and bounced back mightily to score 6 points on the trot and reduce the gap 16-13, but the host side clawed their way back to notch crucial points and advanced 24-17 before Thanh Thuy attacked devastatingly to end the Indonesian challenge in the thrilling set 25-17.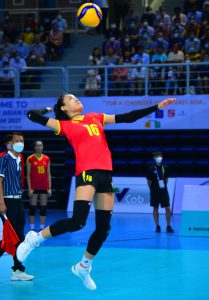 Indonesia and Vietnam came up with similar level to play their best volleyball in the second set which saw neither side able to leave their rivals by a wide margin. However, taking the lead with two-point advantage at 17-15, the Vietnamese still had enough in their tank to hold the visitors off with Hoang Thi Kieu Trinh producing a mid-court drop shot to help Vietnam advance 24-18. Shortly after that, Vietnam took the set after a sharp spike from Megawati went wide.
The third set became a see-saw battle, with leads changing hands for several times. Indonesia silenced the crowd with a terrific display to capture the commanding lead with four-point clear at 20-16 and stormed on to surprise the host side with the set win 25-18.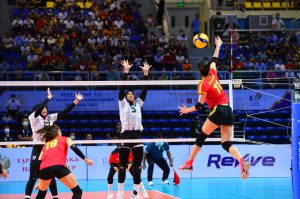 Vietnam looked set to win the fourth set with ease as Tran Thi Thanh Thuy was a focal point in the team's attack, puncturing the Indonesian defence into shreds to lead 17-11. However, the visitors did not surrender easily as they gathered their courage and hit back effectively to narrow the margin 20-24. To make short work of the Indonesians, Tran Thi Thanh Thuy carried out a great serve which was unreturnable for the Vietnam's eventual 25-20 win in the set.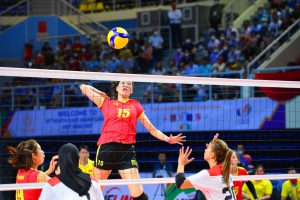 Hoang Thi Kieu Trinh chipped in with 23 points including 19 attacks and 3 blocks for Vietnam, with Tran Thi Thanh Thuy adding 19 points. Megawatt Hangestri Pertiwi scored 24 points including 20 attacks on losing effort of Indonesia.
"I'm very proud of my team for the win against Indonesia. They are one of the strong teams to be reckoned with in the SEA Games and to beat them is not an easy job. They are powerful and very determined. My team made some mistakes, but I think we need to learn from the past mistakes. Regarding this year's SEA Games, Thailand are hot favourites for the title. We set our sights on claiming either silver or bronze, but we will do our best," said Vietnam head coach Thai Thanh Tung after the match.
On Saturday, Philippines will take on Cambodia and Vietnam play Malaysia in the men's event, while the women's competition sees defending and 14-time champions Thailand play their first clash in the Vietnam SEA Games against Philippines.


Related links of AVC
AVC Website: click www.asianvolleyball.net
AVC Facebook: click www.Facebook.com/AsianVolleyballConfederation
AVC Twitter: click: www.twitter.com/AsianVolleyball
AVC Instagram: click: https://www.instagram.com/avcvolley/?hl=en
AVC Youtube: click: Asian Volleyball Confederation
AVC WeChat: Asian Volleyball Confederation