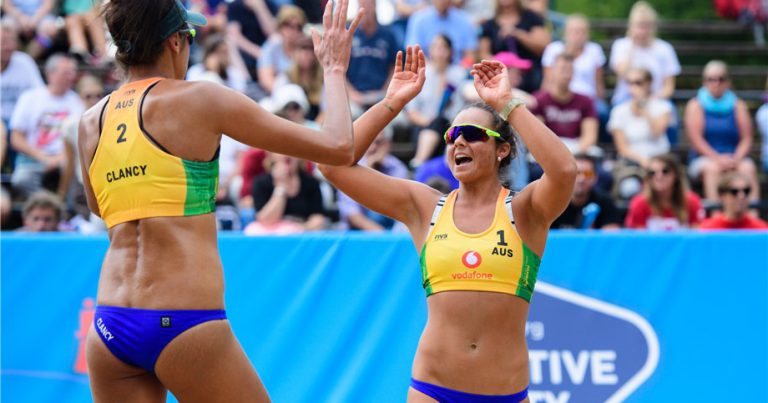 Lausanne, Switzerland, April 14, 2020 – Mariafe Artacho del Solar speaks about her journey, battling injury to World Championship bronze, why the Olympic postponement will only make her team stronger and why Australia are one of the most consistent teams on tour.
Following on from our three part series with the Canadian world champions Melissa Humana-Paredes, Sarah Pavan and their coach Scott Davenport, we speak with the Australian pairing of Mariafe Artacho del Solar and Taliqua Clancy and their head coach Kirk Pitman.
Mariafe, aka Mfe, is known as one of smiliest and friendliest characters on tour. The 26-year-old, who is of Peruvian descent, prides herself on being a 'caring and passionate person' but also posseses a 'fighting spirit' that stems from her South American roots.
"I'd lie to think I am a fighter, I believe fighting comes from my latin background, where we have to fight to survive. I am very passionate, I love doing what I do and I'm very grateful for it. I bring a lot energy into our team and I am always positive and calm and as a person, I think, I'm very caring, passionate and easy going."
Artacho del Solar suggests that 2019 'was defiantly a crazy season' and says that a bronze medal at the FIVB Beach Volleyball World Championships in Hamburg was the 'highlight' for the team in a season that saw them win 4-star events in Chetumal, Mexico and Warsaw, Poland. It wasn't all joy for the Aussies though due to the fact that Artacho del Solar suffered an injury to her MCL (Medial Collateral Ligament) in the first knockout round in Hamburg, something she had to fight through until the final day of competition and something that would keep the team from competing for four months after the World Championships.
"At the World Championships we were aiming for medals and to know we hit our KPI was special. Hurting my knee in the first elimination round was pretty challenging for our team, we handled it well and I'm glad we had a great support team behind the scenes. The medical team, reporting to Kirk, and having Jack (her fiancé) there, made it easier and Taliqua really did her part and allowed me to take focus away from my knee and play freely."
"My knee cracked, I felt it and heard it and I can remember that I literally freaked out. I made the dig, T set me and I tried to hit the ball. We actually won the point and I hugged T to celebrate. I said 'My Knee' to Taliqua, to which she responded in her firm voice 'You'll be alright, you'll be alright, keep going'."
The right sided defender is sure that it was Clancy's advice and the support of the whole team that made the difference.
"I think her being so firm helped me through it and not think about it. I don't know how the other team didn't realise, but I was in excruciating pain. We won the match and I remember leaving the court and running to Jack and I lost it and started crying. Kirk, Brad Tutton (Assistant Coach) and our physio were wondering why I was crying and thought it was because we had won and qualified for the top ten. When I told them they were supportive, but the only thought in my head was that we couldn't withdraw from the event."
Australia continued on to play another four matches after suffering the injury to claim that bronze medal in what she calls her 'best playing memory', an impressive feat consider their team were playing with what Artacho del Solar says were 'three knees',  which put added strain on the whole team.
"We had to give it a go and I said to myself that I was going to give it all I had. The adrenaline actually helped take away the pain. I was struggling and was tentative in some movements before the games and couldn't actually warm up. I couldn't warm up in any game. T and I were going at each other. T was obviously stressed about the situation too. Looking back, it was pretty funny, but they were the things we had to go through to get the emotions out. But it was the trust we have in each other which really helped, and she trusted that as soon as we stepped on court I was going to bring the best I could do, despite the situation."
After the World Championships, the team were due to travel to Gstaad with the rest of the Tour, but due to the injury to Artacho Del Solar, they had to stop competing.
"We had to come home and stop competing and that was tough, as I always put my team first. I did struggle with those situations, but again I'm so grateful for my team and their support. They always have my back. I had a brace on for pretty much 24 hours a day for 7 to 8 weeks, then 3-4 months later post rehab I could compete again.
They then took to China to play the Qinzhou 3* and finished in fourth place, but again Artacho del Solar suffered an injury. This time it was in the way of an abdominal strain. But again she opted to carry on to Mexico to play the Chetumal 4* where the team won their second 4* event of the season.
"We won in Chetumal, which was an awesome way to end the season, especially after missing so many events. It was pretty pretty cool and I feel that the experience in Hamburg gave me confidence at playing whilst carrying an injury."
Mariafe is due to get married to Jack in October and her plan is to keep playing for as long as possible with Australia bidding for the Olympic Games in 2032. It would be a dream for her to finish her career playing at a home Olympics in Brisbane. If all goes to plan, it would be a fifth Olympics for Artacho del Solar, who made her Olympic debut in Rio with Nicole Laird. When asked about Tokyo being postponed, Artacho feels 'ok' about it as it allows time for her team to 'grow and prepare' and also says that there are more important things going on in the world right now.
"It's obviously pretty disappointing to have to wait another year for the most important event of your career, but I have kind of a calm feeling and was always feeling calm about the whole situation. I don't know if I was just seeing the positive because we have another year to get better and keep growing. We both have so much more room to grow and be better as a team. I really can see it as an advantage. What's happening in the world right now is crazy and it was obviously the right decision to postpone the Games for the safety of everyone involved and I look at it as an advantage that we get another year to prepare."
The Australian team first played together in the FIVB Beach Volleyball U21 World Championships in 2012 and took a bronze before going their separate ways and teaming up again at the end of 2017. In the 2019-2020 season, they played in eight FIVB Beach Volleyball World Tour events, only finishing out of the top 4 twice, winning two golds, a silver and two bronze medals in the process. When asked about why the team are so consistent, Artacho del Solar suggests it is in down to the connection they have on court and off the court.
"We have a strong connection, we trust each other and we trust ourselves and that makes it easy, we want the same goals, we are both competitive and we balance each other really well. My strengths and Taliqua's strengths combine for a really good team."
Mfe is a smiling assassin on the FIVB World Tour and when asked what advice she would give to her younger self, it would be simply to "trust the process and that the challenges are part of life, you come through them stronger."
The 174cm defender continues by stating that her stubbornness, resilience and the ability to fight for her dreams have helped her get to the very top, although she has been doubted by a few on her path to the top due to her height.
"I am very stubborn when I come to my goals and I have always said that I want to be the best in the world, I want to be the best defender, I want to be a world champion, I want to be an Olympic gold medalist. I knew at 13 that I wanted beach volleyball to be my career. I went through my own challenges, I'm obviously not the tallest player, so I had to work really hard. It made me motivated to prove those doubters wrong who said I wasn't going to be a professional player. I'm glad I have been through the challenges that I have because it has shaped me to be the person I am today. I believe I'm resilient and I fight for my dreams. I have always said that I won't let anyone get in the way of my dreams and what I want."
Mariafe is currently self-isolating in her home in Adelaide and doing what she can to keep progressing for when the Tour finally restarts. When it does, it looks as if the whole world will have to watch out for the Australians as they put the extended run to the Olympics to good use and build their claim for a medal in Tokyo.
Related links of AVC
AVC Website: click www.asianvolleyball.net
AVC Facebook: click www.Facebook.com/AsianVolleyballConfederation
AVC Twitter: click: https://twitter.com/avcvolley
AVC Instagram: click: https://www.instagram.com/avcvolley/?hl=en
AVC Youtube: click: Asian Volleyball Confederation
AVC WeChat: Asian Volleyball Confederation