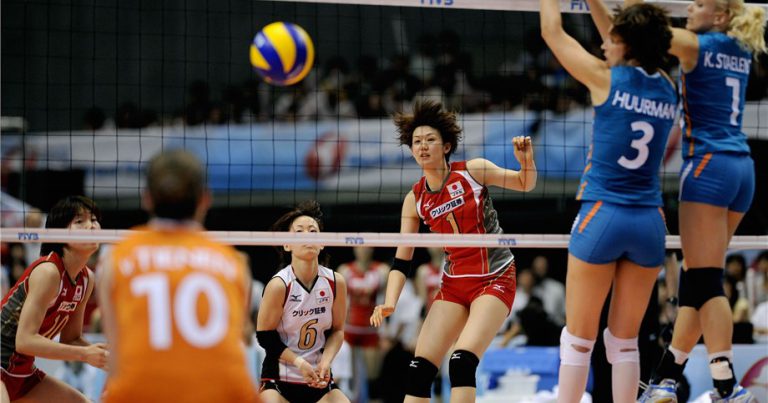 Tokyo, Japan, April 15, 2020 – On January 19, 2020, former Japanese women's national team player Megumi Kurihara told FujiTV viewers about a health scare that few people knew about at the time, in 2016. Only on the show did she release the details.
Kurihara retired at the end of the 2018-2019 season after playing for 14 seasons. She started playing on the Japanese national team at the age of 16 in 2001 and became a household name in Japan along with her teammate Kana Oyama at the 2003 FIVB Volleyball World Cup, as part of the "MegKana" combination. The "MegKana" pair would go on to play together at the 2004 Athens Olympic Games where Japan finished fifth.
Kurihara started her professional career in 2003 with the NEC Red Rockets before moving to the Pioneer Red Wings in 2004. After joining the Red Wings, she brought them their third and final title in 2006. Kurihara would stay with Pioneer until the end of the 2011 season.
In 2007, she finished in ninth place in scoring in the FIVB Volleyball World Grand Prix with Japan with 125 points, and in 2008 helped her country qualify for the Beijing Olympic Games and led the 2008 World Grand Prix Final Round in scoring.
Despite injuries to her left foot and meniscus during this time, Megumi was also able to help Japan to bronze at the 2010 FIVB Volleyball World Championship under coach Masayoshi Manabe, and after surgery on her knee and the end of the Japanese season in 2011 signed for Dinamo Kazan in the Russian women's league. She retired from the national team in 2012 and moved to the Okayama Seagulls in 2012 and then Hitachi Rivale in 2014.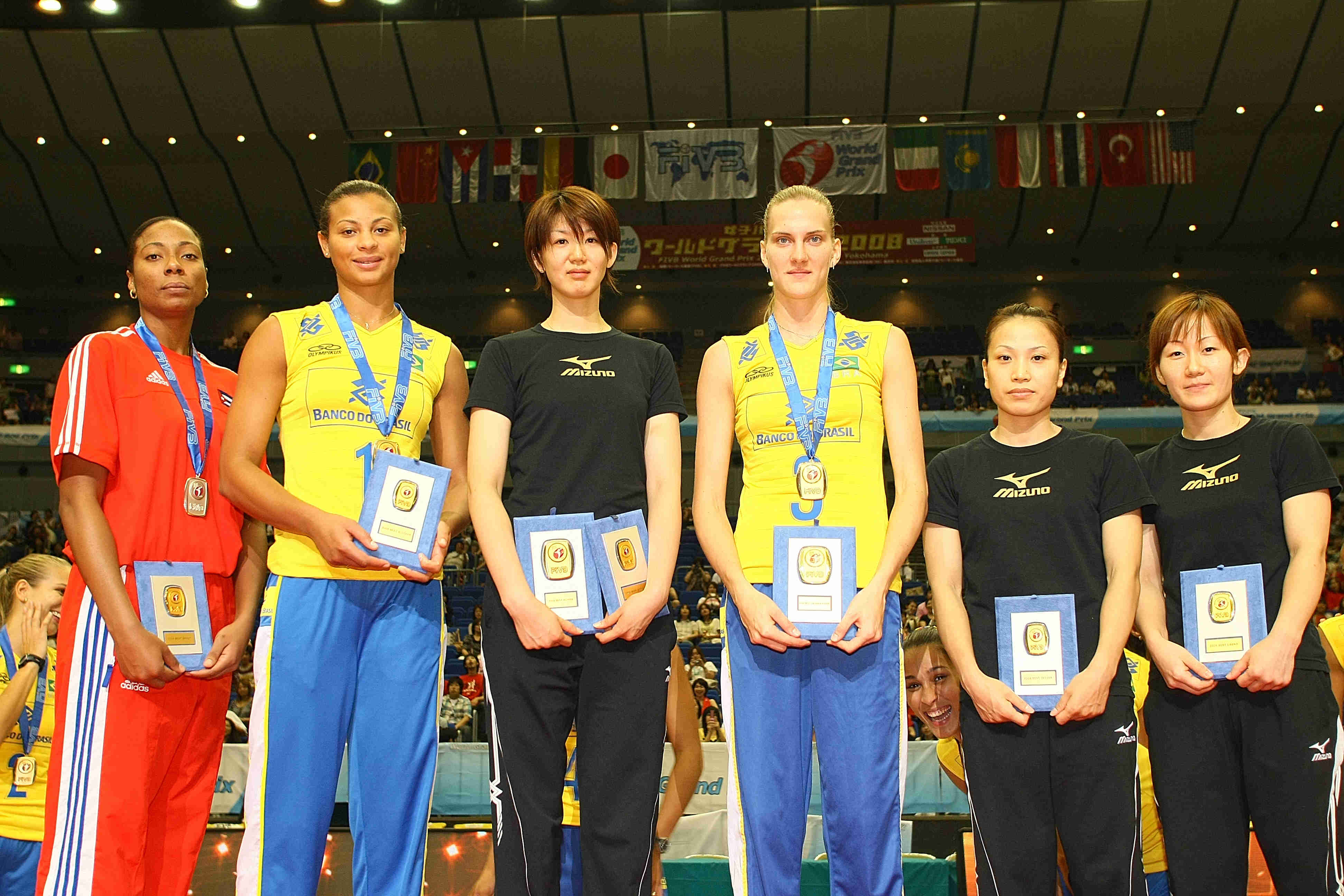 2008 World Grand Prix individual award winners including Best Scorer and Best Server Megumi Kurihara (centre)
In September 2016, however, before starting her V.League season with Hitachi, she started feeling harsh headaches. Even when taping herself before practice, the pain was so bad that she would start crying. Frightened, she visited the hospital with the team trainer.
At the hospital doctors looked and found that she had cerebral venous thrombosis, which would not allow blood to drain from her brain. If not treated quickly, it could have caused a stroke or worse become fatal.
When the doctor told Kurihara what he had found, she was not worried about her playing career, she was worried about whether she would be able to return to normal everyday life. Her mother, who lived in Hiroshima, traveled to visit her daughter at the hospital.
Kurihara knew that she might have to retire from the sport. But instead, she decided to see if she could make it back for the rest of the 2016-2017 season.
The first thing that Kurihara had to do was rehabilitation. Working her way back to the courts even required learning how to walk again. But patiently, the 32 year old persisted and would walk up the stairs to the hospital's roof as part of her training. Even after leaving the hospital, she would walk around her neighbourhood. First for 10 minutes, then increasing to 20 minutes and then increasing to 30 minutes. Gradually she rebuilt the strength in her legs – lifting weights – to play volleyball.
By January 2017, Kurihara was able to return to the court as a substitute in a match against JT Marvelous. She took 14 swings and finished with just two points from those swings, but playing in a match was the real victory. "I could not believe it," she told FujiTV viewers. "I did not think that I would be standing on the court that day." Her doctor even thought it would be next to impossible.
Kurihara continued for one more season with Rivale before leaving to play closer to her mother in Osaka with JT Marvelous. She eventually retired from the sport on May 31, 2019.
In the interview she said that nothing had been said about her illness for the 3-4 months that she had been away from the team and the volleyball courts. Even now that she feels great and has no issues, Kurihara said that she felt regret that she had not told her fans about her illness in 2016, at the time it all happened.
Now into her retirement, Kurihara has started to follow a path similar to the one taken by her former national teammate Kana Oyama, commentating on Japanese high school and national team matches.
Related links of AVC
AVC Website: click www.asianvolleyball.net
AVC Facebook: click www.Facebook.com/AsianVolleyballConfederation
AVC Twitter: click: https://twitter.com/avcvolley
AVC Instagram: click: https://www.instagram.com/avcvolley/?hl=en
AVC Youtube: click: Asian Volleyball Confederation
AVC WeChat: Asian Volleyball Confederation