Mariafe Artacho del Solar and Taliqua Clancy are into the semifinals of the Gstaad Elite16, looking for their first Cowbell
Mariafe Artacho del Solar and Taliqua Clancy may be making an extraordinarily long trip to Europe, logging far more miles and time away from home than many of their contemporaries on the Volleyball World Beach Pro Tour. Yet no matter how many shirts and bikinis and hats and leggings and bands and whatever else may be going into their bags, they've left a little room – a lot of room, really – for something else to bring home.
The Gstaad Cowbell.
It's famous, that cowbell, the most desired trophy on tour for most, now that the Stavanger Sword is an anachronism of a glorious event of the past. It might be a bit unwieldy not only to bring home, but to Portugal next week for a Challenge event in Espinho, but the hassle is more than worth it.
Watch the pool play matches and quarterfinals in Gstaad on the Beach Volleyball World YouTube channel. The semifinals and finals will be streamed live on Volleyball TV.
"This is a bigger event that we all dream about and want on tour and I would love more than anything to have an extra cowbell," Clancy, the blocker, said. "I'm ok with some extra luggage from this tournament."
They have put themselves in a prime position to haul home some extra luggage, too. They've won every match thus far in Gstaad, sweeping Victoria Lopes and Taina Silva, Miki Ishii and Sayaka Mizoe, and Hegeile Almeida and Taiana Lima. In Saturday's quarterfinals, they rebounded from a 16-21 first-set loss to Canadians Brandie Wilkerson and Sophie Bukovec and won the next two in a dominant fashion, 21-10, 15-12, which puts them into Sunday's semifinals against Brazil's Barbara and Carol.
"It was one of those games where nothing felt smooth, nothing felt good, but you can't just wait around to feel good," Mariafe said. "It's just a matter of really trusting and staying really patient and just sticking it out. It worked out.
"They've been in a bit of a rhythm since World Champs and they had that confidence coming from Rome and they played amazing. We knew they were going to come out hot. We just had to come out strong and trust the process."
Matches that have gone the full three sets haven't been favourable to the Aussies of late. They lost both matches that went to three at the World Championships, falling 14-16 in the quarterfinals to Germany's Svenja Muller and Cinja Tillman, and 6-15 for the top spot in pool to Americans Sarah Sponcil and Terese Cannon. In fact, coming into Saturday's quarterfinal, they were just 2-7 in three-set matches this season.
"I had that little conversation with myself: No, we're not doing this again. We're going to give it a crack here," Clancy said. "It was nice that we had another opportunity. We're just staying really patient and trusting the process now."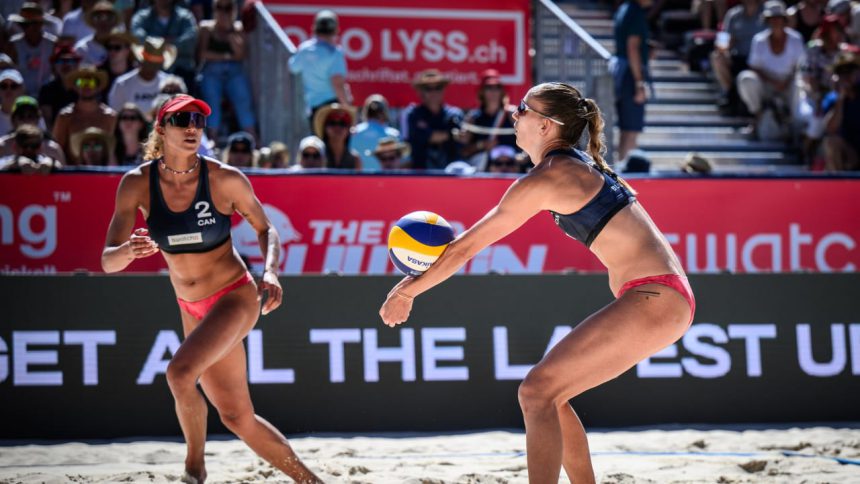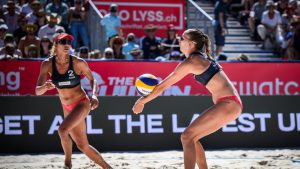 On Sunday, they will meet Barbara and Carol, a team who is no stranger to semifinals. Already, they've won a pair of golds, in Tlaxcala and Doha, and took a silver in Jurmala. In their only match against one another this season, in the semifinals of Doha, Barbara and Carol won, 17-21, 21-17, 15-11.
"We've had some really great matches against Barbara and Carol and it's another great team we have to face and we're excited to face whatever comes our way," Clancy said.
The other semifinal also features a pair of teams who are no stranger to them. Tina Graudina and Anastasija Kravcenoka were here before, just a year ago. They've had their work cut out for them to reach the 2022 medal rounds, winning both elimination matches in three sets, the final of which was a 21-19, 18-21, 20-18 epic over Americans Kristen Nuss and Taryn Kloth. But their work really has only just begun.
On Sunday, they'll meet the World Champs, Duda and Ana Patricia, who have done nothing shy of steamroll any team with the audacity to stand before them in Switzerland. They've swept all five opponents thus far, and only Italians Margherita Bianchin and Claudia Scampoli have managed to bring a set relatively close. Even Melissa Humana-Paredes and Sarah Pavan put up little resistance, as the Brazilians rolled on, winning 21-11, 21-13 in an unexpectedly lopsided quarterfinal.
"Our focus level has been high as we want to use every match and every tournament to improve our chemistry," Duda said. "Things are going really well for us, but we know that we can still be a lot better and achieve a lot more. We enjoy playing with each other and have fun on the court and that's really important too."
Related links of AVC
AVC Website: click www.asianvolleyball.net
AVC Facebook: click www.Facebook.com/AsianVolleyballConfederation
AVC Twitter: click: www.twitter.com/AsianVolleyball
AVC Instagram: click: https://www.instagram.com/avcvolley/?hl=en
AVC Youtube: click: Asian Volleyball Confederation
AVC WeChat: Asian Volleyball Confederation