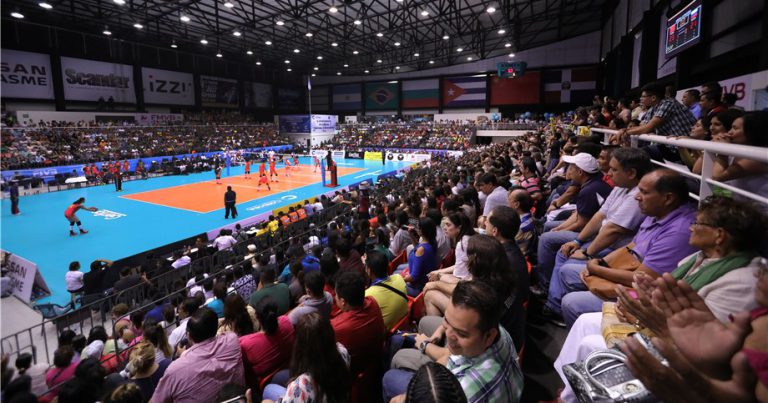 Aguascalientes / Leon, Mexico, July 11, 2019 – Mexico will host for the second consecutive year the FIVB Volleyball Women's U20 World Championship to be held in Aguascalientes and Leon, Guanajuato starting on July 12 with the preliminary round.
For the next ten days, the 20th edition of the event will feature a new generation of players coming from sixteen countries that will have a great opportunity to establish themselves as candidates for their future senior teams.
Teams have been divided into four groups for the preliminary round, the winners and second placed will advance to the final round in Aguascalientes, while placing matches will take place in Leon.

Aguascalientes
Pool A, consisting of Mexico, United States, Italy and Cuba, along with pool D of Japan, Brazil, Dominican Republic and Rwanda will be competing at the Poliforum Deportivo Universitario Morelos in Aguascalientes.
Three long-time rivals from NORCECA are placed in pool A; United States qualified as the 2018 NORCECA champion, Cuba as the 2019 Pan American champion and Mexico as host country. Italy completes the group as 2018 European champion.
Japan, 2018 Asian U20 title holders, comes with the intention to improve on their bronze medal from the past World Championship. The South American 2018 champions Brazil are the most successful nation historically speaking with six overall titles, and hope to add another one to their long tradition.
Rwanda enters the tournament as 2018 African runners-up and Dominican Republic qualified to the Worlds through the FIVB world ranking.
Pool A
Tomas Fernandez Arteaga, coach of Cuba: "We recently qualified to be here as Pan American champions, with a young team that we anxiously hope to move forward as much as possible and to be stronger for the next World Championship."
Massimo Bellano, coach of Italy: "Italy prepared for two months back in Milano with a large group of players and then we came with the final roster first to the Dominican Republic to adjust to the time-zone difference and perfect our game. Most of the girls here won the U18 European championship so our expectations are high."
Luis Leon, coach of Mexico: "It is a great responsibility to be hosting the event, but a motivation as well. The top sixteen teams in the world are gathered here; we expect a complex competition and are ready to give our best."
Elliot Jerritt, coach United States: "We had tryouts throughout the year and we just put our team together, a truly unique group with character. For me at this age-group these are our Olympic Games and I am so excited for them to experience this level. I expect for us to be good at our routine, building to get better every single day at the court."
Pool D
Hairton Oliveira, coach of Brazil: "My team comes with three months of preparation in Brazil; some players have just joined the team after playing VNL. Brazil is always a strong contender and we want to advance one phase at a time."
Wagner Pacheco, Dominican Republic: "My team is adapting because we lost one of our key players, but we had friendly matches against Italy before coming here. We hope to play good volleyball and represent Dominican Republic well."
Noboru Aihara, coach of Japan: "Japan is here to perform at its best level, one match at a time and our goal is to finish in a better position (third place) than the past edition."
Christophe Mudahinyuka, coach of Rwanda: "We are well prepared with hard training sessions, friendly matches and ready to compete. We will face strong teams and we will try our best to push in order to win some matches."
Leon, Guanajuato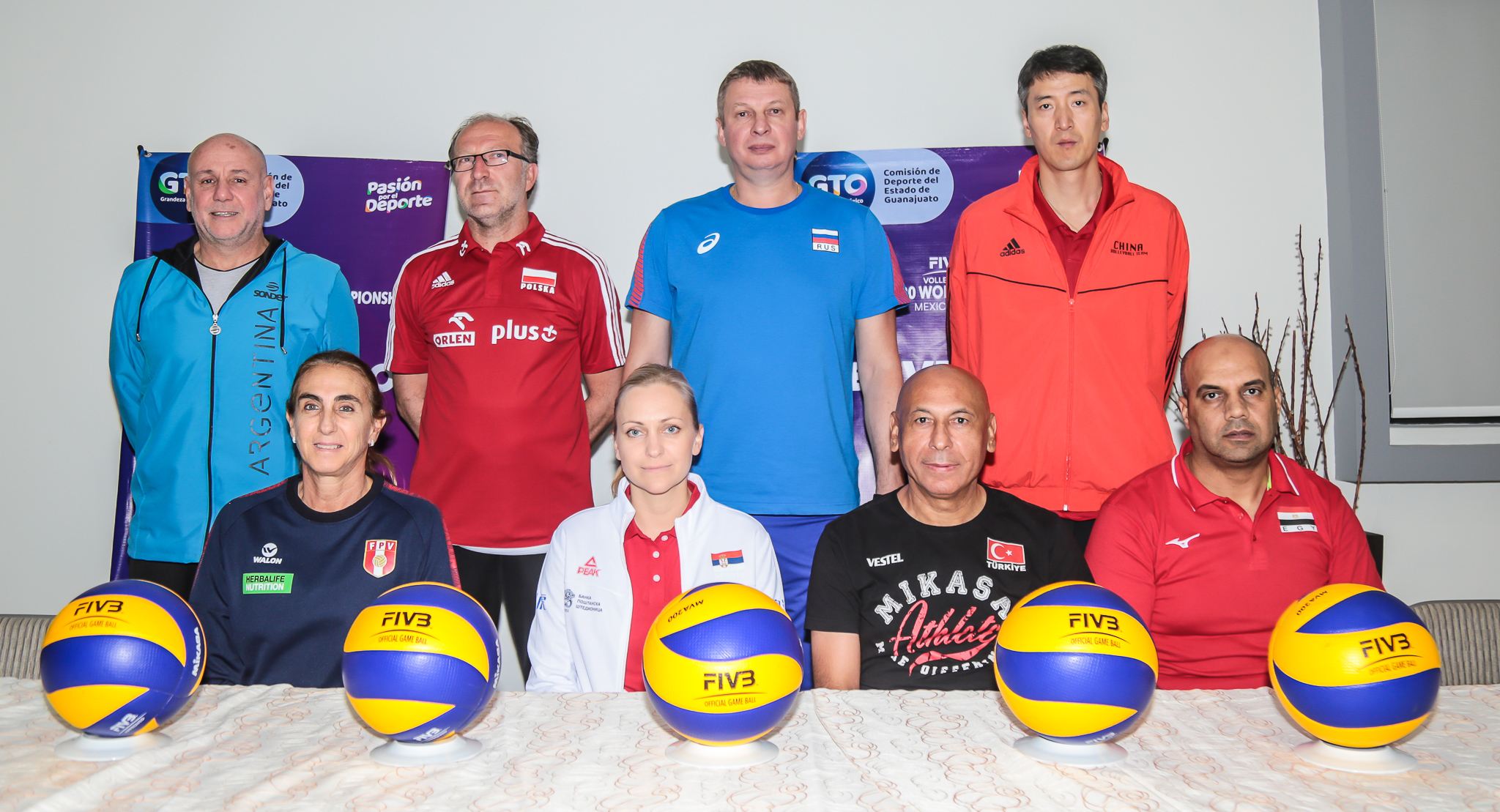 The "Domo de la Feria" at Leon, Guanajuato will host pools B and C, the first one consisting of China, Poland, Egypt and Peru and pool C of Russia, Turkey, Argentina and Serbia.
China the current world champions are placed in pool B; Poland are ranked sixth in the world, Egypt are four-time African champions, and Peru qualified through the FIVB world ranking.
Russia lead pool C as the 2017 runners-up, who are aiming to become this edition's world champions, while Turkey and Serbia qualified through the FIVB world ranking. Argentina completes pool C as runner-up champion of the South American Confederation.
Pool B
Shi Harong, coach of China: "In this tournament every team is strong and we want to do our best. We have been preparing for two months in China and we want to achieve a good place in the World Championship."
Mohamed Ahmed, coach of Egypt: "The team arrived in advance to Mexico in order to have some friendly matches with the different national teams that would participate at the World Championship."
Natalia Malaga, coach of Peru: "We are ready to give our best, we have been preparing to achieve a good position for the second round and will be ready to face every new challenge at the tournament."
Kawka Waldemar, coach of Poland: "We are aware that maybe we are not the strongest team, but we are prepared to give our best with this very young team and achieve a good position. We started the preparation in May and had some matches against the University German Team and with some American teams from different universities."
Pool C
Igor Kumosov, coach of Russia: "We are expecting victories. We prepared for the tournament being focused on it."
Haluk Korkmaz, coach of Turkey: "We came here to be successful as the other teams. We had a very short time to prepare the team because the national league is still running but we tried to have a good preparation in Brazil participating in a small tournament there with other national teams."
Guillermo Caceres, coach of Argentina: "We are very happy about participating again in this tournament, we hope to give our best and to have high-level matches against all the teams. It is a tough group, but we are going to prepare our strategies game-by-game."
Marijana Boricic coach of Serbia: "We played against Russia at the European event, we don't know the Argentinian team already but we are going to play with our best volleyball every game. The CEV tournament was helpful for us but we didn't have so much time to prepare ourselves."
Related links of AVC
AVC Website: click www.asianvolleyball.net
AVC Facebook: click www.Facebook.com/AsianVolleyballConfederation
AVC Twitter: click: https://twitter.com/avcvolley
AVC Instagram: click: https://www.instagram.com/avcvolley/?hl=en
AVC Youtube: click: Asian Volleyball Confederation
AVC WeChat: Asian Volleyball Confederation