Volleyball Empowerment beneficiaries Polley & Zeimann win all-Kiwi final to triumph in the women's competition
The home teams of New Zealand had a great start to the season's first Volleyball World Beach Pro Tour Futures event, which was hosted at Mount Maunganui Beach from Thursday through Sunday of last week. It was the first-ever world-level beach volleyball tournament held in New Zealand. The country's pairs continued to show tremendous progress with ongoing support from the FIVB Volleyball Empowerment programme, particularly coach support for its men's and women's national beach volleyball teams.
https://www.instagram.com/p/Cp9dIzHvkbK/
New Zealand's top women's pair of Shaunna Polley and Alice Zeimann (pictured above) triumphed on top of the women's podium on Sunday, winning their first-ever Beach Pro Tour medal. The duo had previously earned gold on the FIVB Beach Volleyball World Tour, at the Cortegaca 1-star in 2021.
The reigning Asian champions made an emphatic run to the title in Mount Maunganui Beach without dropping a single set in the five matches played. In Sunday's final, the top seeds in the women's main draw mastered a 2-0 (21-14, 21-12) victory over another New Zealand duo, 10th-seeded Olivia MacDonald and Julia Tilley. For Kiwis MacDonald & Tilley, the Mount Maunganui Beach silver was the first ever medal from a world-level competition, both individually and as a team.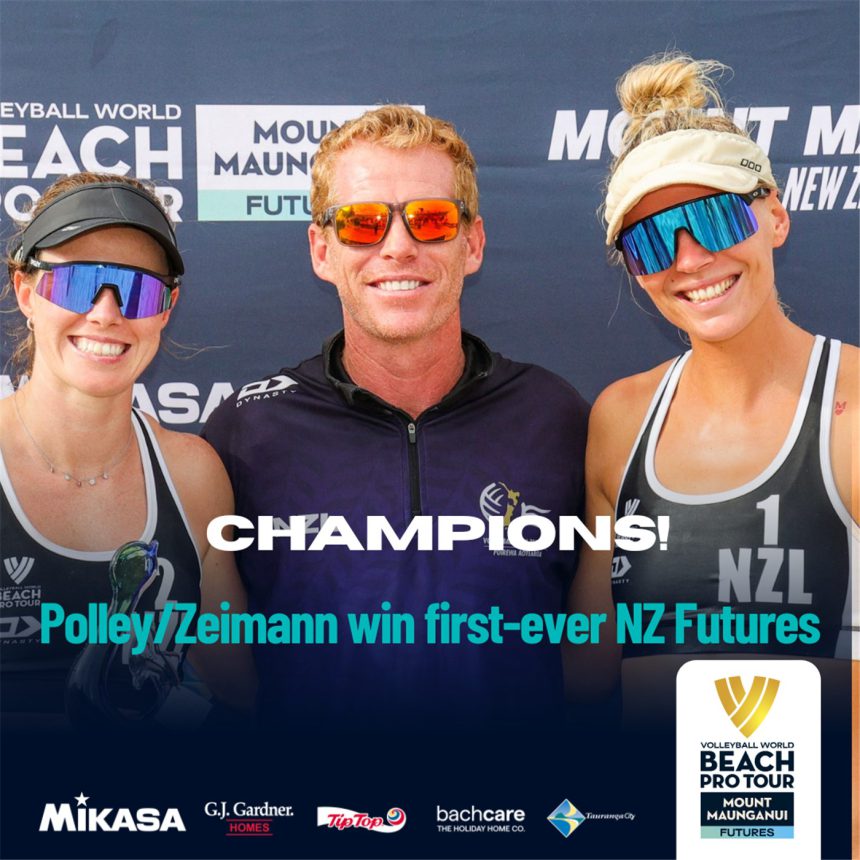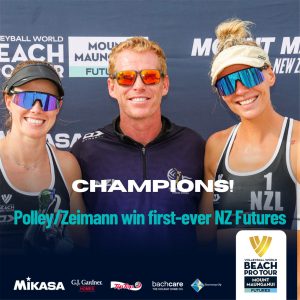 "We did a good job of sticking to our game plan, coming out really aggressive and swinging on lots of balls, really strong serves, and it paid off," Shaunna Polley told volleyballnz.org.nz.
"This tournament's been up and down for us, some really good and some patchy bits, but the final was definitely super strong for us," said Alice Zeimann.
Polley & Zeimann are now ready to take a shot at this week's Tepic Elite16 in Mexico, starting from Wednesday's qualifiers.
The women's bronze medal match was also a single country affair, with eighth-seeded Shanice Marcelle and Lea Monkhouse delivering a 2-0 (21-16, 21-18) upset of fourth-seeded Darby Dunn and Olivia Grace Furlan in an all-Canadian battle.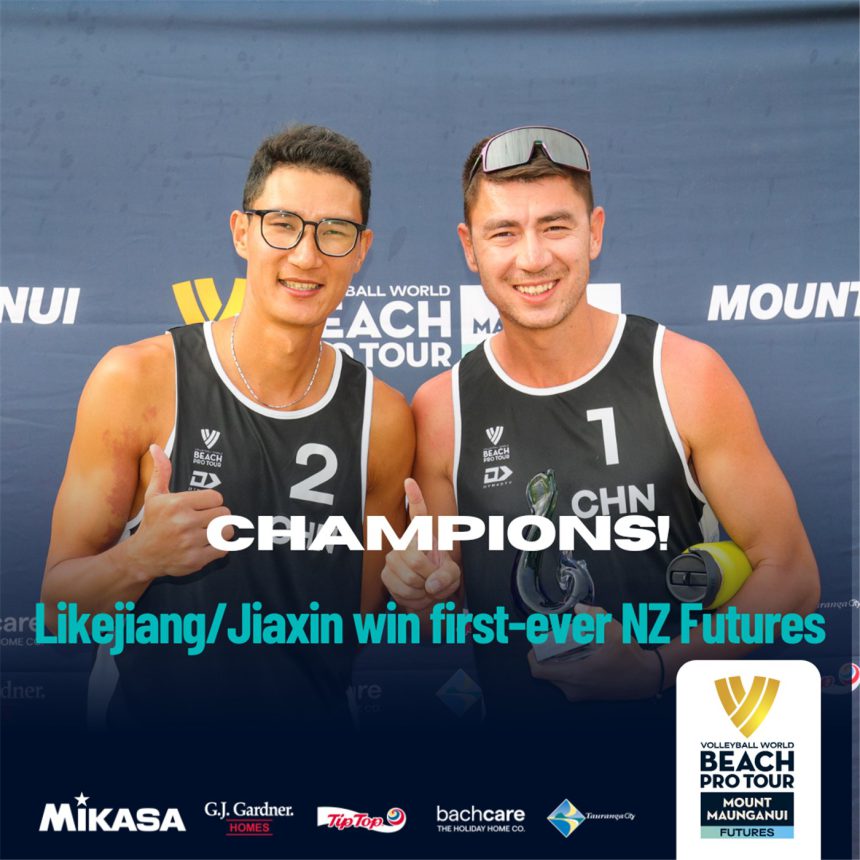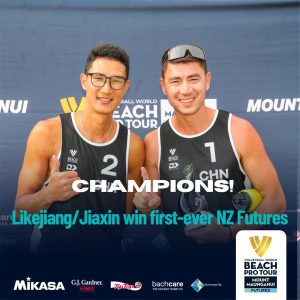 A Kiwi pair reached the men's final as well, but China's Ha Likejiang and Wu Jiaxin proved too strong for New Zealand's Sam O'Dea and Ben O'Dea and claimed the title after a 2-0 (21-17, 21-13) shutout. It was the second Beach Pro Tour gold in a row for the Chinese duo. They also topped the podium at their previous appearance, at November's Sohar Futures in Oman.
The O'Dea brothers had one previous world-level medal together as a team, a Shepparton 1-star bronze on the World Tour in 2017. They both had some success on the inaugural Beach Pro Tour season last year, reaching the podium on several occasions with different partners, but decided to get back together for the last two stops of this year's New Zealand Tour and this Futures tournament, all taking place on what is the home beach for them in Mount Maunganui.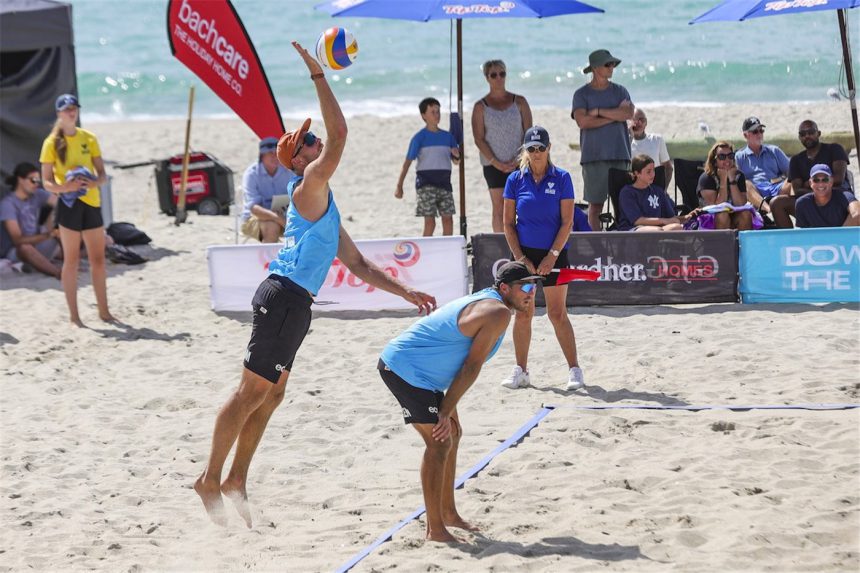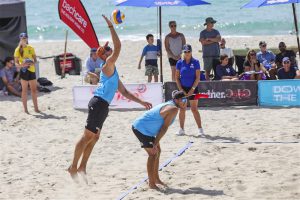 New Zealand's Sam O'Dea and Ben O'Dea in action at the Mount Maunganui Beach Futures (Photo credits: volleyballnz.org.nz)
"We've played against those guys (Ha & Wu) for five or six years now. Sometimes we do well, sometimes we don't, but usually it's a pretty close game. That's the kind of game we should be able to get up for, but for some reason it didn't happen," said Ben O'Dea.
Another New Zealand men's duo, 14th-seeded Thomas Hartles and Thomas Heijs, reached the semifinals, where they lost to compatriots O'Dea & O'Dea before taking on the USA's David McKienzie and Benjamin Vaught, seeded 13th, in the third place match. The Americans had made an impressive run from Thursday's qualifiers all the way to the last four in Mount Maunganui Beach. They earned their first international medal by beating Hartlles & Heijs 2-0 (21-14, 21-11) for the bronze, their sixth victory at the tournament.
https://www.instagram.com/p/Cp3VU4uhwJF/
Two more men's pairs from New Zealand, fifth-seeded Bradley Fuller and Alani Nicklin and 10th-seeded Thomas Reid and John (Jack) McManaway, reached the Mount Maunganui Beach quarterfinals to finish in joint fifth place.
A total of 10 men's and eight women's duos from New Zealand were among the 43 teams from 10 different countries that took part in the Mount Maunganui Beach Futures.
https://web.facebook.com/volleyballnz/posts/679990197465791
Beach Pro Tour 2023 full event schedule https://en.volleyballworld.com/beachvolleyball/competitions/beach-pro-tour/2023/
QUICK LINKS
AVC Website: click www.asianvolleyball.net
AVC Facebook: click www.Facebook.com/AsianVolleyballConfederation
AVC Twitter: click: www.twitter.com/AsianVolleyball
AVC Instagram: click: https://www.instagram.com/avcvolley/?hl=en
AVC Youtube: click: Asian Volleyball Confederation
AVC WeChat: Asian Volleyball Confederation