New Zealand men's and women's teams share their honours on the top podium
Hosts Vanuatu sweep both men's and women's silver medals
New Zealand topped both the men's and women's podiums at the 2023 AVC Beach Volleyball Continental Cup Oceania Zone in Port Vila, with the Kiwi men sweeping hosts Vanuatu 2-0 in a comfortable showdown.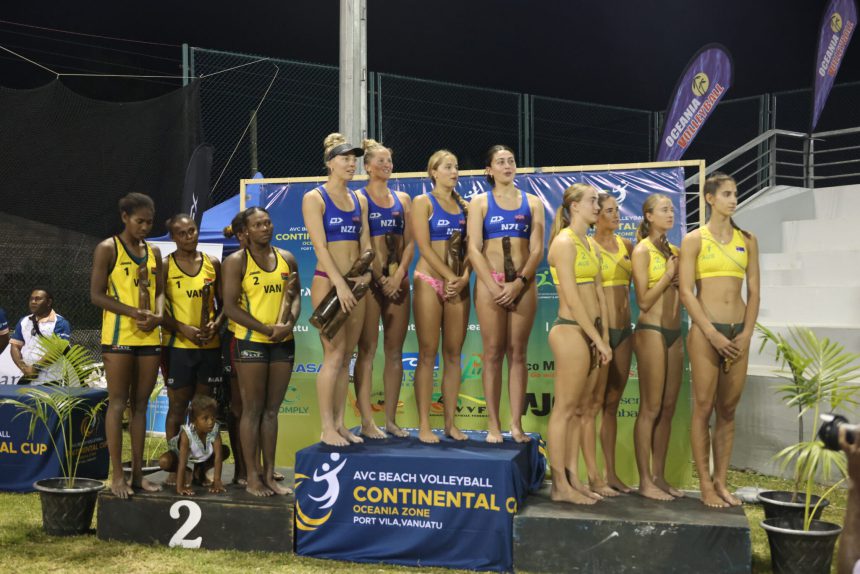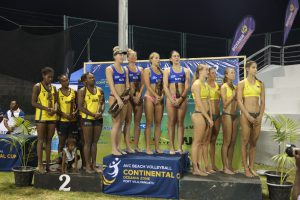 New Zealand, Vanuatu and Australia makes a 1-2-3 finish in the women's event
The 2023 AVC Beach Volleyball Continental Cup, a beach volleyball double-gender event for teams representing Asian countries competed in a country vs country matches in a single elimination "best-f-three" format, was held in Vanuatu's capital city Port Vila between September 1-5 including the arrival and departure of all participating teams.
Five national federations strutted their stuff in the five-day AVC Beach Volleyball Continental Cup Oceania Zone, with New Zealand, Tuvalu, Solomon Islands and hosts Vanuatu featured in the men's event and New Zealand, Australia, Solomon Islands and hosts Vanuatu in the women's category.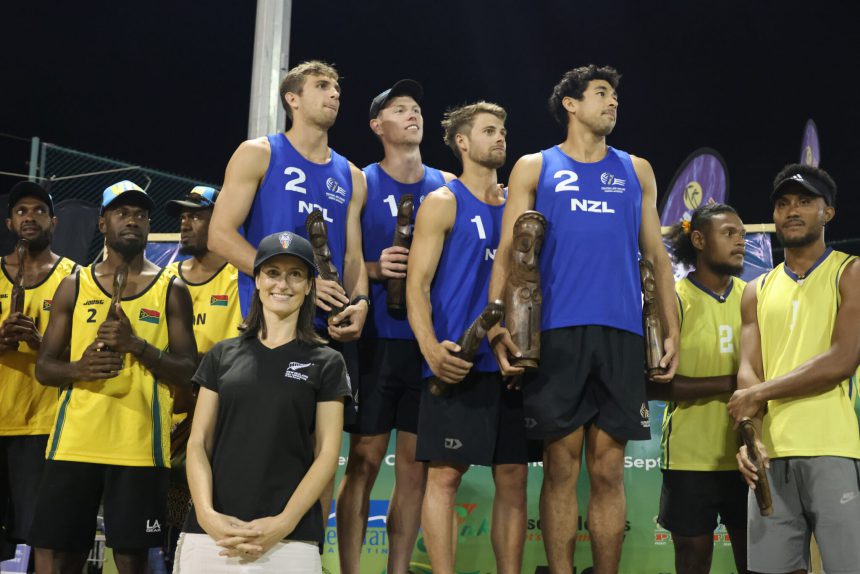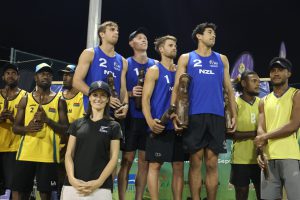 New Zealand on top of the podium, with Vanuatu and Solomon Islands in second and third places
In the finals of the two-day event, Kiwis captured the men's title after convincing 2-0 win against Vanuatu in the comfortable showdown, while the women's final clash saw the Kiwis struggle to beat the host side 2-1.
Following a clean sweep of victories in both men's and women's event, New Zealand qualified for the Final Phase due to be held during the week of June 21-23, 2024, with the eventual winners in this Phase Final qualifying for the Paris 2024 Summer Olympic Games. The qualified teams in the Final Phase came from 5 winning NFs per gender from Phase 1 plus Host NF, one 2021 Continental Cup Champions NF and one Winning NF from Phase 2, totaling 8 NFs per gender.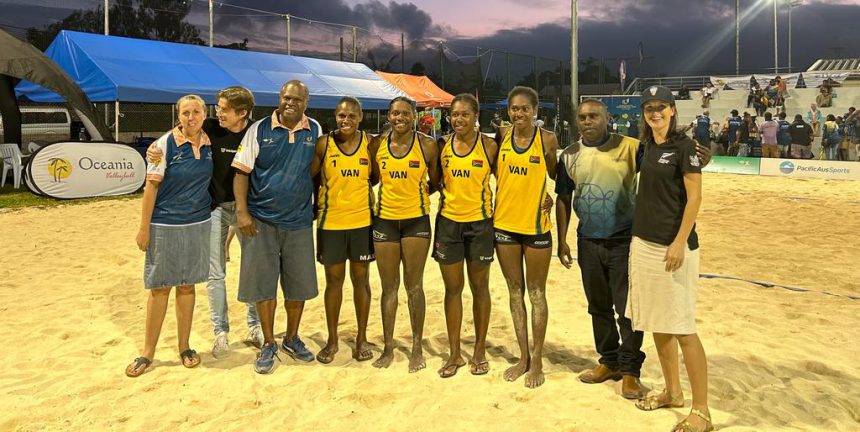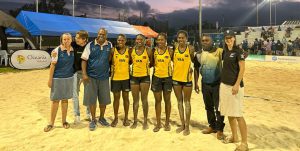 Vanuatu women's team players pose in group photo
Vanuatu, second place in both genders, made the cut for Phase 2 due to take place in no later than June 2024. Participating teams in Phase 2 will comprise 1st runner-up NFs per gender from Phase 1 (5 NFs) plus Host NF, totalling maximum 6 NFs per gender.
In Port Vila, the men's semifinals were held on September 2, with New Zealand brushing off Tuvalu 2-0 and Vanuatu demolishing Solomon Islands 2-0.
In the first semifinal clash, Bradley Fuller/Alani Nicklin handed New Zealand the first win after pulling off a totally one-sided 21-9, 21-6 win against Tuvalu's Ata Biira Taunteang/Ampex Isaac. The second match saw Thomas Reid/John McManaway breeze past Tuvalu's Poualu Taumafai/Isaako Elisala Nigel in another lopsided battle 21-10, 21-5 for the New Zealand's eventual 2-0 win against Tuvalu.
In the second semifinal clash, hosts Vanuatu's Stivano Banga/James Chilia overcame a strong challenge from Ray Quan/Tam Teriba to beat the Solomon Islands pairing in thrilling two-setter 21-18, 21-18. Another Vanuatu duo, Hotel Maki/Mahlon Mansale, shattered Solomon Islands' hopes of a comeback attempt after cruising past Maitaki Kaipua/Junior Navere 21-11, 21-15 to completely end the Solomon Islands' determined challenge with a comfortable two-match win.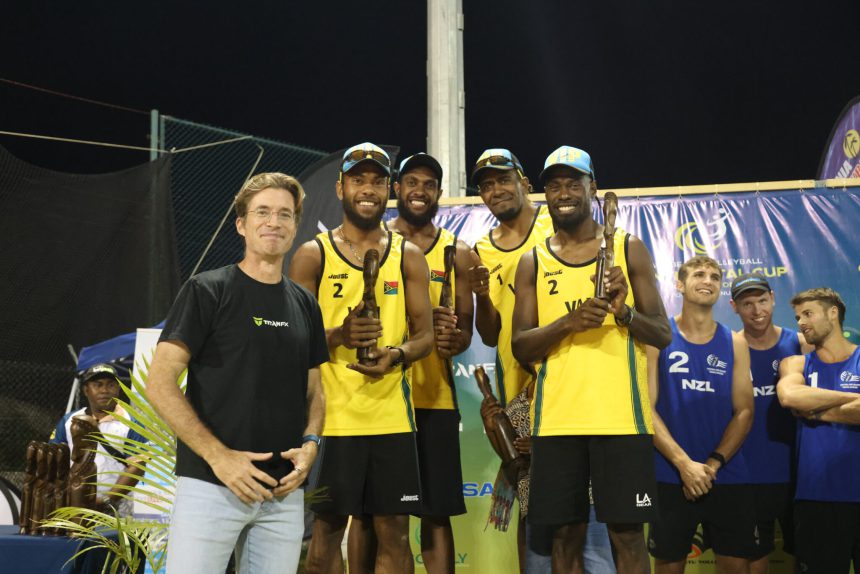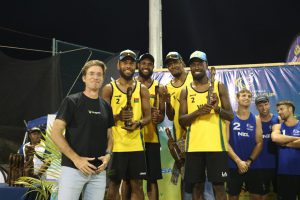 Vanuatu men's team pick up silver
The final showdown turned out to be one-way traffic for New Zealand as they pulled off a convincing 2-0 win against the host side.
Talented Fuller/Nicklin, who secured silver medal at the Wenzhou Cangnan Futures event and AVC Beach Tour Penghu Open at Aimen Beach, Penghu Islands in Chinese Taipei early this year, powered past Banga/Chilia of Vanuatu 2-0 (21-12, 21-18), while Kiwis Reid/McManaway, who claimed gold medal at National Tour events early this year at the Auckland New Zealand Beach Tour and Tasman New Zealand Beach Tour in February, proved a class above Maki/Mansale to beat the host pairing 2-0 (21-9, 21-6).
Solomon Island took bronze medal after 2-0 demolition of Tuvalu. Quan/Teriba downed Ata/Isaac 2-0 (21-14, 21-17) for the Solomon Islands' first win and Kaipua Maitaki/Navere managed a 2-0 (21-9, 21-12) shutout of Taumafai/Elisala for a clean sweep of Solomon Islands.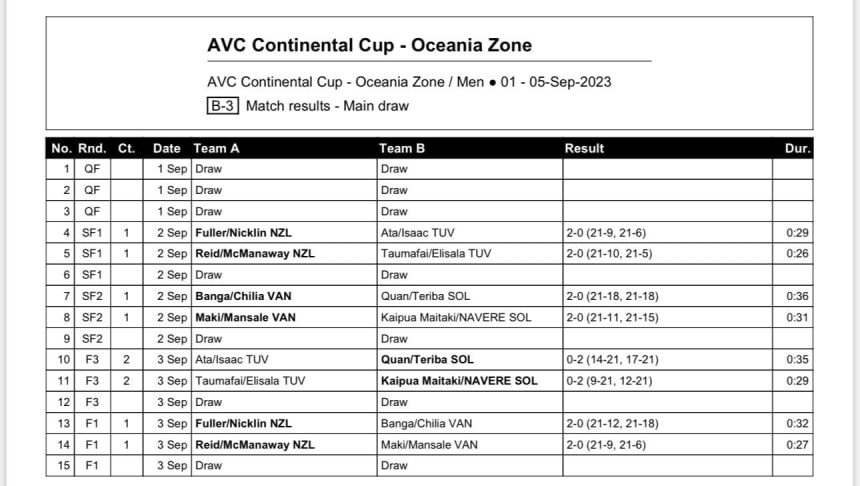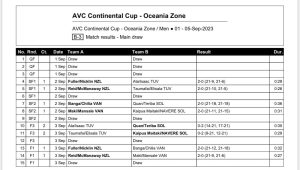 Meanwhile, in the women's event, Alice Zeimann, who teamed up with Shaunna Polley to capture gold medal at the 2022 Asian Senior Beach Volleyball Championships in Thailand and the BPT Futures Mt Maunganui Beach on home soil, partnered Olivia MacDonald to get New Zealand off to a brilliant start following their comfortable 2-0 (21-8, 21-13) win against Vanuatu's Majabelle Lawac/Sherysyn Toko.
However, the host side recovered in their second match to bounce back with Loti Joe/Linline Matauatu posting a 2-0 (21-12, 21-15) win against Kiana Stevenson/Maria Hanabadi to hold a 1-1 tie.
The Golden Match to determine the eventual winners saw Kiwis Zeimann/MacDonald go down in the first set against Lawac/Toko to stun the Vanuatu duo 2-1 (18-21, 21-15, 15-13) in exhausting 53 minutes.
In the third-place playoff clash, Australia proved too strong for Solomon Islands to sweep both matches contested.
Aussies Georgia Johnson/Jasmine Fleming outperformed Hannah U'Una/Eddy Laezalyn 2-0 (21-8, 21-11) in 29 minutes, while Stefanie Fejes/Jana Milutinovic handed Australia the second win after a 2-0 (21-9, 21-6) demolition of Susie Teno/Kirstain Puia.
In the first semifinal encounter earlier, Kiwis survived a huge scare from Australia to beat the tough opponents 2-1, with Zeimann/MacDonald producing comeback 2-1 (14-21, 21-15, 16-14) win against Johnson/Fleming in the Golden Match.
The other semifinal clash saw hosts Vanuatu cruise past Solomon Islands 2-0 for the win. Lawac/Toko put Vanuatu ahead 1-0 following their sensational 2-0 (21-10, 24-22) win against U'Una/Laezalyn, with another Vanuatu pairing, Joe/Matauatu, brushing off Teng/Puia 2-0 (21-5, 21-13).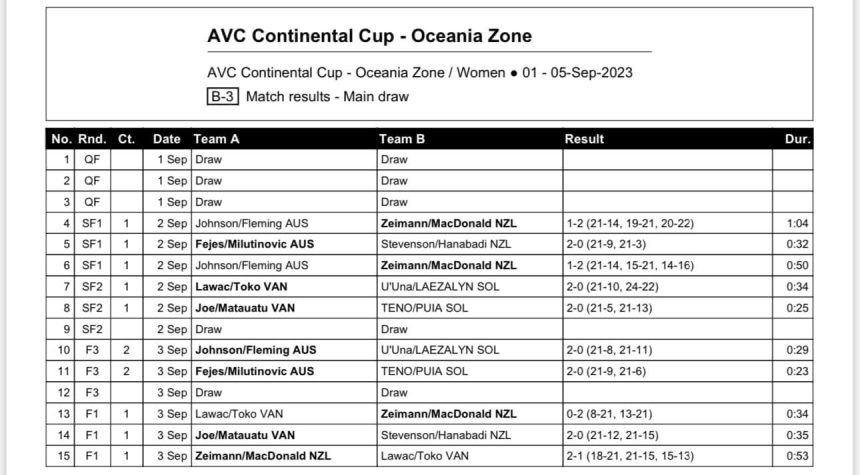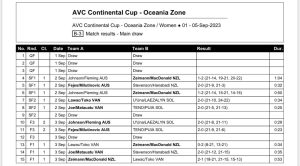 MEN
FINAL RANKING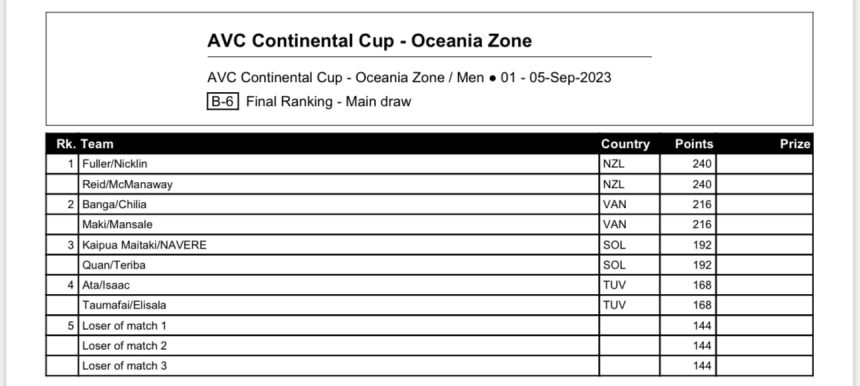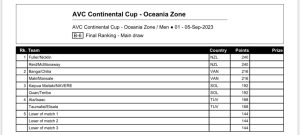 WOMEN
FINAL RANKING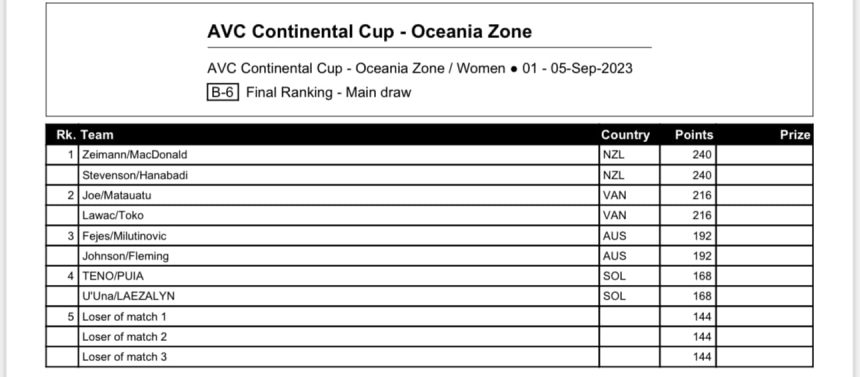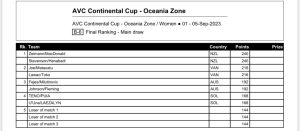 QUICK LINKS
AVC Website: click www.asianvolleyball.net
AVC Facebook: click www.Facebook.com/AsianVolleyballConfederation
AVC Twitter: click: www.twitter.com/AsianVolleyball
AVC Instagram: click: https://www.instagram.com/avcvolley/?hl=en
AVC Youtube: click: Asian Volleyball Confederation
AVC WeChat: Asian Volleyball Confederation