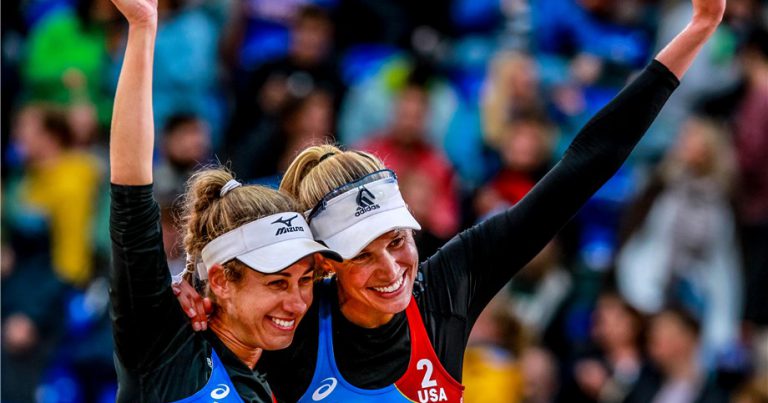 Hamburg, Germany, July 5, 2019 – The rundown went fast and furious. April Ross was reminded that she has been in four semifinals in the FIVB World Championships with four different partners.
"I wonder what the common denominator is?" partner Alix Klineman said with a sly smile.
Ross will try for her second title Saturday at Am Rothenbaum Stadium when she and Klineman take on Canada's Melissa Humana-Paredes and Sarah Pavan for the gold medal in the FIVB World Championships presented by comdirect and ALDI Nord.
In only their 14th tournament together, Ross and Klineman reached the final with a 2-0 (21-15, 21-18) victory over Australia's Taliqua Clancy and Mariafe Artacho, who will meet Switzerland's Nina Betschart and Tanja Huberli for the bronze medal.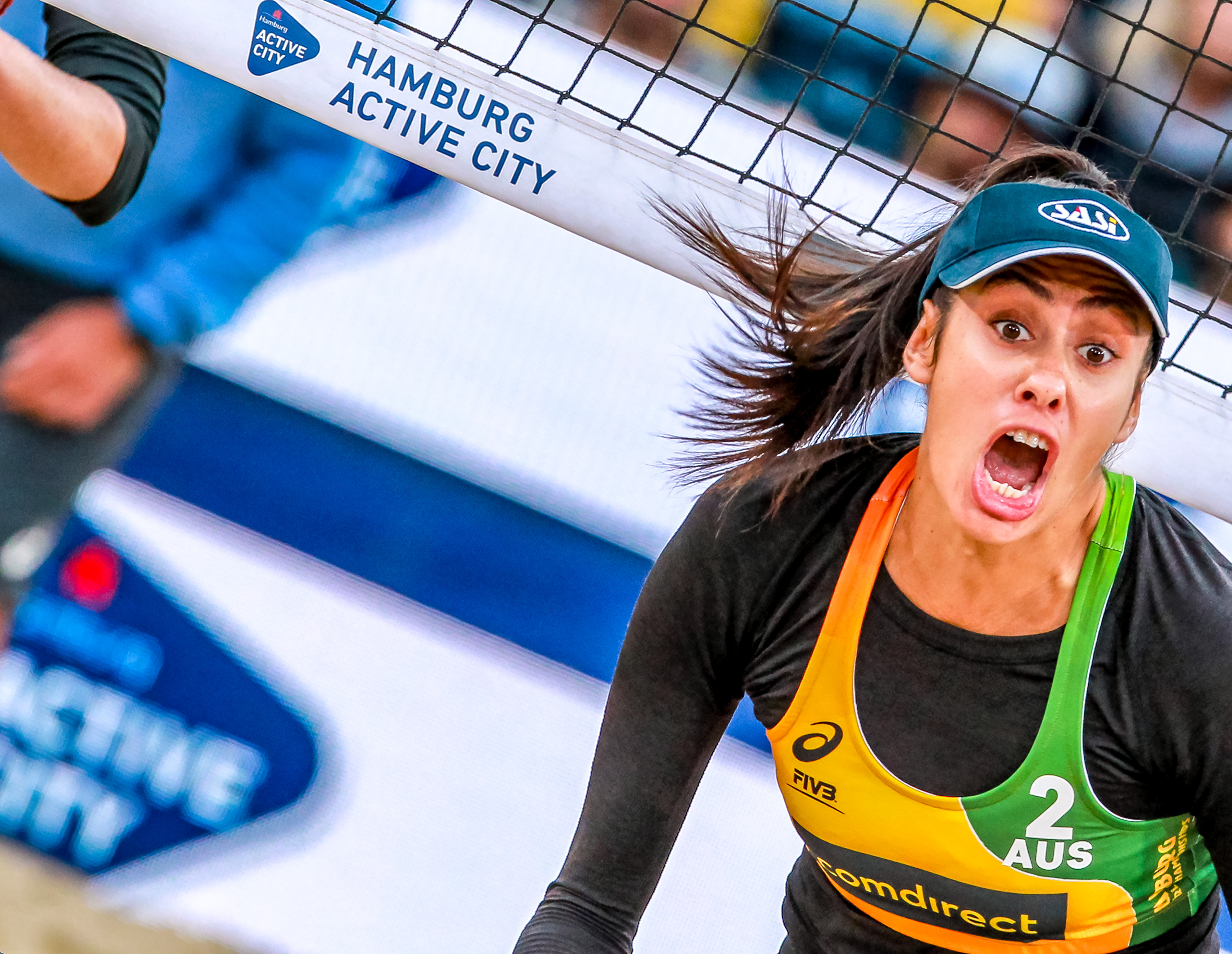 Humana-Paredes closed the night with a heart-stopping 2-1 (23-21, 17-21, 19-17) victory over the Swiss duo in the longest match of the tournament on the women's side at 1 hour, 7 minutes.
In the first All-North American final, Klineman/Ross will renew their rivalry with Humana-Paredes/Pavan. The teams are 2-2 against each other, but in 2019, the duo have battled twice with the Americans winning both times in three sets.
"Honestly I didn't look this far, I was focused on winning one match at a time because every match here is so tough," Klineman said. "I believed we could get here; I just didn't expect it."
Ross may have come to expect these kinds of results at this event. It's the 10th anniversary year of her victory with Jen Kessy, now the team's coach. Ross picked up a silver medal in Vienna in 2017 with Lauren Fendrick.
"It's a lot of focus," Ross said. "We knew where we wanted to go and the level we wanted to be playing. We worked so hard at it all season. We put everything we had into every match. We're OK being completely exhausted at the end of this and we're going to leave it all out on the court. That's what World Championships and big events make you do, so that's just what we're doing.
"It's the World Championships. We need to find a lot of energy and a lot of emotion and give it everything we have."
To reach the semifinals, Ross and Klineman defeated fellow Americans Sara Hughes and Summer Ross, 2-0 (21-18, 21-14) earlier Friday. Pavan and Humana-Paredes topped Italy's Marta Menegatti and Viktoria Orsi Toth, 2-0 (21-12, 21-12), to advance to the semifinals.
The Canadians lived on the edge against the Swiss in the final match of the evening. After edging their way to victory in the first set, they saw Betschart and Huberli take control in the second.
Humana-Paredes and Pavan then built a 14-10 lead in the tiebreaker set, the first four of seven eventual match points. Don't ask them to explain what happened next.
"I blacked out," Humana-Paredes said.
"I was just going to say that," Pavan echoed with a slight smile.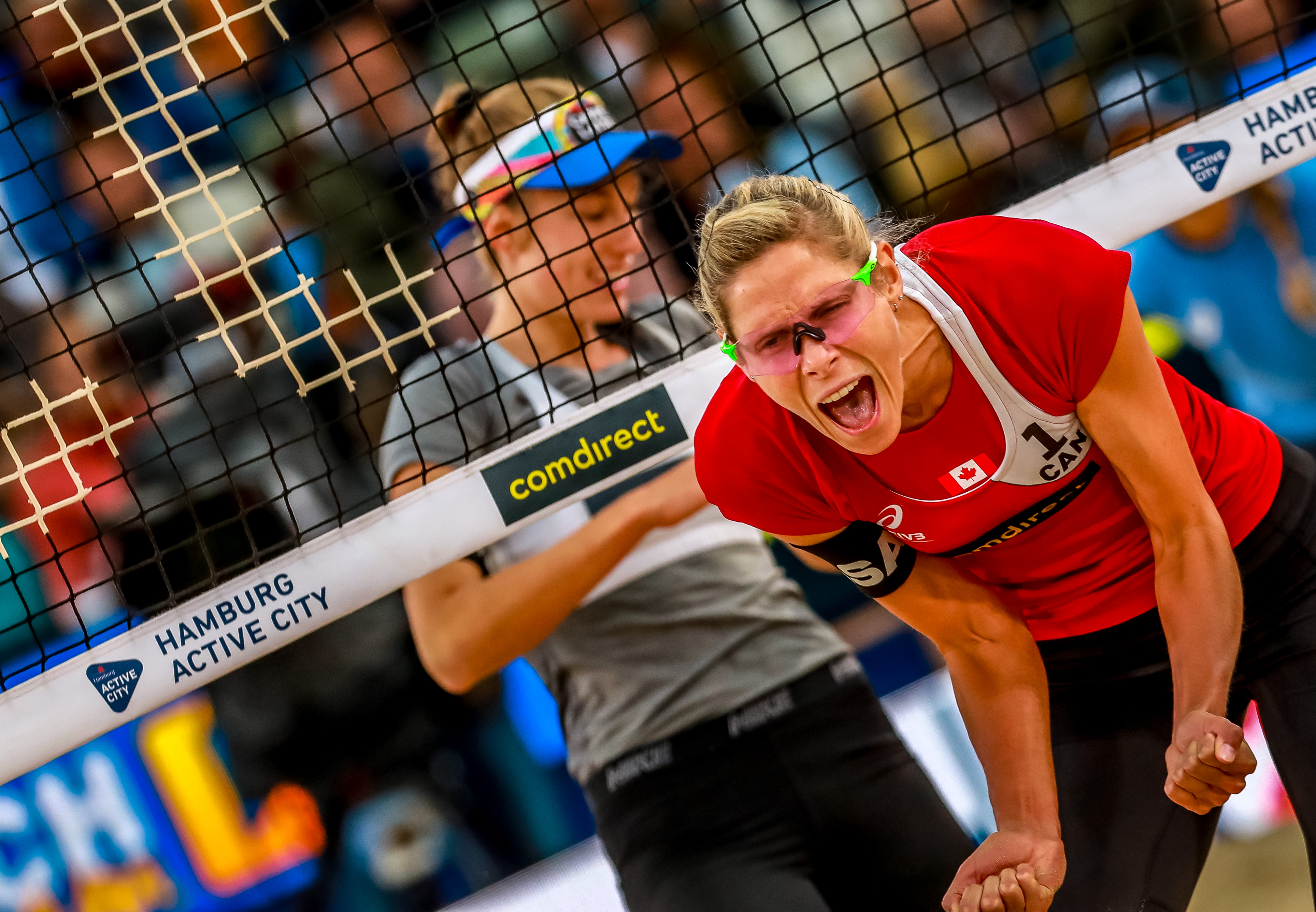 "It was terrifying," Humana-Paredes said. "Really, I have no words."
The Swiss had a match point at 17-16, but Humana-Paredes squared the set with a cross-court shot.
"They had a match point?" Pavan asked incredulously.
As the Canadians hugged one another with tears forming, the heartbreak was on the Swiss side. This is their fifth final four on the FIVB World Tour, but they have yet to reach a final. They have picked up a bronze medal on each of the previous four occasions.
"This loss is hard to accept," Huberli said. "We gave everything we had. We were behind 14-10 when we just gave everything and never gave up. I'm proud of our team and how we fought. Right now, it hurts."
Betschart and Huberli will meet the Australians for the first time in the battle for the bronze. Both teams will have to put aside the disappointment of not reaching the final.
"You work hard, and you want those moments, but ugh," Clancy said. "The beauty is we've given ourselves a chance to be up on the podium.
"It's a fun one, you can't complain and you're just so lucky you get another chance even if you lose the semi. We've just got to bring a bit more than we did today."

Related links of AVC
AVC Website: click www.asianvolleyball.net
AVC Facebook: click www.Facebook.com/AsianVolleyballConfederation
AVC Twitter: click: https://twitter.com/avcvolley
AVC Instagram: click: https://www.instagram.com/avcvolley/?hl=en
AVC Youtube: click: Asian Volleyball Confederation
AVC WeChat: Asian Volleyball Confederation