Fourth window still underway during the current application cycle
With the Volleyball Empowerment application cycle 2022-2023 still underway,154 projects have so far been approved for National Federations (NFs) around the world with a total investment of over 4 million CHF.
These 154 projects include 40 applications approved following the last (third) application window. A total of 49 applications from NFs for development support were received during the last window with the 40 approved representing an over 81% approval rate and over 1.1 million CHF in support.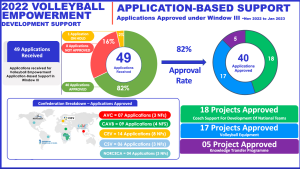 The Volleyball Empowerment 2022-2023 application cycle opened in May 2022 with 154 applications approved to date. During the three application windows,51 coach support projects, 73 volleyball equipment projects and 30 knowledge transfer projects were approved. These 154 projects come from all five Continents with 24 in Asia, 58 in Africa, 52 in Europe, 14 in South America and 6 in North, Central America and Caribbean region.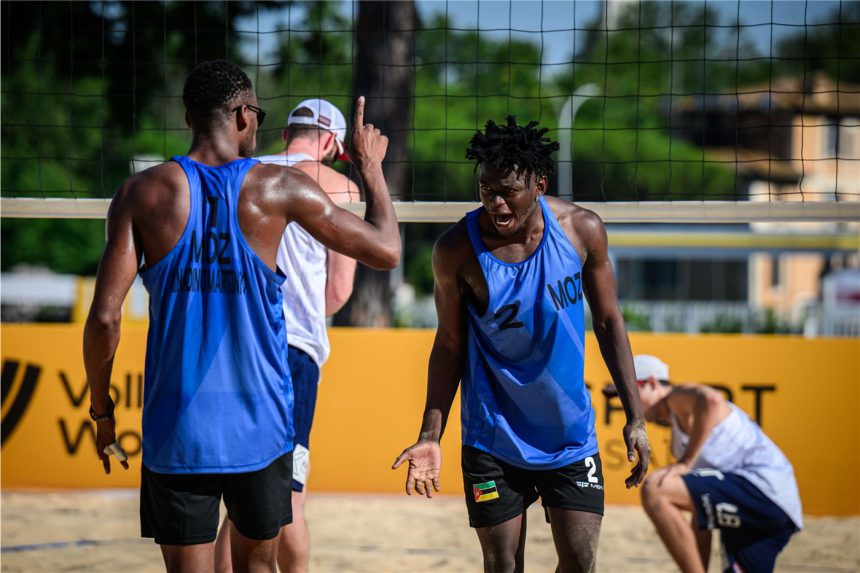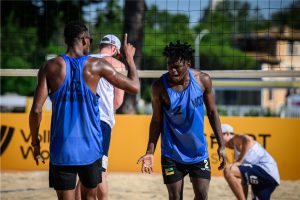 With the fourth application window – February to April 2023 now open, the NFs have an opportunity to submit more projects to the FIVB for support during the current cycle. Applications received in this period will be analysed from May to July 2023, enabling National Federations to commence their projects from August 2023.
To submit your Volleyball Empowerment Application-based support project please click here.
https://survey.alchemer.com/s3/6837070/2022-FIVB-VOLLEYBALL-EMPOWERMENT-APPLICATION-BASED-SUPPORT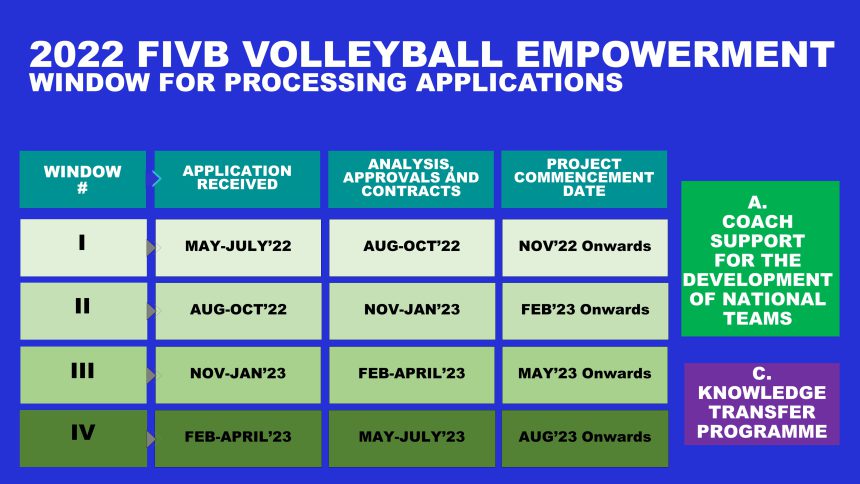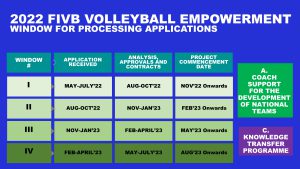 Speaking about the results of Volleyball Empowerment 2022-2023 cycle, the FIVB President Dr Ary S. Graça F° said:
"I am delighted to see so many strong applications being submitted to the FIVB for support. To date we have approved 154 out of 179 projects in the current Volleyball Empowerment cycle with a very high approval rate of 86per cent. I highly recommend that our NFs work towards creating strong projects and apply for the support, so that we can best serve volleyball.
"We are extremely pleased to be able to offer support to our NFs 365 days a year. Additionally, since this cycle, they can apply for more than one project during the year giving even more opportunities for the sport to develop all over the world. This will allow NFs with several good projects to diversify between various types of support, ensuring they can get the maximum benefit from Volleyball Empowerment."
QUICK LINKS
AVC Website: click www.asianvolleyball.net
AVC Facebook: click www.Facebook.com/AsianVolleyballConfederation
AVC Twitter: click: www.twitter.com/AsianVolleyball
AVC Instagram: click: https://www.instagram.com/avcvolley/?hl=en
AVC Youtube: click: Asian Volleyball Confederation
AVC WeChat: Asian Volleyball Confederation