By Marie Louise Principe
Chiba, Japan, September 12, 2021 – Pakistan pushed opponents Thailand toward the tie-break, to win 3-2 (22-25,25-23, 21-25, 25-23,15-12) in the Preliminary Round – Pool B of the 21st Asian Senior Men's Volleyball Championship.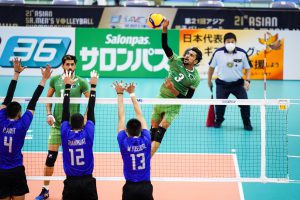 Usman Faryad Ali scored 22 points in the match, delivering reliably in clutch plays for Pakistan's win on Sunday at the Chiba Port Arena.
Captain Khan Aimal served as a primary option on offense for Pakistan, while Thai opposite Assanaphan Chantajorn likewise had much success with his wing attacks.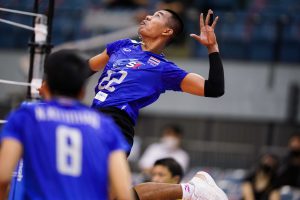 Pakistan, with a much taller team, sought to capitalize in the middle, utilizing both attack and block to their advantage.
With a tight first set unfolding, Thailand stuck to good floor defense as their clear advantage in clutch plays. A service winner sealed the first set at 25-22 for the Thai side.
By the next set, Thailand adjusted better to the block formation against them. They also kept a close eye on Pakistan's right-side, which helped usher an early 9-2 run.
Pakistan retaliated as Abdul Zaheer engaged the middle attack, and later scoring off back-to-back service aces. They also improved their accuracy from the wing, with Usman Faryad Ali scoring successively to help tie the match with 25-23 in the second set.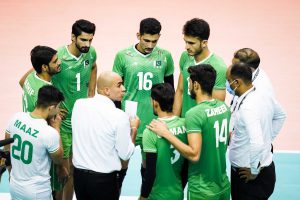 In the next set, Chapipat Buaket and Kittithad Nuwaddee energized the Thai offense from the flanks. Pakistan still utilized their strengths to stay abreast with their opponents, but later misfired their attacks. Aekkawee Bangsri connected with huge block kill, that helped spark the Thais toward 25-21 in the third set.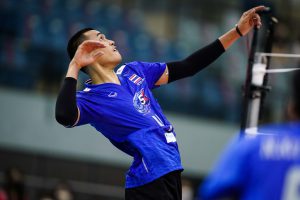 By the fourth set, Pakistan tightened their watch on their opponents' wing attack. The Thai side worked on a number of solutions, varying their speed in attack, or enlisting the pipe plays. Each team knew how to respond to rallies and recycled plays, making for an exchange of side-outs.
Toward the closing plays, Pakistan firmed up their net defense, and connected from the wing to force the decider.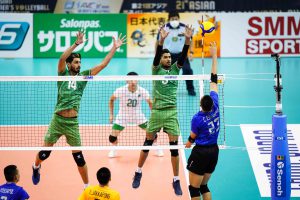 Interesting rallies sparked the fifth set. Thailand endured better in the exchange, with good defense to help propel faster plays. Pakistan showed they could adjust quickly, and race towards the net for good block formation. Aimal delivered from the right wing to settle a disputed rally to help bring Pakistan to good momentum for a 15-12 finish.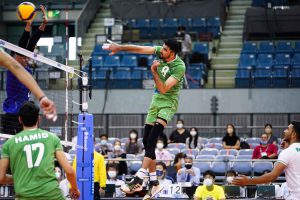 Thailand will next face three-time champions Iran at 15:00 local time, while Pakistan and Hong Kong, China face-off earlier at 9:30 local time on Monday at the Chiba Port Arena.
Related links of AVC
AVC Website: click www.asianvolleyball.net
AVC Facebook: click www.Facebook.com/AsianVolleyballConfederation
AVC Twitter: click: www.twitter.com/AsianVolleyball
AVC Instagram: click: https://www.instagram.com/avcvolley/?hl=en
AVC Youtube: click: Asian Volleyball ConfederationAVC WeChat: Asian Volleyball Confederation