Blazers, Wolfdogs and Sunbirds trail Panthers in men's competition; Arrows, Springs and Red Rockets follow JT Marvelous in women's
Panasonic Panthers maintained their winning rhythm in the men's tournament, while JT Marvelous kept their unbeaten run in the women's tournament following their double victories in week three of the Japan V.League.
Men's Tournament
After losing their opening match against Wolfdogs Nagoya, Panasonic Panthers have won five consecutive matches, including their 3-1 (23-25, 25-20, 25-20, 25-18) win on Saturday and 3-0 (25-21, 25-21, 25-23) triumph on Sunday over JT Thunders.
Issei Otake and Michal Kubiak were the main point contributors for the visiting Panthers, as they logged double-digit outputs in both matches.
In the first match, Otake and Kubiak teamed-up to score 26 and 13 points, respectively, to outscore Thunders high-scoring opposite Thomas Edgar, who had a match-high 30 points. Otake and Edgar had a showdown from the service line, with the former winning the duel with six aces against the latter's five.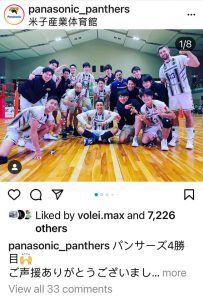 Otake again breached the 20-point mark and recorded 21 points to lead the Panthers with Kubiak, who added 13, while Edgar was limited to just 13 points in the straight-set match on Sunday.
Sakai Blazers, Wolfdogs Nagoya and Suntory Sunbirds completed their weekend matches with back-to-back wins.
Canadian star Sharone Vernon-Evans led the Blazers as they posted double four-set victories over VC Nagano. The high-leaping opposite came up with back-to-back over-20-point performances to put his team in second place.
Vernon-Evans had 33 points to rally the Blazers in their opening set loss to win 3-1 (23-25, 26-24, 31-29, 25-20), then made 22 points in the next match 3-1 (32-30, 25-19, 21-25, 25-17).
World champion Bartosz Kurek also posted big numbers for Wolfdogs Nagoya in their two wins against FC Tokyo on Saturday and Sunday. He started with a 25-point performance in their 3-0 (25-15, 25-23, 29-27) win and then put on a solid 29-point act to help his side succeed 3-1 (26-24, 25-23, 23-25, 25-21).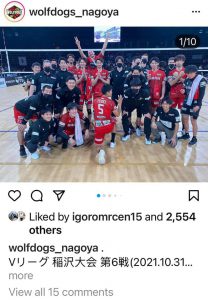 Masahiro Yanagida and Cuban Alain De Armas scored 21 points each to help Suntory Sunbirds overcome a tough 3-2 (21-25, 25-14, 25-19, 23-25, 15-12) encounter with JTEKT Stings, then scored 13 and 16 points in the 3-0 (25-20, 25-17, 25-16) win in the next match.
Toray Arrows moved to fifth place as they improved their win-loss record to 4-2 after two four-set match wins. The Arrows triumphed over Oita Miyoshi Weisse Adler 3-1 (24-26, 25-21, 25-16, 25-21) on Saturday and 3-1 (25-17, 25-18, 22-25, 25-16) on Sunday.
Women's Tournament
Annie Drews played in all four sets and teamed-up with Yuki Nishikawa to guide JT Marvelous to a 3-1 (24-26, 25-22, 25-15, 25-19) win over Kurobe Aqua Fairies. The left-handed American opposite topped all scorers with 18 points, while Nishikawa came off the bench to be JT Marvelous' second best scorer with 17 markers.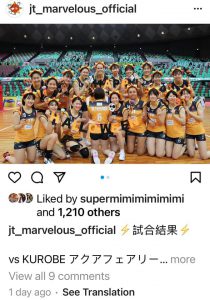 Drews had a five-point performance in her two-set appearance on Sunday, before passing the scoring torch to Nishikawa who had 19 points in their 3-0 (25-15, 25-20, 25-17) win.
JT Marvelous have strengthened their grip on the women's leaderboard after winning full points in their six matches.
Toray Arrows, Hisamitsu Springs and NEC Red Rockets have also kept their momentum going, dropping only one match so far in the league to claim second, third and fourth places in the standings.
Jana Kulan scored 27 and 26 points to lead Toray Arrows to 3-0 (28-26, 25-17, 25-20) and 3-1 (25-16, 22-25, 25-20, 25-21) victories over Okayama Seagulls. Japan's young national team star Mayu Ishikawa had nine points in the first outing, then delivered an inspired 23-point performance in the next match.
Two Olympic champion teammates – Hisamitsu Springs Foluke Akinradewo and Toyota Auto Body Queenseis' Kelsey Robinson – faced each other over the weekend. The Spring Attackers succeeded on both occasions with results of 3-0 (25-23, 25-20, 25-22) and 3-1 (25-19, 25-20, 26-28, 25-20).
Robinson topped the scoring charts in both matchups as she recorded 18 and 22 points, respectively, but Akinradewo's contributions of six and four stuff blocks were valuable to the winning performance of Hisamitsu Springs.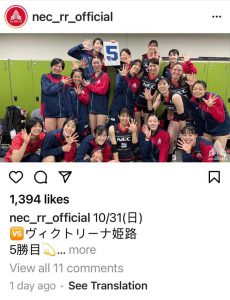 NEC Red Rockets' Sarina Koga teamed-up with American reinforcement Sarah Wilhite to beat Victorina Himeji 3-1 (25-19, 25-19, 23-25, 27-25). Koga and Wilhite scored 18 and 24 points, respectively, to outplay Celeste Plak who had a 38-point haul in the first matchup.
Koga stepped up with 24 points in the next encounter, while Plak was limited to 15 as Himeji conceded to the Red Rockets 3-1 (23-25, 25-17, 25-19, 25-21).
Denso Airybees won 3-0 (25-20, 25-22, 25-17) and 3-1 (25-17, 21-25, 29-27, 25-21) against Hitachi Rivale to improve their win-loss record to 4-2, while PFU Bluecats and Saitama Ageo Medics had a draw in their weekend meetings to stay in sixth and seventh places with identical 3-3 cards.
The Bluecats won in straight sets (25-23, 25-23, 25-20) led by Melissa Valdez who led the charge with 23 points on Saturday, then Ageo Medics responded with a straight-set (27-25, 25-17, 25-18) win courtesy of the heroics of Mami Uchiseto and Brazilian opposite Lorenne Teixeira who teamed-up with 15 and 14 points.
Related links of AVC
AVC Website: click www.asianvolleyball.net
AVC Facebook: click www.Facebook.com/AsianVolleyballConfederation
AVC Twitter: click: www.twitter.com/AsianVolleyball
AVC Instagram: click: https://www.instagram.com/avcvolley/?hl=en
AVC Youtube: click: Asian Volleyball Confederation
AVC WeChat: Asian Volleyball Confederation