With the 48 teams in each gender split into 12 pools, the duos now know who their first opponents in Mexico will be
The pool phase of the 2023 FIVB Beach Volleyball World Championships is now fully set as, following last week's announcement of the 96 teams that will compete in Mexico from 6-15 October, the Drawing of Lots for the event was held on Wednesday in the host country of the tournament.
Marking the return of the event to Latin America for the first time in two decades, the 14th edition of the World Championships will be played across four venues in the cities of Tlaxcala, Huamantla and Apizaco and will include as many as 216 matches.
https://www.youtube.com/watch?v=4n4IqWjtDZA&t=1s
The men's and women's winners will each earn a spot at the Olympic Games Paris 2024 for their countries as well as a share of the USD 1 million prize money. Duos from 40 different countries are set to compete in Mexico in just over a month's time.
The reigning world champions among the women, Brazilians Ana Patrícia Ramos and Eduarda 'Duda' Lisboa are in Pool A. The South Americans will begin their campaign in Mexico playing against France's Lézana Placette and Alexia Richard, Finland's Niina Ahtiainen and Taru Lahti and Chile's Maria Francisca Rivas Zapata and Chris Vorpahl.
Pool F is the only one to feature two past world champions – 2015 champion Bárbara Seixas of Brazil, who will be paired with Carol Salgado, and 2017 winner Laura Ludwig of Germany, who will form a duo with Louisa Lippmann. The other two tandems on the pool are Japan's Miki Ishii and Sayaka Mizoe and Nigeria's Tochukwu Nnoruga and Franco Ikhiede.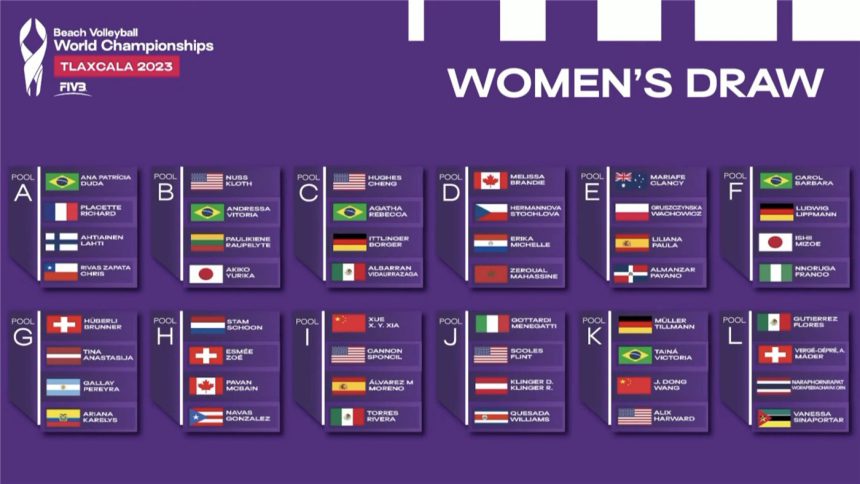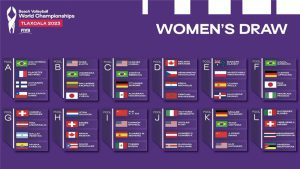 Four other world champions will try to win the tournament again in 2023. Bárbara's partner in her 2015 title, Olympic medalist Ágatha Bednarczuk is in Pool C alongside partner Rebecca Cavalcanti. The two will face the USA's Kelly Cheng and Sara Hughes, Germany's Sandra Ittlinger and Karla Borger and Mexico's Esperanza Albarran and Yerai Vidaurrazaga in the opening round of the event.
The winners of the 2019 World Championship, Canadians Melissa Humana-Paredes and Sarah Pavan are back with new partners and in different pools. While Melissa and partner Brandie Wilkerson will battle Czechia's Barbora Hermannová and Marie-Sara Štochlová, Paraguay's Erika Bobadilla and Michelle Valiente, and Morocco's Imane Zeroual and Mahassine Siad in Pool D, Pavan and Molly McBain are in Pool H, where they will compete against the Netherlands' Raisa Schoon and Katja Stam, Switzerland's Esmée Böbner and Zoé Vergé-Dépré and Puerto Rico's Allanis Navas and Maria Gonzalez.
Completing the list of world champions is Chinese star Chen Xue, a 2013 world champion, who alongside partner Xinyi Xia will play against the USA's Terese Cannon and Sarah Sponcil, Spain's Daniela Álvarez and Tania Moreno and Mexico's Susana Torres and Ivanna Rivera in Pool I.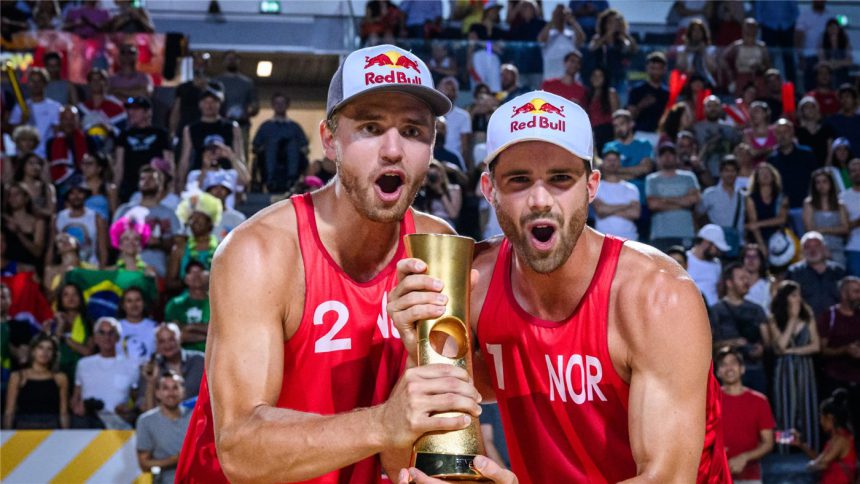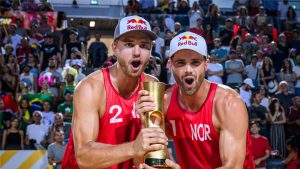 Sørum and Mol will try to become the first men's team to win consecutive editions of the World Championship
The 2022 men's champions, Anders Mol and Christian Sørum of Norway lead Pool A, which also features the Netherlands' Stefan Boermans and Yorick de Groot, Italy's Daniele Lupo and Enrico Rossi and Mozambique's Jorge Monjane and Ainadino Martinho.
The 2017 world champions, Brazilians Evandro Gonçalves and Andre Loyola will both have difficult challenges in pool play. Evandro and partner Arthur Lanci will meet Czechia's Ondrej Perusic and David Schweiner, Cuba's Jorge Alayo and Noslen Diaz and Mexico's Ricardo Galindo and Isaias Aguirre in Pool I. Meanwhile, Andre and George Wanderley will compete with the USA's Trevor Crabb and Theo Brunner, Ukraine's Sergiy Popov and Eduard Reznik and Gambia's Sainey Jawo and Jahara Koita in Pool D.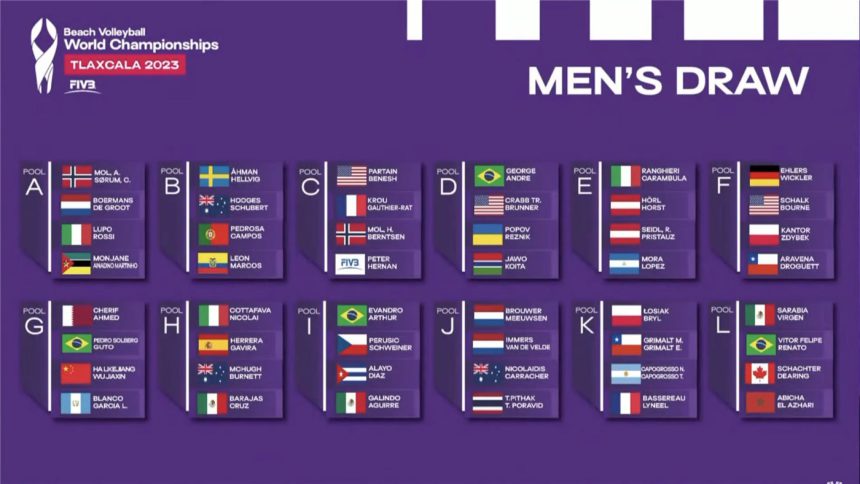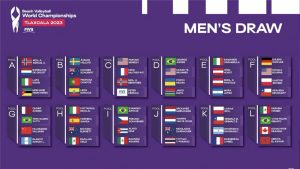 Crowned world champions ten years ago, Alexander Brouwer and Robert Meeuwsen of the Netherlands will start their campaign in Mexico in Pool J against compatriots Matthew Immers and Steven van de Velde, Australia's Mark Nicolaidis and Izac Carracher and Thailand's Pithak Tipjan and Poravid Taovato.
During the first phase of the tournament, teams in each of the 12 pools will play in a round-robin format. The top two teams in each pool and the best four teams that rank third in their respective pools will move directly to the Round of 32.
The remaining eight third-placed tandems will play a four-match lucky loser round to fill the last four spots in the elimination rounds. From the Round of 32 forward, the tournament continues on a single elimination format, with the Round of 16, quarterfinals, semifinals and medal matches.
Watch the 2023 FIVB Beach Volleyball World Championship live on VBTV.
QUICK LINKS
AVC Website: click www.asianvolleyball.net
AVC Facebook: click www.Facebook.com/AsianVolleyballConfederation
AVC Twitter: click: www.twitter.com/AsianVolleyball
AVC Instagram: click: https://www.instagram.com/avcvolley/?hl=en
AVC Youtube: click: Asian Volleyball Confederation
AVC WeChat: Asian Volleyball Confederation