Lausanne, Switzerland, June 21, 2019 – With the 2019 FIVB Beach Volleyball World Championships scheduled to start in seven days, the teams of Rebecca Cavalcanti/Ana Patricia Silva from Brazil and Anders Mol/Christian Sorum from Norway were listed as the favourites to win medals at the biennial event to be held this season in Germany.
The US$1-million FIVB World Championships will be played June 28 through July 7 at Am Rothenbaum Stadium in Hamburg with Mol and Sorum being the top-seeded pair in the 48-team men's field with Rebecca and Ana Patricia seeded fourth in the women's 48-team women's competition.
In the balloting, 10 men's teams from nine countries and nine women's pairs from five nations gathered votes from the 21 coaches returning completed ballots the past two weeks. Teams were awarded three points for being listed as the gold medal winner on the ballot, two points for being named to place second and one point for being listed to finish third.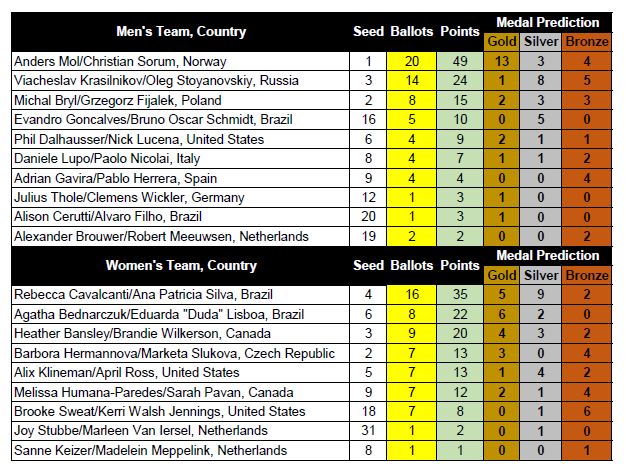 The 21-year-old Mol and 23-year-old Sorum were named on 20 of the 21 ballots to net 49 points. The Norwegians collected 13 votes to win the World Championship gold medal while being named three times to place second and mentioned four times to finish third.
Winners of 23 of their last 24 international beach volleyball matches en route to collecting seven gold medals in their last 10 World Tour appearances, Mol and Sorum will be seeking their second-straight title in Hamburg after winning the 2018 FIVB World Tour Finals last August at the Am Rothenbaum Stadium centre court by defeating Poland's Michal Bryl/Grzegorz Fijalek in the finals.
In the midst of their second season together on the FIVB World Tour, Rebecca and Ana Patricia were named on 16 of the 21 women's ballots received from the coaches to amass 35 points. The Brazilians were selected five times to win the gold medal and were mentioned nine times to place second and twice to finish third.
In nine World Tour appearances this season, the 26-year-old Rebecca and 20-year-old Ana Patricia have appeared in seven final fours with three gold medals, two seconds, one third and one fourth. The Brazilians have won 87 percent of their matches this season and top the World Tour for both women and men with 46 wins.
The teams of Viacheslav Krasilnikov/Oleg Stoyanovskiy of Russia and Bryl/Fijalek finished second and third in the men's poll by gathering 24 and 15 points, respectively. The third-seeded Russians were named on 14 of the 21 ballots with the second-seeded Poles mentioned eight times.
Krasilnikov and Stoyanovskiy, who are tied with Mol and Sorum with 35 match wins this season with two gold medals, were named as the gold medal winners on one ballot with eight votes to place second and five votes to finish third.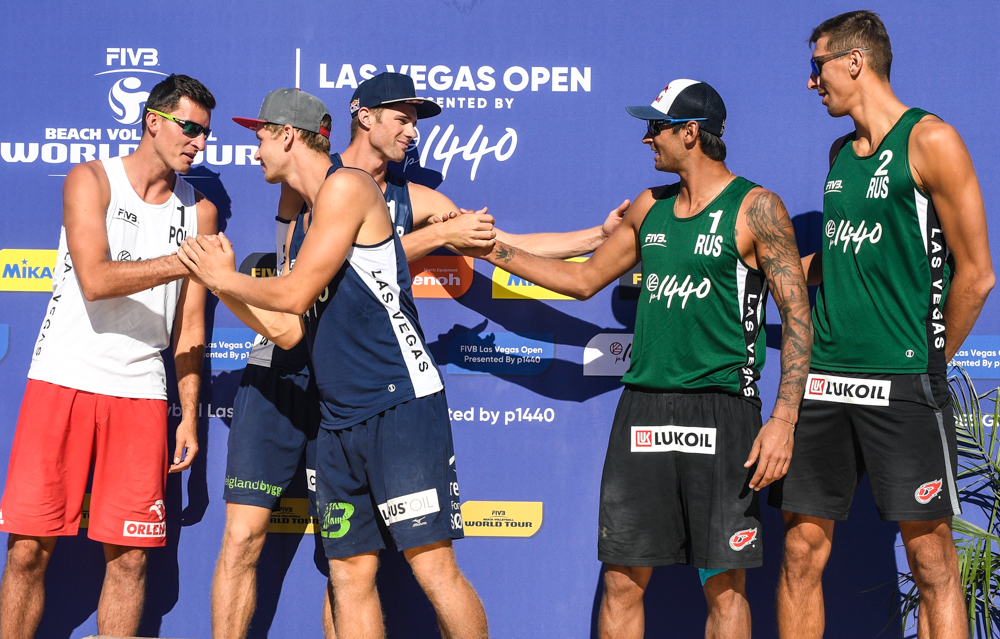 Bryl and Fijalek, who have dropped four gold medal matches to Mol and Sorum the last 11 months at events in Austria, Germany, Brazil and China, gathered two gold medal votes, three second-place mentions and three votes to finish third.
Americans Phil Dalhausser/Nick Lucena were named on two ballots to win the men's gold medal with Daniele Lupo/Paolo Nicolai of Italy, Julius Thole/Clemens Wickler of Germany and Alison Cerutti/Alvaro Filho of Brazil recognized on one ballot each to win the World Championship trophy.
Brazil also captured the second spot in the women's voting as sixth-seeded Agatha Bednarczuk and Eduarda "Duda" Lisboa finished behind compatriots Rebecca and Ana Patricia with 22 points by being named six times by the coaches as the gold medal winners with two second-place mentions.
Agatha and Duda, who have captured one gold medal in five World Tour events this season, joined Mol and Sorum as winners last August at the FIVB World Tour Finals as the Brazilians defeated Barbora Hermannova/Marketa Slukova of the Czech Republic in the 2018 finale.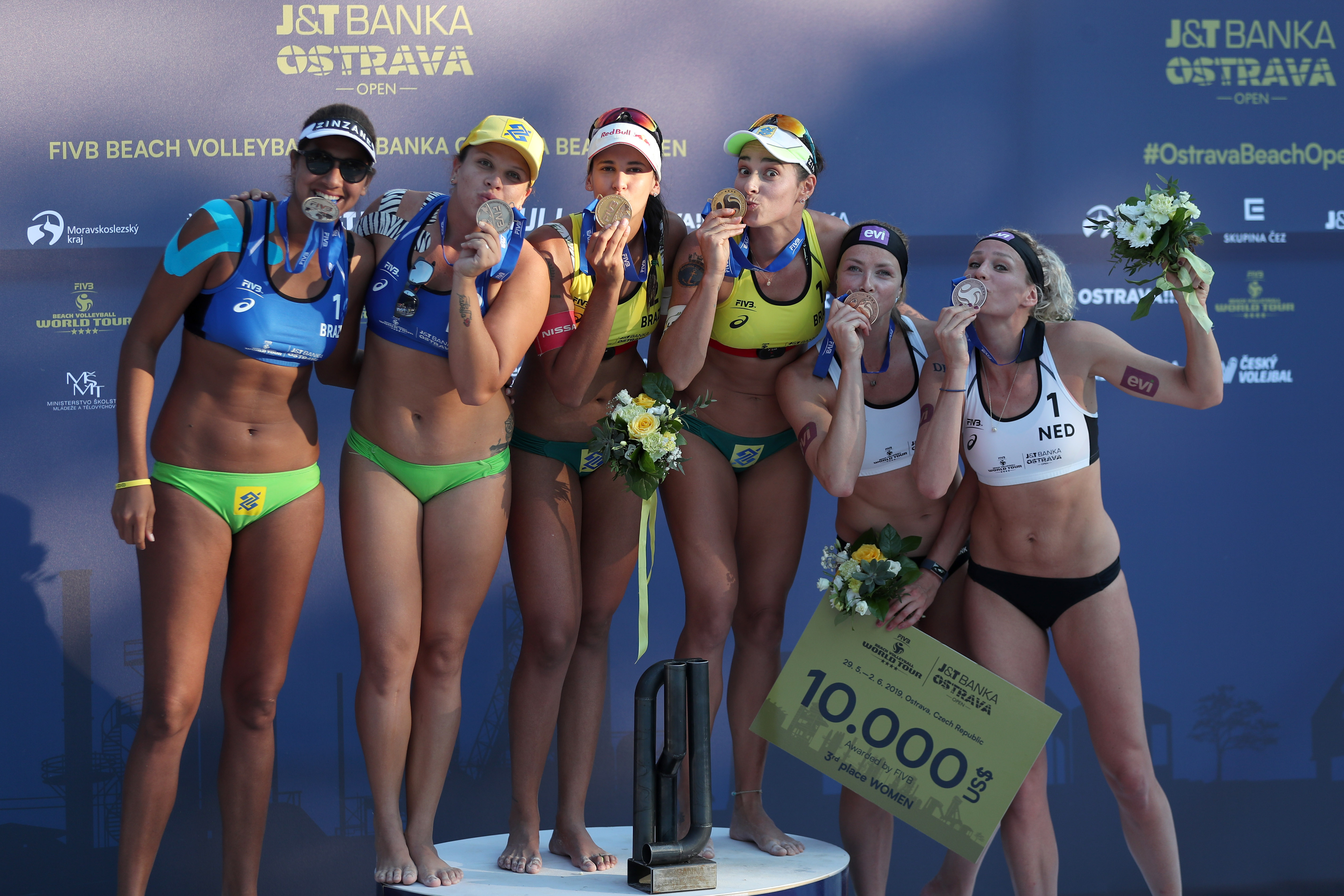 With 20 points in the voting, third-seeded Heather Bansley and Brandie Wilkerson also received four gold medal votes along with three mentions for second and two votes for a third-place finish. The Canadians have won two events this season with back-to-back gold medal finishes last October at stops in the United States and Mexico.
Barbora Hermannova/Marketa Slukova of the Czech Republic were named on three ballots to win the women's World Championship title with two voters naming Melissa Humana-Paredes/Sarah Pavan of Canada as the Hamburg trophy recipients. Americans Alix Klineman/April Ross were named on one ballot as the gold medal winners.
The US$1-million FIVB World Championships feature 48-team fields per gender as action begins on June 28 with pool play followed by the bracket play where 32 teams advance to the elimination rounds. The women's medal matches will be played on July 6 with the men's podium placement contests set for July 7 as the winning teams share the $60,000 first-place prizes.
Related links of AVC
AVC Website: click www.asianvolleyball.net
AVC Facebook: click www.Facebook.com/AsianVolleyballConfederation
AVC Twitter: click: https://twitter.com/avcvolley
AVC Instagram: click: https://www.instagram.com/avcvolley/?hl=en
AVC Youtube: click: Asian Volleyball Confederation
AVC WeChat: Asian Volleyball Confederation