By Wang Leon
Xi'an, China, September 18, 2021 – Shanghai and Jiangsu remained undefeated after brushing off Guandong and Henan respectively on Day 3 of China National Games Senior Women's Volleyball Tournament here at the Aoxiang Gymnasium of Northwestern Polytechnical University.
Led by veteran Zhang Lei, Shanghai spent only 74 minutes in seeing of Guangdong in straight sets 25-17, 25-16, 25-20.
Henan historically qualified for top 8 in the China National Games Senior Women's Volleyball Tournament, thanks to Zhu Ting's exceptional performance in the previous Qualification Tournament. However, their form did not live up to expectations without Zhu Ting on court due to her chronicle wrist injury. Facing such powerhouses Jiangsu, they soon yielded the first set 14-25. Jiangsu also kept their key players on bench in the following sets and managed to finish the match 3-1 (25-14, 25-22, 23-25, 25-16) despite Henan's comeback in the third set.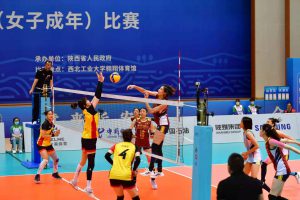 In the first match of the day, Shandong, with a two-game losing streak, mounted a gallant challenge against Tianjin, but they had to accept another loss in 0-3 (24-26, 22-25, 16-25).
Liaoning's key players were kept on bench in the previous match against Tianjin. In Saturday's match against Zhejiang, they fielded a full-strength side on court. Yan Ni and Liu Yanhan, having a good rest and fatigue restoration, spared no efforts in attacking and blocking. In spite of Zhejiang's remarkable defense, Liaoning played better teamwork with Ding Xia's skilled organisation and they finally claimed a convincing 3-0 (25-18, 25-11, 25-20) victory.
After three rounds of play in the round-robin phase, Shanghai and Jiangsu take the pool top two spots with 3 straight wins while Tianjin and Liaoning are placed 3rd to 4th with 2-1 record each. Guangdong and Zhejiang were slotted in the 5th and 6th places both with 1-2 record followed by winless Shandong and Henan.
The round-robin preliminaries have 7 rounds of play. Top 4 teams of the pool will advance to semifinals, while the rest teams will be ranked according to their performances in the preliminaries.
Competition Schedule
Thursday, September 16
Henan v Shanghai 0-3 (19-25, 21-25, 19-25)
Guangdong v Zhejiang 2-3 (25-20, 25-21, 18-25, 16-25, 7-15)
Jiangsu v Tianjin 3-2 (25-19, 20-25, 25-23, 18-25, 19-17)
Liaoning v Shandong 3-2 (15-25, 25-22, 17-25, 25-17, 15-12).
Friday, September 17
Zhejiang v Jiangsu 1-3 (25-17, 23-25, 23-25, 24-26)
Shanghai v Shandong 3-0 (25-19, 25-20, 25-21)
Tianjin v Liaoning 3-0 (25-20, 25-21, 25-12)
Henan v Guangdong 1-3 (19-25, 16-25, 25-22, 19-25)
Saturday, September 18
Shandong v Tianjin 0-3 (24-26, 22-25, 16-25)
Liaoning v Zhejiang 3-0 (25-18, 25-11, 25-20)
Guangdong v Shanghai 0-3 (17-25,16-25,20-25)
Jiangsu v Henan 3-1 (25-14, 25-22,23-25,25-16)
Sunday, September 19
13:00 Zhejiang v Shandong
15:00 Henan v Liaoning
17:00 Guangdong v Jiangsu
19:00 Shanghai v Tianjin
Monday, September 20
Rest Day
Tuesday, September 21
13:00 Liaoning v Guangdong
15:00 Jiangsu v Shanghai
17:00 Shandong v Henan
19:00 Tianjin v Zhejiang
Wednesday, September 22
13:00 Jiangsu v Liaoning
15:00 Guangdong v Shandong
17:00 Henan v Tianjin
19:00 Shanghai v Zhejiang
Thursday, September 23
13:00 Tianjin v Guangdong
15:00 Zhejiang v Henan
17:00 Liaoning v Shanghai
19:00 Shandong v Jiangsu
Friday, September 24
Rest Day
Saturday, September 25
Semifinals 1
Semifinals 2
Sunday, September 26
Bronze medal match
Gold medal match
Related links of AVC
AVC Website: click www.asianvolleyball.net
AVC Facebook: click www.Facebook.com/AsianVolleyballConfederation
AVC Twitter: click: www.twitter.com/AsianVolleyball
AVC Instagram: click: https://www.instagram.com/avcvolley/?hl=en
AVC Youtube: click: Asian Volleyball Confederation
AVC WeChat: Asian Volleyball Confederation