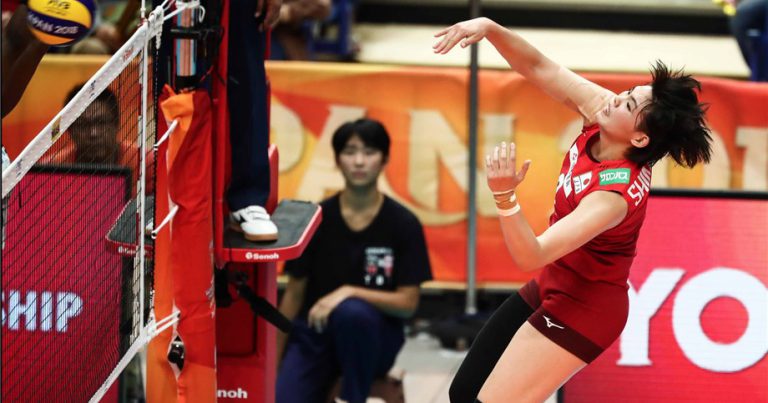 Japan standout Haruyo Shimamura let the NEC Red Rockets this weekend.
Tokyo, Japan, November 10, 2020 – On Sunday, the NEC Red Rockets faced the Saitama Ageo Medics and with the Toray Arrows playing later in the day, they did not know if they would be in first place at the end of the day.
The Red Rockets had played the PFU Blue Cats on Saturday and thoroughly dominated with a 3-0 victory. NEC had 15 more kills and five more blocks than PFU, and NEC had six fewer hitting errors in the match. Turkey's Neriman Ozsoy scored 19 points for the Red Rockets, including a block.
Coming back to Sunday, NEC and Saitama split the first two sets. In the third set, NEC jumped out to a 13-5 lead, but Saitama kept plugging away point-by-point to nearly tie at 22-23. Kills by Haruyo Shimamura and Sarina Koga ended the Medics' rally 25-22, 2-1 sets lead for NEC. In the fourth set, the Medics started quickly with five straight points to open the set. However, NEC would go on an 8-3 run to tie the set at 8. The set would remain close and would again be tied at 20-20. Two kills by Ozsoy and a Medics hitting error gave NEC a gap at 23-20, and a Shimamura spike ended the set 25-22, 3-1 sets win for NEC.
Shimamura as a middle blocker was nearly unstoppable with 17 points, 16 of 29 spiking with one block to lead all scorers. Ozsoy contributed 16 points with two blocks and an ace in the Red Rockets win. Yuri Yoshino and Mami Uchiseto each had 15 points (all kills) for Ageo in the loss. The win took NEC to 6-1 in wins-losses for the season with 18 points resulting in first place.
The Toray Arrows entered Sunday's match as the only undefeated team in the league after the Saturday win over Hisamitsu Springs 3-1 on Saturday. Azerbaijan's Jana Kulan was the star for Toray with 27 points, including three blocks.
On Sunday, the Arrows took on Hitachi Rivale who had lost three matches in a row. Toray took the opening set, before Hitachi took the next two for a 2-1 set lead. In the fourth set, Toray jumped to a four-point lead and kept extending it to force a fifth set. With the score tied 4-4 in the fifth set, three straight kills by Mayu Ishikawa for Toray gave them a 4-0 run to make the side change with a lead of 8-4 Toray. From there the Arrows coasted to a 15-9 set win and match win 3-2.
Kulan again was the star on Sunday with 26 and another three blocks for the Arrows. Miwako Osanai had 21 with an ace in the loss for the Rivale. Toray's five-set win though cost them the league lead, however.  For teams tied on wins, points is the next tiebreaker. With NEC having played one more match, the Red Rockets have 18 points to NEC's 17 points.
JT Marvelous took both of their matches this weekend 3-2 against Denso Airybees on Saturday and 3-1 against Victorina Himeji. Annie Drews with 22 (three blocks included) against Denso and 26 (one block included) led the Marvelous. The match against Himeji featured 13 blocks for JT against two for Himeji – Aika Akutagawa with four blocks alone. With the wins, the Marvelous are keeping pace with NEC and Toray at 6-1 and 17 points, in third place due to sets ratio with Toray.
American Kathryn Plummer and her Denso Airybees defeated Okayama Seagulls 3-1 after losing on Saturday. Plummer is the focus of the Airybees' offence and defence with a combined 54 points, with four blocks and five aces included to keep Denso in the race for the top four. Okayama split their weekend matches with a win over Himeji 3-0 on Saturday. Shuka Kaneda hit 15 kills in the win for the Seagulls on Saturday.
Toyota Auto Body Queenseis got their first win of the season on Sunday against PFU 3-0. Japanese women's national team captain Erika Araki scored 19, including five blocks and two aces. Italian opposite Indre Sorokaite had 16 kills as well. PFU had 30 fewer kills and nine more hitting errors in the loss. PFU are the only team without a win in the league. Araki did set a record with her 1,319th set played, which is a new record for the V.League.
Toyota could not sweep the weekend as Saitama used Shaina Joseph's 17 (with two blocks) and Uchiseto for 20 (with a block and an ace) to win 3-1 over the Queenseis. Sorokaite had 20 (with a block and an ace) for Toyota.

Match results for November 7, 2020
Saitama Ageo Medics – Toyota Auto Body Queenseis 3-1 (25-14, 25-23, 26-28, 25-17)
JT Marvelous – Denso Airybees 3-2 (25-19, 24-26, 25-18, 18-25, 15-11)
NEC Red Rockets – PFU Blue Cats 3-0 (25-10, 25-20, 25-18)
Toray Arrows – Hisamitsu Springs 3-1 (25-19, 23-25, 25-17, 25-22)
Okayama Seagulls – Victorina Himeji 3-0 (25-16, 25-23, 25-23)
Match results for November 8, 2020
Toyota Auto Body Queenseis – PFU Blue Cats 3-0 (29-27, 25-21, 25-11)
JT Marvelous – Victorina Himeji 3-1 (19-25, 25-21, 25-22, 25-16)
NEC Red Rockets – Saitama Ageo Medics 3-1 (25-17, 20-25, 25-22, 25-22)
Toray Arrows – Hitachi Rivale 3-2 (25-21, 19-25, 22-25, 25-16, 15-9)
Denso Airybees – Okayama Seagulls 3-1 (25-23, 23-25, 25-21, 27-25)
Related links of AVC
AVC Website: click www.asianvolleyball.net
AVC Facebook: click www.Facebook.com/AsianVolleyballConfederation
AVC Twitter: click: https://twitter.com/avcvolley
AVC Instagram: click: https://www.instagram.com/avcvolley/?hl=en
AVC Youtube: click: Asian Volleyball Confederation
AVC WeChat: Asian Volleyball Confederation