Tianjin, China, April 28, 2019 – The second-day matchups at the 2019 Asian Women's Club Volleyball Championship witnessed four straight-set matches highlighted by a thrilling three-setter between 4.25 Sport Club and Hisamitsu Seiyaku Springs.
In the first encounter of the day, Sri Lanka Air Force Sports Club snatched their first victory 3-0 (25-13, 25-22, 25-15) over Binagar of Turkmenistan, thanks to superb joint effort of attack trio of Ranasingha Chathurika Gayani (12 points), Prasadani Jayamahahitihamilage Dines (12 points) and Sandamali A.L.A.Anuththara (9 points).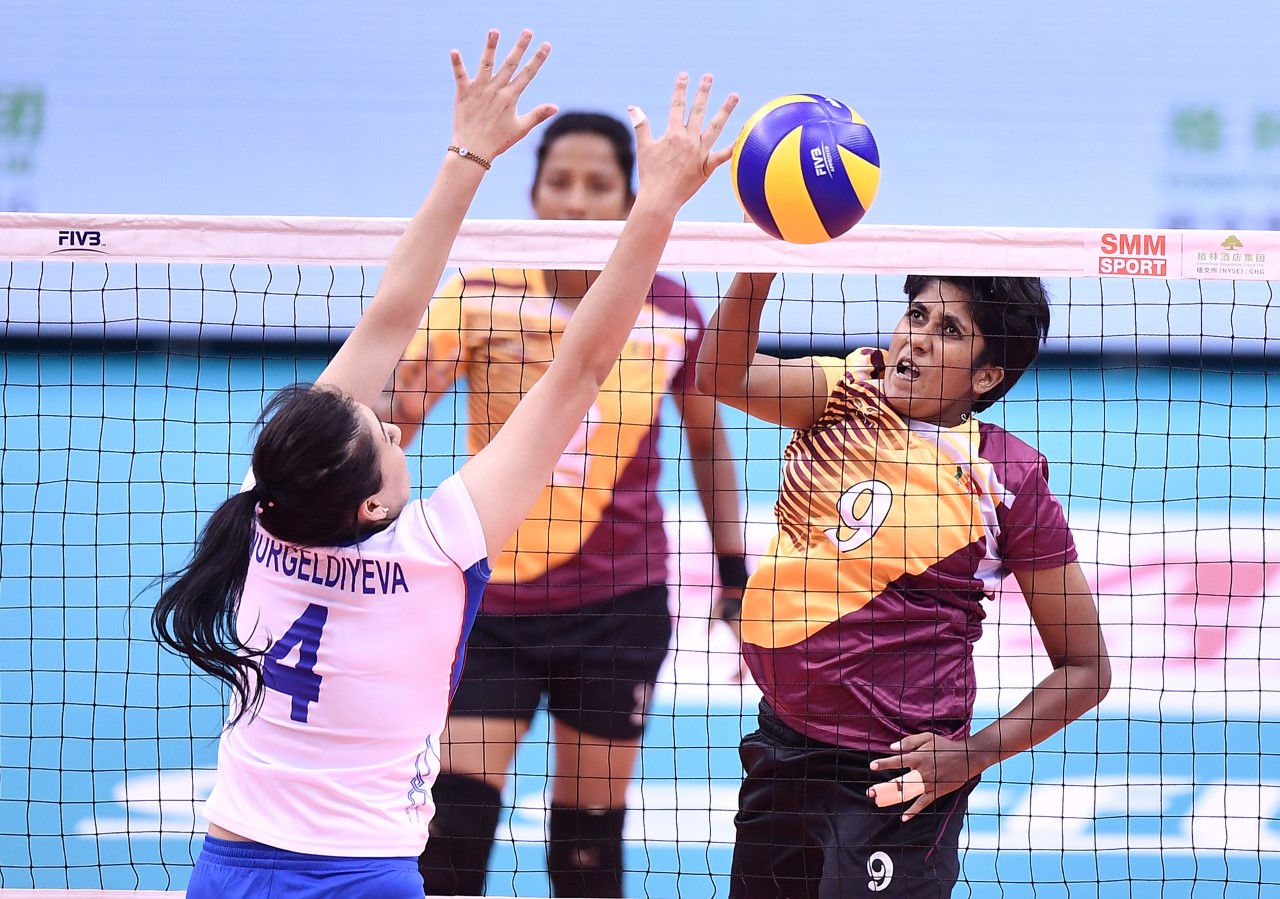 Head coach of Sri Lanka Air Force Sports Club Galgamuge Jagath Sanjaya Senadheer expressed his satisfaction with the result and praised his players at the mixed zone.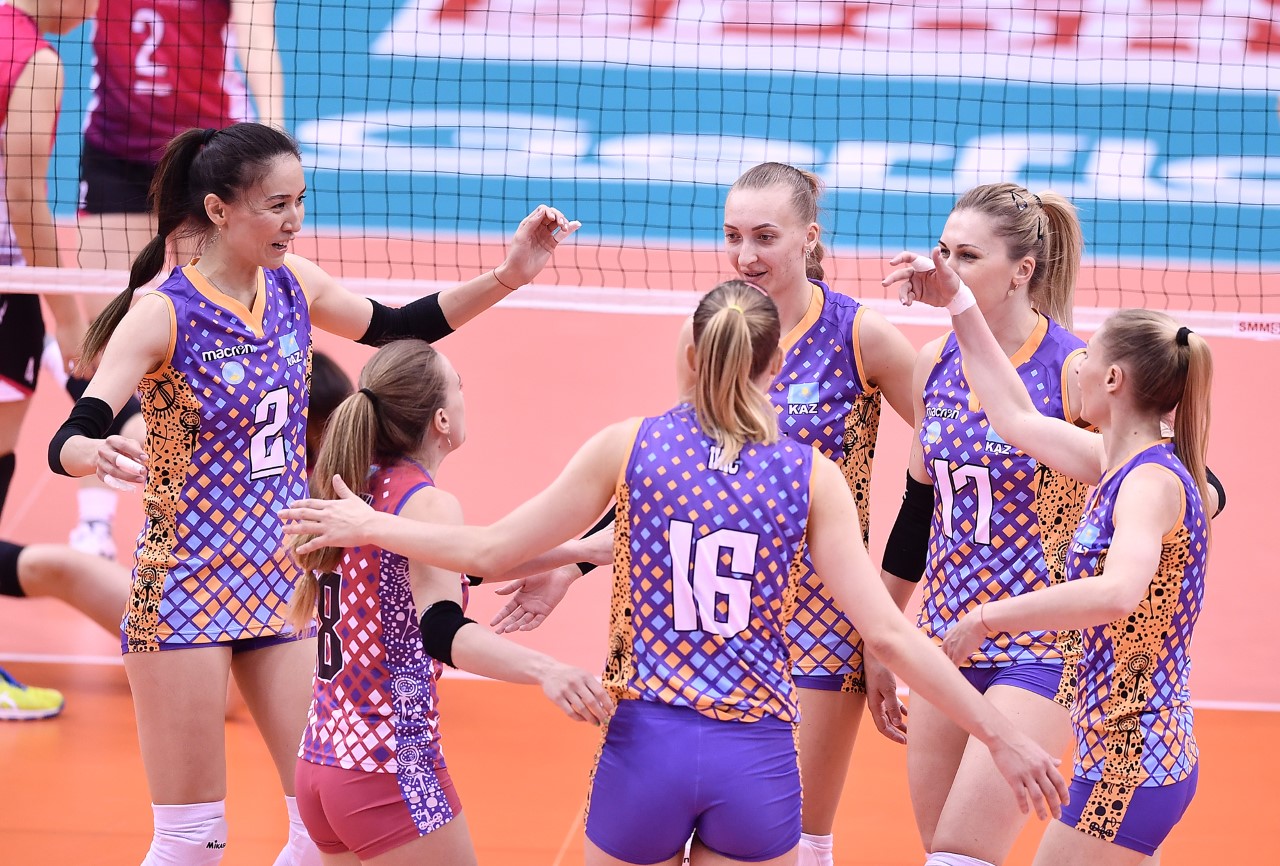 The second match saw Altay VC from Kazakhstan brandish their superiority over Hong Kong International VC. It spent only 51 minutes before Altay defeated the smaller-built team in a totally one-sided battle 3-0 (25-6, 25-12, 25-15) to clinch their second consecutive win.
Kristina Anikonova chipped in match-high 11 points from 26 attempts for Altay VC, proving that she is an existence of beauty and strength. Her teammates Kristina Belova and Olga Drobyshevskaya contributed 10 and 9 points respectively.
"As you can see, it's not a difficult game for us. Our young players got more experience through it. We'll have to gear up for the next encounter against hosts Bohai Bank Tianjin," head coach of Altay VC Iurii Panchenko commented in a good mood.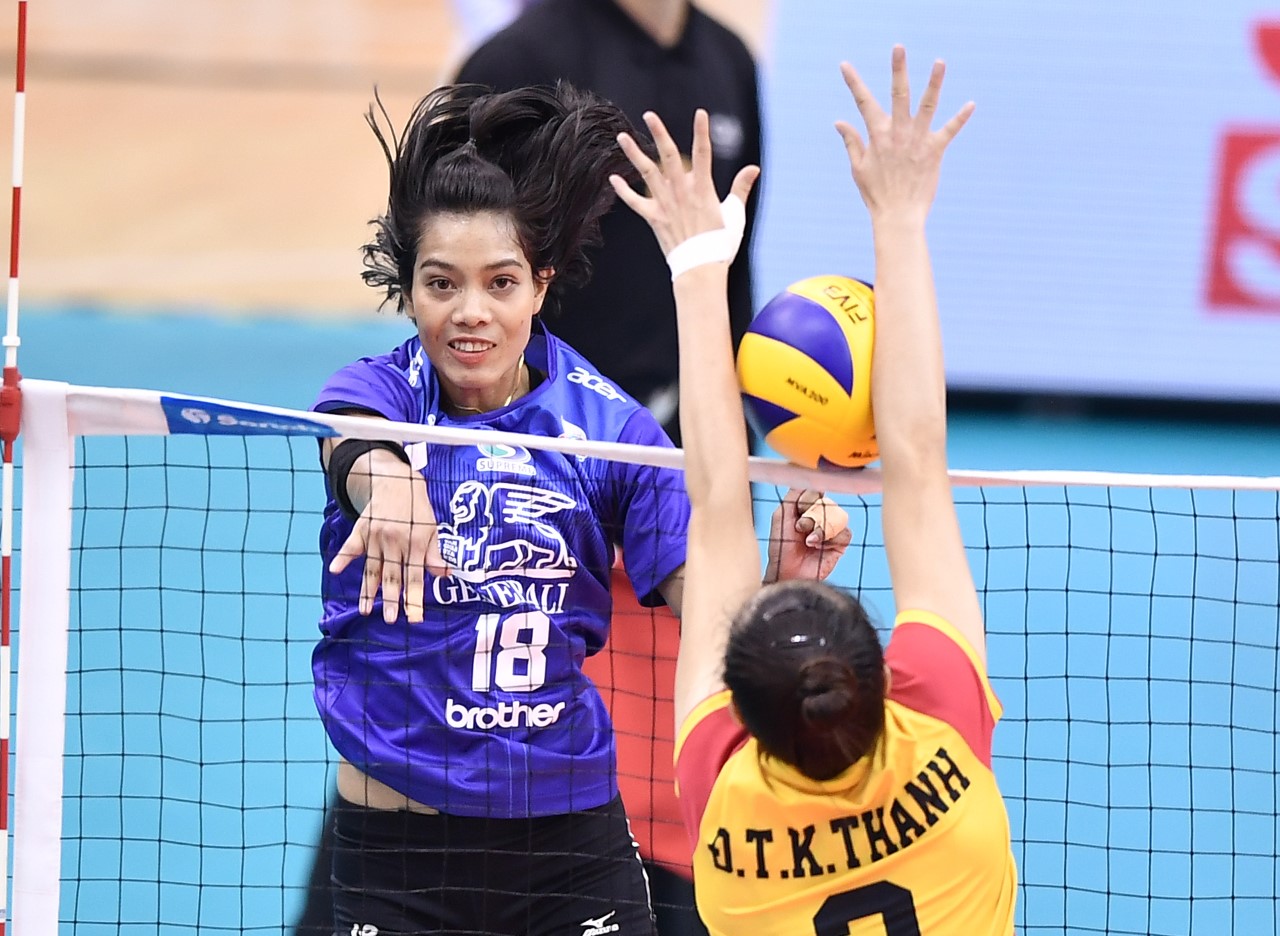 Recovering from a disappointing 2-3 loss to DPR Korea's 4.25 Club the previous day, reigning champions Supreme Chonburi proved a class above VTV Binh Dien Long An with a comfortable straight-set 3-0 (25-10, 25-11, 25-19) victory.
The title-holders only met up with some troubles in the third set as VTV Binh Dien Long An regained their composure and capitalized on attacks by Vo Thi Kim Thoa and Pham Thi Cam Linh to keep them in the match from 6-8 to 11-12. However, good chemistry between Pleumjit Thinkaow, Indonesian Aprilia Santini Manganang and Chinese Wang Na extinguished their momentum to secure the third set 25-19 and match.
"Our team did a lot better than yesterday. We can solve some main problems that occurred in the last match. However the main problem is that we still cannot get along with each other very well due to lack of practice together. Anyway, I think we did a good job in this match," said Wilavan Apinyapong, captain of Supreme Chonburi.
"For our next match against Sri Lanka Air Force, we will play carefully against them. And we will have young blood to play in the next match. I believe, we will get better and better and make less mistakes in the following matches." she added.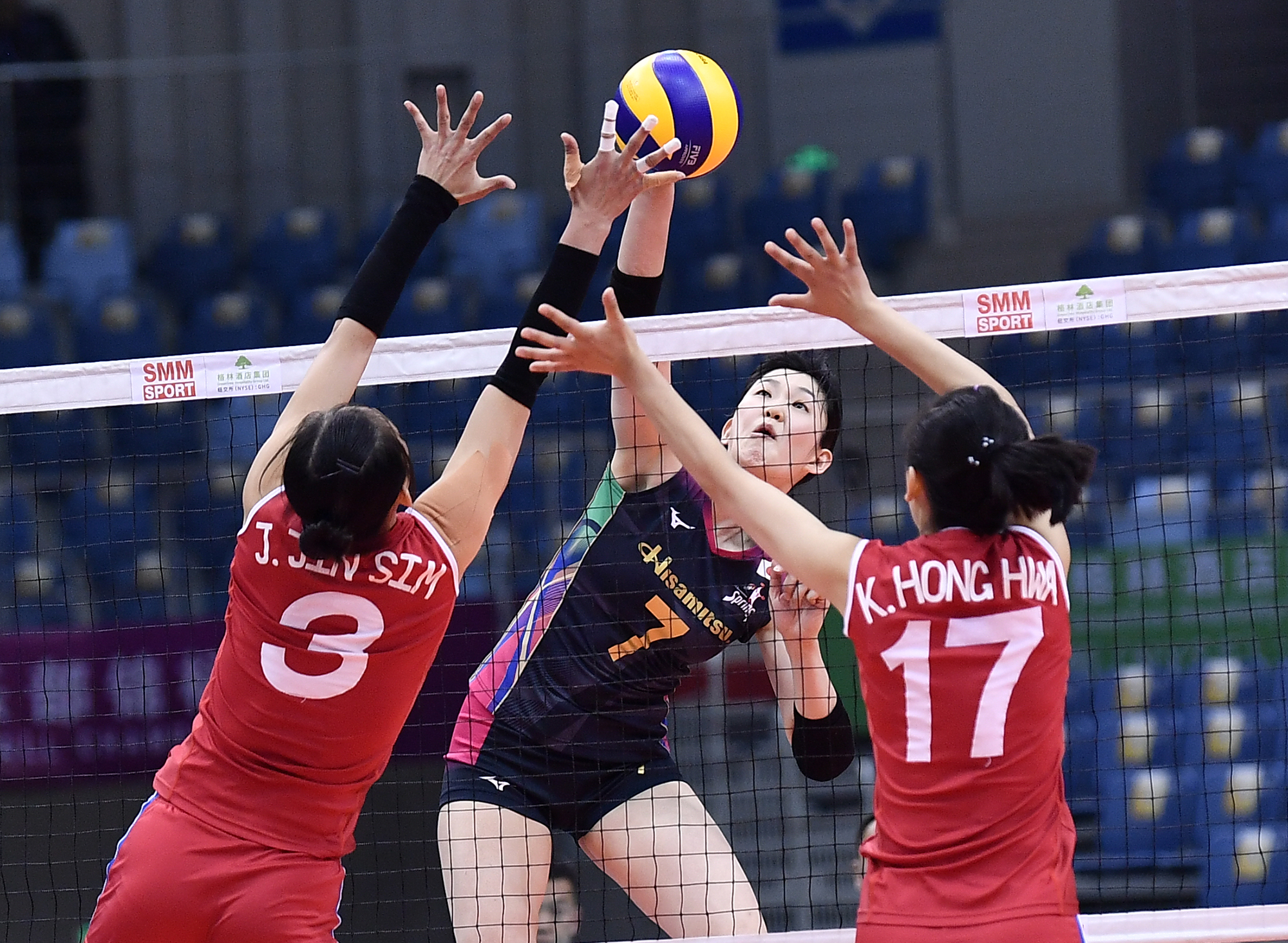 Highlight of the day appeared during the last match between 4.25 Sport Club and Hisamitsu Seiyaku Springs as the Koreans struck back persistently to match up with their opponents in the second and third sets despite a humiliating 10-25 loss in the first set. Dogged defense of both teams produced long rallies one after another.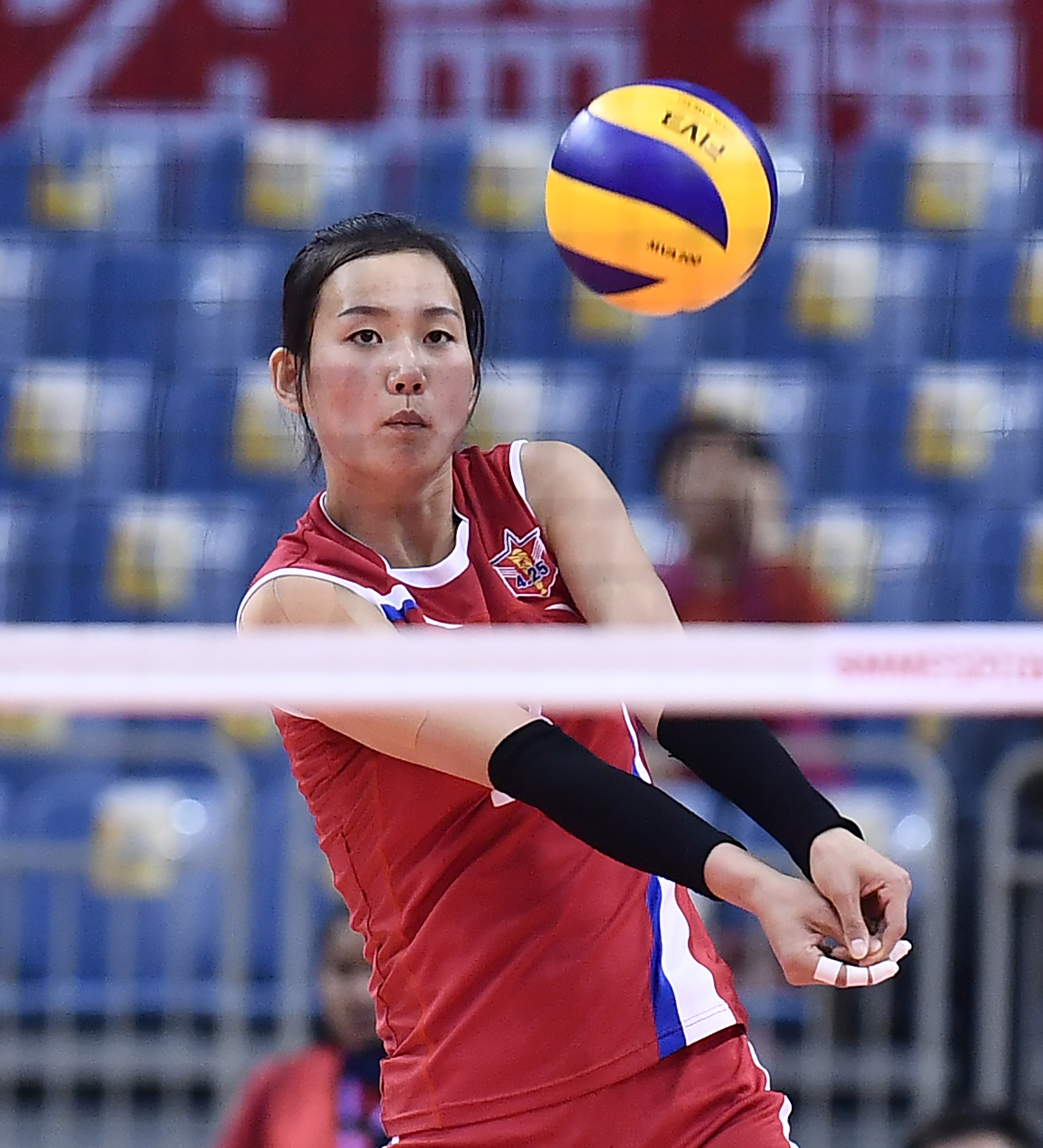 Captain Jong Jin Sim had another prolific scoring day with 23 points for the DPR Korea's army club but it was not enough to help her team win. They failed in seizing the crucial opportunities and disappointedly yielded the following two sets 23-25 and 27-29 in a narrow margin.
"Our opponent is a tough team. They played a good persistence. However, our young players could have done better if we showed more quality of tenaciousness. Anyway, we won the match. I think it is attribute to our overall tactics including serves, digs and blocks." said Hisamitsu Seiyaku Springs's head coach Shing Sakai.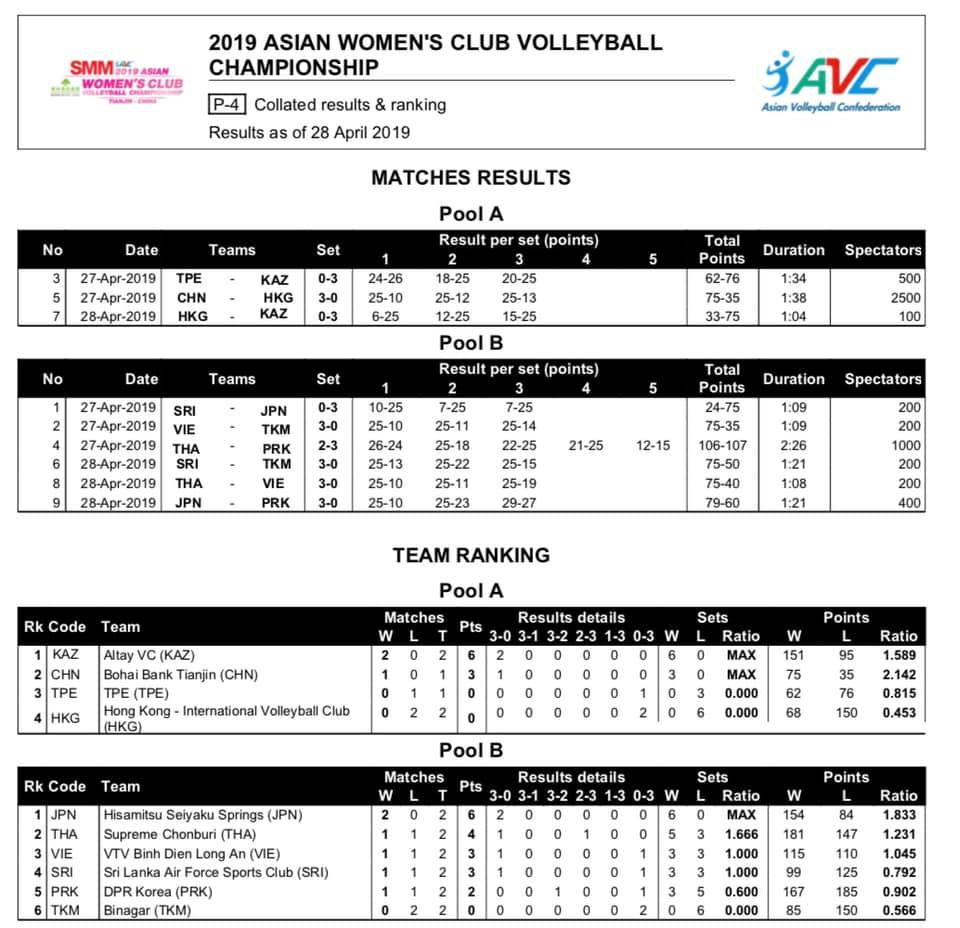 On Monday at the Wuqing Sports Center, DPR Korea's 4.25 Club take on VTV Binh Dien Long An of Vietnam, Binagar challenge undefeated Hisamitsu Seiyaku Springs, Supreme Chonburi play Sri Lanka Air Force and TPE meet hosts Bohai Bank Tianjin.
Teams from 10 countries and regions are taking part in the 2019 Asian Women's Club Volleyball Championship from April 27 to May 5. After the pool round-robin preliminaries, top four teams from each pool will advance to the top eight for quarter-finals.
Tianjin, neighboring China's capital city of Beijing, is a coastal metropolis in northern China and one of the four municipalities under the direct administration of central government of China, with over 15 millions of the population. Tianjin is also known as "City of Volleyball" as Tianjin Women's Volleyball Team has been always a powerhouse in China, landing 4-time champions at Asian Club Championships, 11-time National League titles and 3-time National Games titles. Tianjin also hosted the Asian Senior Women's Volleyball Championship in 2015, seeing hosts China sweep past Korea in the final showdown to claim the title.
Related links of AVC
AVC Website: click www.asianvolleyball.net
AVC Facebook: click www.Facebook.com/AsianVolleyballConfederation
AVC Twitter: click: https://twitter.com/avcvolley
AVC Instagram: click: https://www.instagram.com/avcvolley/?hl=en
AVC Youtube: click: Asian Volleyball Confederation
AVC WeChat: Asian Volleyball Confederation