The Australians make a deep run through the World Championships, finishing ninth in a tournament they never thought they'd be in
Izac Carracher at the net against Brazilians Alison Cerutti and Gustavo 'Guto' Carvalhaes
Futures only. Maybe 15 of them.
That was the proposed schedule of Izac Carracher and Mark Nicoladis prior to the onset of this Volleyball World Beach Pro Tour season. It sounds ludicrous now, in the wake of a ninth-place finish at the World Championships this weekend, but back in February, the rough draft of their 2022 season made perfect sense.
The Australians didn't have a point to their name. They'd never played in an FIVB or Volleyball World event. With the entry lists for Futures events stretching dozens onto the reserves, they figured they'd have to sign up for a minimum of 15 just to play a handful. It was good fortune, then, that the opening Futures event of the season was being hosted on their home turf, in Coolangatta, Australia. No reserve listed was needed for the 21- and 22-year-olds, as they were wild-carded directly into the main draw.
Their good fortune had only begun.
They played five matches that weekend and won all five, concluding with a 21-11, 21-16 victory over Canadians Jake MacNeil and Alex Russell in the finals.
Just like that, the remainder of their proposed schedule shifted wildly in a matter of three days.
"That win at Cooly gave us the opportunity to push into some Challengers early and we're the kind of guys who aren't going to take a step back with that," Nicolaidis said. "We're always going to try and push into the bigger leagues. Now it's just onwards and upwards. Our year plans changed a lot."
Indeed, few could have imagined, at the year's beginning, that multiple Australian teams would be competing at this weekend's World Championships. Even fewer would have imagined both of those teams would be legitimate threats to make a deep run. And even Nicolaidis and Carracher themselves couldn't have imagined in their wildest dreams that they would have been not only one of those two teams – but the Australian team who finished highest, taking ninth after a 15-21, 15-21 loss to Brazilians Andre Loyola and George Wanderley.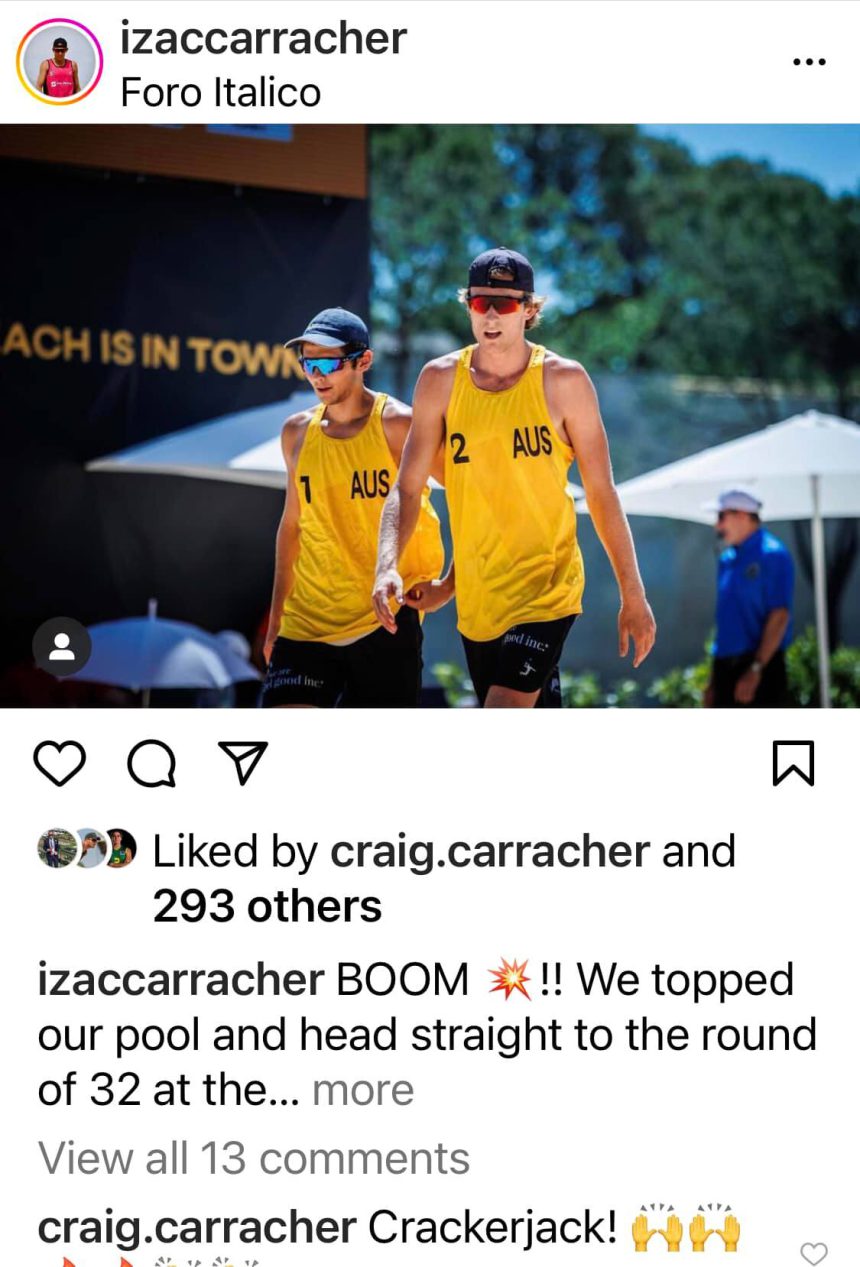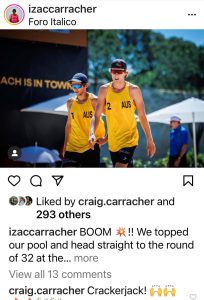 "We say it every time we come to a tournament, we're very inexperienced on the global tour, so to get the opportunity to be here and to experience such a big event with such amazing facilities and crowd is really awesome for us," Carracher, the 6-foot-6 (1.99m) blocker, said. "We said from the start that we wanted to deliver our best brand of volleyball and we knew that was going to be good enough to take us deep into the tournament. We did that for the first nine-tenths of the tournament but as Mark said, we look back on the positives but we're definitely hungry for more."
Oh, they delivered, alright. They pushed Alison and Guto to three in their opening match, upset Vitor Felipe and Renato Lima in their second – both teams, it should be noted, have advanced to the quarterfinals – and beat Nicaragua to break pool. In the first round of the elimination phase, they matched up with Norwegians Hendrik Mol and Mathias Bernsten, who are playing arguably the best volleyball of their careers.
Down went Norway, 21-17, 21-16. In a matter of two months and five tournaments, Nicolaidis and Carracher were guaranteed a top-10 finish at the World Championships.
There'd be no more Futures to play, let alone 15 of them.
"We have a lot more to look back on apart from that last match," Nicolaidis said. "We can leave here being happy with our performance and leave here hungry for more knowing that we can play on this level and hopefully we can be here more often."
Carracher added: "We love the pressure of performing on the biggest stages and we hope to continue competing on the biggest stages."
There is little doubting that. Thus far, the two Australians have thrived on every big stage on which they've played: Winning the gold medal match in Coolangatta, qualifying in Doha, qualifying in Kusadasi, finishing ninth at the World Championships, earning twice as many points as their previous single-tournament high.
No longer will Nicolaidis and Carracher have the element of surprise. While many may have only known of their countrymen, Chris McHugh and Paul Burnett, surely the world has taken note.
"I look at that as a positive," Nicolaidis said. "The more teams know you, the better you have to be, and we strive on that. We strive to play the best teams and we hope to bring out their best against us. The more teams get to know us, the better we have to be."
Related links of AVC
AVC Website: click www.asianvolleyball.net
AVC Facebook: click www.Facebook.com/AsianVolleyballConfederation
AVC Twitter: click: www.twitter.com/AsianVolleyball
AVC Instagram: click: https://www.instagram.com/avcvolley/?hl=en
AVC Youtube: click: Asian Volleyball Confederation
AVC WeChat: Asian Volleyball Confederation