Ningbo, China, September 20, 2023 – Top 3 seeds proved their superiority by embracing victories on Day 2 of the 19th Asian Games Women's Beach Volleyball Competition here at Xiangshan Beach Volleyball Center.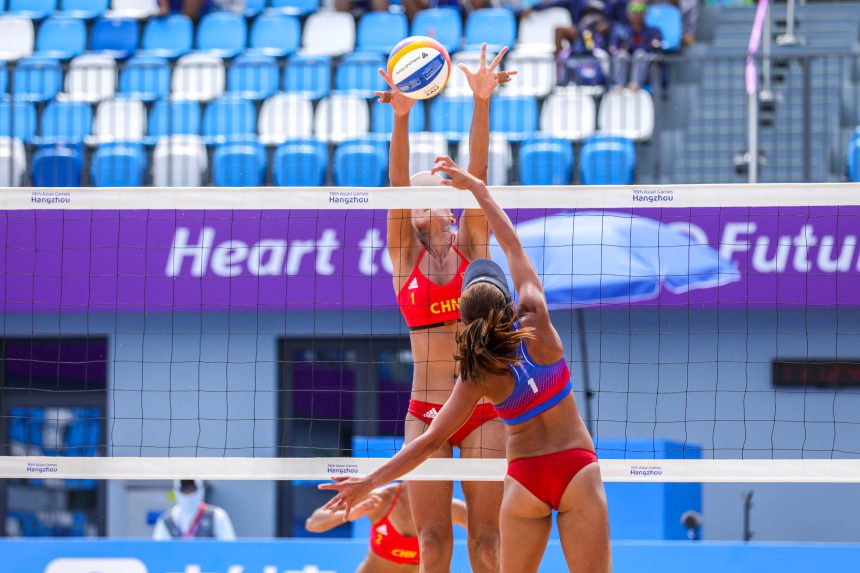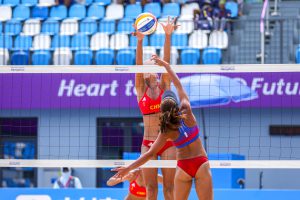 In Pool A, No. 1 seeds Xue/Xia of China made their debut at the Games with a satisfactory 2-0 (21-11, 21-5) win over No. 8 seeds Rodriguez/Eslapor of Philippines in 28 minutes.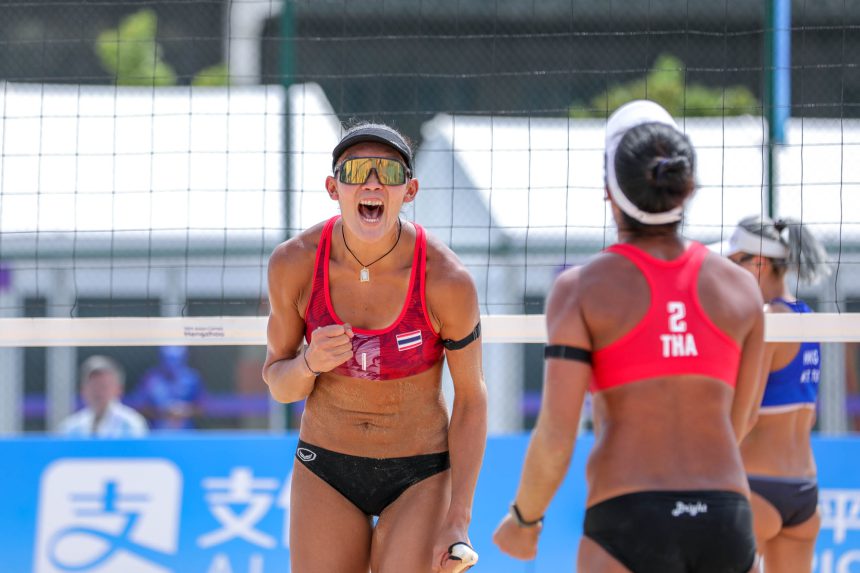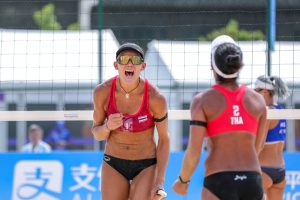 In Pool B, No. 2 seeds Naraphornrapat/Kongphopsarutawadee of Thailand encountered more troubles produced by Wong/To of Hong Kong, China, but they managed to conquer the opponents in a convincing 2-0 (21-15, 21-17) to harvest their second consecutive win.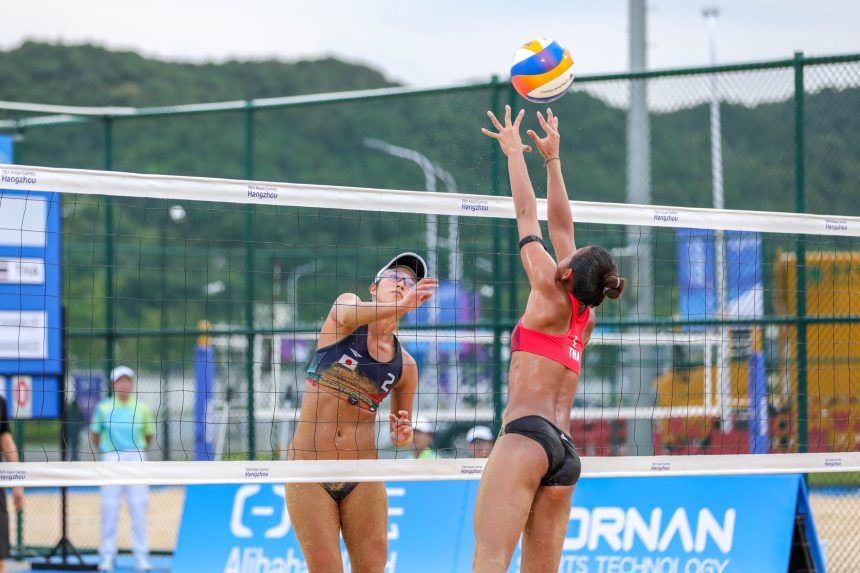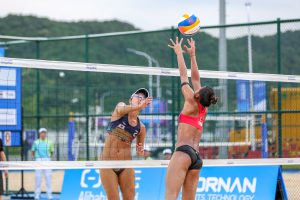 In Pool C, No. 3 seeds Mizoe/Ishii of Japan set out their voyage at the Games with a comfortable 2-0 (21-11, 21-14) victory against No. 6 seeds Phirachayakrailert/Patcharamainaruebhorn of Thailand.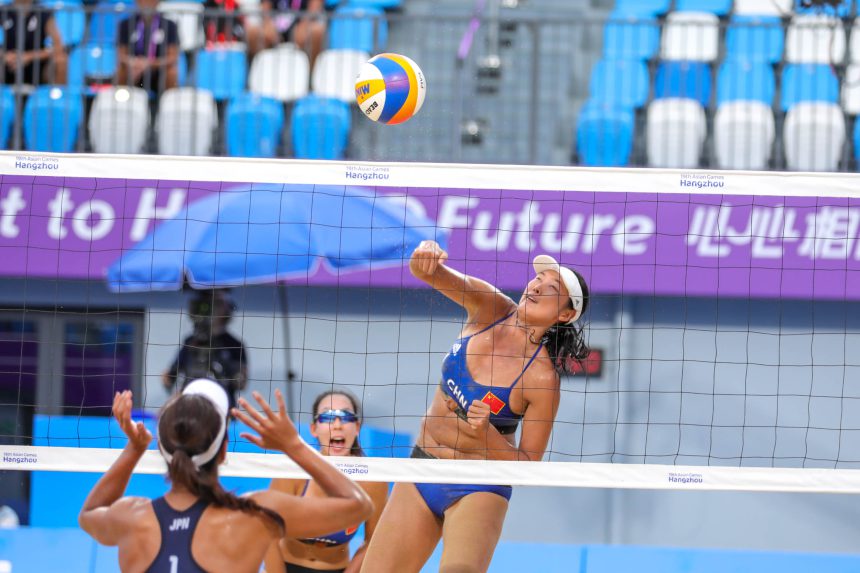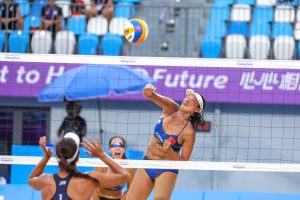 However, No. 4 seeds Hasegawa/Sakaguchi of Japan started their preliminary round in Pool D with a failure as they suffered a 0-2 (17-21, 12-21) loss to the host, No. 5 seeds Wang/Dong.
The Japanese duo could keep up with the host from the beginning until 12-12 tie. But their attacking patterns were gradually seen through, as they were blocked several times afterwards. China seized the chance to extend the lead plus with some occasional ace services. Following a deadly counterattack by Dong Jie, China wrapped up the first set in 21-17.
China continued to emit efficient ace services in the second set, establishing an 8-5 lead. Japan attempted different methods of play to fight back, chasing closely behind in 11-13. However, China maintained their strategy relying on their height advantage and scored 5 points in a row to set the winning tone. Following a dip by Wang Fan, China concluded the second set in 21-12.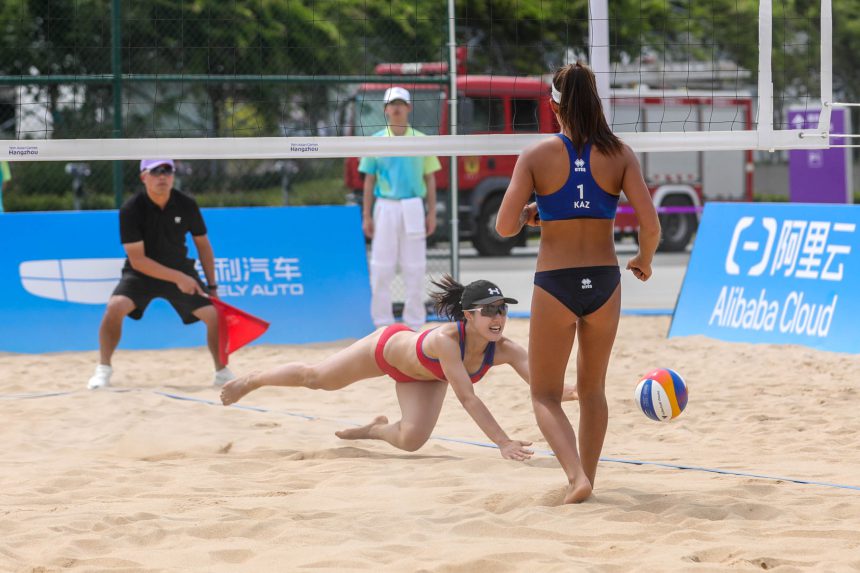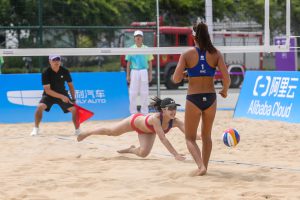 In the other two matches held in the morning session, Shin/Kim of Korea tasted their second loss as they were defeated by No. 9 seeds Kabulbekova/Ivanchenko of Kazakhstan in 0-2 (18-21, 13-21), while Progella/Matibag of Philippines surrendered in 0-2 (14-21, 10-21) to Juliana/Ratnasari of Indonesia, who accumulated 2 wins in succession.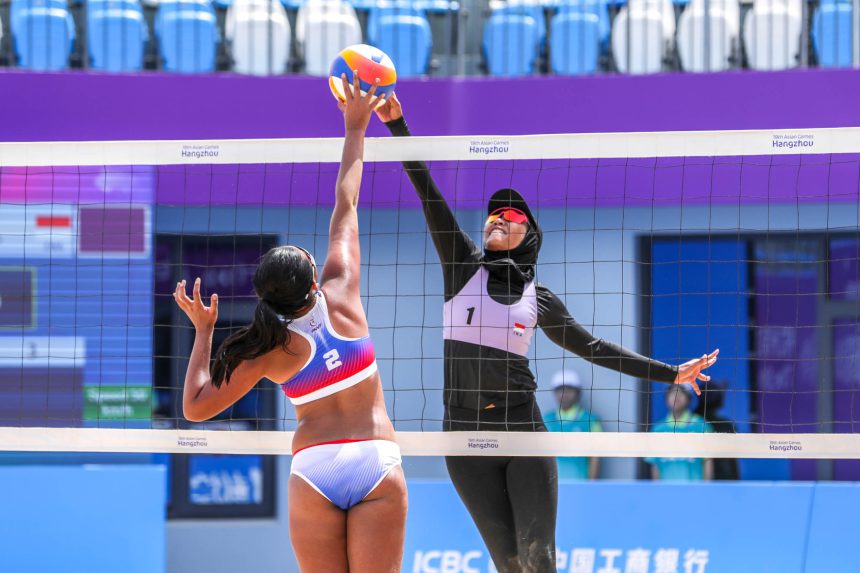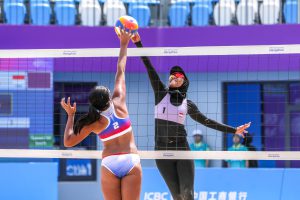 The afternoon session saw another two one-sided matches. Bottom seeded Badalbekova/Khurshedodova of Tajikistan had to make forfeit due to their injury in the second set. Rachenko/Ukolova of Kazakhstan therefore took an easy 2-0 (21-6, 21-2) win following their unfortunate 1-2 loss on the opening day.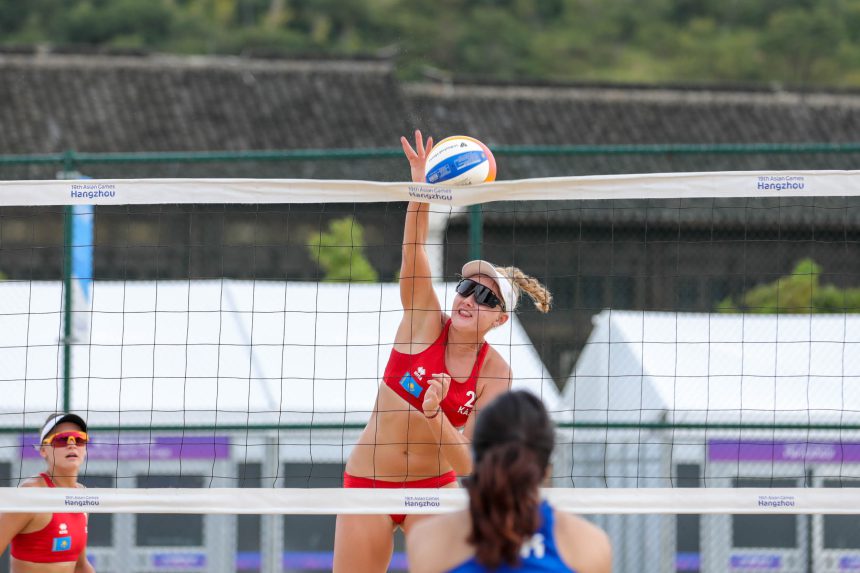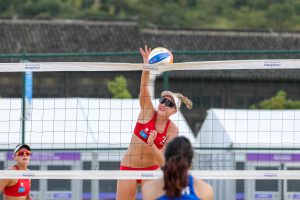 Despite a 0-2 loss to their neighbor pair of Macao, China on the previous day, Yuen/Lo of Hong Kong, China regained their confidence by beating Lee/Jeon of Korea in a comfortable 2-0 (21-7, 21-11).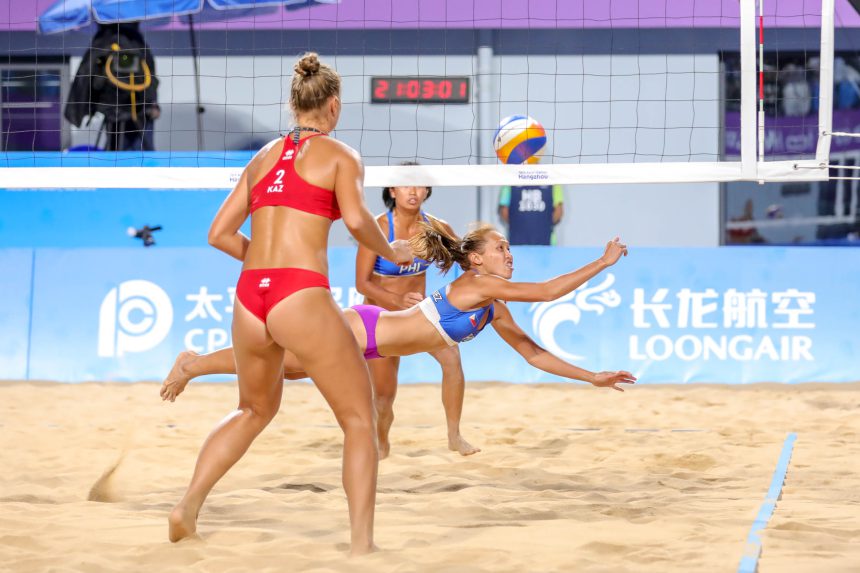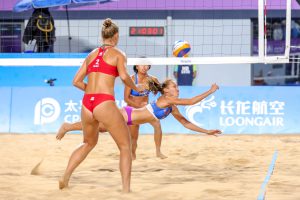 No. 8 seeds Rodriguez/Eslapor of Philippines welcomed their second match of the day in the evening session, which turned out to be a delightful result for them. Facing taller Kabulbekova/Ivanchenko of Kazakhstan, they utilized their quickness and diversity of play to restrain the opponent and finally enjoyed a 2-0 (21-11, 21-14) victory.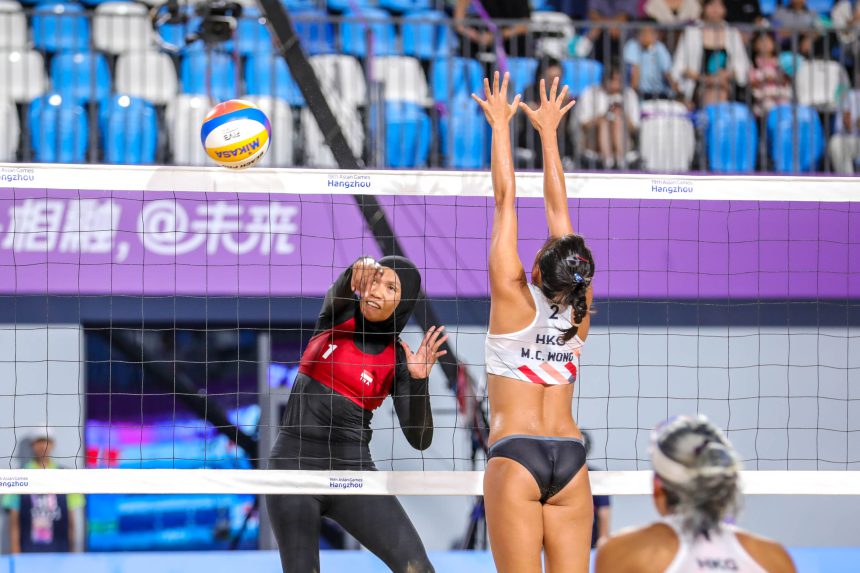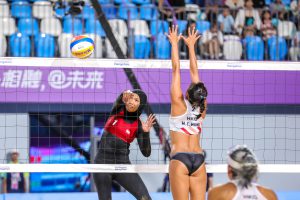 In the other match of Pool B, No. 7 seeds Wong/To of Hong Kong, China were completely outgunned by No. 10 seeds Juliana/Ratnasari of Indonesia and had to accept their second failure in 0-2 (9-21, 8-21).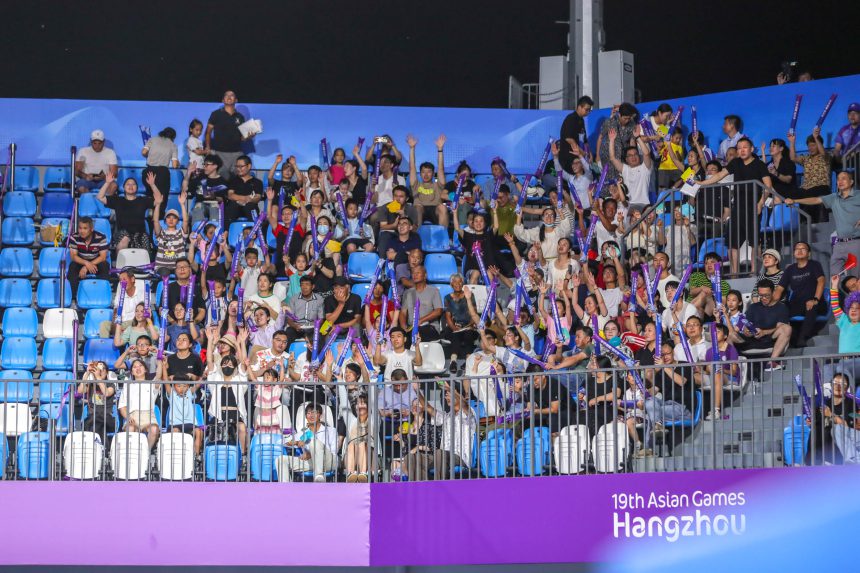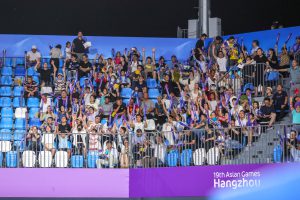 The preliminary round of women's beach volleyball competition of the 19th Asian Games will continue at Xiangshan Beach Volleyball Center until September 22. Top 4 of each pool will advance to the second round of direct elimination, which will start on September 24. The final showdown will be held on September 27.
Ningbo, the second largest city of Zhejiang Province, enjoys a long history of over 7,000 years with plenty of historical and religious sites. Served as one of the co-host cities for the 19th Asian Games, Ningbo will host two events of beach volleyball and sailing in its coastal Xiangshan County. The 19th Asian Games will be held in Hangzhou, capital city of Zhejiang from September 23 to October 8, 2023.
Match Result and Schedule (Local time)
September 20, 2023 (Wednesday)
11:00 Pool A KOR (Shin/Kim) v KAZ (Kabulbekova/Ivanchenko) 0-2 (18-21, 13-21)
11:00 Pool A CHN (Xue/Xia) v PHI (Rodriguez/Eslapor) 2-0 (21-11, 21-5)
12:00 Pool B PHI (Progella/Matibag) v INA (Juliana/Ratnasari) 0-2 (14-21, 10-21)
12:00 Pool B THA (Naraphornrapat/Kongphopsarutawadee) v HKG (Wong/To) 2-0 (21-15, 21-17)
16:00 Pool D TJK (Badalbekova/Khurshedodova) v KAZ (Rachenko/Ukolova) 0-2 (6-21, 2-21)
16:00 Pool D JPN (Hasegawa/Sakaguchi) v CHN (Wang/Dong) 0-2 (17-21, 12-21)
17:00 Pool C KOR (Lee/Jeon) v HKG (Yuen/Lo) 0-2 (7-21, 11-21)
17:00 Pool C JPN (Mizoe/Ishii) v THA (Phirachayakrailert/Patcharamainarueb) 2-0 (21-11, 21-14)
19:00 Pool B HKG (Wong/To) v INA (Juliana/Ratnasari) 0-2 (9-21, 8-21)
21:00 Pool A PHI (Rodriguez/Eslapor) v KAZ (Kabulbekova/Ivanchenko) 2-0 (21-11, 21-14)
September 21, 2023 (Thursday)
11:00 Pool D KAZ (Rachenko/Ukolova) v JPN (Hasegawa/Sakaguchi)
11:00 Pool D INA (Sari/Herdanti) v TJK (Badalbekova/Khurshedodova)
12:00 Pool C HKG (Yuen/Lo) v JPN (Mizoe/Ishii)
12:00 Pool C MAC (Law/Leong) v KOR (Lee/Jeon)
16:00 Pool A KAZ (Kabulbekova/Ivanchenko) v CHN (Xue/Xia)
16:00 Pool A SRI (Deepika/Chathurika) v KOR (Shin/Kim)
17:00 Pool B INA (Juliana/Ratnasari) v THA (Naraphornrapat/Kongphopsarutawadee)
17:00 Pool B MAC (Tam/Lei) v PHI (Progella/Matibag)
19:00 Pool D JPN (Hasegawa/Sakaguchi) v INA (Sari/Herdanti)
21:00 Pool C JPN (Mizoe/Ishii) v MAC (Law/Leong)
QUICK LINKS
AVC Website: click www.asianvolleyball.net
AVC Facebook: click www.Facebook.com/AsianVolleyballConfederation
AVC Twitter: click: www.twitter.com/AsianVolleyball
AVC Instagram: click: https://www.instagram.com/avcvolley/?hl=en
AVC Youtube: click: Asian Volleyball Confederation
AVC WeChat: Asian Volleyball Confederation