Ningbo, China, September 20, 2023 – Powerhouses started their voyage with different outcomes on the second match day of the 19th Asian Games Men's Beach Volleyball Competition here at Xiangshan Beach Volleyball Center.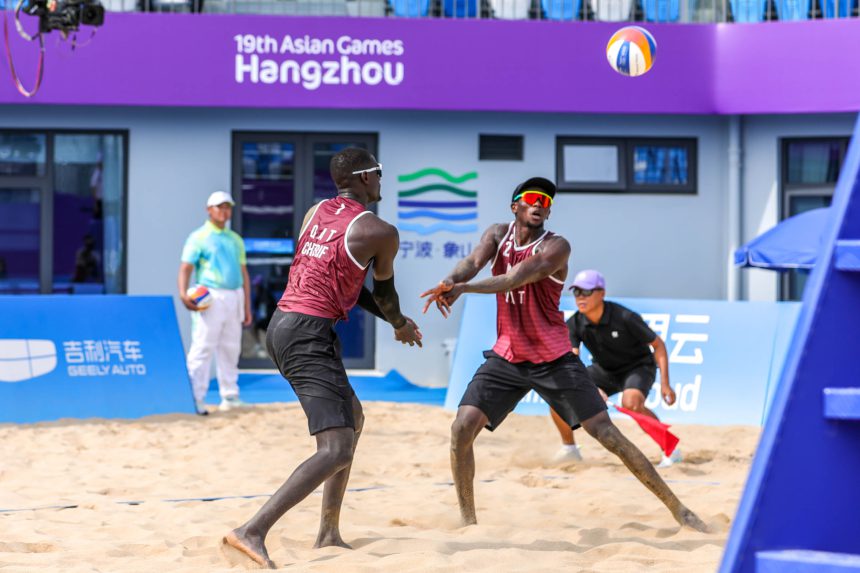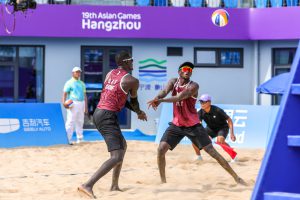 World Ranking No. 3 and defending champions Samba/Janko of Qatar proved their capability in scoring crucial points especially in the second set as they grabbed a thrilling 2-0 (21-12, 21-18) victory against Pribadi/Efendi of Indonesia in Pool B.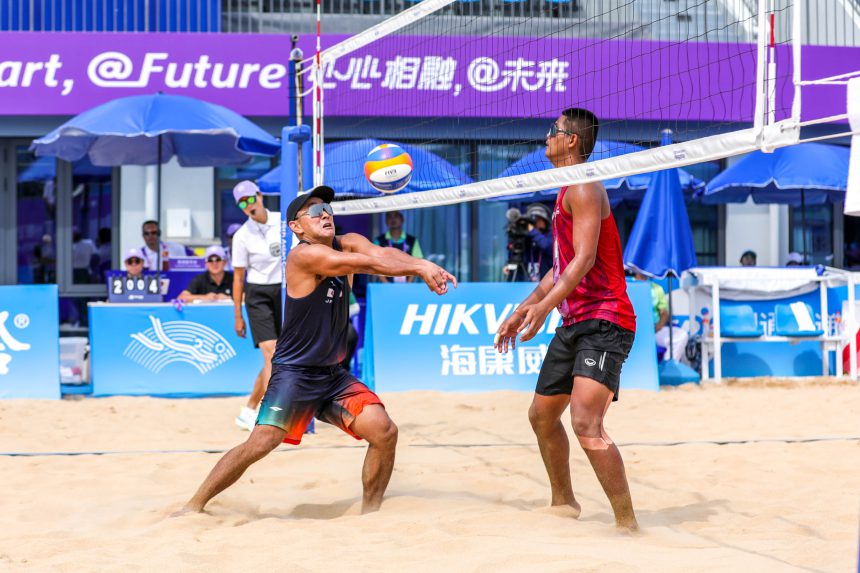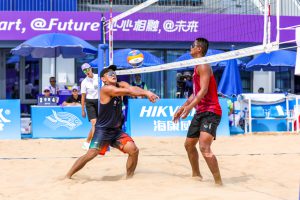 In Pool C, No. 3 seeds Taovato/Tipjan of Thailand resisted the counterattacks from No. 14 seeds Takahashi/Ageba of Japan to achieve a convincing 2-0 (21-14, 21-16) win.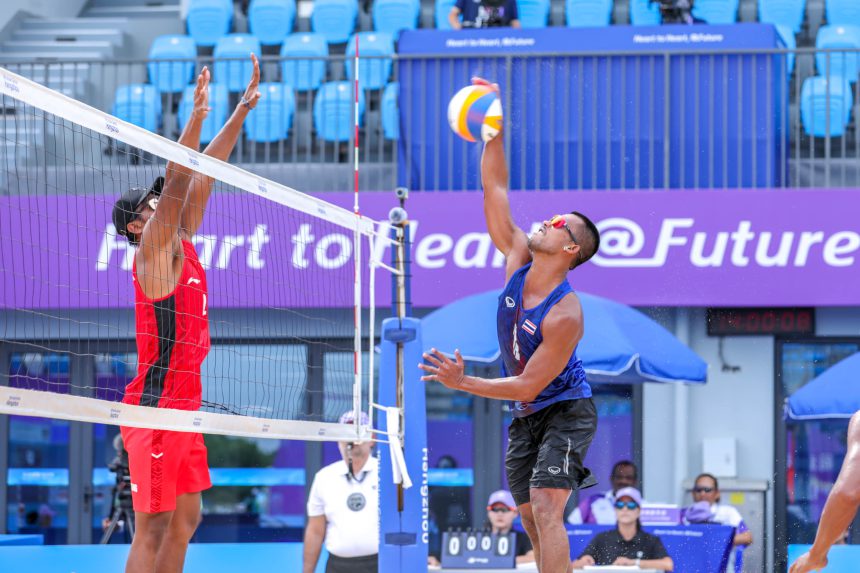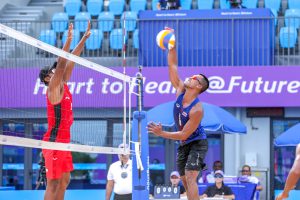 However, No. 4 seeds Kaewsai/Jongklang of Thailand had a total different scenario in Pool D, as they were overturned in 1-2 (22-20, 12-21, 11-15) by No. 13 seeds Ashfiya/Akbar of Indonesia, led by Ashfiya Mohammad, silver medalist of last edition of Asian Games.
With consecutive two clean blocks, Thailand enjoyed a good start of 4-1 lead. However, Indonesia sharpened their attacks and improved their defense to chase up to a 7-7 tie. Both sides traded points by showcasing their attacking techniques until 19-19 tie. Following a flash spike and an attacking error from the opponent, Thailand reached a hard-fought 22-20 win.
The second set turned out to be another phenomenon, seeing the Thais fail to match up with the diverse play of Indonesia. The gap was gradually widened before Indonesia wrapped up the set in 21-12 with a spectacular block.
Indonesia kept their momentum in the decider to build a 5-1 lead thanks to their efficient blocks and varied attacks. Thailand requested a timeout and then gradually caught up to 10-11. However, their mistakes at the crucial moment ruined themselves. Following an attacking error, they surrendered to the Indonesian duo 11-15.
"Indonesia is a strong team. We had a close first set and took a difficult win. But we made too many mistakes in the following two sets and that's why we lost the match." said Dunwinit Kaewsai of Thailand. "We will face Palestine tomorrow and we will try our best to win."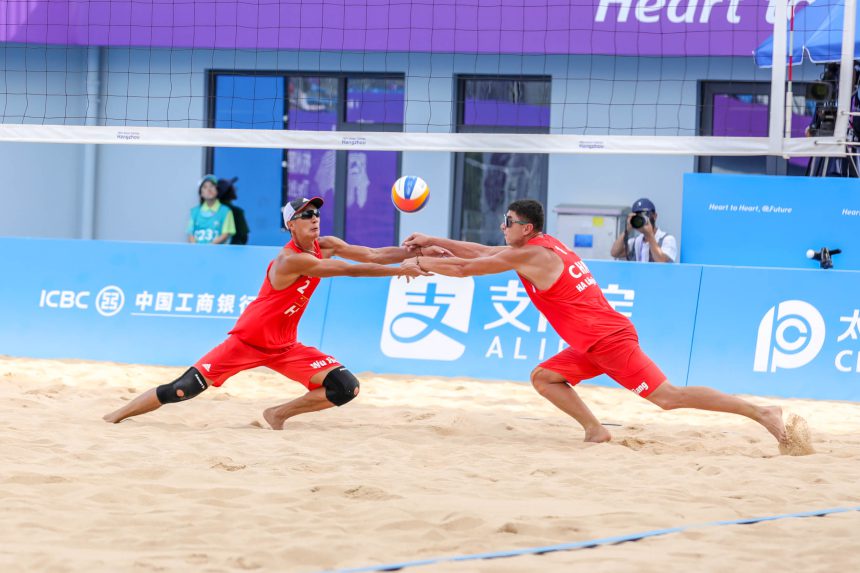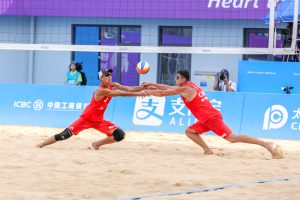 No. 1 seeds Ha Likejiang/Wu Jiaxin of China also had a frightening experience but a good ending in their first match of the Games, as they pulled off an epic 2-1 (21-18, 20-22, 18-16) victory over No. 16 seeds Garcia/Buytrago of Philippines.
Thanks to their dogged defense, Philippines stuck to the host from the beginning until 15-15 tie. China requested a timeout and their height advantage prevailed in the remaining of the set. Following a service error from the opponent, China concluded the first set in 21-18.
The second set was even tougher, seeing the score rise alternately to 16-16. Philippines utilized their quickness and reached the set point at 20-18. The host duo exerted themselves to save two set points but in vain. Following an attacking error, China had to accept the second set loss in 20-22.
China continued to commit mistakes in the crucial third set, starting with a 0-2 behind. Philippines held a narrow lead till 8-7 and thereafter widened the gap to 12-9. After a medical timeout by Ha Likejiang, China launched a crazy comeback and finally reversed the tide to an incredible 18-16 win.
"It is a tough win! It is the first time to play against this pair of Philippines. They produced us many troubles. They are short but fast while we are tall but slow. It was difficult to adapt with their rhythm." said Ha Likejiang of China. "Anyway, it is our first match. We will have a review of the match today and get prepared for the next."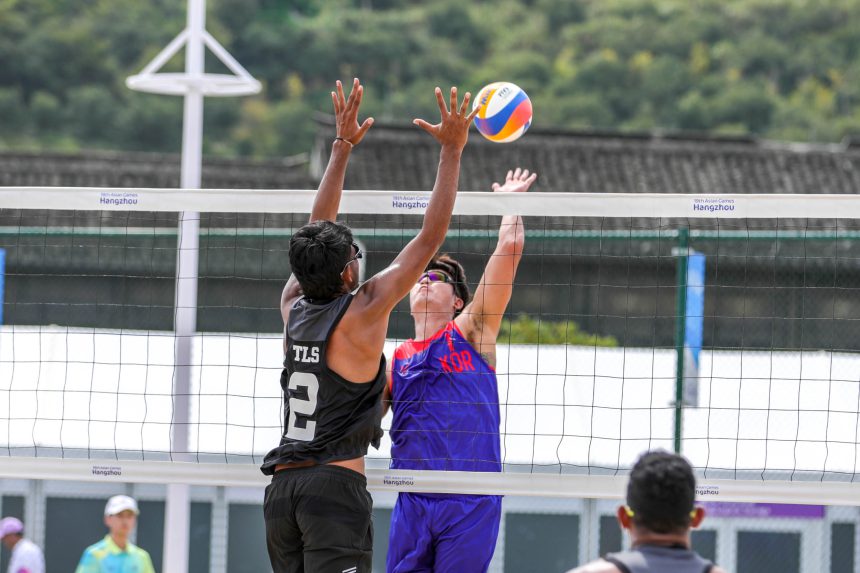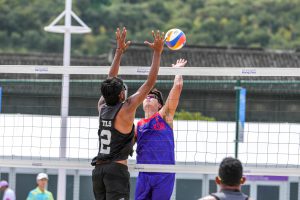 The other two matches held in the morning session on court 2 saw Lee/Kim of Korea and Correia/Valente of Timor-Leste, refreshed from their 0-2 loss on the opening day, claim their maiden victories over Cheong/Wong of Macao, China and Kim/Bae of Korea in 2-0 (21-11, 21-17) and 2-0 (21-12, 21-17) respectively.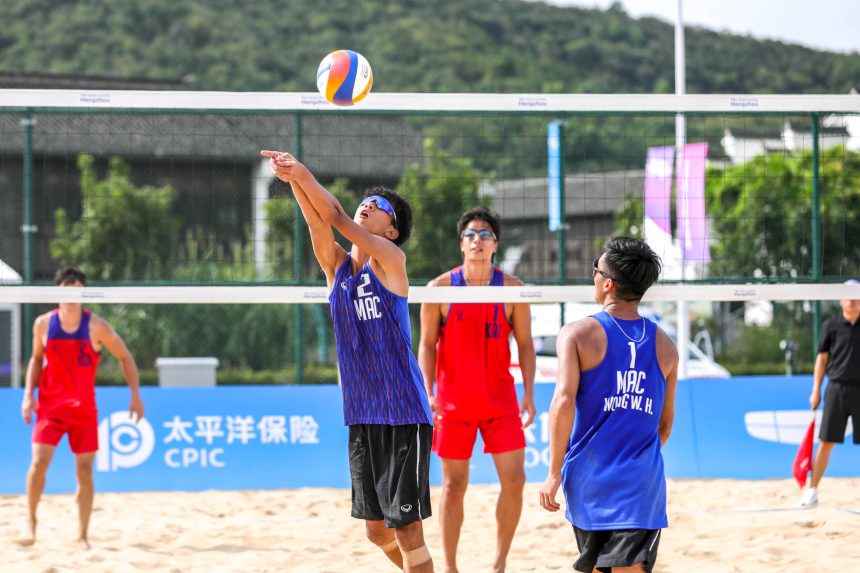 In the afternoon session, No. 8 seeds Salemiinjehboroun/Shoukati of Iran in Pool H captured an easy 2-0 (21-9, 21-6) win against Rustamzoda/Tursunov of Tajikistan in 24 minutes, while No. 7 seeds Al-housni/Al Shereiqi of Oman in Pool G were upset by No. 10 seed Bogatu/Yakovlev of Kazakhstan in 1-2 (16-21, 21-15, 9-15).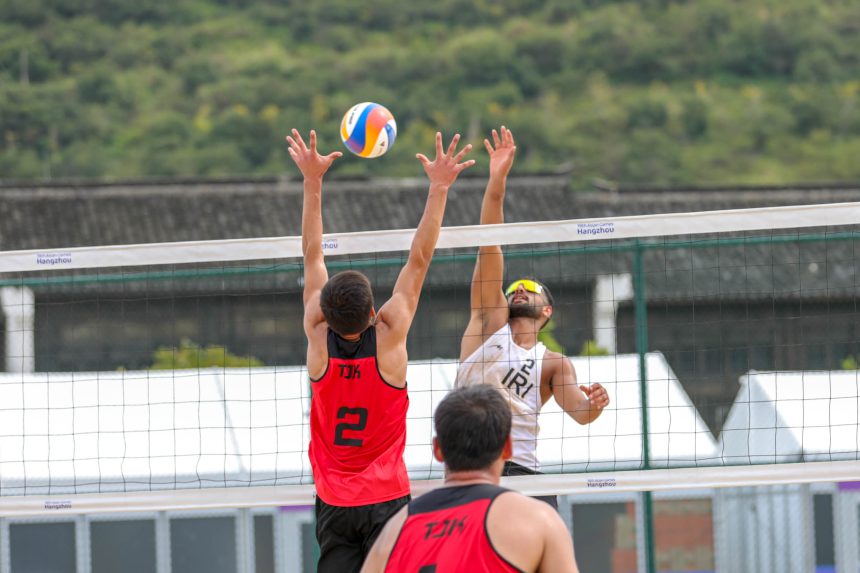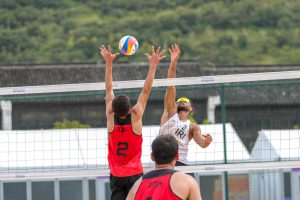 In the evening session, No. 6 seeds Mahmoud/Nassim of Qatar, despite their height advantage, made no profit over the net in front of the flexible and versatile opponents and had to taste their maiden loss to No. 11 seeds Pourasgari/Aghajanighasab of Iran in 0-2 (15-21, 12-21).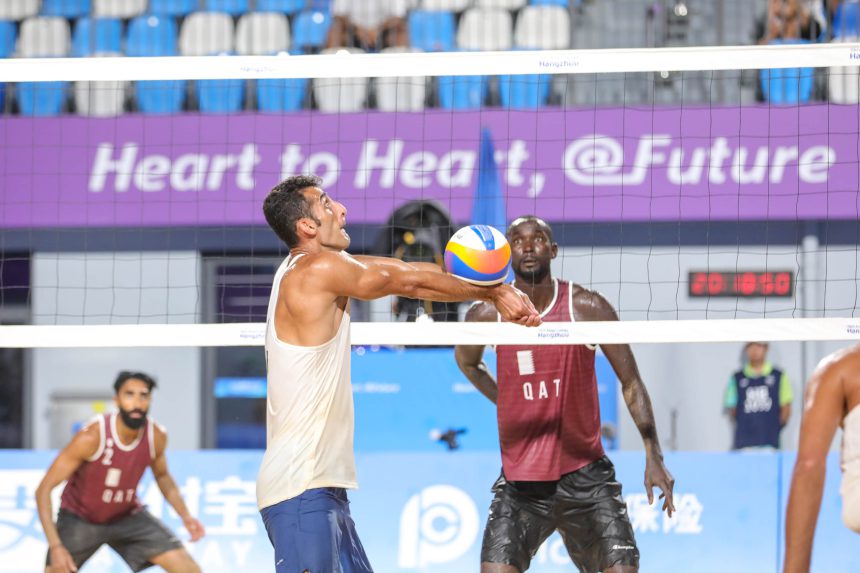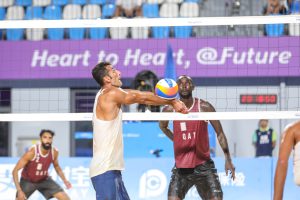 The preliminary round of men's beach volleyball competition of the 19th Asian Games will continue at Xiangshan Beach Volleyball Center until September 22. Top 2 teams of each pool will directly qualify to top 16 for the elimination round of 1/8, which will start on September 24. The final showdown will be held on September 28.
Ningbo, the second largest city of Zhejiang Province, enjoys a long history of over 7,000 years with plenty of historical and religious sites. Served as one of the co-host cities for the 19th Asian Games, Ningbo will host two events of beach volleyball and sailing in its coastal Xiangshan County. The 19th Asian Games will be held in Hangzhou, capital city of Zhejiang from September 23 to October 8, 2023.
Match Result and Schedule (Local time)
September 20, 2023 (Wednesday)
9:00 Pool B QAT (Samba/Janko) v INA (Pribadi/Efendi) 2-0 (21-12, 21-18)
9:00 Pool F MAC (Cheong/Wong) v KOR (Lee/Kim) 0-2 (11-21, 17-21)
10:00 Pool C THA (Taovato/Tipjan) v JPN (Takahashi/Ageba) 2-0 (21-14, 21-16)
10:00 Pool G TLS (Correia/Valente) v KOR (Kim/Bae) 2-0 (21-12, 21-17)
14:00 Pool D THA (Kaewsai/Jongklang) v INA (Ashfiya/Akbar) 1-2 (22-20, 12-21, 11-15)
14:00 Pool H IRI (Salemiinjehboroun/Shoukati) v TJK (Rustamzoda/Tursunov) 2-0 (21-9, 21-6)
15:00 Pool A CHN (Abuduhalikejiang/Wu) v PHI (Garcia/Buytrago) 2-1 (21-18, 20-22, 18-16)
15:00 Pool G OMA (Al-housni/Al Shereiqi) v KAZ (Bogatu/Yakovlev) 1-2 (16-21, 21-15, 9-15)
20:00 Pool F QAT (Mahmoud/Nassim) v IRI (Pourasgari/Aghajanighasab) 0-2 (15-21, 12-21)
September 21, 2023 (Thursday)
9:00 Pool H IRI (Salemiinjehboroun/Shoukati) v OMA (Al Jalbubi/Al Hashimi)
9:00 Pool H MAC (Tam/Chan) v TJK (Rustamzoda/Tursunov)
10:00 Pool D THA (Kaewsai/Jongklang) v PLE (Alnajjar/Alqishawi)
10:00 Pool G OMA (Al-housni/Al Shereiqi) v TLS (Correia/Valente)
14:00 Pool E KAZ (Aldash/Gurin) v PLE (Qassiya/Alarqan)
14:00 Pool F QAT (Mahmoud/Nassim) v MAC (Cheong/Wong)
15:00 Pool A CHN (Abuduhalikejiang/Wu) v MDV (Ismail/Naseem)
15:00 Pool G KAZ (Bogatu/Yakovlev) v KOR (Kim/Bae)
20:00 Pool F IRI (Pourasgari/Aghajanighasab) v KOR (Lee/Kim)
QUICK LINKS
AVC Website: click www.asianvolleyball.net
AVC Facebook: click www.Facebook.com/AsianVolleyballConfederation
AVC Twitter: click: www.twitter.com/AsianVolleyball
AVC Instagram: click: https://www.instagram.com/avcvolley/?hl=en
AVC Youtube: click: Asian Volleyball Confederation
AVC WeChat: Asian Volleyball Confederation