Sendai, Japan, October 16, 2020 – On August 16, the V.League held a special match at the Kamei Arena Sendai in collaboration with Japanese volleyball animation Haikyu!! V.League clubs supplied players for the encounter.
You can now watch highlights below. Click on the second video if you are in Japan.
If you are in Japan, click the video below to watch.
Haikyu!! story
In the beginning of the Haikyu!! series, Shoyo Hinata and Tobio Kageyama meet on the court as middle schoolers in a tournament held at the Sendai City Gymnasium*.
After both Hinata and Kageyama graduate from Karasuno High School, Kageyama becomes a professional volleyball player and signs with Schweiden Adlers, while Hinata goes abroad for a couple of years to learn to play beach volleyball in Brazil.
After those two years spent in Brazil, Hinata returns to Japan to start his professional career and signs with the MSBY Black Jackals.
In Hinata's first match, Schweiden Adlers and MSBY Black Jackals face off against each other in the arena where Hinata and Kageyama first played each other, the Kamei Arena Sendai. Kageyama and Hinata had not played against each other in a match since middle school and many of their former teammates knew there was tension between the two players and were keen to attend the match.
The special V.League Haikyu!! match recreates the encounter between the two teams at the same venue as in the story.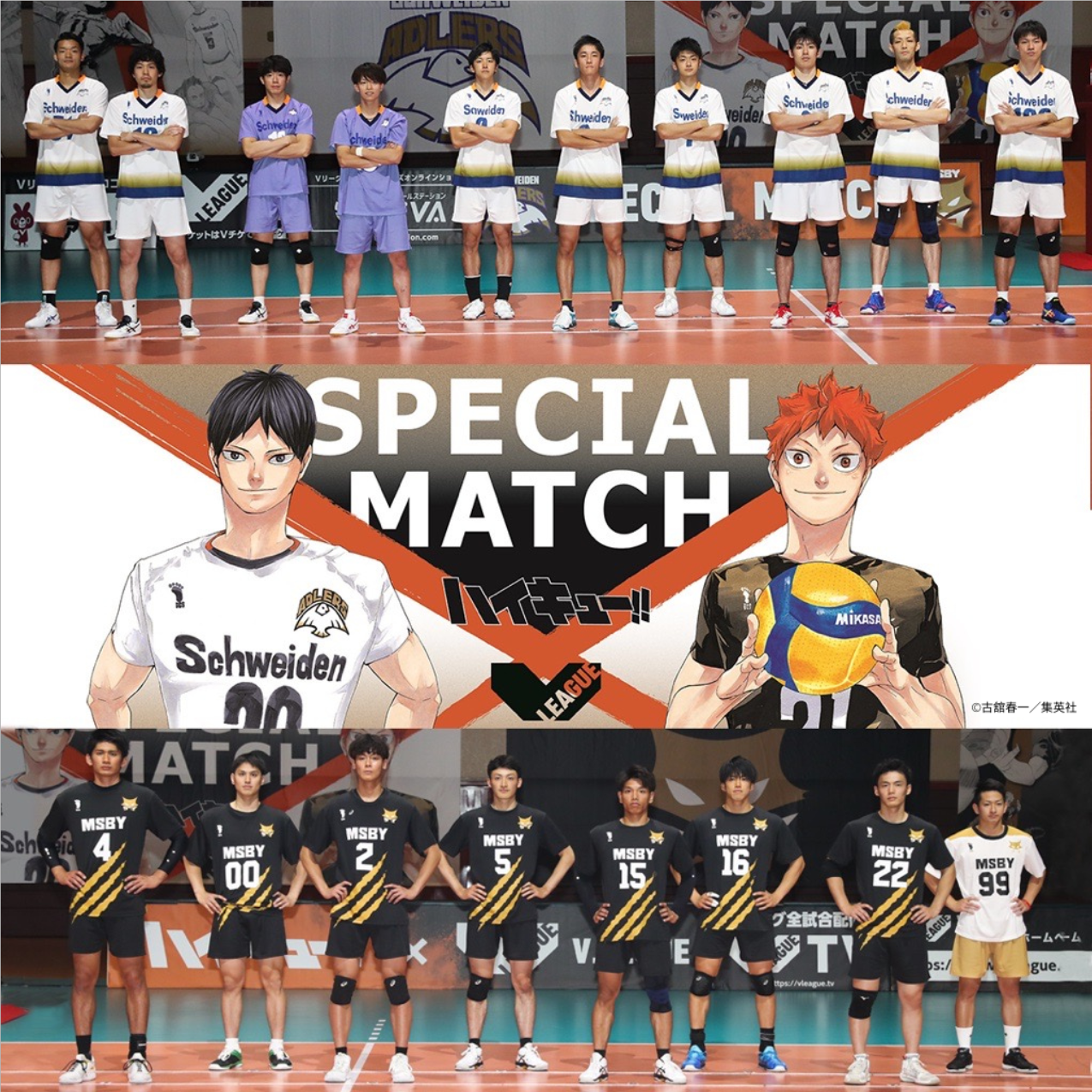 Tobio Kageyama's Schweiden Adlers and Shoyo Hinata's MSBY Black Jackals line up for this very special match.
Some liberties were taken as the match is played over the best of three sets, instead of five, and each set was played to 25 points. Due to coronavirus restrictions, the match was also played in front of an empty arena and streamed on YouTube live, and some players that are normally teammates were pitted against each other. (Scroll down to read which players portray which characters on the court.)
In attendance in Sendai as commentators were Satoru Kanazawa (Sendai Television) and Motoko Ohbayashi (former Japanese women's national team player and volleyball commentator). Additionally, the publisher of Haikyu!!, Shueisha's Weekly Shonen Jump had a representative from their editorial department in attendance.
Meanwhile, from Tokyo, the two voice actors for the main characters Ayumu Murase (Shoyo Hinata) and Kaito Ishikawa (Tobio Kageyama) participated as special guests, making the player introductions. Boards around the court were also very much driven by the animation.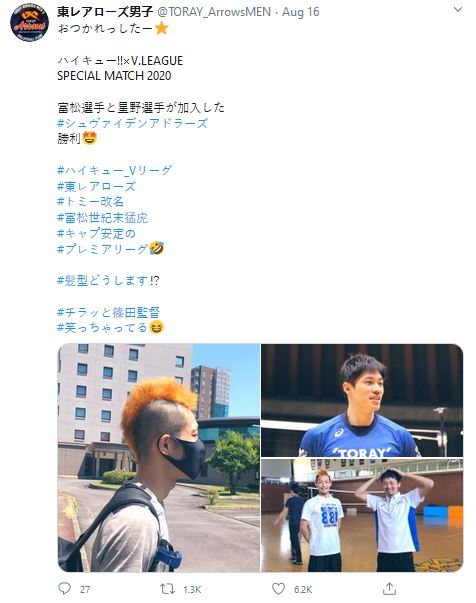 One of the players, Takaaki Tomimatsu, went one step further for the match, by getting a mohawk haircut and colouring it red to match the character Taketora Yamamoto's hairstyle, who played for Nekoma High School in Haikyu!!
In the end it was a competitive match with the Adlers (or Kageyama) winning 2-1 (25-20, 22-25, 25-19). Kota Ikeda for the Adlers was named man of the match.
More impressive was the number of people streaming the match on YouTube. Just after the match started, over 159,000 people were streaming live. The players after the match said that they had a great time and encouraged people watching on line to follow the V.League when the season starts in October.
At the end of the ceremonies, Haikyu!! introduced the upcoming broadcast season which will start in October and the artists whose songs will be used in the opening and ending sequences.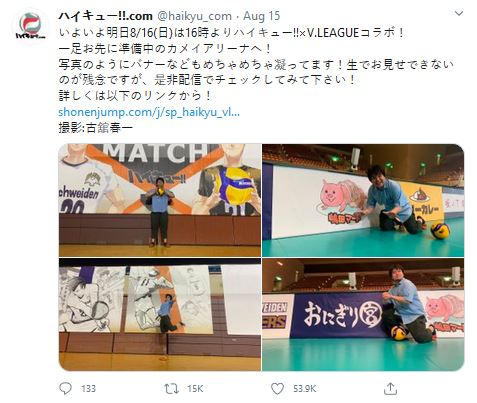 Haikyu!! creator Haruichi Furudate must be happy to see his vision of this story come to reality in Sendai.
MSBY Black Jackals (Shoyo Hinata)
Setters 
Playing as Atsumu Miya
#2 Eiro Motoki, Wolfdogs Nagoya
#22 Ryoma Fujioka, OH Oita Miyoshi Weisse Adler
 Liberos 
Playing as Shion Inunaki
#15 Yoshimitsu Kiire, Suntory Sunbirds, also played as an outside hitter
#99 Ryohei Iga, L Panasonic Panthers
Middle blockers 
Playing as Adriah Tomas and Shugo Meian
#16 Kenshi Morisaki, VC Nagano Tridents
Ryota Denda, Wolfdogs Nagoya was injured in practice for this match
Outside hitters
Playing as Kotaro Bokuto
#00 Takechi Koshi, JT Thunders Hiroshima
Playing as Kiyoomi Sakusa
#4 Naoya Takano, Sakai Blazers (captain of Black Jackals and replaced Yamamoto as captain)
Playing as Shoyo Hinata
#5 Kentaro Matsubayashi, Suntory Sunbirds
Schweiden Adlers (Tobio Kageyama)
 Setters
Playing as Tobio Kageyama
#16 Shin Tehara, FC Tokyo
#8 Sho Sagawa, Sakai Blazers
Liberos 
Playing as Toshiro Heiwajima
#10 Wataru Inoue, JT Thunders Hiroshima
#13 Masato Kubota, Oita Miyoshi Weisse Adler
Middle blockers
Playing as Tatsuto Sokolov or Fukuro Hirugami
#2 Takaaki Tomimatsu, Toray Arrows
#3 Haruki Ono, Suntory Sunbirds
#51 Yasunari Kodama, Panasonic Panthers
Outside hitters
Playing as Nicollas Romero
#7 Hiroshi Sakoda, FC Tokyo
Playing as Korai Hoshiumi
#9 Kota Ikeda, VC Nagano Tridents
Playing as Wakatoshi Ushijima
#100 Hidetomo Hoshino, Toray Arrows (captain)
*The Sendai City Gymnasium has hosted numerous events from the Men's and Women's FIVB Volleyball World Championships, the FIVB Volleyball World Grand Prix and FIVB Volleyball Women's World Cup. In July 2016, through a sponsorship naming right deal, the name of the arena was changed to Kamei Arena Sendai.
Related links of AVC
AVC Website: click www.asianvolleyball.net
AVC Facebook: click www.Facebook.com/AsianVolleyballConfederation
AVC Twitter: click: https://twitter.com/avcvolley
AVC Instagram: click: https://www.instagram.com/avcvolley/?hl=en
AVC Youtube: click: Asian Volleyball Confederation
AVC WeChat: Asian Volleyball Confederation