Wrap-Up Day 1
By Maryam Hessaby
Nakhon Ratchasima, Thailand, October 8, 2021 – Diamond Food, Nakhon Ratchasima QminC VC and South Gas Club struggled hard to beat their respective rivals in exhausting five sets on the opening day of the 2021 Asian Men's Club Volleyball Championship at Terminal 21 Hall, as hot favourites Sirjan Foulad Iranian registered first win after 3-0 demolition of Rebisco Philippines on Friday.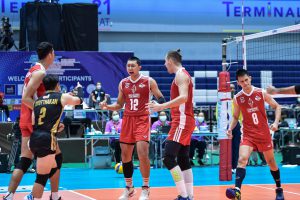 The curtain-raisers between Iran's Premier League champions Sirjan Fould Iranian and Rebisco-Philippines saw the former outclass the latter with a convincing straight-set 25-15, 25-22, 25-5 triumph in Pool B. Mohammad Sadeghi and Ramin Khani similarly bagged 9 points apiece to lead a bevy of strong hitters of Sirjan Foulad Iranian to their first comfortable victory in the one-week championship.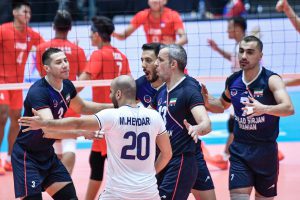 After the match, Rebisco head coach Dante P. Alinsunurin commented, "It is a really great opportunity for us to finally get back to competing internationally after almost two years. It is a tremendous experience for us, as well, that we got to face a high-level Asian team like Iran. We did not take the win but we are still grateful for the chance to compete against them".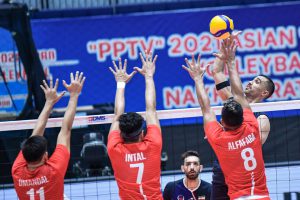 Rebisco's Joshua Umandal talked about his team after a long absence from international competitions, "It was really tough not being able to play for almost two years. As volleyball players, we have to keep ourselves in good shape physically and mentally. Coach Dante [Alinsunurin] always reminds us to maintain our working system. The results will not matter as long as we stay in our system. I am still confident that we will regain our form.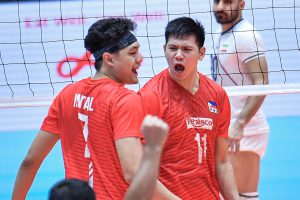 "This is just the first match, the tournament is still a long way to go, and we are just at that stage where we are getting the feel of the action again. We really struggled but I am still glad of how we fought and tried to bring the best out of each other. The Iranian team were on a different level, but I am confident with my team and all the preparations, we did to get here."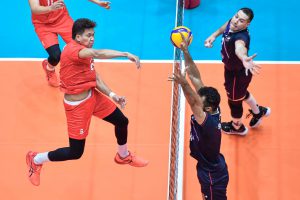 Rebisco-Philippines will next play Uzbekistan's AGMK in their second Pool B match on Saturday, while Sirjan Foulad Iranian will have a rest day and take on AGMK the following day.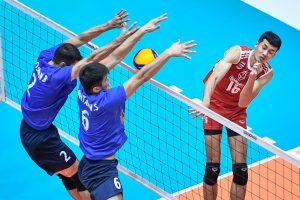 The remaining encounters on the opening day ended in tie-break thrillers, with Diamond Food coming back to beat AGMK and Nakhon Ratchasima QminC VC and South Gas Club overcoming sturdy challenges from determined rivals to win intense battles.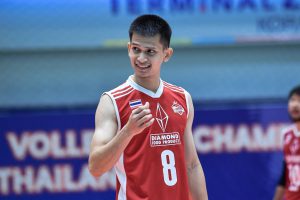 Debutant Diamond Food on Friday shrugged off their poor start and engineered a fightback to beat AGMK in thrilling five sets 19-25, 25-18, 23-25, 25-23, 15-13 in Pool B. Diamond Food are due to next take on Al-Arabi Sports Club of Qatr on Saturday.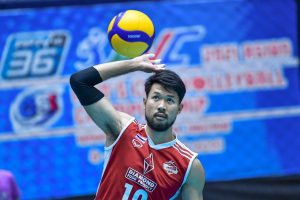 Diamond Food captain Kittikun Sri-utthawong said after the team's tough task, "After losing the first set, we came back to win the second set. The team's momentum is getting better. It was a pity that we could not win the third set so we had a hard fight to win the fourth set. Overall my team did well that I think it is most important to have good teamwork."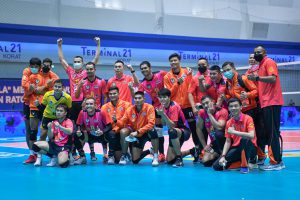 Compatriots Nakhon Ratchasima QminC VC, whose women's side picked up silver at the recently-concluded Asian Women's Club Championship, faced similar situation in Pool A on Friday when they survived a huge scare from Kazma Sport Club to beat the Kuwaiti side in hotly-contested five sets 25-22, 19-25, 18-25, 25-21, 16-14.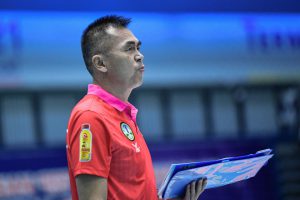 Nakhon Ratchasima head coach Padejsuk Vannachote said, "It was a very tough game. The KSC players are good at their attacks and defence. We did not do well with our service and throughout the five sets, we need to change our tactics all the time. However, I have to thank my players for their hard work and devotion."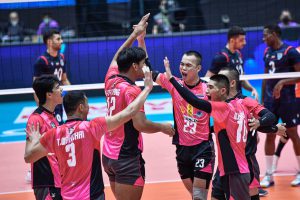 Nakhon Ratchasima will take on South Gas Club in Pool A encounter on Saturday, with Kazma Sport Club pitted against Sri Lanka's CEB Sports Club.
On the final match of the day, embattled South Gas Club of Iraq claimed the first two sets 25-16, 26-24, but succumbed to loss with two sets in a row 23-25, 23-25 to win the epic tie-breaker 15-13 in a competitive Pool A clash against Kazakhstan's Burevestnik Almay.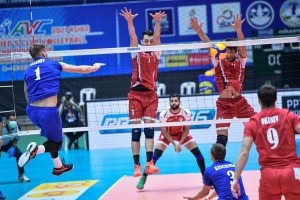 The top-tier Asian Men's Club Championship kicked off on Friday at Terminal 21 Hall, featuring 10 club teams from 9 countries to vie for the top honour and the lone berth for the FIVB Men's Club World Championship.
The participating 10 teams in the one-week event comprise reigning and six-time Thailand League champions Nakhon Ratchasima QminC VC, which finished 9th and 6th in the 2015 and 2018 editions, CEB Sports Club of Sri Lanka, Burevestnik Almaty from Kazakhstan, Kuwait's Kazma Sport Club and South Gas Club of Iraq in Pool A, while Pool B Sirjan Foulad Iranian from Iran, Al-Arabi Sports Club of Qatar, Thailand's Diamond Food, Rebisco-Philippines from the Philippines and AGMK of Uzbekistan in Pool B.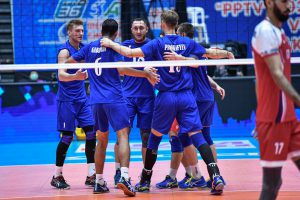 Teams will contest the group round-robin preliminaries, with only top two teams from each group after the pool plays advancing to the cross semifinals. Teams finishing third and fourth places in each group will be relegated to classification for 5th-8th places, while teams finishing on bottom fifth of each group will fight it out in the 9th-10th playoff match on October 13.
Sirjan Foulad Iranian proved a strong team to be reckoned with in the Championship with the likes of left-hander Saber Kazemi and Mahdi Jelveh Ghaziani, both of them joined the gold-winning Iran national team at the last month's Asian Senior Men's Championship in Chiba, Japan. Talented Kazemi also landed the MVP Award at the Championship following his brilliant all-round performance in Japan.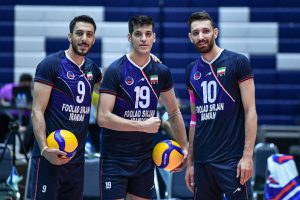 Among all participating teams, South Gas Club brought with them three international players including Cuban Alferedo Zequeira Qairo and Egyptian Ahmed Said, Qatar's Al-Arabi Sport Club had two in Brazilian Felipe Bandero and Serbian Konstantin Cupkovic, while Diamond Food, Kazma Sport Club, Nakhon Ratchasima QminC VC and Sirjan Foulad Iranian had one apiece.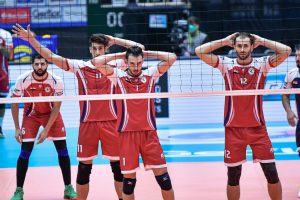 The pool plays of the Asian Men's Club Championship continue through Tuesday, October 12. October 13 will be a rest day for teams ranked 1st-4th places in Pool A and B, but teams finishing fifth from both groups will compete in the 9th-10th place playoff on the same day.
MATCH RESULTS AND STANDING
MATCH SCHEDULE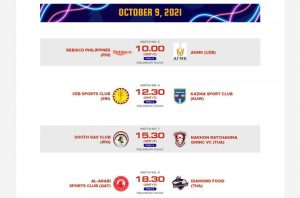 Related links of AVC
AVC Website: click www.asianvolleyball.net
AVC Facebook: click www.Facebook.com/AsianVolleyballConfederation
AVC Twitter: click: www.twitter.com/AsianVolleyball
AVC Instagram: click: https://www.instagram.com/avcvolley/?hl=en
AVC Youtube: click: Asian Volleyball Confederation
AVC WeChat: Asian Volleyball Confederation