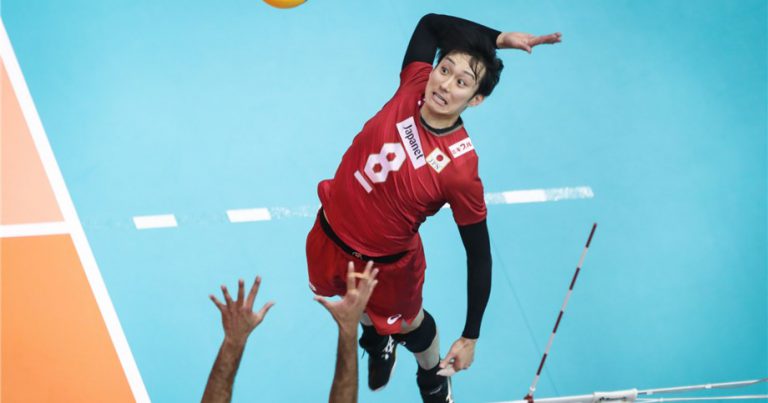 Japan outside hitter Masahiro Yanagida led the Suntory Sunbirds in scoring this weekend.
Tokyo, Japan, December 1, 2020 – Going into the sixth weekend of the Japanese V1 Men's league, Wolfdogs Nagoya, Panasonic Panthers and Suntory Sunbirds were all tied with 8-2 win-loss records and 23 points.
Nagoya had the best sets ratio and led the league. But any slippage by one of the top three teams was likely to have an impact on the Final Round at the end of the 36-match season.
Wolfdogs Nagoya faced Oita Miyoshi Weisse Adler for their two matches this weekend. Oita entered the weekend last in the league with no wins in their 10 matches played and Nagoya swept both matches 3-0. Ryusuke Tsubakiyama with 32 points (one block and three aces) and Kenta Takanashi with 31 (one block and one ace) were the stars for the Wolfdogs. Oita's Australian opposite Curtis Stockton scored 34 over the weekend in the losses.
The Suntory Sunbirds faced JT Thunders Hiroshima in their two matches over the weekend. On Saturday, Suntory needed a comeback to win in five sets, while on Sunday the Sunbirds swept JT 3-0. Masahiro Yanagida scored 42 points (one block and two aces) in the two matches for Suntory to lead them in scoring.
Panasonic Panthers met VC Nagano Tridents for their two matches. On Saturday, the Panthers took care of business with a 3-0 sweep. Panthers outside hitter Tsubasa Hisahara scored 15 points (one block and one ace) in the win. Nagano's Indonesian opposite Rivan Nurmulki led the Tridents with 21 (one block and one ace) in the loss.
On Sunday, Nagano flipped the script by taking the match in five sets after coming from behind down 1-2 sets. Nurmulki had 30 points, including four blocks in the win for the Tridents. The win for Nagano was their first of the season.
The loss for Panasonic dropped the Panthers to third place and pushed Suntory into second.
JTEKT Stings met FC Tokyo for their weekend battles and took both matches, 3-0 on Saturday and 3-2 on Sunday. Yuji Nishida scored 27 (three blocks and two aces) on Saturday and 34 (one block and an ace) on Sunday in the Stings' victory. Petar Premovic for FC Tokyo led their scoring with 50 over the weekend, 32 (two blocks and an ace) on Sunday.
Toray Arrows swept their matches with Sakai Blazers, 3-0 on Saturday and 3-1 on Sunday. Hungary's Krisztian Padar with 19 (one ace) on Saturday and 32 (three aces) on Sunday drove the Arrows offense in the wins. France's Jhon Wendt led the Blazers in scoring over the weekend with 36, including 15 on Saturday and 21 on Sunday (one block and an ace).

Match results for November 27, 2020
Suntory Sunbirds – JT Thunders Hiroshima 3-2 (25-19, 18-25, 28-30, 25-19, 15-11)
Match results for November 28, 2020
Toray Arrows – Sakai Blazers 3-0 (25-22, 25-21, 25-19)
Wolfdogs Nagoya – Oita Miyoshi Weisse Adler 3-0 (25-20, 25-23,25-18)
Panasonic Panthers – VC Nagano Tridents 3-0 (25-14, 25-23, 25-21)
Suntory Sunbirds – JT Thunders Hiroshima 3-0 (25-18, 25-18, 25-16)
JTEKT Stings – FC Tokyo 3-0 (27-25, 25-23, 25-21)
Match results for November 29, 2020
Toray Arrows – Sakai Blazers 3-1 (25-19, 20-25, 25-20, 25-23)
Wolfdogs Nagoya – Oita Miyoshi Weisse Adler 3-0 (25-19, 25-17, 25-20)
VC Nagano Tridents – Panasonic Panthers 3-2 (23-25, 25-20, 20-25, 25-20, 15-10)
JTEKT Stings – FC Tokyo 3-2 (25-23, 21-25, 25-23, 24-26, 15-13)
Related links of AVC
AVC Website: click www.asianvolleyball.net
AVC Facebook: click www.Facebook.com/AsianVolleyballConfederation
AVC Twitter: click: https://twitter.com/avcvolley
AVC Instagram: click: https://www.instagram.com/avcvolley/?hl=en
AVC Youtube: click: Asian Volleyball Confederation
AVC WeChat: Asian Volleyball Confederation