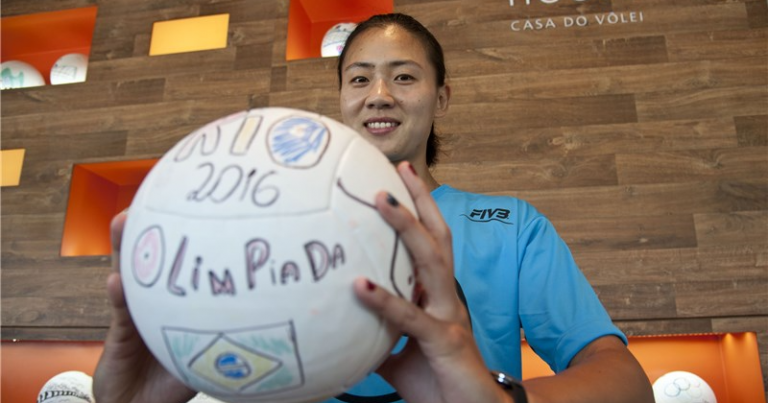 Duda joined her in winning World Tour gold at 17
The play of teenage sensation Eduarda "Duda" Lisboa the past decade has been remarkable, but the results of the rising Brazilian beach volleyball icon were not the first impressive accomplishments for a player under 21 years old on the FIVB Beach Volleyball World Tour.
While Duda won her first of seven gold medals as a teenager in 2016 at a March event in Brazil with Elize Maia as a 17-year old, Xue Chen of China was topping her first FIVB World Tour podium as a 17-year old with Zhang Xi at a May 2006 tournament on home sand in Shanghai.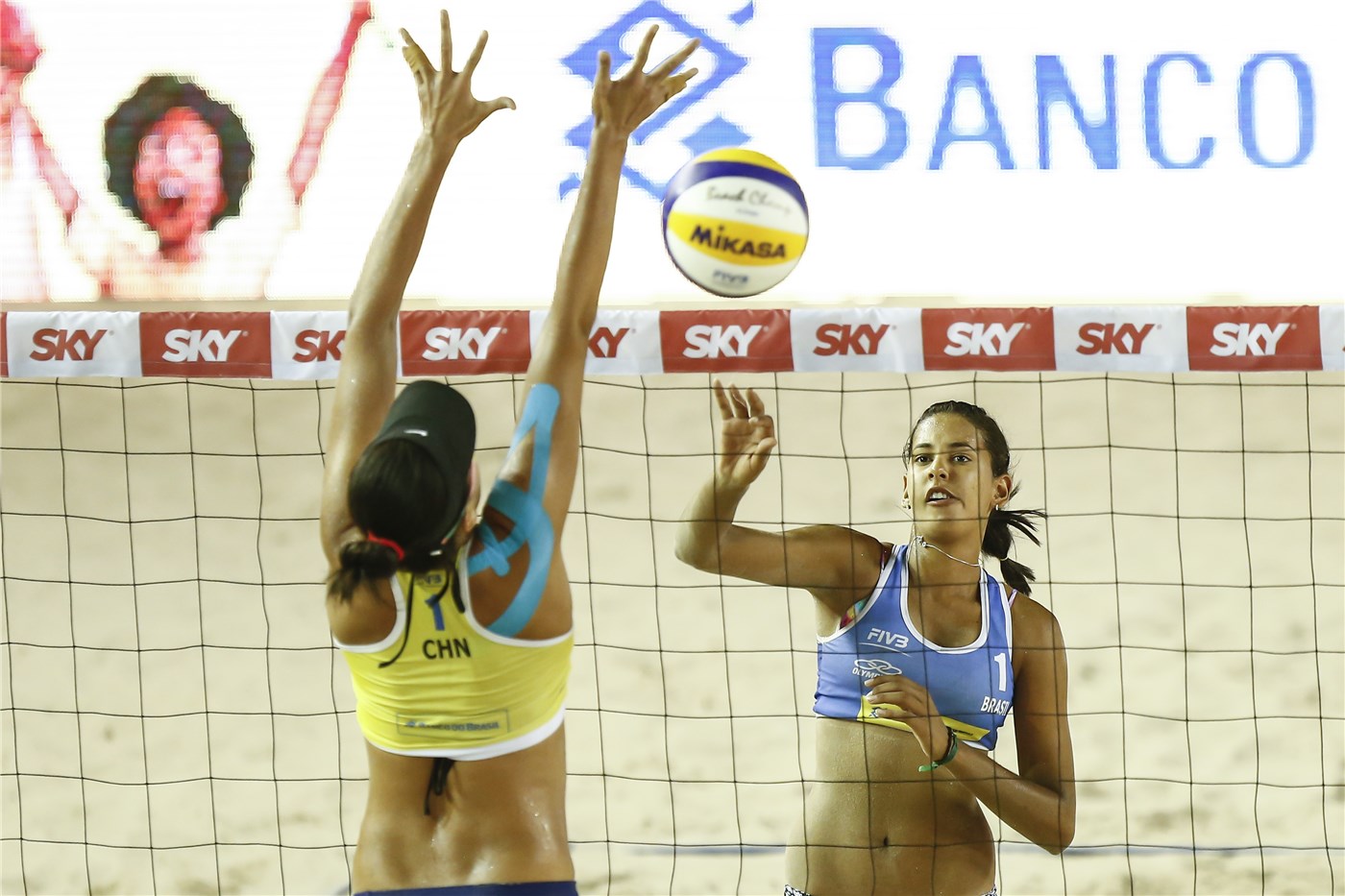 Brazil's Eduarda "Duda" Lisboa (right) in action opposite China's Xue at the 2016 Maceió Open in Brazil
Xue, who is celebrating her 32nd birthday today at the Chinese training facility in Sanya, was three months, 17 days younger than Duda when she won the 2006 Shanghai gold to become the youngest teenager to stand atop a World Tour podium at the time.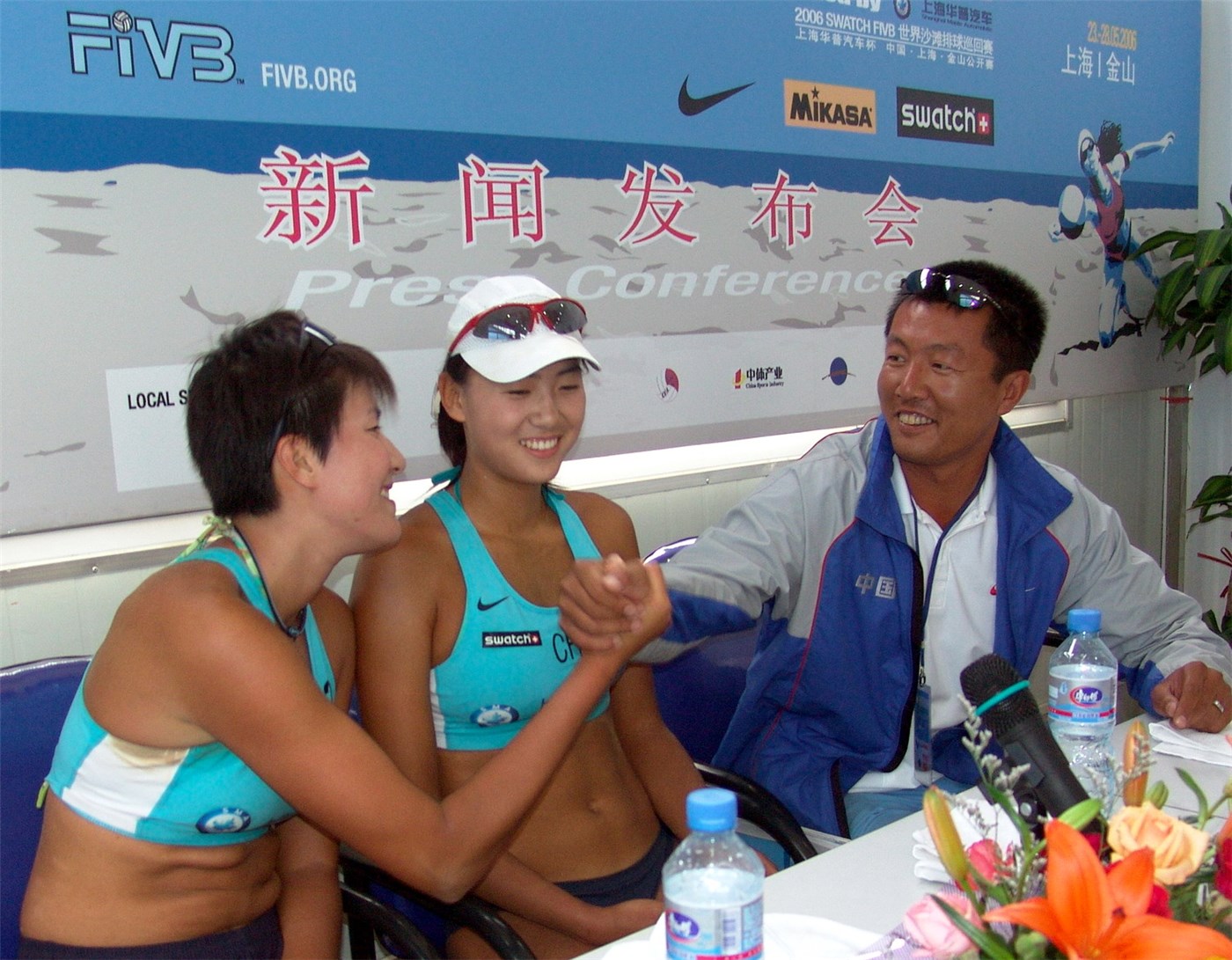 Chinese coach Zhihong Miao (right) congratulates Zhang (left) and Xue after winning the 2006 Shanghai Open
After holding the milestone as the youngest player to win World Tour gold for over seven years, Xue saw her record broken at the end of the 2013 season at back-to-back events in Thailand and South Africa when she teamed with 16-year Xia Xinyi to top podiums in Phuket and Durban, respectively.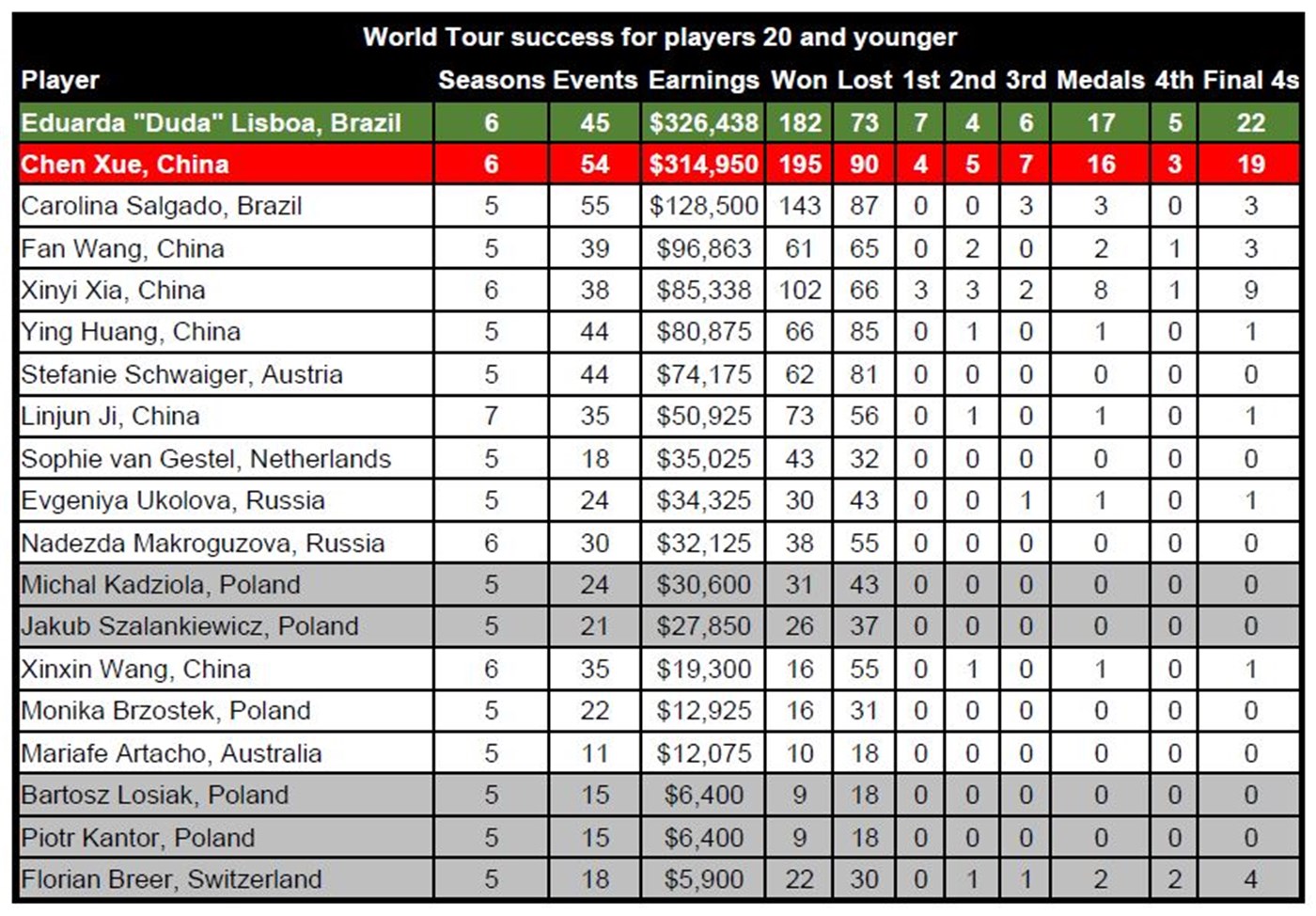 For her 32nd birthday, Xue will be celebrating as usual in Sanya where most of her parties have been since 2006. "I'll be with my teammates and we will probably have a cake fight. It's good to have a big team around you to celebrate together."
A bronze medal winner at the Beijing 2008 Olympics and a 2013 world champion with Zhang, Xue is seeking her third Olympic berth with Wang Xinxin. Currently ranked 30th on the FIVB World Tour list, Xue and the 22-year old Wang have competed in 20 FIVB events together with one podium placement at a September 2018 tournament in Zhongwei, China.
"Last year, after a series of quarantines, we resumed training in a closed environment with zero physical contact with the outside to help reduce the chance of infection," said Xue. "Obviously, it was a quite boring stay to be in the same place for two-to-three months. But the positive thing is, it gave me time for refining skills and improving my physical training."
Xue said it was "also rare to have such a long time without playing on the FIVB World Tour. I missed it so much. I missed competing, I missed traveling and I missed my World Tour friends. During these special times, health was the priority. And now there is good news that Doha (Qatar) will have a tournament in early March. That is a positive sign for the resumption of the competition."
As for the postponement of the Olympic Games (she and Zhang placed fourth at the London 2012 Summer Games), Xue said the Tokyo delay was an "opportunity for XinXin and I. I always felt that there was not enough time for us to prepare. Xinxin needs more experience, more training and more competition to grow up. This extra year is important, but it also brings a challenge for me. For me, the maintenance of physical function and the control of injuries are my biggest issues, even more important than my training. And I've been balancing the relationship between the three."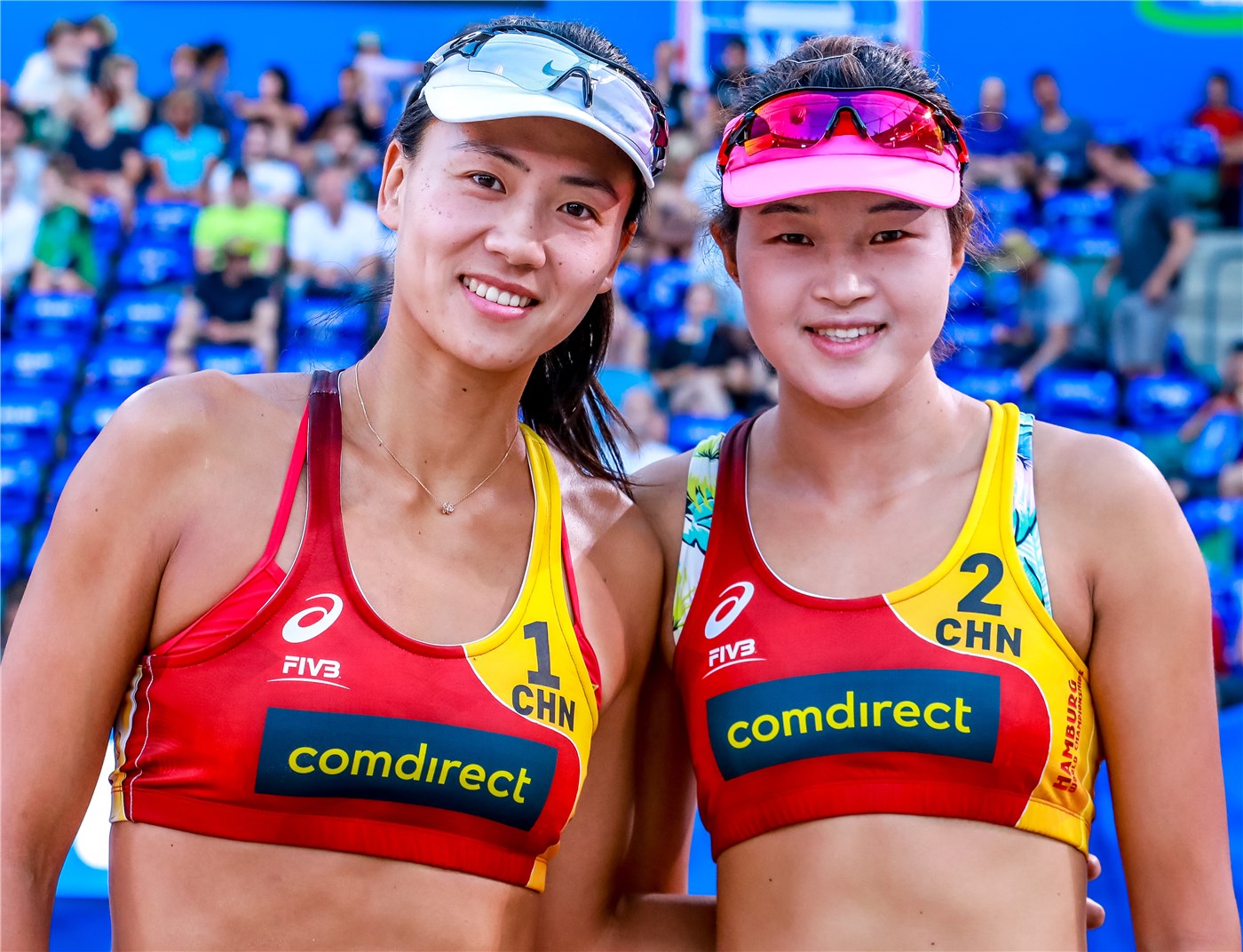 China's Xue (left) and Wang at the 2019 FIVB World Championships in Hamburg, Germany
As for her future and competing for Olympic berths in Paris and Los Angeles in 2024 and 2028, respectively, Xue said "I've always felt that age is a two-sided thing for beach volleyball. Beach volleyball is not just a physical sport, and it takes time to build up experience and court awareness. Experience on the court is the positive side that age brings to me. But on the other hand, my body is starting to decline and I'm starting to feel that recovery time is getting longer. I might try to go to Paris. That's still up in the air. For Los Angeles, I prefer to go in a different position."
As for being one of the most decorated women's or men's players on the FIVB World Tour with 17 gold medals, 32 finals, 45 podium placements and 52 final four finishes in 142 events, Xue said she "doesn't look at the records that much. Xi and I set a goal to collect 10 FIVB World Tour gold medals. When we reached that total, we set another goal. We wanted to collect all kinds of medals at the Olympics, World Championships and Grand Slam events. I am proud of what I have done in the past and I hope this will give our team a positive signal to encourage us to move forward together."
As for her most memorable moments playing on the international circuit, Xue said "there are too many memorable moments starting with winning the 2013 World Championship In Poland. Another was in 2011 in Thailand where one of our fans drew a picture for Xi and me on the centre court. She drew a big heart with our name and a winning sign with her feet. I was moved and surprised."
Xue said that playing on the World Tour "is attractive. I like to travel although sometimes it makes me tired. Every trip is a different experience. I don't think there are many sports that fly around the world and experience the amorous feelings of every place like us. Competing in the different countries with all their landmarks is special. The enthusiasm brought by the audience is special and each one of them excites me. When the World Tour calendar is announced, I always like to see what new places are added."
With her first FIVB appearances at the 2003 Youth World Championships in Thailand where she played against Germany's Laura Ludwig in her first-ever match, Xue was reluctant to list her toughest opponent as she said "it depends on what my position is. If there is no way to beat an opponent, then the game is the hardest.
"There are many great teams on the World Tour, and most of the matches are tough. So often the higher-seeded team wins. It depends what strategy you use, that make the game interesting."
Related links of AVC
AVC Website: click www.asianvolleyball.net
AVC Facebook: click www.Facebook.com/AsianVolleyballConfederation
AVC Twitter: click: https://twitter.com/avcvolley
AVC Instagram: click: https://www.instagram.com/avcvolley/?hl=en
AVC Youtube: click: Asian Volleyball Confederation
AVC WeChat: Asian Volleyball Confederation