Bangkok, Thailand, September 7, 2021 – Sixteen teams are set to strut their stuff in the 21st Asian Senior Men's Volleyball Championship between September 12 and 19 in Chiba, Japan, vying for two spots in next year's FIVB Volleyball Men's World Championship in Russia.
After successfully hosting the 3rd Asian Senior Men's Championship in 1983 in Tokyo, Japan will now become the battleground for the continent's top-tier competition for the first time in 38 years.
The 21st edition features 16 teams comprising hosts Japan, India, Qatar and Bahrain in Pool A and reigning champions Iran, Pakistan, Thailand and Hong Kong China in Pool B. Pool C consists of Australia, China, Uzbekistan and Kuwait, with Korea, Chinese Taipei, Kazakhstan and Saudi Arabia in Pool D.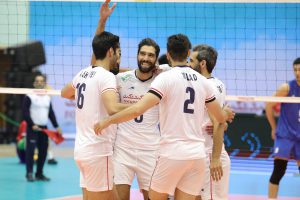 Iran players celebrate their win against China in group stage at the previous edition
The Asian Championship will serve as the Asian qualifying tournament for the next year's FIVB Volleyball Men's World Championship from August 26 to September 11, 2022. Host country Russia automatically qualified for the competition as well as the current world champions Poland, while the top two teams from each of the 2021 Continental Championships will secure qualification. The remaining 12 places will belong to top 12 teams as per FIVB World Ranking which have not yet qualified.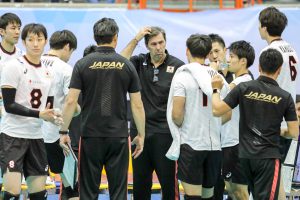 Japan during timeout in their bronze medal match against Korea in the 20th edition
As of September 6, 2021, world No.10 Japan are the Asian team with the best world ranking, followed respectively by Iran (11), Korea (21), Qatar (27), China (29), Australia (30), Chinese Taipei (32), Thailand (39), Pakistan (52) and Kazakhstan (58).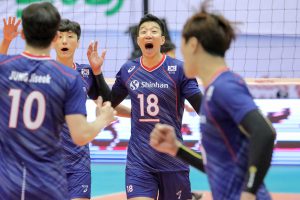 Korea regroup during their bronze medal match against Japan in the previous edition
Because of their current world rankings, it seems that only Japan and Iran stay in the safe zone, with opportunities given to both of them for chances to qualify for the world meet. The other teams can hardly rely on rankings to qualify for the top-flight World Championship and therefore, the Asian meet in Japan is poised to become one of the most intense competitions all participating teams have to come up with their utmost efforts to make the eventual top two teams and eligibility for the world meet in Russia.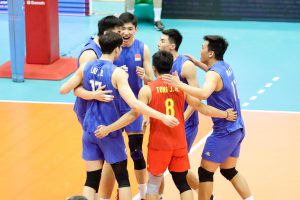 China aim higher than the 6th place achieved at the 20th edition in Iran
The 21st Asian Senior Men's Championship in Japan has been set to take place at the 7,512-seater Chiba Port Arena in Chiba, and the 4,368-seater Funabashi Arena in Funabashi.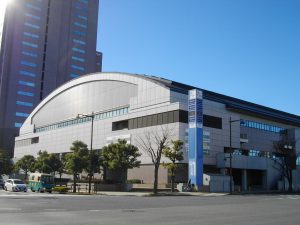 Chiba Port Arena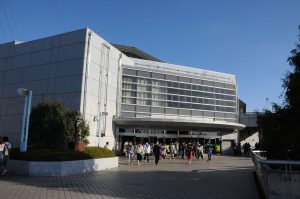 Funabashi Arena
In the past 20 Asian Championships, only five different teams have captured the eventual titles. Japan have won 9 titles, while Korea claimed 4, China and Iran shared 3 apiece and Australia won one.
The previous edition was held in Tehran in 2019 when the host side reigned supreme following their convincing 3-0 win against Australia in the final showdown. Japan picked up bronze medal after 3-1 rout of Korea in the third-place playoff.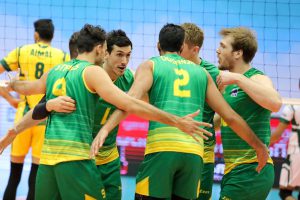 Australia need a step better than the second place achieved in Iran two years ago
In the 21st edition in Japan, all participating teams will compete in the group round-robin preliminaries. Only top two teams from each group will advance to the round of the last 8 in Pool E (A, C) and Pool F (B, D) in round-robin format, with the results and the points of the matches between teams from the same group that were already played during the preliminary round being taken into account for the classification round. The same playing format will be contested for the remaining lower-ranked 8 teams.
After that, the top two teams from Pool E and Pool F will make the cut for the do-or-die semifinals, while the remaining 4 teams will be relegated for the 5th-8th classification. The bottom-half teams will compete in the 9th-16th classification round.
With only four days remaining ahead of the kickoff, all is set for the 21st Asian Senior Men's Volleyball Championship in Chiba and Funabashi, Japan.
Participating teams start travelling to Japan in their final preparation for the Asian Championship in the host cities, with Qatar departing on Monday evening.
Led by Argentine coach Camilo Soto, Qatar, which earlier left for Slovenia for an intensive training and friendly matches with Slovenia national team between August 16 to 28, aimed high to enhance their performance and improve their fortunes this time after a disappointing outing at the previous edition in Iran, where they returned with a distant 9th position. Their best-ever effort in the biennial tournament was a fourth-place finish in 2015 in Iran.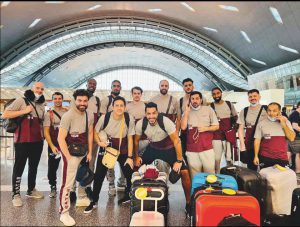 Qatar team due to depart for Japan on Monday evening
Bahrain, which first competed in 1979 as hosts and last appeared in 2015 when they finished 12th, will be travelling to Chiba on Tuesday with delegation head Mohammed Al Thawadi and head coach Marco Antonio Queiroga from Brazil.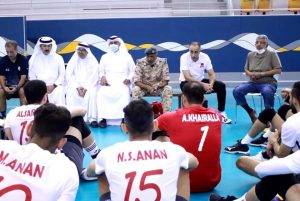 Bahrain player after their training ahead of their journey to Japan on Tuesday
Thailand, fielding a newly-formed team in the Asian meet, are due to leave for Japan on Wednesday.
Uzbekistan, which finished similar 16th place at all four Championships they took part in, replaced Sri Lanka, originally qualified but withdrew as their players and staff tested positive for COVID-19.
Asian powerhouses Iran, Japan, Korea and China are expected to make their marks in the action-packed Championships, but strong teams such as Qatar, India, Chinese Taipei, Australia and Kazakhstan are ready to mount sturdy challenges against them.
Japan and Iran became the only two Asian teams competing in this year's Tokyo 2020, with the former finishing 7th and the latter 9th. Japan this year proved a cut above the Iranians, beating the reigning Asian champions 3-0 in the 2021 VNL and 3-2 in the preliminary Pool A clash in the Tokyo 2020 Olympic Games. Iran also went down 2-3 in a narrowly-contested Week 4 encounter against Australia in this year's VNL.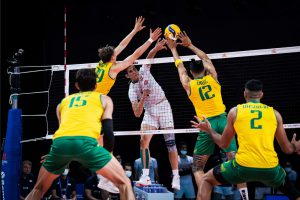 Australia stun Iran 3-2 at this year's VNL
Keep your eyes on the 21st Asian Senior Men's Championship from September 12 to 19! All participating teams are very determined and ready to squeeze themselves out of the group stage and reach the top two through thick and thin.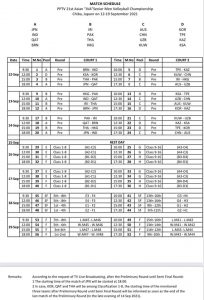 Related links of AVC
AVC Website: click www.asianvolleyball.net
AVC Facebook: click www.Facebook.com/AsianVolleyballConfederation
AVC Twitter: click: https://twitter.com/avcvolley
AVC Instagram: click: https://www.instagram.com/avcvolley/?hl=en
AVC Youtube: click: Asian Volleyball Confederation
AVC WeChat: Asian Volleyball Confederation