Aden Tutton celebrates a point with Australia at Earl's Court during the London 2012 Olympic Games.
London, United Kingdom, September 29, 2020 – Australian London 2012 Olympian Aden Tutton is looking forward to one more roll of the dice as he prepares to play in the CEV Champions League with IBB Polonia London, starting on Tuesday in a very tough pool against Serbian side OK Vojvodina Seme Novi Sad and Italian powerhouse Trentino Itas.
But for the 35-year-old libero of the English champions a lot has changed since turning the destination of his Olympic dream into his new home.
"I am working full time now and I notice how quickly you lose the fitness and touch on the ball when you don't play as regularly," he said. "As someone who wasn't the best at stretching at the best of times, sometimes it takes a while to get the old body going again!"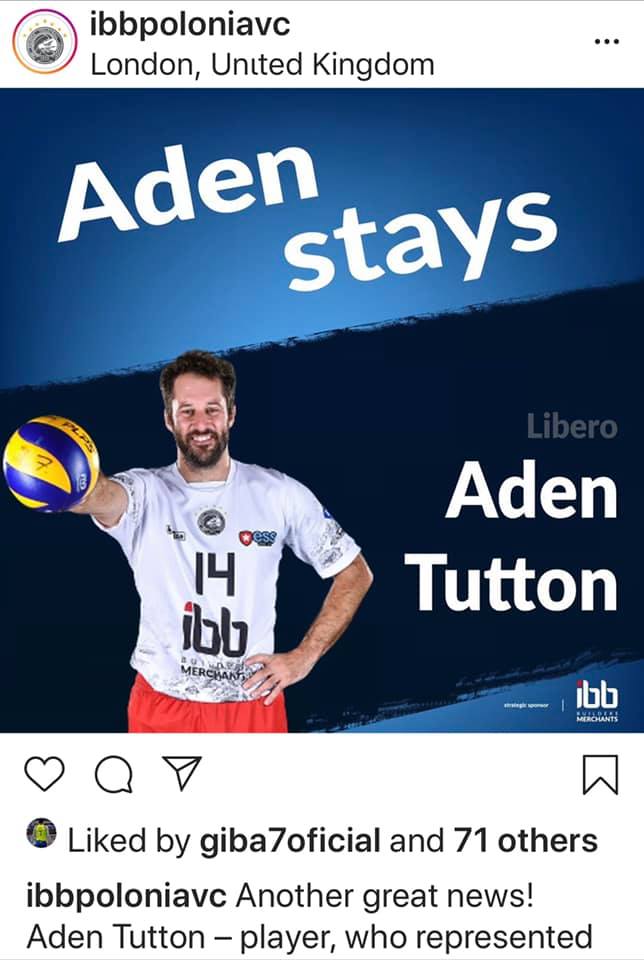 Polonia have entered the Champions League for a second time in succession, a milestone for English volleyball and although he and the team may not be in full-time training, Tutton is not under-valuing the opportunity that has been presented to him and is relishing the challenge of facing the world's elite once more.
"Just the thought of being a part of such high level volleyball again makes me really excited to get out on the court and receive some bomb serves from some of the best servers in the world. Also just to play against clubs with such a rich volleyball history is an amazing opportunity."
For those who know Aden, they will know him as a selfless teammate who sets an example on and off the court. A player with a great touch and someone who has the ability to connect with people. As Polonia prepare to take on Trentino and the likes of Simone Gianelli and Ricardo Lucarelli, he is hoping his experience can help the English outfit bring their best level of performance.
"I think I'm just going to be able to bring a sense of calm to the court as I have a good deal of experience and hopefully I will be able to help others bring out their best level even against such a strong opponent," he said ahead of the opening match in Trento, which starts at 18:30 GMT on Tuesday.
Tutton still 'vividly' remembers qualifying for the Olympic Games in 2012 and celebrating with the team. Australia went to London, beat Great Britain and even upset Poland, but lost to Bulgaria, Argentina and 15-13 to Italy in a tie breaker. He learnt a lot that he can now fondly look back on.
"The biggest thing I learnt was to really try and soak in every part of the journey and really take time to appreciate the situation that you get to be in. Sometimes the travelling and schedules were quite difficult, but the opportunities we got to play volleyball for a living and gain such amazing experiences is always something you look back on fondly, but don't always appreciate at the time."
Aden had a successful club career that saw him play in five different leagues en route to the London 2012 experience. In 2013 his team, however, had financial problems, which made him look to a different future.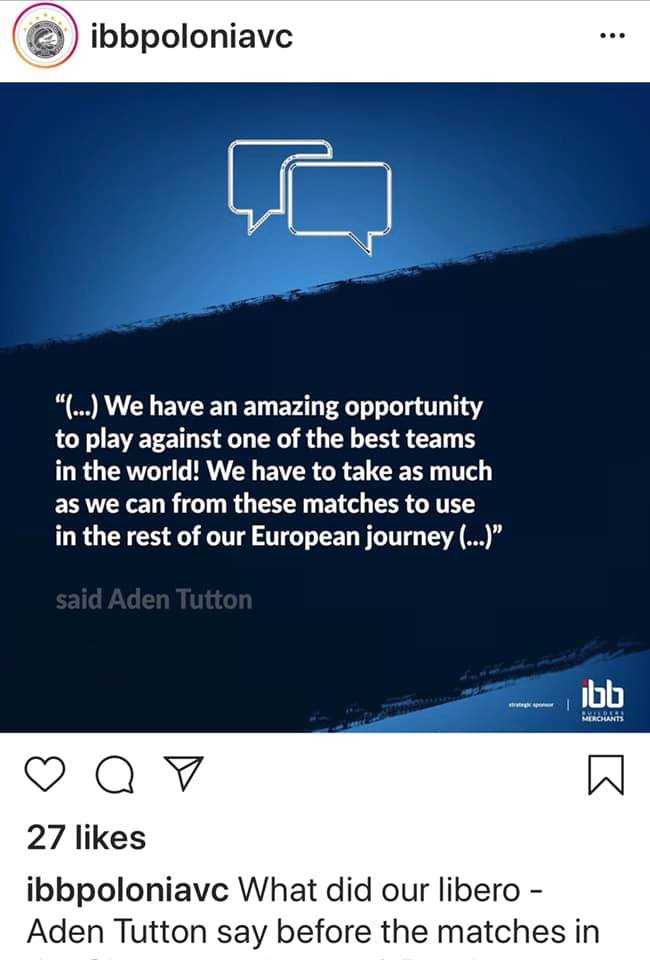 "After the Olympics I had the opportunity to play with a team in Germany where I felt that if I had a good year then a lot more opportunities would open up for me to be able to play in a bigger league, on better terms. Unfortunately the club had financial issues and I kind of treated it as a sign to maybe start thinking about life after volleyball," he said.
After his career Tutton went in to beach volleyball coaching – something he knows well and something that runs in the family. The Tutton name is a familiar and famous one within the sport. His father Steve was a lead coaching figure in Australia's Olympic campaigns.
"He has always had a huge effect on my volleyball career as he was the National Team Head Coach while I went through the junior ranks as a beach volleyballer. He always found such a great balance of being supportive whilst not being too full on, he always gave me the chance to find the learnings for myself."
Aden's brother is now also the assistant coach of leading Australian women's beach volleyball team Mariafe Artacho del Solar and Taliqua Clancy.
His personality and knowledge meant he took to coaching naturally when he returned to work with Australia's development programme.
"I thoroughly enjoyed my time in 2016 coaching and being part of the programme, but it also taught me that the life of a coach is not always as stable as I would have liked, and one of the tough things about being a professional athlete was living year to year with contracts. Stability was something I wanted to have more of in my life."
Aden moved to England to start a career in technology and still finds ways to help coach the English Junior programme, helping guide them to a gold medal at the Junior Commonwealth Games in 2017.
It wasn't long before Tutton was persuaded back into playing, though. Being an Olympic player in England meant his skills and experience were in demand. Aden played for Wessex Volleyball Club before being recruited by Polonia, and before he knew it he was back training two to four times a week this time, whilst juggling a full time job.
"Having a nine-to-five job really makes it difficult to get out to training as much as you were doing when it was your job, so it really makes you appreciate the time you get on the court with good friends and at a good level while still having opportunities such as the ones we are getting this year in the European season."
Polonia's first Champions League experience saw Tutton line up alonside Brazilian legend Giba as they battled Croatian champions Mladost Zagreb last year – Tutton playing in an unfamiliar outside role.
Polonia have added strength in depth for this year's Champions League and Tutton will return to libero against Trentino and Vojvodina.
"I found hitting last year daunting, to say the least! It definitely gave me an appreciation of what was required at that level to play that part of the outside role, but my first job was to make sure I took care of the reception side of the position and then anything extra I could do in the way of hitting would be a bonus."
Polonia have exchanged one former great in the person of Giba for another, in Swedish legend and two-time MVP of the Champions League Marcus Nilsson, as they prepare for arguably the biggest game in English volleyball history.
Polonia have become famous for signing household names in world volleyball but when they are in the lion's den of Trentino, remember to watch out for Aden Tutton, helping the player next to him, smiling and pointing at his teammates when they do something well, relishing his opportunity to be on the big stage once more to take on the best in the world once again.
Related links of AVC
AVC Website: click www.asianvolleyball.net
AVC Facebook: click www.Facebook.com/AsianVolleyballConfederation
AVC Twitter: click: https://twitter.com/avcvolley
AVC Instagram: click: https://www.instagram.com/avcvolley/?hl=en
AVC Youtube: click: Asian Volleyball Confederation
AVC WeChat: Asian Volleyball Confederation