Bangkok, Thailand, September 28, 2020 – Some people get involved in sports to have fun or stay healthy, but for ace spiker Aimal Khan, volleyball is a family sport tradition which puts a substantial premium on height.
"I started playing volleyball in 2005, but actually, badminton was the very sport I first took at school," recalled Aimal, the current team captain of Pakistan national volleyball team.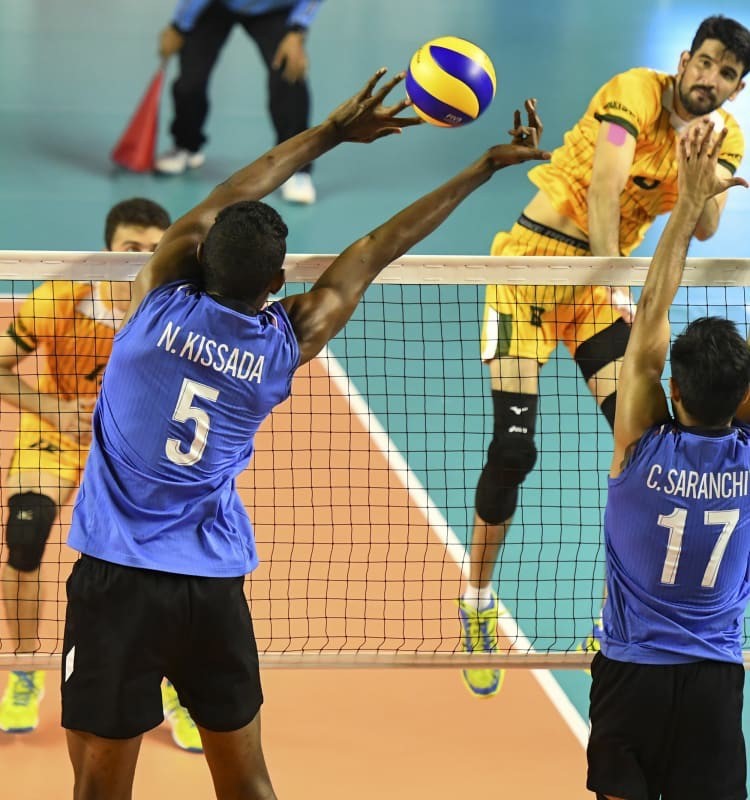 "Frankly, volleyball is my family game. My uncle, my cousins, my brother and even my grand father play volleyball. It was a real passion of everyone in my family and the reason why so was that all members in my family are tall. Regardless of the height advantage, we then have fun with playing volleyball together, taking turns spiking, receiving and serving.
"Moreover, we have our own open ground at our guest house. Although many of us are over 30s, we still play there with family members and friends. My uncle introduced me to the sports association of our province (Khyber Pakhtunkhwa) and I was selected to join the Pakistan national junior camp in 2007, just two years after I first took this sport."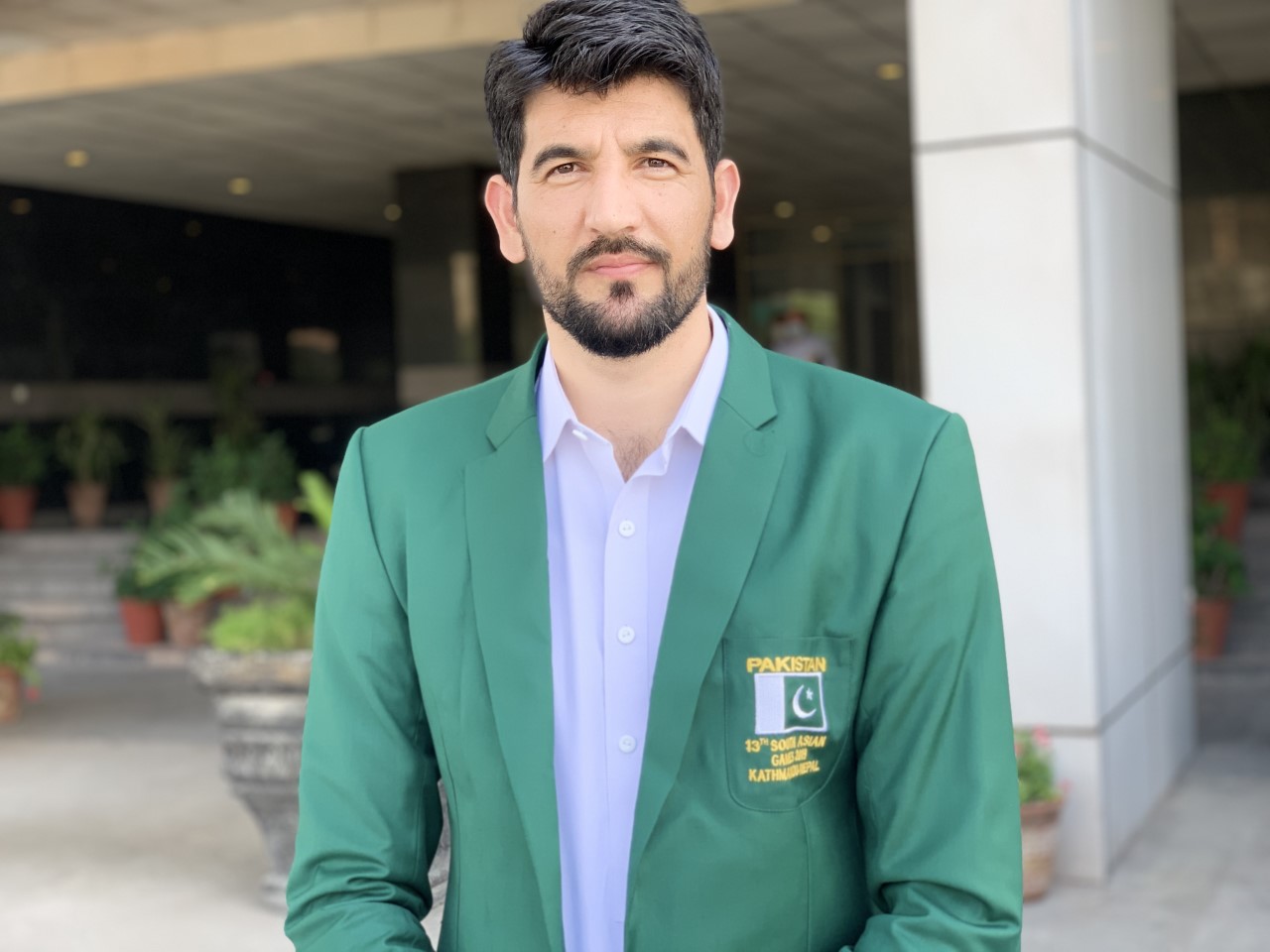 It's a matter of fact that in volleyball, the height of outside hitters is an important factor. As the height gives players an advantage in activities near the net, opposite attackers are those in the team who have a great load of attacks; thus they should have long legs and long arms.
"I totally agree with some thoughts that say height is an advantage in volleyball. However, I saw some players like Japanese They are not that tall, but still, they have produced best players and good teams in Asia," he said.
A family man with two children, Aimal turned 30 last month, but said his debut effort in the sport dated back to 2006 when he joined his village team for a local tournament. Just one year after undergoing the national junior camp, he was selected to join the Pakistan junior team and carry the country's high hopes in the 2008 Asian Junior Men's Championship in Tehran, Iran. There, the Pakistani squad fought well to return with bronze medal.
Any team winning a bronze medal cannot relax and rest on such a victory laurel. So, Pakistan went to great lengths to fulfil their ambition – rising to a higher level in more overseas competitions, making the team improve in leaps and bounds and riding the crest of a confidence wave every time they enter the competition venue.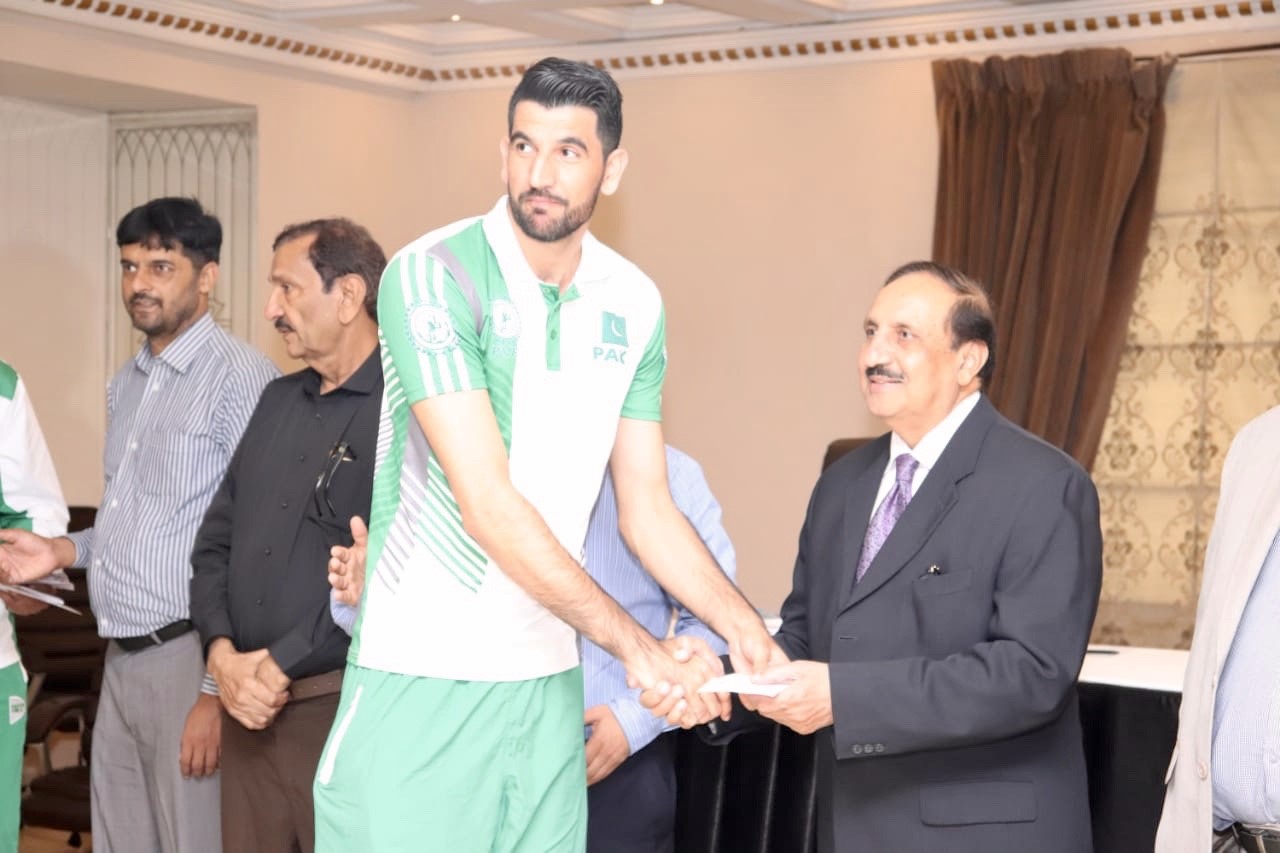 "As far as I'm concerned, volleyball is amazingly popular in Pakistan. Our performance is also much better than before, thanks largely to the great support of Pakistani people from all walks of life. Besides, people also arrange local competitions from their own expenses," said the gifted spiker, tall and strongly-built.
"Whatever you decide to do, make sure it brings a smile to your face and joy to your heart. The same to me. When I play volleyball no matter which objective, for fun or during a serious competition, it always gives me energy and makes me active all day long.
"In terms of the competition, my best experience occurred when I played for Pakistan in the World Olympic qualifying round in Sophia, Bulgaria in 2012. Pakistan had tough encounters against other powerful teams including France, Egypt and hosts Bulgaria. It was Pakistan's first time in competing in the Olympic qualification and so, everyone in my team was so excited to go up against those strong oppositions. Although we lost them all and failed to make the cut for the Olympic Games, we had gained a lot of experience and valuable knowledge," added the 204cm-tall Aimal.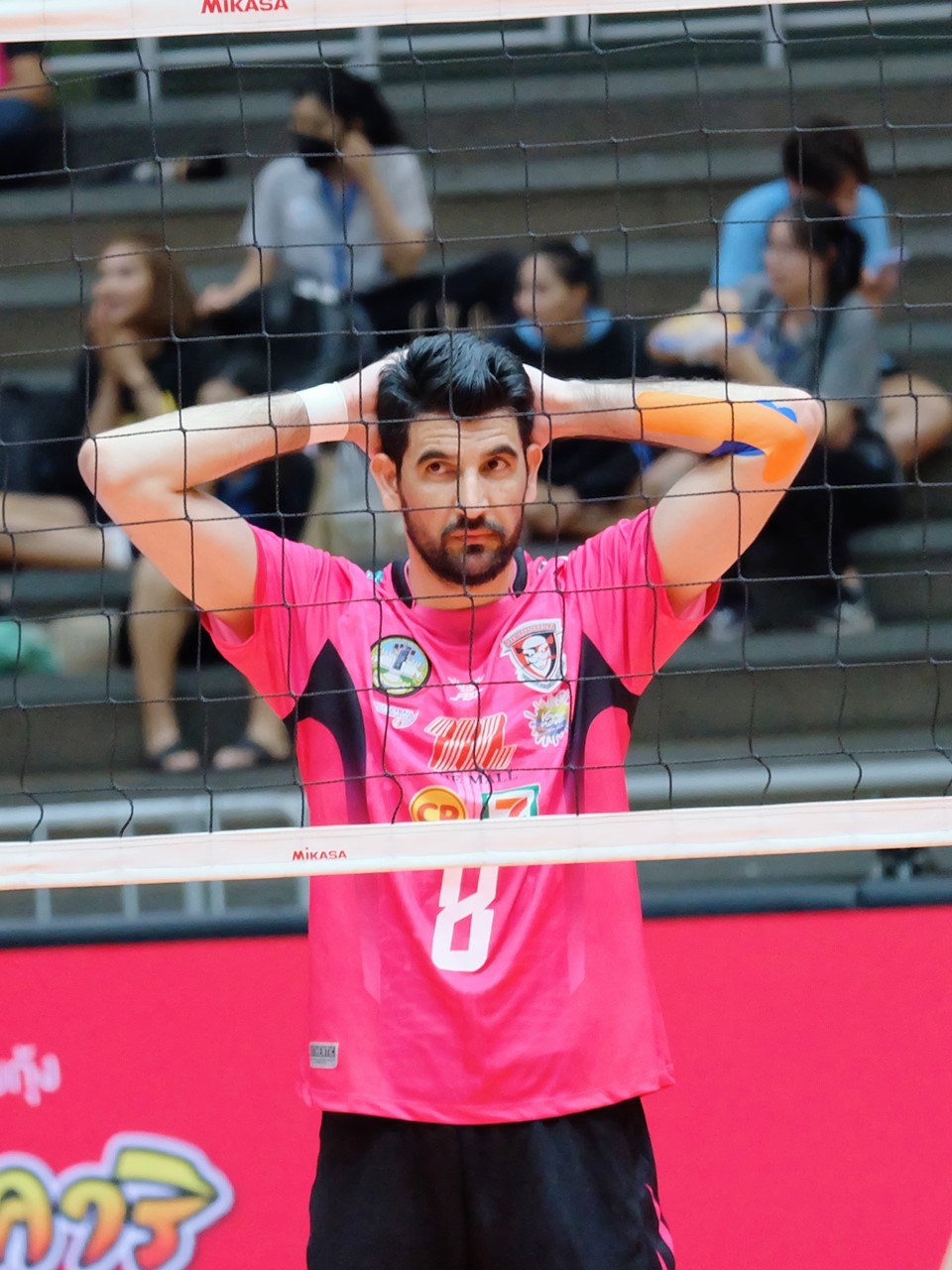 When in Pakistan, he played for WAPDA, the Water and Power Development Authority, the Pakistan's government company of electricity in which he has been working in the sport base. The club team also tested their mettle in both national and Asian level events.
In 2018, WAPDA landed the national title to later represent Pakistan in the Asian Men's Club Championship in Nay Pyi Taw, Myanmar.
There, WAPDA, the winning club team in Pakistan from the last six years, emerged as the first Pakistan team in history to finish top three in the Asian Club event following a fantastic comeback 3-2 win against Vietnam's Sanest Khanh Hoa in the third-place playoff. For his outstanding performance, Aimal took the Best Opposite Spiker in the awards presentation and closing ceremony.
Despite the fact that volleyball has gradually gained popularity in Pakistan, the support from the government is seemingly unmatched. Unlike cricket, the most popular sport in Pakistan and the only sport which has fully received government support, volleyball as well as other sports have become second-rated in the country.
"We need more support. The first thing is the support of government in the form of financial boost to the Federation and players. However, the most important thing is the staging of a professional league in Pakistan. Many players from Pakistan national team are now playing abroad and the level of Pakistan volleyball is much better than before. Our performance in international competitions also marks a significant improvement in Pakistan volleyball," he said.
In addition to the Asian Senior Men's Championship, another important competition Pakistan has come up with upgraded performance in each edition they have been competing is the South Asian Games.
"In 2016, Pakistan claimed bronze medal in the 12th SAG in Guwahati, India, but we came back much stronger at the latest edition in Kathmandu, Nepal in 2019. It's a pity we went down in thrilling four sets to reigning champions India in the final," Aimal recalled.
Professionally, he joined Nakhon Ratchasima The Mall's VC for the 2019-2020 Thailand League. However, due to the COVID-19 outbreak, he played for the team only in the regular season. Some matches of the tournament had been suspended, leaving almost all import players to return to their countries. Aimal did not play for Nakhon Ratchasima The Mall's VC when the Final Four resumed, but it turned out to be a pleasant surprise when his team, though playing without him, eventually captured the League title.
"I felt a reasonable regret for the missed chance to help my team, but when I learned that Nakhon Ratchasima captured gold medal, I was very delighted. In fact, the Thailand League was not my first League in my career. I played my first league in Oman with Al-Seeb Club in the 2013-2014 season, followed by the Taiwan League with Taichung between 2014 and 2015, Al Ain Club in the UAE during 2016 and 2017 and Al-Khaleej Saihat in the Saudi Arabia League in the 2017-2018 season. Between 2018 and 2019, I competed for Al-Gharafa SC Doha in the Qatar League before heading to Thailand for the 2019-2020 Thailand League.
"I have best experience in Nakhon Ratchasima. All the management, teammates and coaches are the best things in my life out there. To be honest, I did not have any problem there. I tried my best to perform well with the team and all the club members were apparent to be happy with my performance," he continued.
Asked about his retirement mindset, Aimal paused for a moment before answering, "I don't plan it yet, but I keep one thing in mind, I want to be a coach after reaching full retirement age. Also, I don't expect my children to fill my shoes in the future. The level of women's volleyball is very low in Pakistan and so that's why I want to give my daughter the best qualification."
Like other volleyball players, Aimal is no stranger to social media, using it to keep in touch with friends and extended family as well as to network career opportunities, find people across the globe with like interests and share their thought, feeling, insight and emotions.
"I have Instagram and Facebook accounts. I would say it helps a lot for me to promote and show my skills and ability to volleyball world because media sometimes does not focus much on volleyball for live game on TV. Moreover, I mostly upload my videos to show to other clubs," he said.
As countries across the globe are taking drastic steps in a bid to curb the spread of COVID-19, Aimal also felt a bit worried and stressed dealing with uncertainty during the pandemic.
"When I came back from Thailand this season so you know everywhere in my country had been placed under stricter coronavirus restrictions with business and activity lockdowns, so it was very hard to continue my fitness. But you know it has affected every sport over the world. Although I was doing some gym at home, the fitness level was not the same. Now I am doing my training everyday to maintain my fitness.
"More importantly, situations of the volleyball competitions next year remain uncertain. Several Asian countries have been hard hit by COVID-19 and it's very difficult to predict when tournaments can be held. No doubt, it's really hard now, but I hope they are starting again soon and focus to gain their levels and leagues to maintain and continue their events."
Asked to say anything to someone, his family and friends who had supported him in the past until he has reached where he is standing now, Aimal said, "I would like to thank my parents who support me from their hearts. What I am today is because of them and their prayers. I also need to show gratitude to my uncle Ibrahim Khan Riaz Khan and my brother-in-law Yassar Khan. They always support me financially and give me a motivation boost to achieve my goal.
"Also, I would say thank you so much for AVC's support. And I would like to give my regards to all my volleyball friends in Pakistan and abroad to stay fit and support each other because we are volleyball family."
Follow Aimal Khan on Instagram: https://www.instagram.com/aimal_iqbal/
Related links of AVC
AVC Website: click www.asianvolleyball.net
AVC Facebook: click www.Facebook.com/AsianVolleyballConfederation
AVC Twitter: click: https://twitter.com/avcvolley
AVC Instagram: click: https://www.instagram.com/avcvolley/?hl=en
AVC Youtube: click: Asian Volleyball Confederation
AVC WeChat: Asian Volleyball Confederation