By Marie Louise Principe
Chiba, Japan, September 13, 2021 – Host team Japan, Australia, China, Iran, Korea ,Pakistan, Qatar and Chinese Taipei won their respective matches in the second day of Preliminary Round of the 21st Asian Senior Men's Volleyball Championship on Monday.
Pool A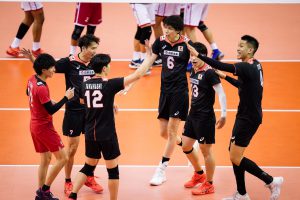 In the main event at Chiba Port Arena, Home team Japan took a 3-1(23-25, 25-17, 25-23, 25-16) victory against the tough challenge of Bahrain.
"Our play was too simple, as we were relying too much on outside hitters, that Bahrain could play with their high-level skill," said Japan coach Yuichi Nakagaichi.
With Bahrain racing to finish the first set with three straight stuff blocks, Japan needed to identify a leader who could help lift the team past the challenge.
Ran Takahashi responded to the call, keying in a total of 26 points (22 attacks, 2 blocks, 2 aces), and delivering when it mattered most.
"During important moments, I was able to get points from spikes. This made me more confident.
"I wanted to get points as much as I can because our captain (Yuki) Ishikawa cannot play on the court so far. At this point, I think I could fulfill my responsibility in tonight's match," said Takahashi.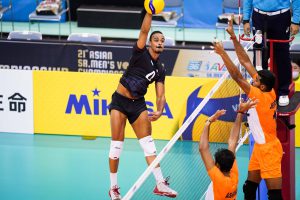 Earlier, Qatar defeated India in straight sets (25-22, 25-14, 25-20) to claim their first win the 2021 edition of the competition. Qatar captain Ibrahim Ibrahim ran a strong game at the middle and helped his team with 12 points. India's Charles Jerome Vinith scored 19 markers in the loss.
Pool B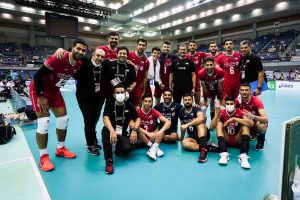 Previous Champions Iran unloaded a total of 15 aces and served a straight-sets match (25-17, 25-12, 25-18) on Thailand. Iran opposite Saber Kazemi led all scorers with 16 points, coming from 9 attacks and 7 service aces.
Monday's victory in the main hall, Chiba Port Arena, marks Iran's second win, as they carve out their pathway toward a title defense.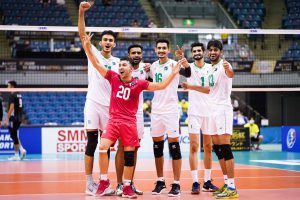 Pakistan likewise posted their second victory in Pool B with 3-1 (25-16, 24-26, 25-11, 25-12) match against Hong Kong, China. Ali Usman Faryad led the field with 20 points (17 attacks and 3 blocks).
Pool C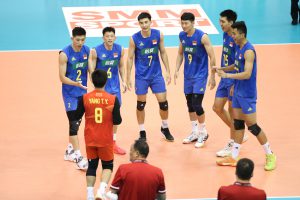 China picked up another straight-sets win on Monday, as they defeated Uzbekistan (25-14, 25-18, 25-16) at the Funabashi Arena. Zhang Jingyin scored 16 points while captain Jiang Chuan added 15 to the tally. The three-time champions led in all scoring skills, posting 38 attacks, 11 blocks, and 7 aces.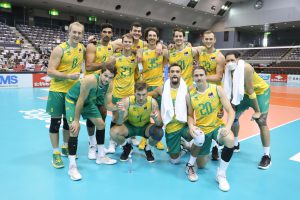 Australia also managed a straight-sets defeat of Kuwait (25-21, 25-14, 21-9). Trent O'Dea and Curtis Stockton combined for 21 points for the Volleyroos' second victory in the Preliminary Round.
Pool D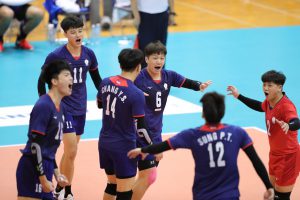 Chinese Taipei triumphed, 3-0 (25-15, 25-16, 25-17) against Saudi Arabia, as they dominated with 45 attacks 5 blocks 6 serves. Wu Tsung-Hsuan charted 11 points in the match where nearly every Chinese Taipei player made it to Monday's scoring tally.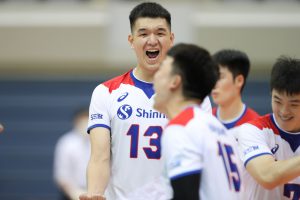 Also in Funabashi Arena, Korea picked up a 3-0 victory (25-21, 25-17, 25-16) against Kazakhstan. Han Kukmin charted 13 points as his team's top scorer, with Cheon Jongbeom helping with 10 more points.
The 16 teams conclude the Preliminary Round on Tuesday, the hopes of gaining one of two direct slots for the 2022 FIVB Volleyball Men's World Championship in Russia.
September 14, 2021 Schedule (local times)
Pool A in Chiba Port Arena
Qatar – Bahrain 12:00
Japan – India 18:00
Pool B in Chiba Port Arena
Pakistan – Iran 12:00
Thailand – Hong Kong 15:00
Pool C in Funabashi Arena
Kuwait – Uzbekistan 10:00
China – Australia 17:30
Pool D in Funabashi Arena
Kazakhstan – Saudi Arabia 12:30
Chinese Taipei – Korea 15:00
Related links of AVC
AVC Website: click www.asianvolleyball.net
AVC Facebook: click www.Facebook.com/AsianVolleyballConfederation
AVC Twitter: click: www.twitter.com/AsianVolleyball
AVC Instagram: click: https://www.instagram.com/avcvolley/?hl=en
AVC Youtube: click: Asian Volleyball Confederation
AVC WeChat: Asian Volleyball Confederation