Bangkok, Thailand, October 12, 2020 – Preparation of the 23rd AVC General Assembly and decisions on the election procedure of the AVC BA Members were two key topics discussed at the 42nd AVC Board of Administration Meeting via video conference on October 9.
Due to the unavailability of AVC President Dr Saleh A. Bin Nasser, Executive Vice President Mrs Rita Subowo from Indonesia chaired the Friday's video conferencing. FIVB President Dr Ary Graca, FIVB and AVC Honorary Life President Mr Wei Jizhong and FIVB Director for Asia and Oceania Mr Luis Alexandre Rodrigues joined the meeting as guests of honour.
Also in attendance were all AVC BA Members including Executive Vice President and Treasurer Mr Essa Hamza from Kuwait and five Zonal Executive Vice Presidents – Mr Shanrit Wongprasert from Thailand (S.E.Z), himself the AVC Secretary-General, Mr Cai Yi from China (E.Z.), Dr Mohammad Reza Davarzani from Iran (C.Z.), Mr Ibrahim A. Malik Mohammed from UAE (W.Z.) and Mr Craig Carracher from Australia (O.Z.).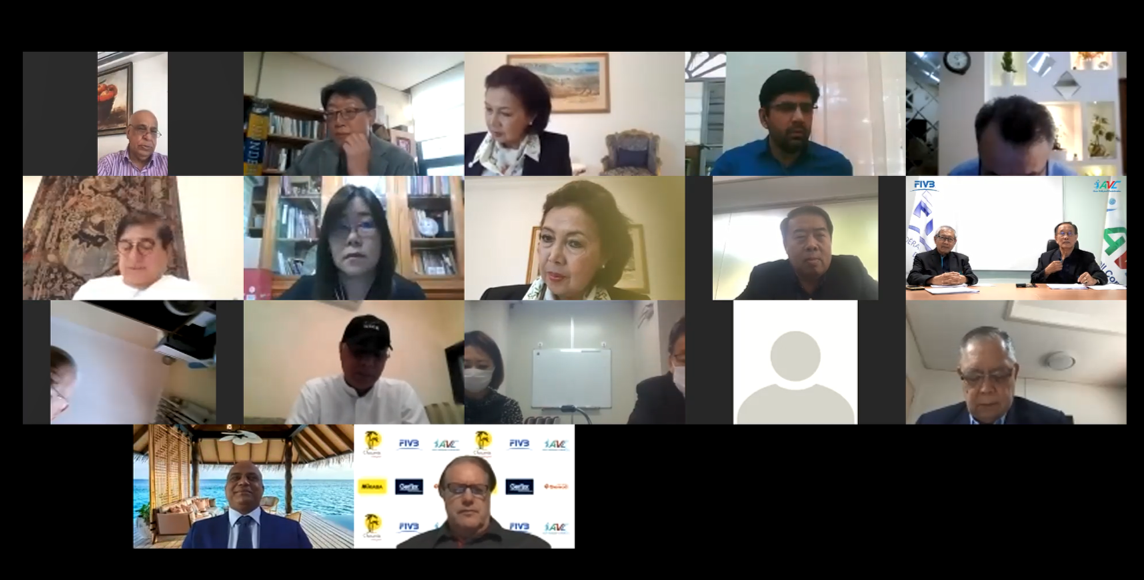 Welcome address by Mrs Subowo marked the beginning of the Friday's Meeting as she took this opportunity to express her sincere wishes to all members during these difficult times of COVID-19. Although maintaining a hopeful outlook in times of fear like the current situation everyone is facing can be difficult, she truly hoped that all members stay safe and healthy.
After that, the Agenda and the Minutes of the AVC Executive Committee Meeting, which was held online on September 22, 2020, were acknowledged and approved without remarks.
AVC Secretary-General Mr Shanrit reported on the current situation of AVC, informing all members that only all Technical Committee Meetings took place this year, with some of them being conducted online. In terms of the AVC Championships, only the Asian Senior Beach Volleyball Championships were held in Thailand just days ahead of the global COVID-19 pandemic.
To reflect the governing body's top priority of protecting the health and safety of the Asian Volleyball Family, the other Asian Senior Volleyball and Beach Volleyball Championships in 2020 were cancelled, leaving only the Underage Championships to be postponed until February 2021 following negotiations with FIVB.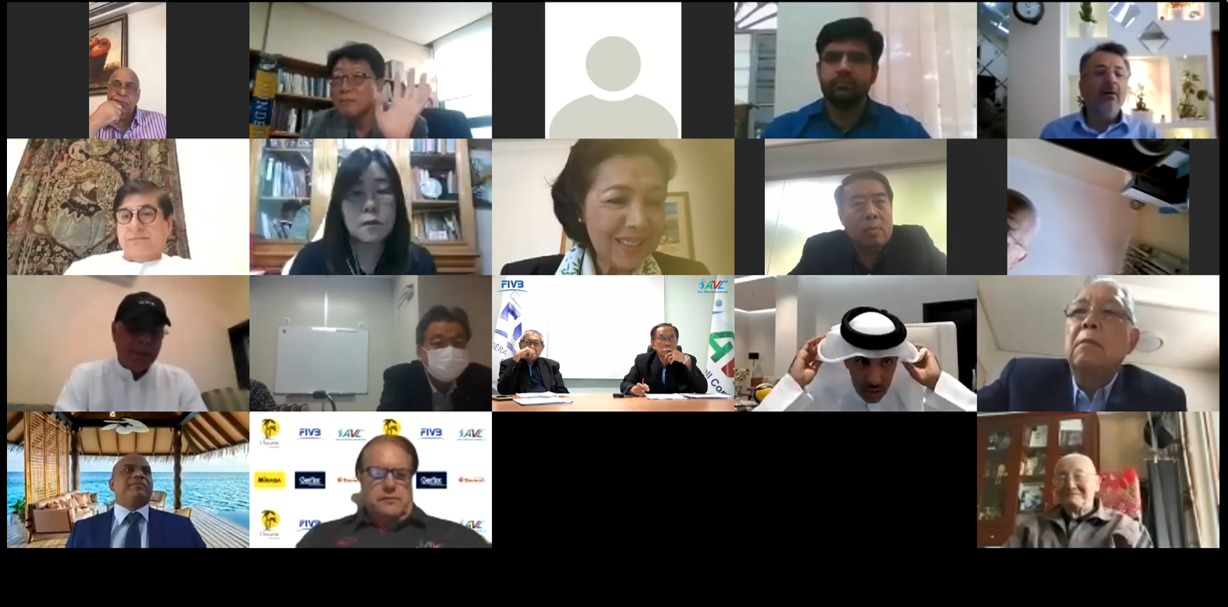 "AVC finally decided to stop all activities because of the global spread of COVID-19 and the temporary suspension of international flights. However, AVC Headquarters has continued to monitor the situation in order that we could proceed the activities as soon as the outbreak is under control, but things are getting worse because of the people at the higher risk of getting severe COVID-19 disease," Shanrit explained.
"During these difficult times, AVC Headquarters has done several things to get past tough situations – reduce all AVC expenses and simultaneously keep the AVC income as much as possible, carefully follow up the FIVB movements, keep all AVC Affiliated National Federations updated with further information on relevant matters and monitor the situation of the hosts and participating NFs in case the pandemic is under control and international flights can safely resume operations.
"AVC Headquarters has also coordinated not only with AVC sponsors for confirmation of the four-year contracts, but also with FIVB on preparing 2020-2021 AVC Volleyball and Beach Volleyball Competition Calendar and with European Confederation for 2021 Euro-Asia Coaches Convention. Furthermore, to collect all previous results of AVC Championships to be presented on AVC Website and to prepare the organisation of the AVC General Assembly in 2020 are the other two important tasks to be fulfilled by AVC Headquarters," he said.
On the financial topics, Mr Hamza gave a summary of the 2019 financial report, which received approval from all Members attending the meeting.
One of the key points for consideration was the preparation of the 23rd AVC General Assembly on October 26, 2020. Shanrit informed all Board Members that ahead of the Assembly, AVC will hold its Zonal Association Meetings on October 21,and FIVB will provide AVC the Lumi System for those Meetings according to the agreed schedule. To make things clearer ahead of the Meetings, five Zonal Vice Presidents and Mrs Subowo attended the joint meeting via video conference with FIVB and Lumi on October 12.
The election process for the AVC President as well as the election for female gender of AVC Board of Administration Members and the decision-making process in the election for Members using the AVC Zonal Association Meetings have also been raised for further information, consideration and discussion during the Friday's AVC BA Meeting.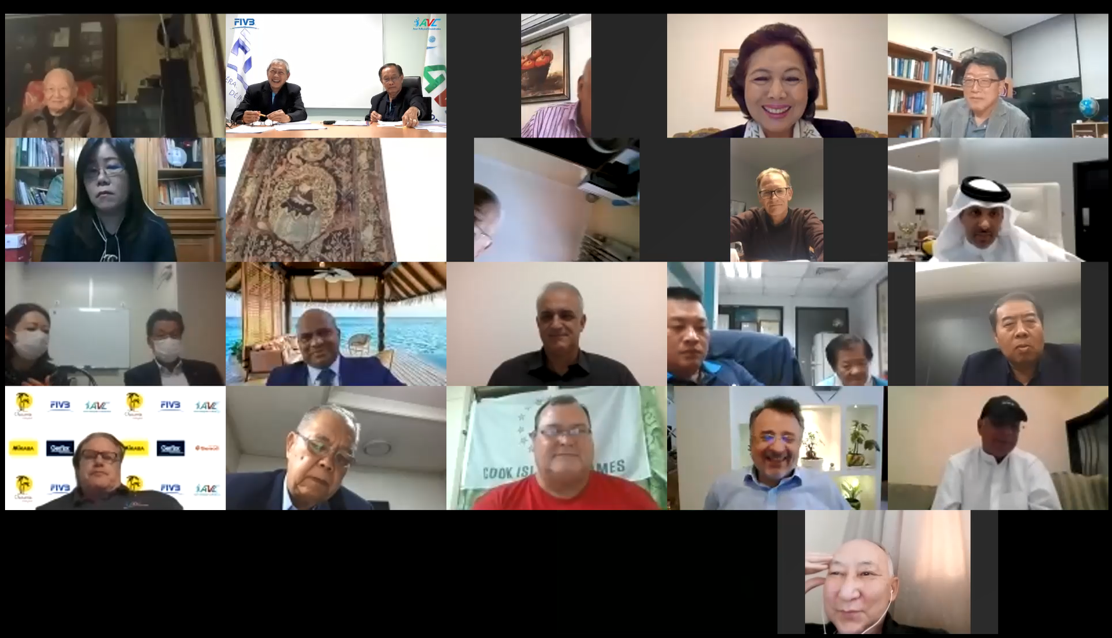 Mr Wei proposed that AVC send email to the Affiliated National Federations with the candidates for AVC BA Members in order to confirm their interest to be Zonal Vice Presidents.
In terms of the Members and Chairpersons of all AVC Technical Committees and Council, Mr Shanrit proposed that  the selection for well-qualified persons to fill those positions and responsibilities be held one week after the AVC General Assembly on October 26. The AVC BA Members on Friday approved his proposal.
Proposals on presentation of the AVC Honorary Titles to leading AVC BA Members retiring from the AVC Officer Bearers, the Proxy procedure, the candidates list after Ethics checking have also been taken into account in the meeting.
Lastly, FIVB President Dr Ary Graca extended his best wishes to all AVC BA Members, especially Mr Hamza and his family who were sick with COVID-19. He confirmed that FIVB maintains its leading global role through the continued supports for Asia and Oceania, explained the importance of digital platforms, believed in the bright prospects of Asia and insisted that AVC will receive the great support from FIVB to develop and create a volleyball community that promotes this family sport in Asia and Oceania.
Mrs Subowo thanks all AVC BA Members and AVC Secretariat for the hard work they have been doing especially during these difficult times of COVID-19 and wished all of them safety and good health.
Related links of AVC
AVC Website: click www.asianvolleyball.net
AVC Facebook: click www.Facebook.com/AsianVolleyballConfederation
AVC Twitter: click: https://twitter.com/avcvolley 
AVC Instagram: click: https://www.instagram.com/avcvolley/?hl=en
AVC Youtube: click: Asian Volleyball Confederation
AVC WeChat: Asian Volleyball Confederation