Bangkok, Thailand, February 19, 2019 – An annual AVC Press Committee Meeting was concluded on Tuesday at the Dusit Princess Srinakharin Hotel here, with committee members exchanging ideas and discussing about tasks done and future assignments.
The meeting was chaired by Mr Preechachan Wiriyanupappong with three members in attendance comprising committee secretary Mr Wang Liang from China, Ms Jeoung Bog Ja from Korea and Ms Sarah Maryam Hessaby from Iran.
The meeting started with an approval of the Minutes of the previous meeting on February 2, 2018 before the attendants would be informed of the FIVB updates including all informations about the recent FIVB Communication Commission Meeting in Lausanne, Switzerland, and FIVB's new 11 goals.
Mr Preechachan also informed all the attendants of the AVC updates including the drastic increase of the followers in all AVC Social Media platforms. According to the committee chairman's report, the total amount of the AVC Facebook followers was 66,038 as of Monday, February 18, 2019 compared to 33, 243 on February 1 last year, while the AVC Twitter has also been increased to 5,722 followers compared to 3,507 on February 1 last year. AVC Instagram emerged as the most outstanding platform which shows an amazing increase from 4,448 followers last year to rise to 10,465 (135.27% increase in percentage) as of Monday. The AVC Youtube subscribers have also been increased to 3,695 in place of 2,271 last February.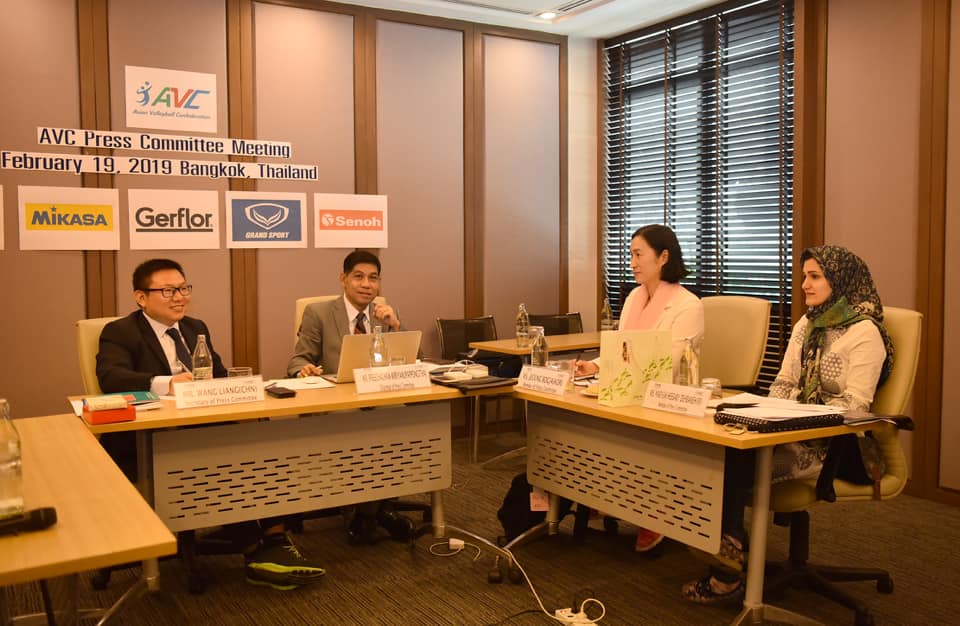 "The AVC website is under construction and all informations will be transferred to the new website. If you have any remark or feedbacks, send yours to AVC Headquarters for further improvement. We also need some feedbacks from all sides after their visit to the new AVC website. In terms of the AVC Social Media, despite a significant increase of followers in all platforms, we have to work much harder in an effort of enhancing fan experience at AVC competitions. It is crucial for us to continue looking for innovative communication strategies in order that more fans will pay attention to any platform of AVC Social Media. The main objective is to raise awareness of the sport among fans and give them choices of platforms they can choose to stay with the sport," said Preechachan.
The meeting was also focussed on problems the committee members had faced while they were working as Press Delegates in any AVC Championship and possible solutions. They also proposed that the AVC Press Handbook and Press Operations Guideline be available for the nominated Press Delegate to help him/her do the right thing according to the given instruction. It's necessary that a photographer join the Press Committee as a committee member in order that both parties can work more closely, while two Press Delegates be nominated for any AVC Championship with more than12 teams contesting at two halls at the same time.
Related links of AVC:
AVC Website: www.asianvolleyball.net
AVC Facebook: www.Facebook.com/AsianVolleyballConfederation
AVC Twitter: https://twitter.com/avcvolley
AVC Instagram: https://www.instagram.com/avcvolley/?hl=en
AVC Youtube: Asian Volleyball Confederation
AVC WeChat: Asian Volleyball Confederation