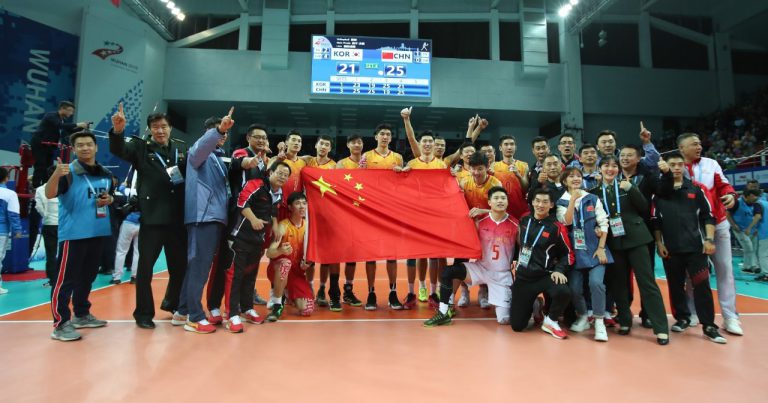 Wuhan, China, October 26, 2019 – Hosts China underlined their supremacy over the 7th CISM Military World Games men's volleyball competition following a scintillating 3-1 (25-23, 25-19, 19-25, 25-21) win against undefeated Korea in the highly-anticipated final showdown Saturday night at Jianghan University Gymnasium.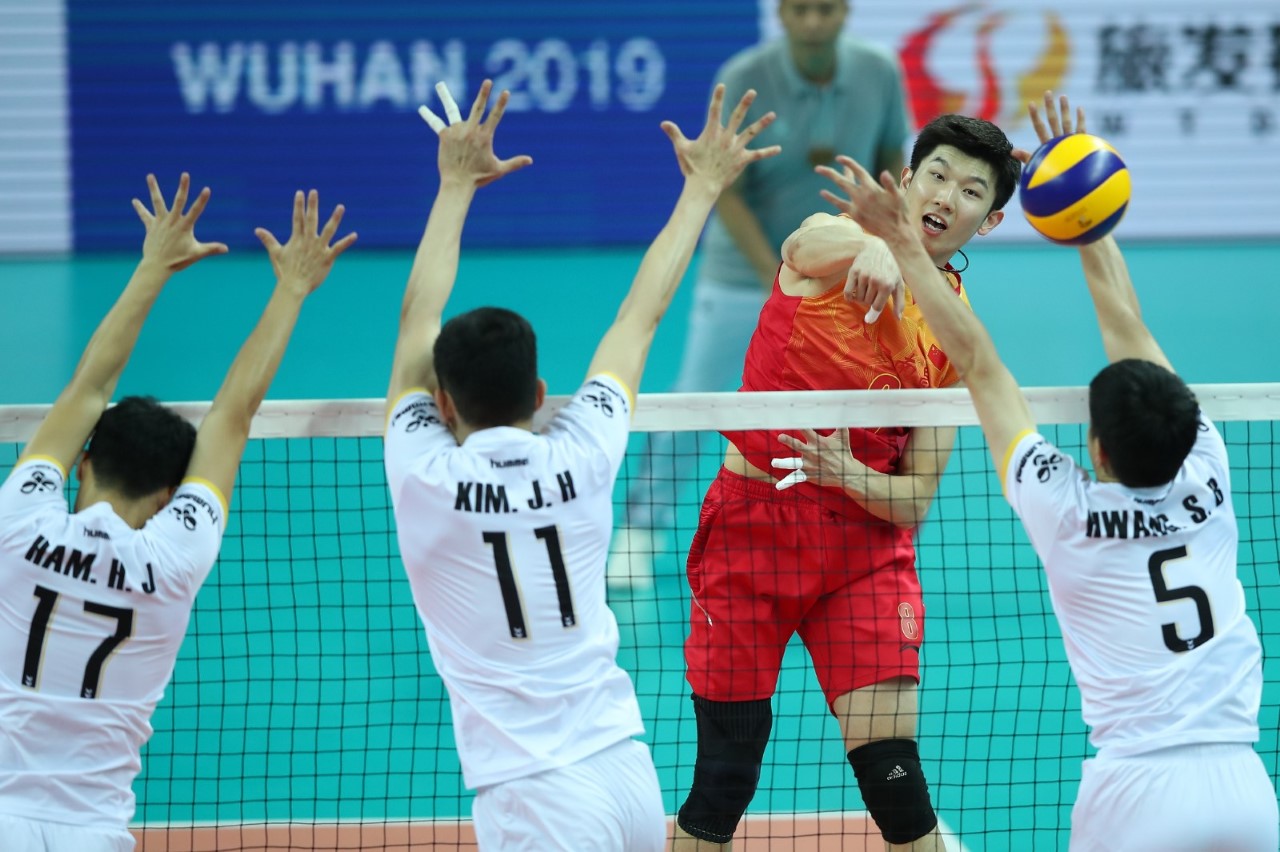 Korea gained the upper hand at the beginning, thanks to the sharp blows by Ahn Woojae and Heo Subong. China made a slow start with several unforced mistakes, seeing the Koreans lead the way. However, cheered by noisy supporters, China put their acts together and hit back to level it 16-16. The stubborn Koreans fought hard to save 3 set points before China concluded the first set 25-23.
China went on their back-to-back attacks to race to a 16-10 lead at the second technical timeout before they soon a comfortable set 25-19.
With only one more step closer to the champions, China became conservative and prone to make mistakes in the third set, while Korea revived their fortunes and returned an uncompromising 25-19 win.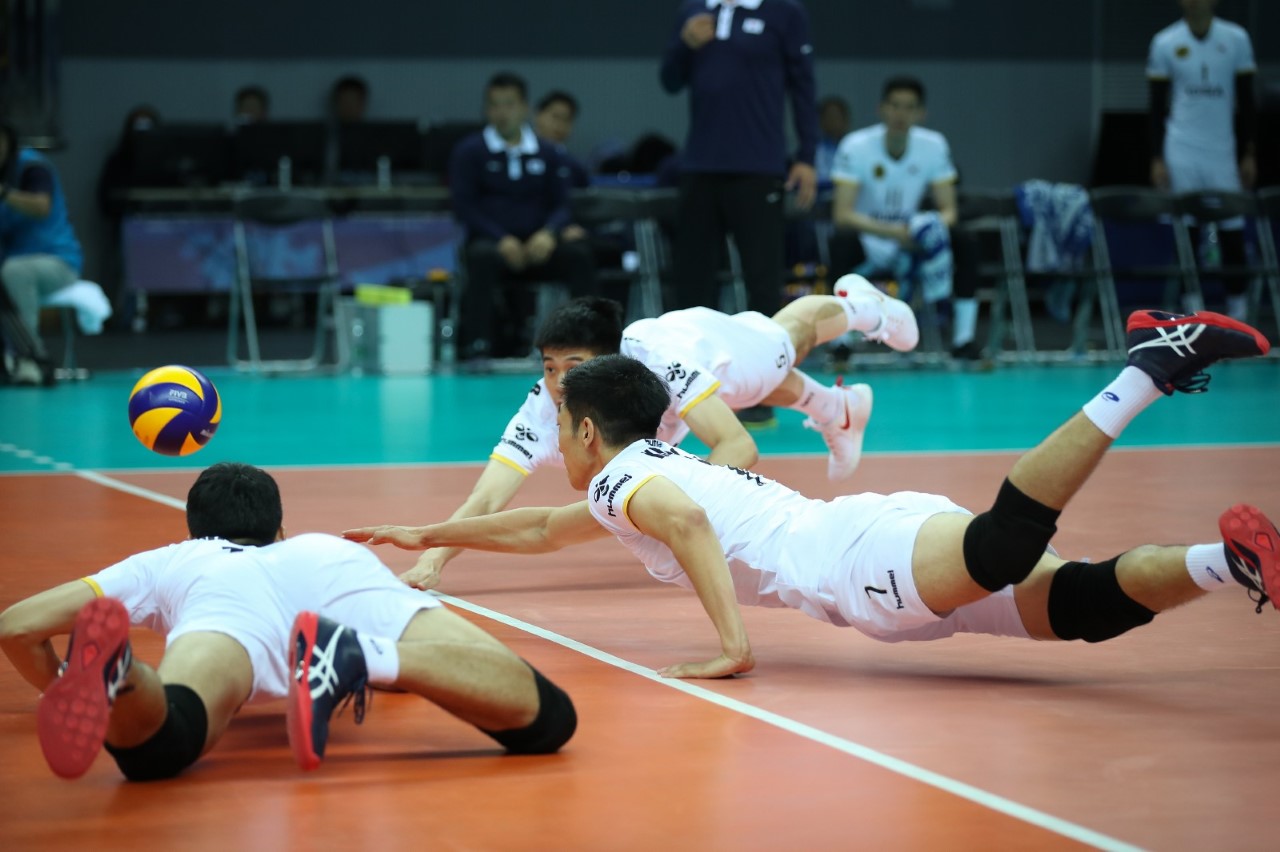 Starting off with some good spikes by Jiang Chuan, China quickly went ahead of Korea in the fourth set. Though Korea gradually adapted themselves to the match by focusing on their defense, Jiang Chuan's spikes at the crucial moments lighted up the morale of China. Korea struggled to catch up closer after the second technical timeout but the powerful spikes by Jiang Chuan and Zhang Zhejia allowed them no chance to overturn the situation. China captured this set 25-21, match and the title. Korea clinched the second place.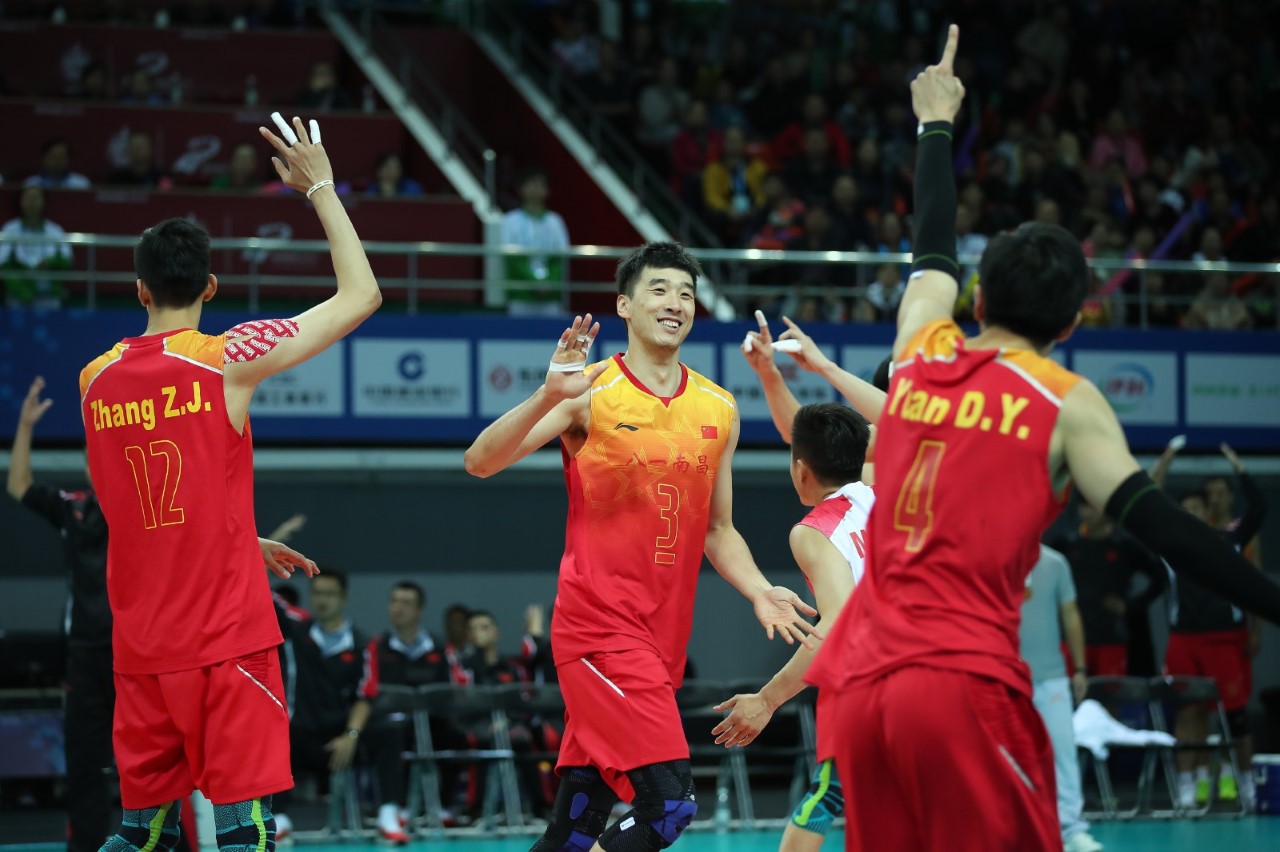 In the bronze medal contest earlier, Pakistan produced a great show of power with 44 effective attacks out of 78 attempts, 10 blocks and 2 aces for a 3-0 (25-20, 25-21, 25-16) victory over Qatar. Youghlaf Oughlaf registered a match-high 24 points for Qatar on both attack and defense side but his solo show could not save the day for his team.
From the beginning of the first set, both teams showed great ambition and stuck to each other till 21-20. Pakistan called a timeout and it worked out as they scored 4 points in a row to win the set 25-20.
Qatar were trying to make a comeback in the second set. However, they failed to solve the problems in team's connection and errors emerged frequently from their side, featuring poor receptions and serves. Pakistan seized the opportunities and managed to wrap up the second set 25-21.
The third set tone was set from the beginning as Pakistan presented their violent style of plays and built an early 7-3 lead. Pakistan finished the set easily 25-16 and claimed bronze at the 7th CISM Military World Games. Qatar had to be content with the fourth place.
In the 5th-6th decider, relying on their destructive serves and formidable blocks, Iran overwhelmed title-holders Brazil in straight sets 25-10, 25-18, 25-23 win and clinched the 5th place. Mohammadali Fallah tallied a match-high 15 points for Iran, followed by Jaber Esmaeilpour with 12.
In the opening match of the final day, France edged the Netherlands in a hard-fought 3-2 match 25-15, 22-25, 21-25, 25-16, 15-5 to finish the 7th place.
FINAL RANKING
1. China
2. Korea
3. Pakistan
4. Qatar
5. Iran
6. Brazil
7. France
8. The Netherlands
9. Venezuela
10. Canada
MATCH RESULTS
SUNDAY, OCTOBER 20
10:00 QAT vs VEN 3-0 (27-25,25-22,25-21)
13:30 IRI vs KOR 1-3 (18-25,26-24,18-25,24-26)
15:30 PAK vs NED 3-0 (25-17, 25-11, 25-15)
19:30 CHN vs FRA 3-0 (25-17,25-16,25-16)
MONDAY, OCTOBER 21
10:00 BRA vs QAT 3-0 (25-12, 25-20, 25-20)
13:30 KOR vs PAK 3-2 (19-25, 21-25, 25-17, 25-21, 15-12)
15:30 CAN vs IRI 1-3 (25-23, 18-25, 10-25, 14-25)
19:30 VEN vs CHN 0-3 (16-25, 13-25, 21-25)
TUESDAY, OCTOBER 22
10:00 PAK vs CAN 3-0 (25-16,25-16,25-20)
13:30 FRA vs VEN 3-1 (25-20, 20-25, 25-22, 26-24)
15:30 NED vs KOR 0-3 (16-25, 9-25, 12-25)
19:30 CHN vs BRA 3-0(27-25, 25-16, 25-15)
WEDNESDAY, OCTOBER 23
10:00 NED vs IRI 0-3 (5-25, 12-25, 15-25)
13:30 VEN vs BRA 1-3 (16-25, 19-25, 25-23, 19-25)
15:30 FRA vs QAT 0-3 (22-25, 19-25, 22-25)
19:30 KOR vs CAN 3-0 (25-16,25-17,25-19)
THURSDAY, OCTOBER 24
10:00 BRA vs FRA 3-0 (25-16, 25-13, 25-17)
13:30 CAN vs NED 1-3 (26-24, 23-25, 21-25, 20-25)
15:30 IRI vs PAK 1-3 (27-25, 20-25, 23-25, 22-25)
19:30 QAT vs CHN 3-0 (25-22, 25-22, 25-22)
FRIDAY, OCTOBER 25
10:00 VEN vs CAN 3-2 ( 21-25, 30-28, 23-25, 26-24, 15-9)
12:00 BRA vs NED 3-0 (25-12, 25-14, 25-11)
14:00 IRI vs FRA 3-0 (25-15, 25-18, 25-18)
16:00 KOR vs QAT 3-1 (25-18, 25-21, 14-25, 25-18)
19:30 CHN vs PAK 3-0 ( 27-25, 25-15, 25-19 )
SATURDAY, OCTOBER 26
10:00 7th-8th place: NED vs FRA 2-3 (15-25, 25-22, 25-21, 16-25, 5-15)
13:30 5th-6th place: BRA vs IRI 0-3 (20-25, 18-25, 23-25)
15:30 Bronze medal match: QAT vs PAK 0-3 (20-25, 21-25, 16-25)
19:30 Gold medal match: KOR vs CHN 1-3 (23-25, 19-25, 25-19, 21-25)
Related links of AVC
AVC Website: click www.asianvolleyball.net
AVC Facebook: click www.Facebook.com/AsianVolleyballConfederation
AVC Twitter: click: https://twitter.com/avcvolley
AVC Instagram: click: https://www.instagram.com/avcvolley/?hl=en
AVC Youtube: click: Asian Volleyball Confederation
AVC WeChat: Asian Volleyball Confederation