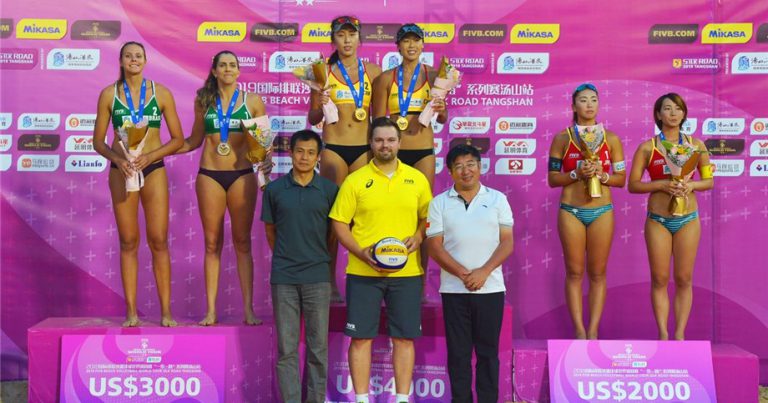 Nanjing, China, June 9, 2019 – For only the 19th-time in the 33 seasons of FIVB beach volleyball history, two teams competed on back-to-back weekends for a World Tour gold medal as Jingzhe Wang/Shuhui Wen of China posted their second consecutive gold medal win over Carolina Horta/Angela Lavalle of Brazil in the finals of the US$25,000 Silk Road Nanjing Open.
Seeded sixth in the Silk Road Nanjing Open, Wang and Wen posted a 2-0 (21-17, 21-15) gold medal win in 35 minutes over the top-seeded Horta and Angela. In last week's Silk Road finale in Nantong, the Chinese posted a 2-1 (21-9, 18-21, 15-12) victory in 48 minutes over Horta and Lavalle.
With their third World Tour gold medal in four FIVB appearances this season, Wang and Wen shared the $4,000 first-place prize while the Brazilians split $3,000 for placing second. In their first FIVB event last September in Zhongwei, Wang and Wen topped the podium with a 2-0 (21-14, 26-24) victory in 39 minutes over compatriots Fan Wang/Chen Xue.
Wang and Wen, who dropped their first match of the Silk Road Nanjing Open on Friday in pool play to 19th-seeded Dimitra Manavi/Konstantina Tsopoulou of Greece, have now won 16 of 19 FIVB World Tour matches this season. Horta and Angela have now won 12 of 21 World Tour matches in six FIVB appearances together this season.
Despite the setback on Sunday, Brazil still has an 18-9 women's gold medal match record versus China – Josemari Alves and Liliane Maestrini from the South American country defeated home-standing Fan Wang/Xinyi Xia for the 2018 title in Nanjing last June 17.
With back-to-back weekend finales featuring the same two teams, the feat has now happened nine times for women and 10 for men since the start of FIVB-sanctioned beach volleyball events in 1987. The last time it occurred was June 2015 when Brazilians Maria Antonelli/Juliana Felisberta and Agatha Bednarczuk/Barbara Seixas played each other on consecutive weekends for World Tour gold medals at events in Norway and the United States.
In addition, Wang and Wen became the 19th women's team and second from China to claim World Tour gold medals on consecutive weekends.  The feat has now happened 42 times since the start of FIVB-sanctioned women's events in 1992.
The Brazilian pairs of Juliana Felisberta/Larissa Franca and Adriana Behar/Shelda Bede won World Tour events on back-to-back weekends 10 and seven times, respectively. Americans Misty May-Treanor/Kerri Walsh Jennings accomplished the feat five times.
Chen Xue/Xi Zhang won gold medals on consecutive weekends in 2013 starting with the title at the July 6 FIVB World Championships in Stare Jablonki, Poland, followed by a podium topping performance at the next event in Gstaad, Switzerland.
To reach the finals Sunday, Wang/Wen posted a 2-0 (21-5, 21-11) win in 29 minutes over seventh-seeded qualifiers Yurika Sakaguchi/Chiyo Suzuki of Japan while Horta/Lavalle scored a 2-0 (24-22, 21-13) semifinal win in 41 minutes over 12th-seeded Gaia Traballi/Agata Zuccarelli of Italy.
In the bronze medal match, seventh-seeded qualifiers Yurika Sakaguchi/Chiyo Suzuki of Japan posted a 2-0 (21-18, 22-20) win in 41 minutes over 12th-seeded Gaia Traballi/Agata Zuccarelli of Italy to share the $2,000 third-place prize.
Sunday's bronze medal victory was Sakaguchi and Suzuki's seventh win in eight matches at the second annual Silk Road Nanjing Open. The Japanese pair had to win a country quota match on Wednesday followed by a qualifying victory on Thursday, two pool play triumphs on Friday and a pair of elimination successes on Saturday.
Sakaguchi and Suzuki have now posted three podium placements in six appearances together during the 2018-2019 FIVB World Tour season.  The Japanese pair claimed a bronze medal at the end of February in Cambodia and captured a silver medal at the start of March in India.
Traballi and Zuccarelli, who were playing in their 14th FIVB event together, were participating in their second World Tour final four after placing second last June at the Silk Road Nantong Open where the Italians were defeated by a team from Brazil in the 2018 finale. Traballi and Zuccarelli placed fifth at the 2018 Silk Road stop in Nanjing.
The Silk Road Nanjing Open was the seventh of nine international beach volleyball events to be played in China this season. The last two events will be played July 4-7 in Qidong and August 22-25 in Zhongwei.
1Related links of AVC
AVC Website: click www.asianvolleyball.net
AVC Facebook: click www.Facebook.com/AsianVolleyballConfederation
AVC Twitter: click: https://twitter.com/avcvolley
AVC Instagram: click: https://www.instagram.com/avcvolley/?hl=en
AVC Youtube: click: Asian Volleyball Confederation
AVC WeChat: Asian Volleyball Confederation