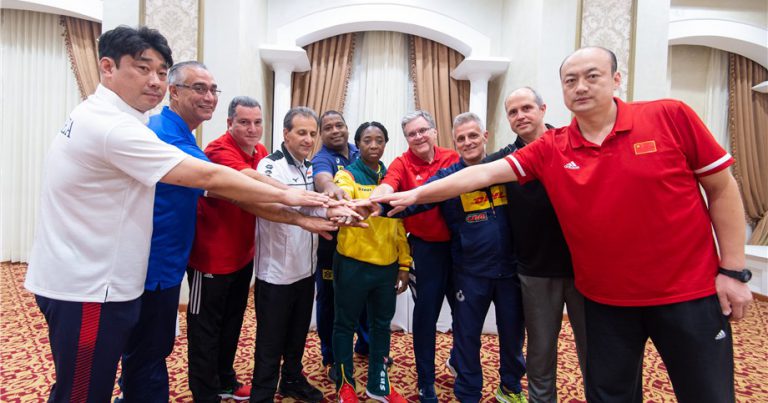 Ismailia and Cairo, Egypt, September 4, 2019 – All coaches agreed on Wednesday that the 2019 FIVB Girls' U18 World Championship is expected to produce some very high-level volleyball and everyone seems excited at being part of this incredibly important event for the development of the sport. Here's what they said at the official Press Conferences at the two host cities on the eve of the competition which kicks off on Thursday:
Brazil coach, Hylmer do Nascimento Dias: Brazil have not been very good in the last two U18 World Championships so we have worked very hard to play well and have a good competition here this time.
Cameroon coach, Rose Beleng A Ngon: This tournament is of very high level. We have a young team with little experience, but we are here ready for the competition and it will be a great experience for us to play against such opponents.
Canada coach, Scott Koskie: We are very excited to be here and people in Egypt have welcomed us very warmly. It's great to be part of this tournament. Canada have been a long time returning to an U18 World Championship and we looking forward to playing our best.
China coach, Yu Changwen: There are so many good teams here, it's hard to suggest any favourites. Everything is going very well for China so we hope to play our best.
Egypt coach, Marco Queiroga (BRA): We are also happy and excited to be in this World Championship. We have prepared for two months for this competition and the whole country is behind us and supporting us, so we hope to fight hard in all our matches and improve our level. We hope to make history here for our country's volleyball.
Italy coach, Marco Mencarelli: Italy are very proud and glad to be here and we will do our best to produce the level of volleyball that our country has been showing in the previous events.
Korea coach, Seo Dongsun: It's great to be here and we are proud to be part of this World Championship. I believe all the youg athletes will build good memories from this tournament and provide a great performance.
Mexico coach, Ricardo de Jesus Naranjo Ponce: We are very happy to be here in Egypt, but we face some very strong competition. However, it's a great opportunity for out players to participate, doing their best to show the world what we can do.
Puerto Rico coach, Juan Gonzalez: We are very happy to be here and I'm sure it will be an unforgettable tournament in which we are very glad to participate.
USA coach, James Stone: Our players are very proud to represent NORCECA in this World Championship. We have only prepared very briefly for this tournament, so we are as curious as anyone to see how we perform, but we will put all efforts in producing our best.
Argentina coach, Roberto Woelflin: I'm happy to be here with the best teams in the world in this age. We will play in the strong Pool C, but I know well the other opponents, all matches will be very difficult. We had a very successful preparation and for this I hope my team can achieve good results.
Belarus coach Dzmitry Kot: Staying and playing in Egypt is a very nice feeling. I expect a wonderful competition full of thrills. We know that we will face very strong teams in the pool and in the finals but we will do it. Most important for us is to improve our level for those future stars.
Bulgaria coach Dino Tonev: Most important for us is to succeed in our pool because it is our way to compete. In this World Championship all teams are eager to achieve their best. For this I need to improve my team match by match until we reach our peak at the end.
DR Congo coach Hamid Abdallaoui: It is very exciting to be here in the World Championship with the best teams in the world. Thanks to the FIVB we have now the chances to play with the best teams in this age and for allowing Egypt to host the competition in our territory, Africa. I took over my job with Congolese team ivery shortly ahead of the competition, so I consider this participation as a project for those young ladies to make a new generation. For sure we will get a lot of benefits from playing at this standard.
Japan coach Daichi Saegusa: I see that all coaches are happy to live this experience here in the World Championship. We are looking forward to playing a great tournament, however Pools C and D are very tough, but we need to achieve something positive. We also will do our best to prepare this team to the next age category of U20 in 2 years time.
Peru coach Natalia Malaga: It is wonderful to play here in Egypt in such good conditions and we hope to achieve good results. Our goal is to finish amongst the top 8 teams.
Romania coach Marius Macarie: It was a good decision to have this competition in Egypt, a famous country with such great history. I'm eager to visit the Pyramids and the famous areas here. Our objective is to be within the top teams here.
Russia coach Svetlana Safronova: I want to send my warm thanks to Egypt for hosting such a wonderful event. This is a World Championship, so we expect to be at the highest level of this age category. Conducting the young girls at this level is very exciting specially that those youngsters are playing at this level for the first time. We have to go through match by match until we achieve our goals to compete for the trophy.
Turkey coach Bulent Gunes: We have to show the quality of our volleyball here. We have a very stiff schedule in the pool, and then we have to think of more progress in the knockout stage.
Related links of AVC
AVC Website: click www.asianvolleyball.net
AVC Facebook: click www.Facebook.com/AsianVolleyballConfederation
AVC Twitter: click: https://twitter.com/avcvolley
AVC Instagram: click: https://www.instagram.com/avcvolley/?hl=en
AVC Youtube: click: Asian Volleyball Confederation
AVC WeChat: Asian Volleyball Confederation