Hangzhou, China, September 20, 2023 – The 19th Asian Games Hangzhou 2022 Men's Volleyball Competition has reached fever pitch on Thursday as teams will battle all out on the last day of pool round-robin preliminaries to vie for one of the two spots up for grabs in each pool for the next round of last 12.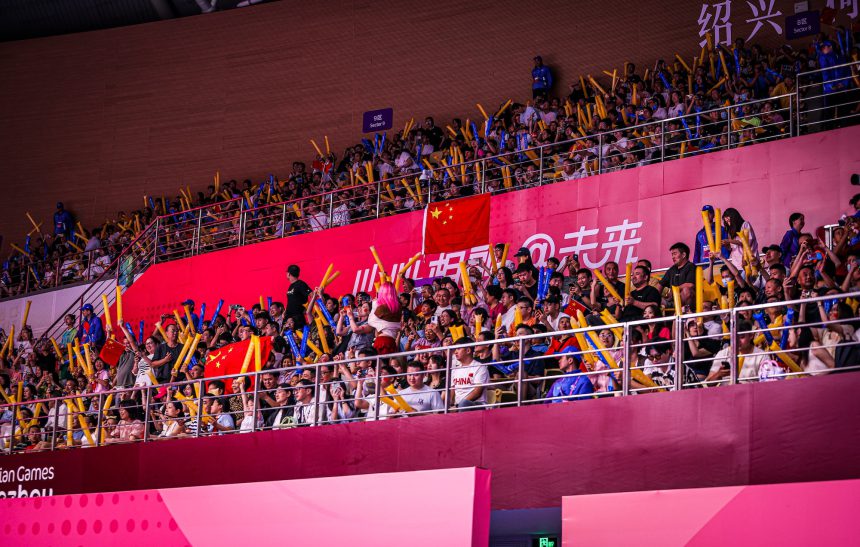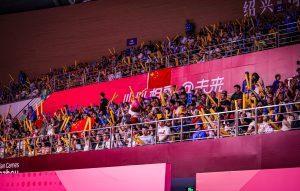 On Day 2 of the topflight men's volleyball competition in the quadrennial sports extravaganza, of which the 19th Asian Games Flame will burst into life coming Saturday, September 23 in Hangzhou, formidable Japan, Pakistan and India won two in succession, while top teams Iran, hosts China and Qatar as well as Philippines sealed their first victories in the one-week-long event.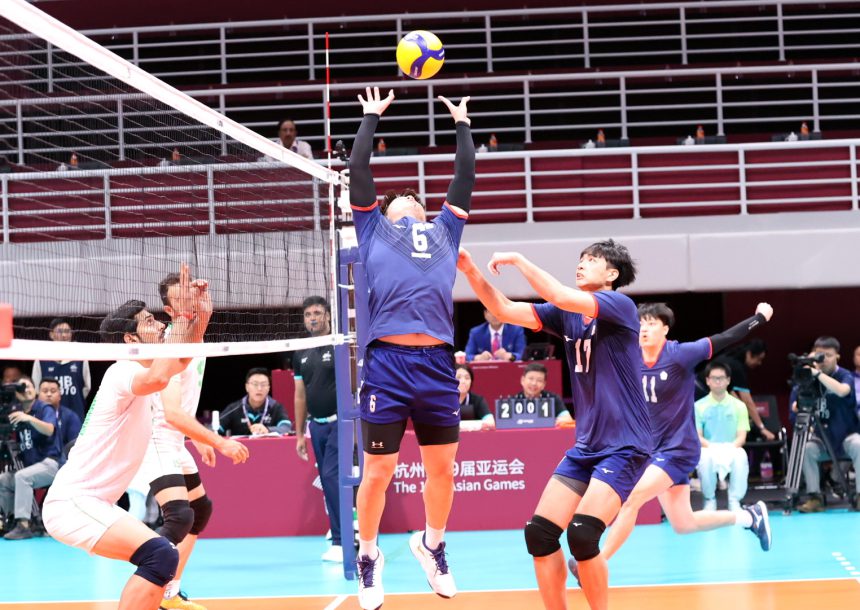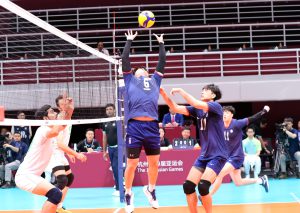 At Linping Sports Center Gymnasium, Pakistan, fresh from brushing off Mongolia in straight sets the previous day, repeated that similar feat to pull off stunning 3-0 (25-18, 25-20, 25-19) win against Chinese Taipei, bronze medallists at the previous Asian Games in Jakarta, Indonesia in 2018, in their Pool D clash.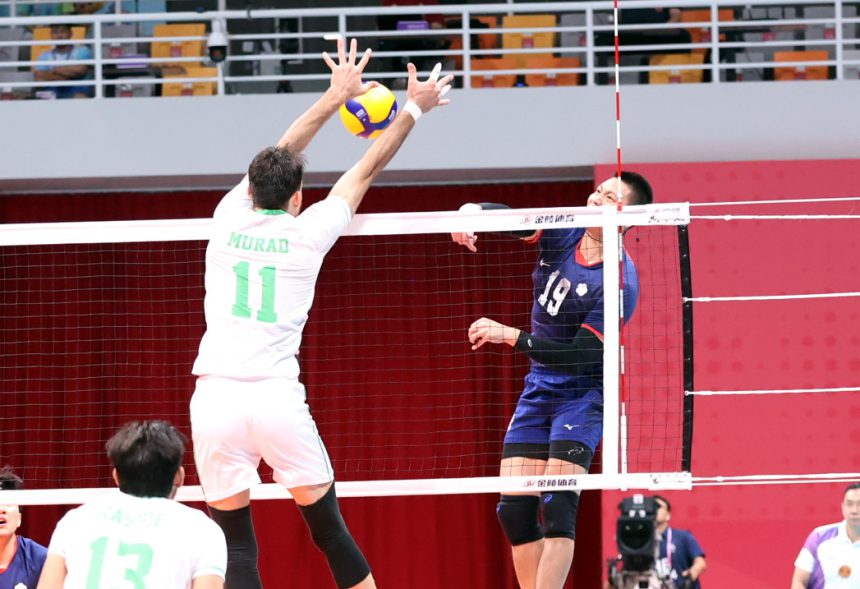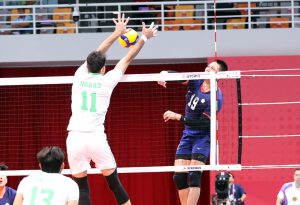 Opposite spiker Murad Khan, who topscored with 25 points for Pakistan in their Tuesday's match against Mongolia, remained the team's backbone in this match to deliver 20 points from 16 attacks, 2 blocks and 2 aces for the team, while Chang Yu-Sheng led Chinese Taipei with 13 points including 12 attacks from 23 attempts.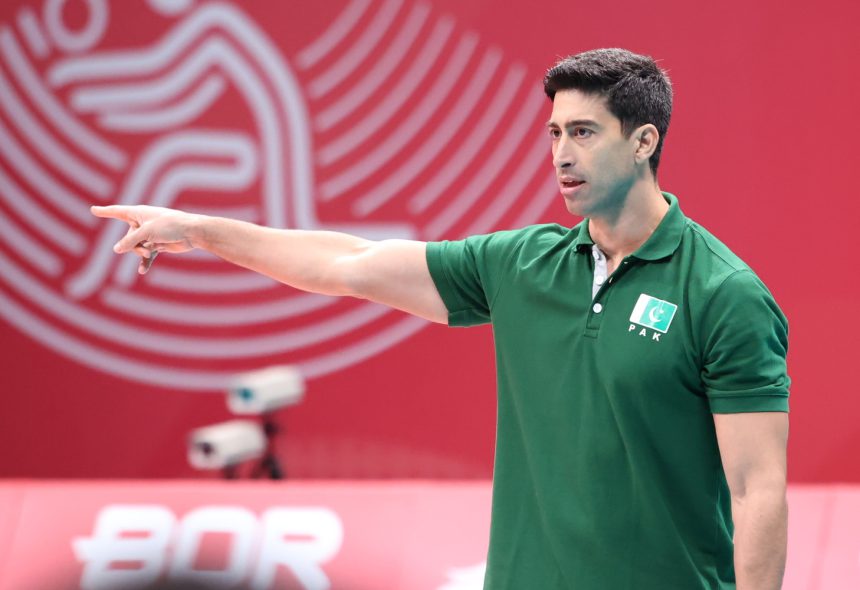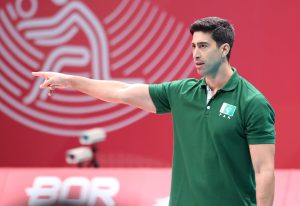 "It's a great game for us. Yesterday, we played a good match, but today we overcame our level and our players followed up the staff coaches' strategic instruction very well. I have to congratulate them as they could play with high level. We now come on top of Pool D, take a rest and wait for our next match. We have experienced taking on Chinese Taipei before but they were not national team. For me, I respect them a lot. In a tough game, they can beat us, but we won today and it was not a surprise," Pakistan head coach Ferraz Issanaye Ramires from Brazil commented after the win.
With top two teams from each pool making the cut for the next round of 12, world No.51 Pakistan, which finished seventh position at the last month's Urmia-hosted Asian Senior Men's Championship in Iran, ended their first round on Wednesday to top Pool D. Chinese Taipei will play a must-win match against Mongolia here at Linping Sports Center Gymnasium on Thursday to keep their hopes of advancing to the next round alive.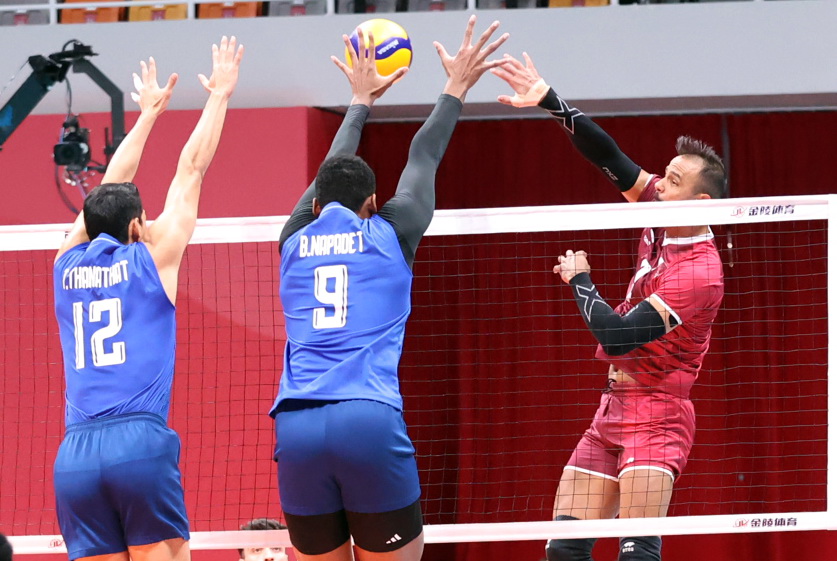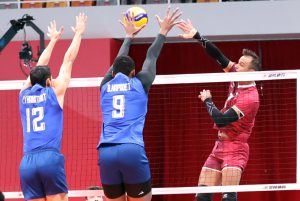 In the second encounter at this venue, AVC Challenge Cup winners Thailand found old foes Qatar a tough nut to crack to go down in hard-fought four sets 16-25, 25-22, 19-25, 19-25 in their Pool E match. It was three losses in a row that Thailand had suffered in their matches against the Qataris, who picked up bronze medal at the last month's Asian Senior Men's Championship in Iran.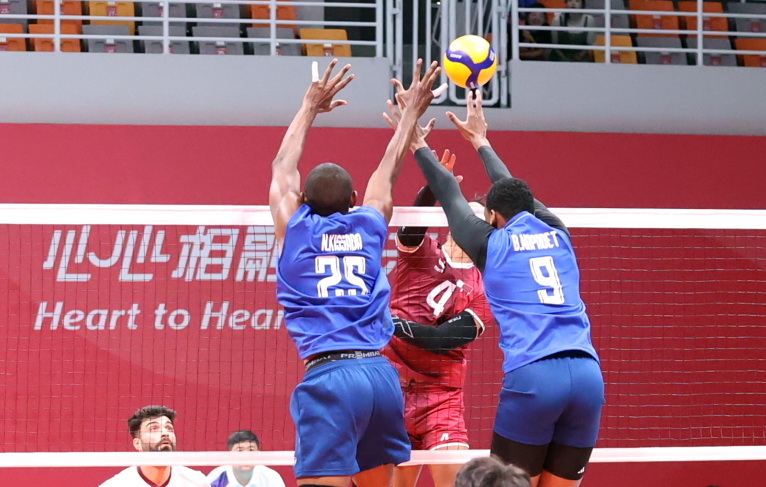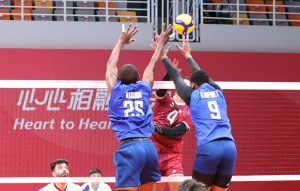 Earlier in July, Qatar, as hosts, outplayed Thailand in straight sets in the FIVB Men's Challenger Cup in Doha and repeated it again with the same margin 3-0 at the Iran-hosted Asian Championship last month.
Qatar fielded the same strong lineup which beat the Thai side in both occasions led by Raimi Wadidie and Belal Nabel Anbunabot, who respectively landed the Best Outside Spiker and the Best Middle Blocker at the last month's Asian Championship in Urmia. Thailand were spearheaded by hard-hitting Napadet Bhinijdee, Anut Promchan and Kissada Nilsawai.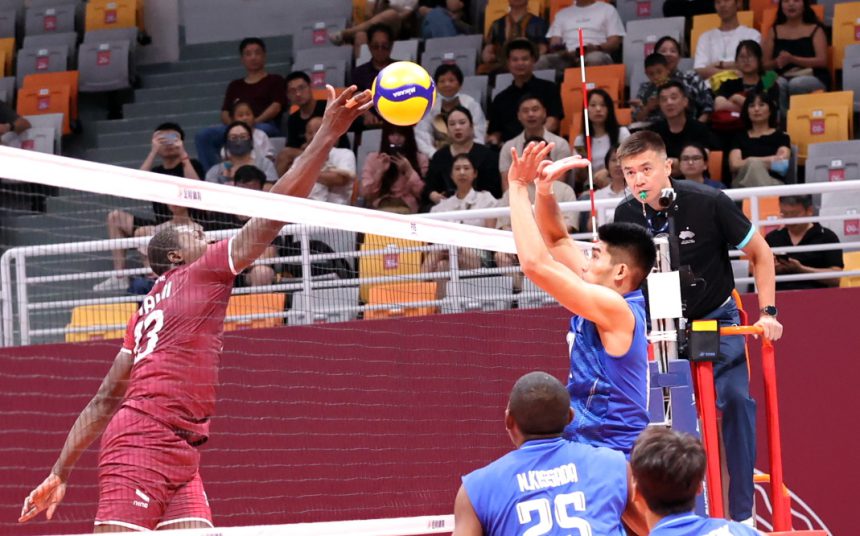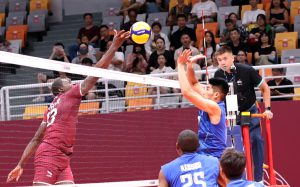 Thailand shrugged off rust in the first set, which they succumbed to 16-25 defeat to the Qataris, to bounce back with their combination attacks and consistency to win the second set 25-22. However, despite putting up a brave fightback, Thailand found the tall and towering Qataris, whose height average is 196cm, too hot to handle. With the 206cm-tall Ibrahim Ibrahim Mohamed producing lightning-fast spikes at the net, Qatar were unstoppable in the next two sets, surging away with 25-19, 25-19 wins for the eventual 3-1 victory.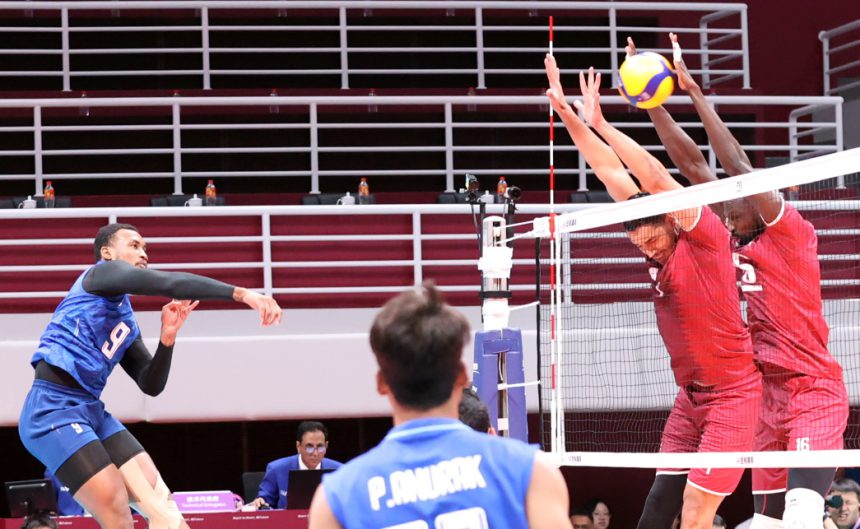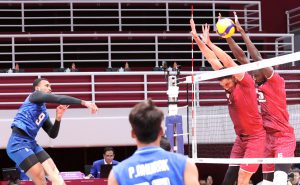 Outside hitter Youssef Oughlaf chipped in with 21 points from 17 attacks and 4 blocks for Qatar, while middle blocker Ibrahim Ibrahim Mohamed and outside hitter Raimi Wadidie added another 17 and 16 points respectively. Opposite spiker Napadet Bhinijdee led Thailand with 12 points including 10 attacks from 38 attempts and middle blocker and skipper Kissada Nilsawai added crucial 10 points.
"As we know, Thailand are AVC Challenge Cup champions and therefore to play them is not that easy. We beat them before for two times, but here they gave us much trouble. After we lost the second set, we maintained our level and put emphasis on sideouts and tried to win point by point till we won the next sets. We next take on Hong Kong, China and hope we can beat them," Qatar head coach Camilo Soto commented.
Thailand completed their Pool E campaign with one win against one loss, while Qatar will play their last preliminary match against Hong Kong, China on Thursday at Deqing Sports Center Gymnasium.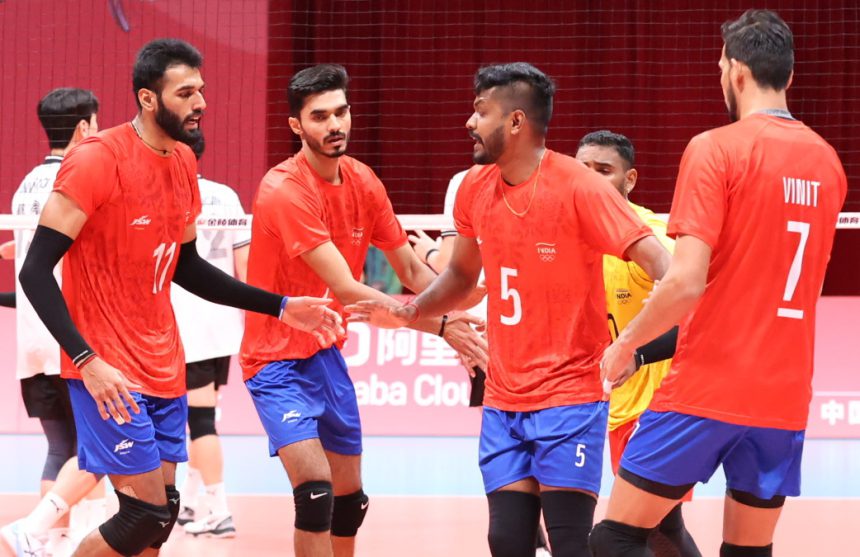 The third match at Linping Sports Center Gymnasium on Wednesday saw India, which finished a disappointing 11th place at the last month's Asian Senior Men's Championship in Iran and 12th at the previous Games in Indonesia in 2018, cause a major sensation following their stunning upset of world No.27 Korea, silver medallists at the previous 2018 Games and fifth at the last month's Asian meet.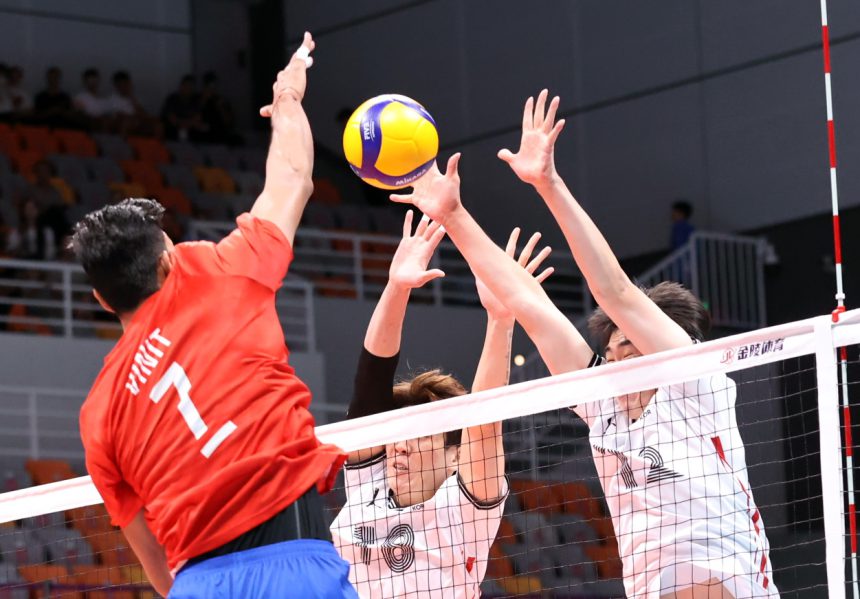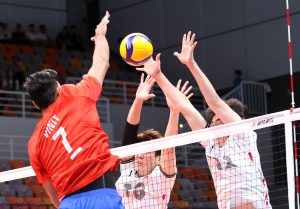 Locked in a tight contest, in-form India surprised former three-time Asian Games gold medallists Korea in a hard-fought five-set thriller 25-27, 29-27, 25-22, 20-25, 17-15.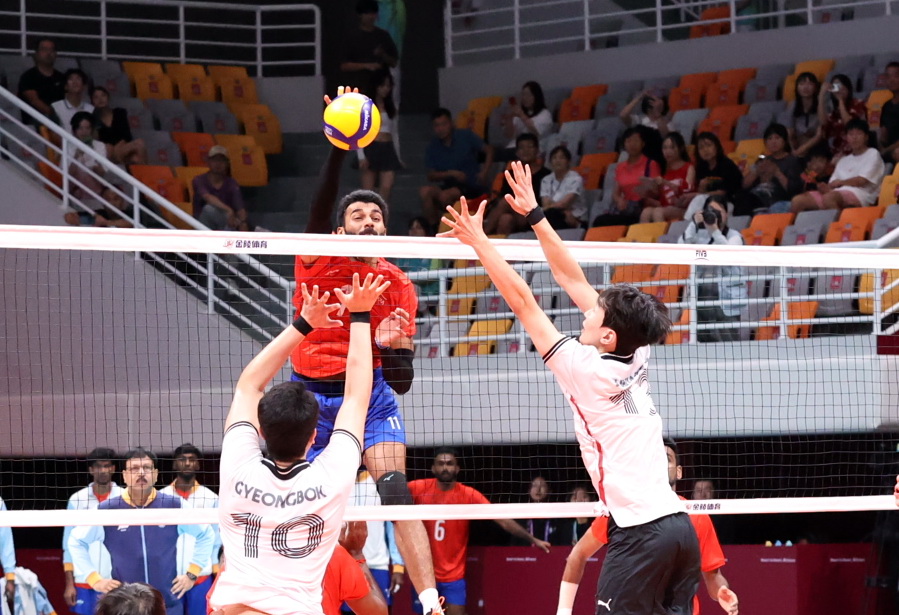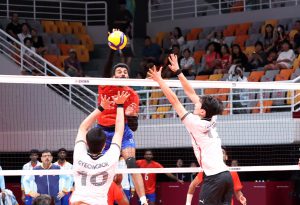 Outside hitter Amit scored a match-high 24 points including 23 attacks from 38 attempts for India, while Vinit Kumar and Rai Ashwal added 19 points apiece for the win. Outside hitter Na Gyeongbok was the most productive player of Korea to score a massive 31 points including 26 attacks and 4 aces, while Heo Subong and Jeon Kwangin kept good company to contribute 22 points each.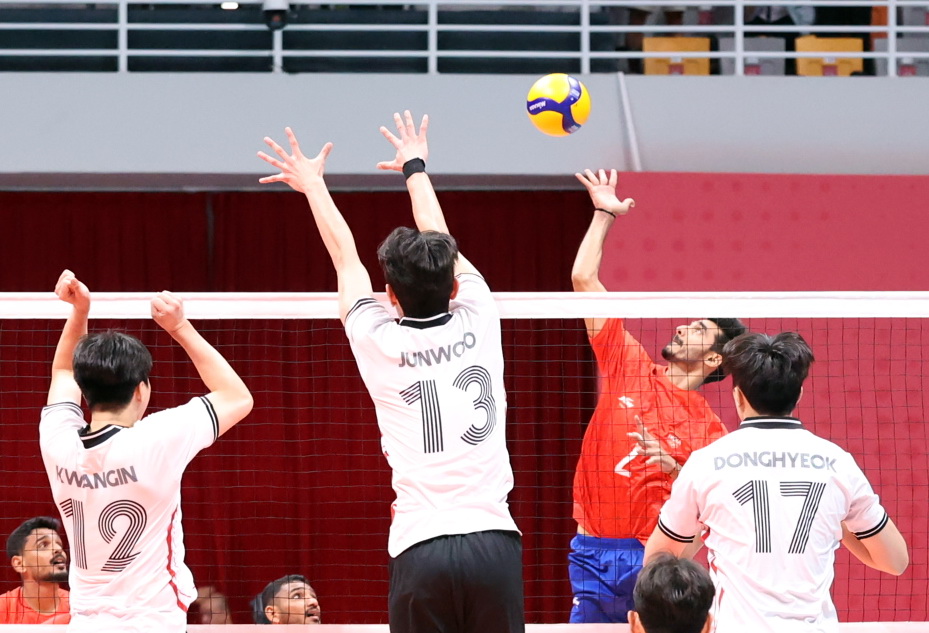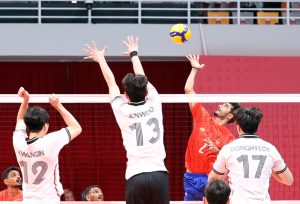 With two consecutive wins, India are assured of topping Pool C and securing their place in the round of last 12. Korea will play a must-win match against Cambodia on Thursday at Linping Sports Center Gymnasium to fight it out for the second place in the Pool and the remaining berth for the next round.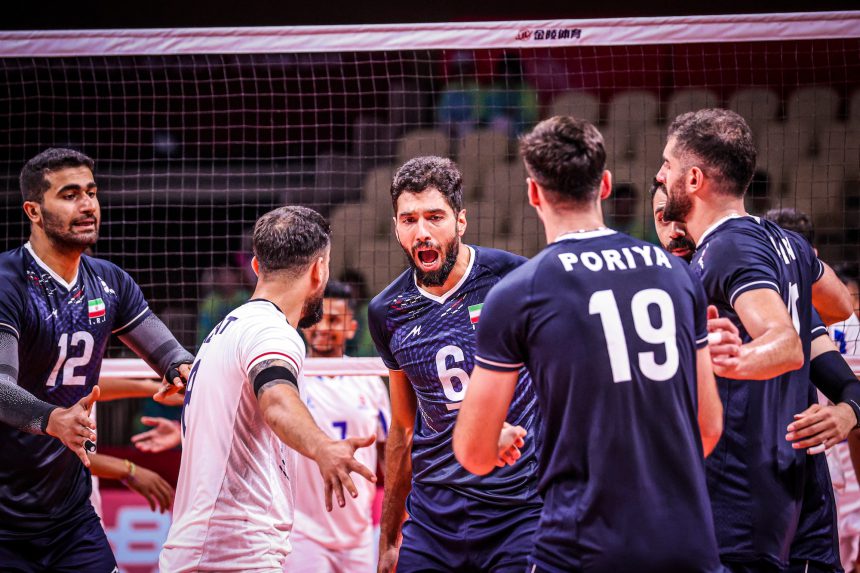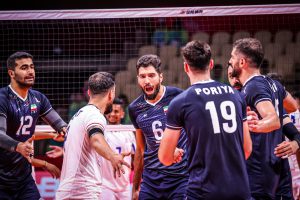 At China Textile City Sports Center Gymnasium in Keqiao, world No.11 Iran kicked off their title defence awesome after a lopsided 25-9, 25-15, 25-13 win against Nepal in their Pool B encounter.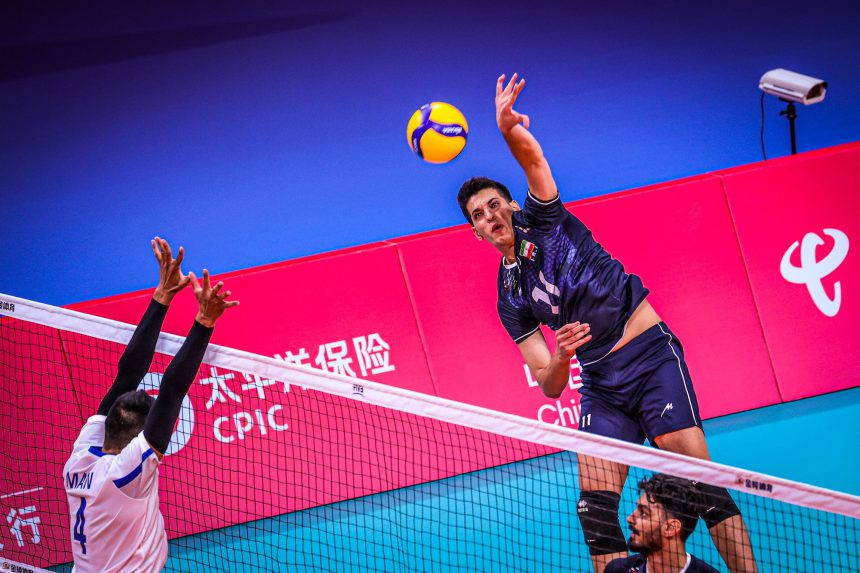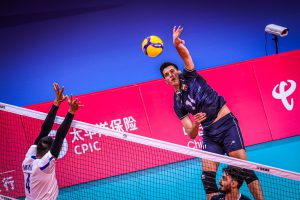 Left-handed Saber Kazemi delivered 11 points including 9 attacks from 12 attempts for Iran and Poriya Hossein Khanzadehfirouzjah added another 10 points including 5 attacks and 3 blocks. No Nepalese player reached double digits in this difficult match against the indomitable Iran. Malla Hemant Babadur led Nepal with 5 points, all in attack.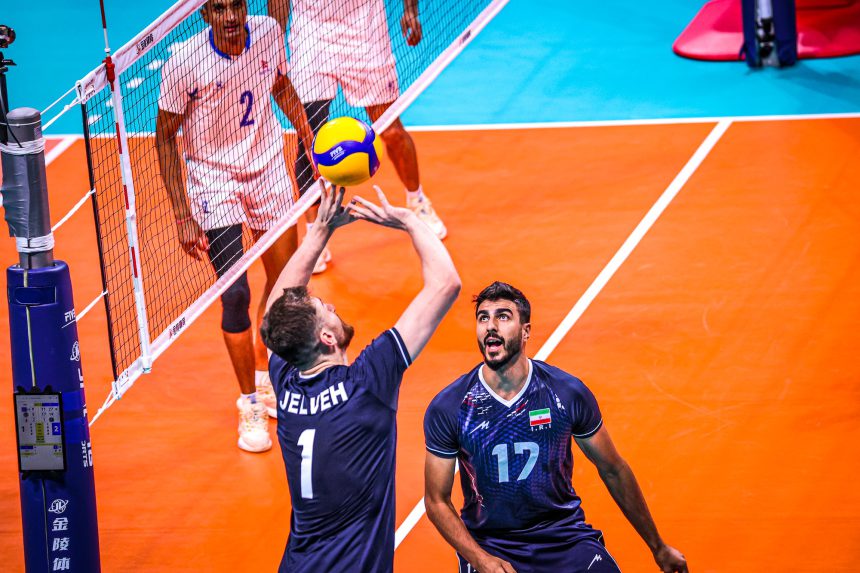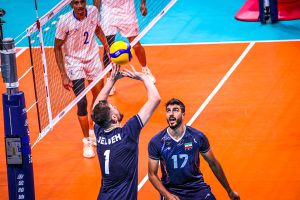 Nepal had already succumbed their first loss to Bahrain on Tuesday and following two straight losses, they will miss the cut for the next round. Iran will take on Bahrain on Thursday to fight it out for the top spot in Pool B.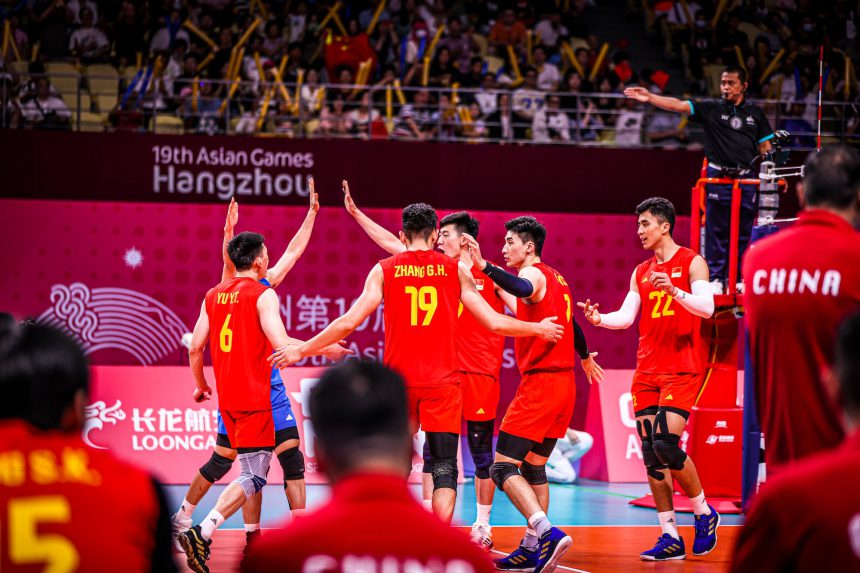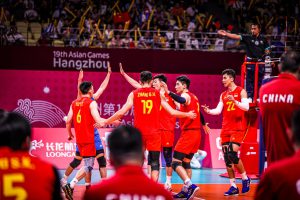 In the other match at this venue, world No.29 and last year's AVC Cup champions China delighted a large number of home fans with their scintillating straight-set 25-19, 25-18, 25-18 win against Kyrgyzstan, which were already beaten by Kazakhstan in their opener on Tuesday.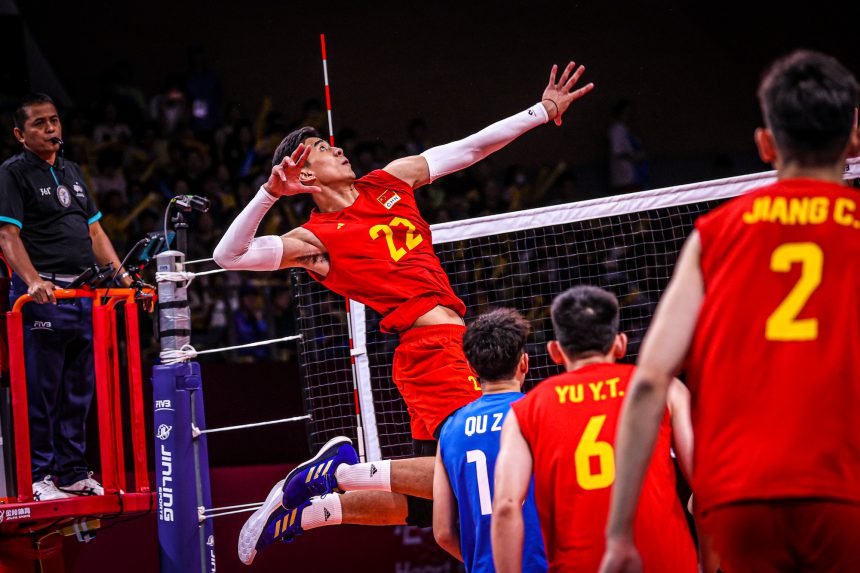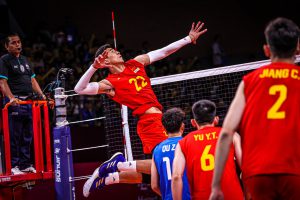 Outside hitter Zhang Jingyin contributed 15 points from 10 attacks, 2 blocks and 3 aces fro China, while middle blocker Peng Shi Kun added another 10 points including 4 attacks and 5 blocks for the win. Zhantemir Zheenbek Uulu led Kyrgyzstan with 9 points including 7 blocks.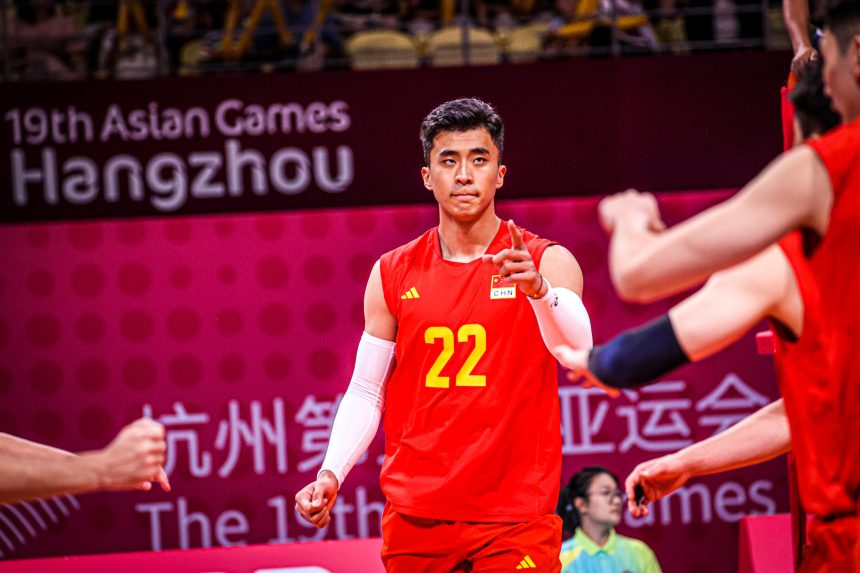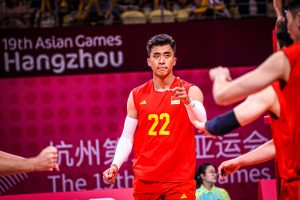 The second loss on Wednesday has kept Kyrgyzstan out of contention. Hosts China and Kazakhstan will battle it out to fight for the top spot in Pool A. However, both sides are guaranteed of their slots in the round of last 12.
At Deqing Sports Center Gymnasium, Philippines, which went down in straight sets to Southeast Asian Games winners Indonesia the previous day, tasted their first victory in Hangzhou after managing a 25-23, 25-16, 25-12 shutout of Afghanistan in their Pool F encounter.
Outside hitter Bryan Bagunas chipped in with 18 points including 16 kills from 22 attempts for Philippines, while Rotter Steven Charles added another 13 points. Haidari Gulam Rasool led Afghanistan with 8 points, all in attack.
World No.5 and Asian champions Japan, fielding their second-string squad in the Hangzhou Asian Games, proved a cut above Indonesia to power past the lower-ranked opponents in straight sets 25-18, 25-20, 25-18 for two wins in a row.
Japan will play their last preliminary match against Philippines on Thursday, with Afghanistan going up against Indonesia.
The pool round-robin preliminaries continue on Thursday at all three competition venues – Linping Sports Center Gymnasium, China Textile City Sports Center Gymnasium and Deqing Sports Center Gymnasium. After that, top two teams from each pool will advance to round of last 12, with qualified teams contesting cross matches on Friday (B1 vs E2, A2 vs F1, A1 vs F2, B2 v E1, C1 vs D2, C2 v D1). The six winning teams will next fight for ranking 1-6, with the remaining 6 losers relegated to ranking 7-12.
QUICK LINKS
AVC Website: click www.asianvolleyball.net
AVC Facebook: click www.Facebook.com/AsianVolleyballConfederation
AVC Twitter: click: www.twitter.com/AsianVolleyball
AVC Instagram: click: https://www.instagram.com/avcvolley/?hl=en
AVC Youtube: click: Asian Volleyball Confederation
AVC WeChat: Asian Volleyball Confederation