The Bandar Abbas-hosted 2022 Asian Senior Men's Beach Volleyball Championship in Iran has reached its climax on Thursday when teams qualified for round of 16 will battle it out in the knockout stages to keep Finals hopes alive.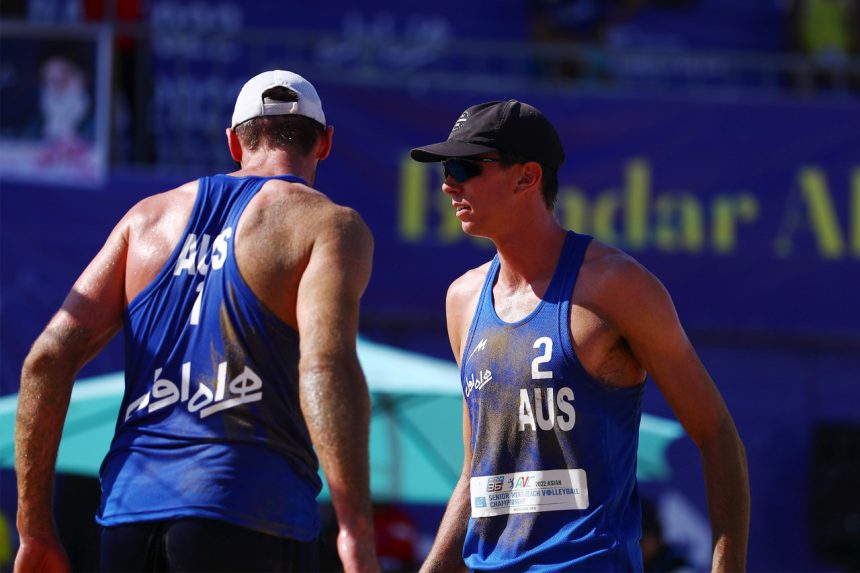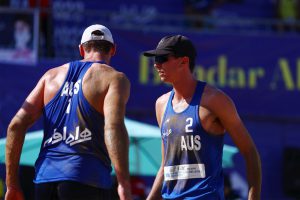 Top teams including three Australian pairings navigated their ways to the Thursday's round of 16. Defending champions and third seeds Christopher McHugh/Paul Burnett, who captured the 2022 Birmingham Commonwealth Games, overcame a shaky start following their stunning 0-2 loss to Japanese Kensuke Shoji/Ikeda Jumpei in their opening clash on Tuesday.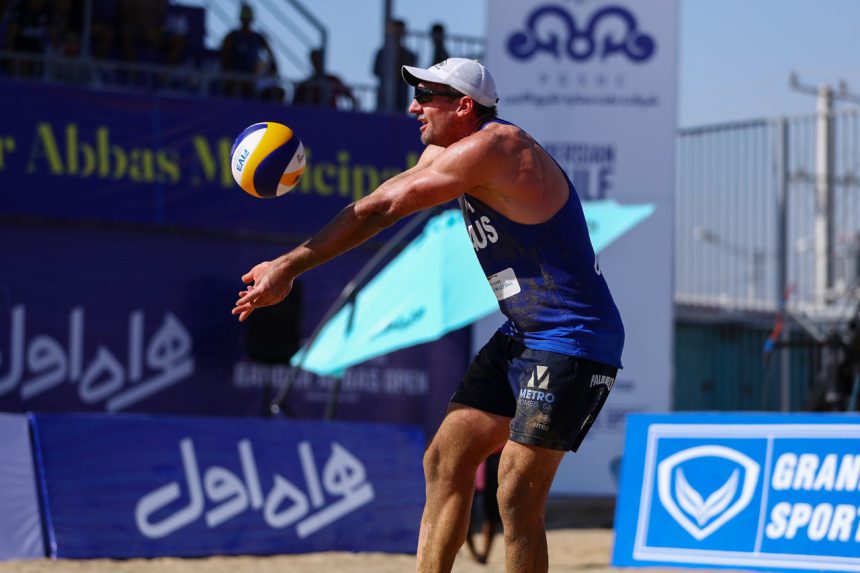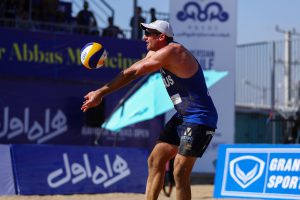 The Australian sensation turned things around to defeat Indonesian stars Mohammad Ashfiya/Ade Candra Rachmawan, silver medallists at the 2018 Asian Games on their home soil, 21-19, 21-17 on Wednesday and advance to elimination round of 16 as the Pool C winners.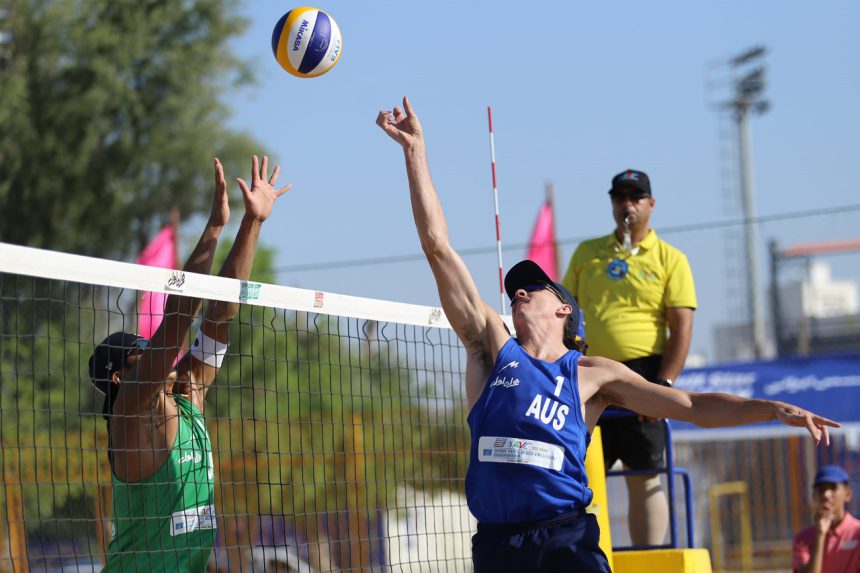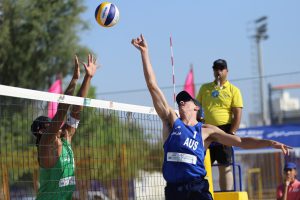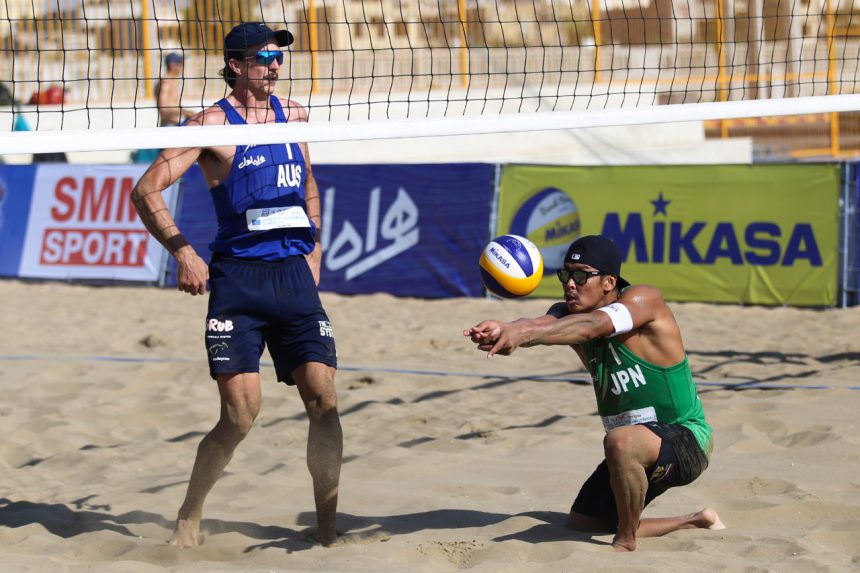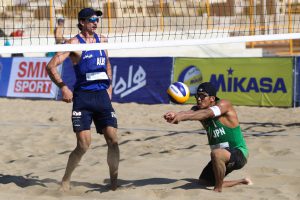 Compatriots and fifth seeds Zachery Schubert/Thomas Hodges, who are chasing dreams of another title after winning three this year including the AVC Beach Tour Samila Open in Thailand in September and the Matsuyama Beach Volleyball Tour in Japan in October, spent only 21 minutes in demolishing Japanese Yoshiumi Hasegawa/Masato Kurasaka 21-13, 21-12 for a perfect sweep in Pool E.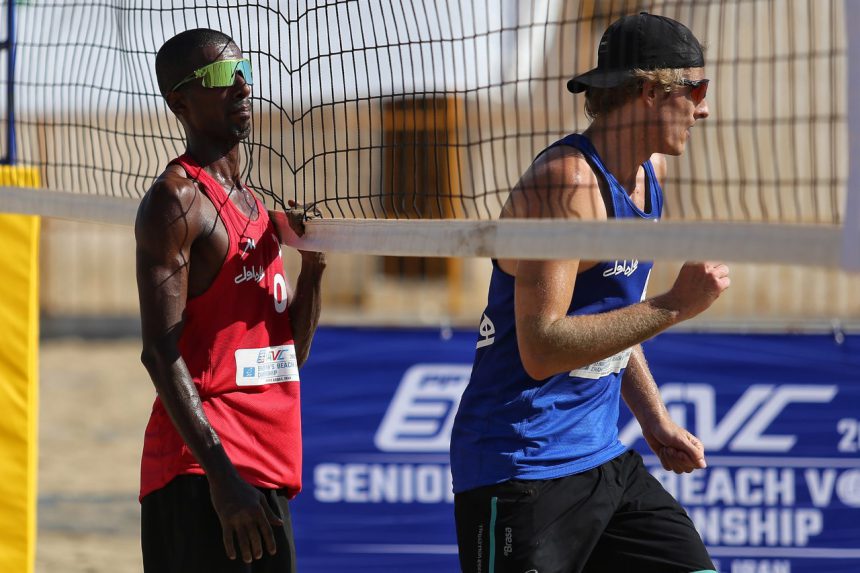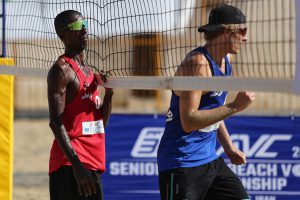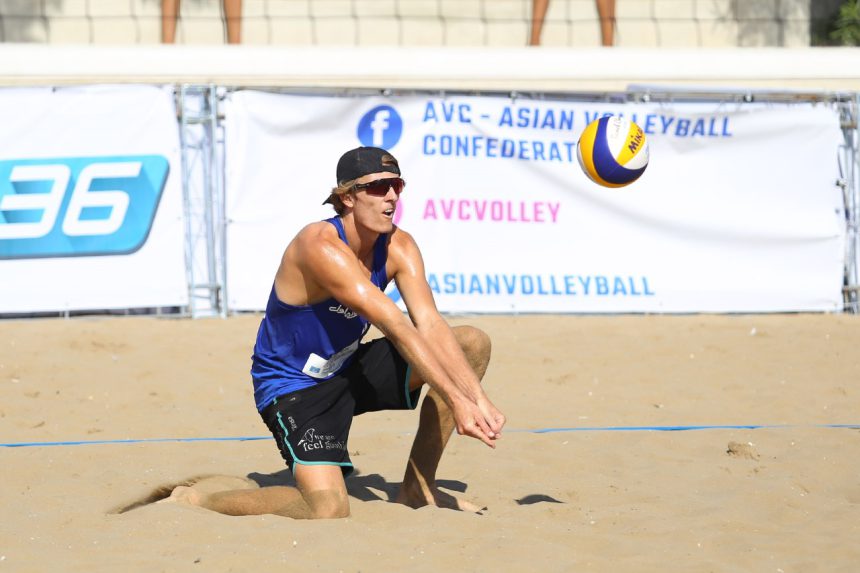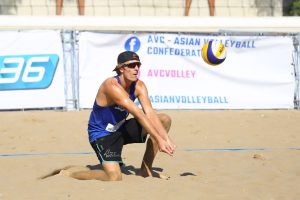 Another Australian pairing, fourth seeds Izac Carracher/Mark Nicolaidis, followed suit as the Coolangatta Future Beach Pro Tour winners powered past Omanis Ahmed Alhousni/Haitham Alshereiqi 21-12, 21-19 on Wednesday to secure their place in the round of 16.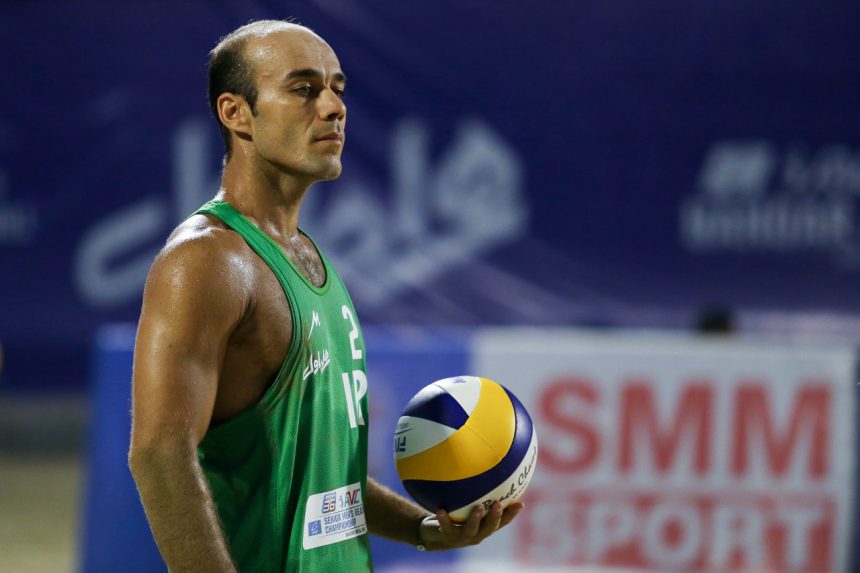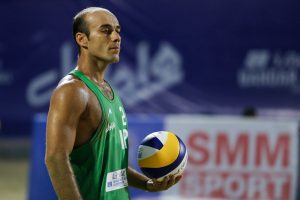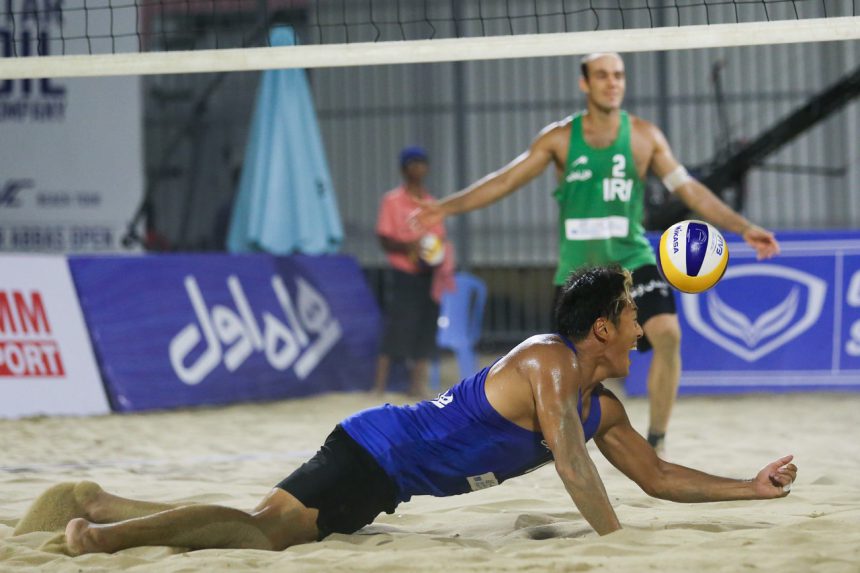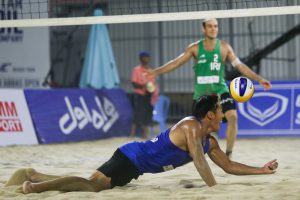 Top seeds Abdolhamed Mirzaali/Arash Vakili escaped unscathed as the Iranian duo enjoyed the second comfortable win at home following their 21-11, 21-19 triumph against Japanese Takumi Takahashi/Shiro Furata to capture the top spot in Pool A.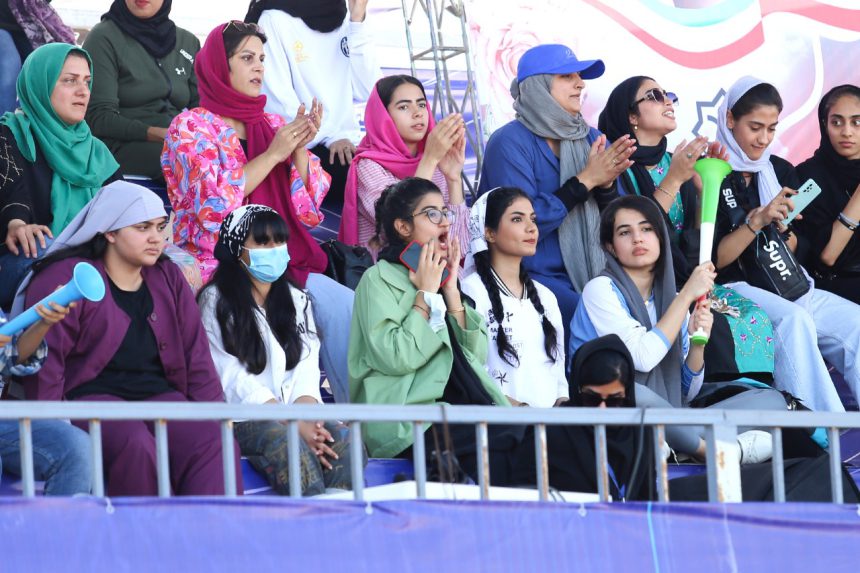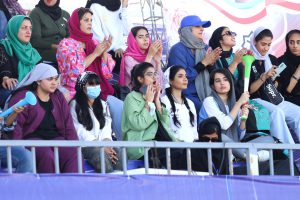 Apart from Mirzaali/Vakili, the other three Iranian pairings sealed their wins in respective pools on Wednesday.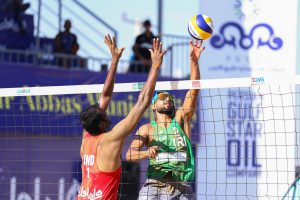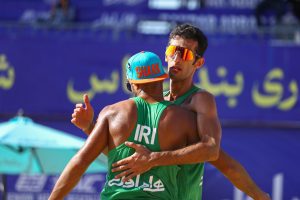 Sina Shokati Shekarsaraei/Abbas Pourasgari, who have yet lost a single set to their respective rivals in Pool H, brushed off Indians Naresh Tumpera/Raju Krishnam 21-11, 21-10 in 32 minutes on Wednesday to make it three in a row for a clean sweep in Pool H.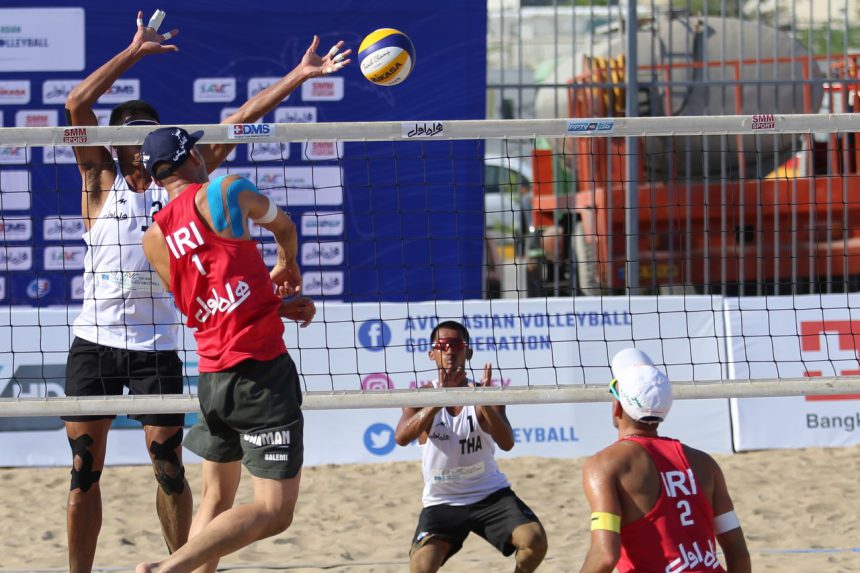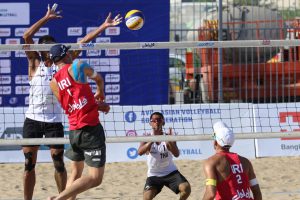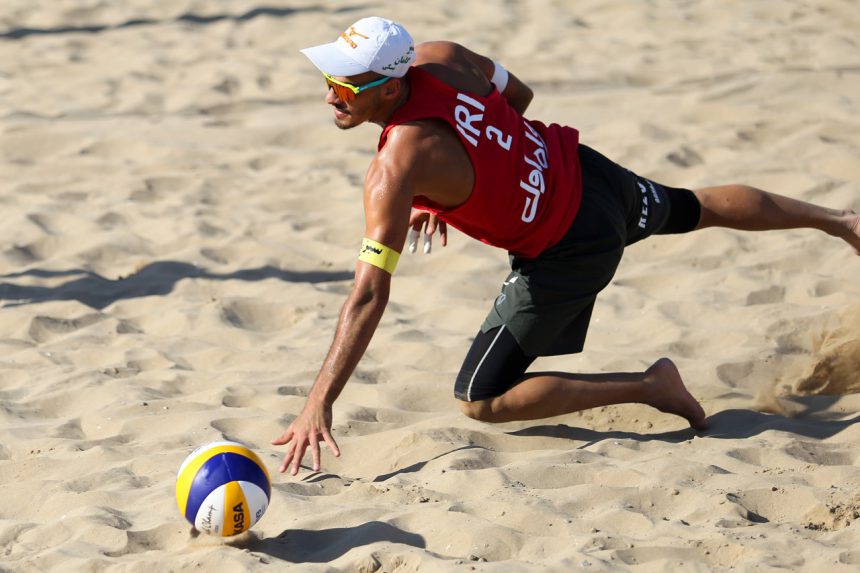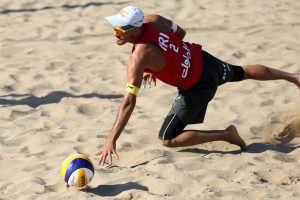 Bahman Salemi/Alireza Aghajanighasab, fresh from 2-0 rout of Hong Kong, China's Wong Puilam/Lam Kifung the previous day, recovered from the first set down to Surin Jongklang/Banlue Nakprakhong to beat the Thai 7th seeds in three-setter 18-21, 21-19, 15-7 in their last Pool G encounter.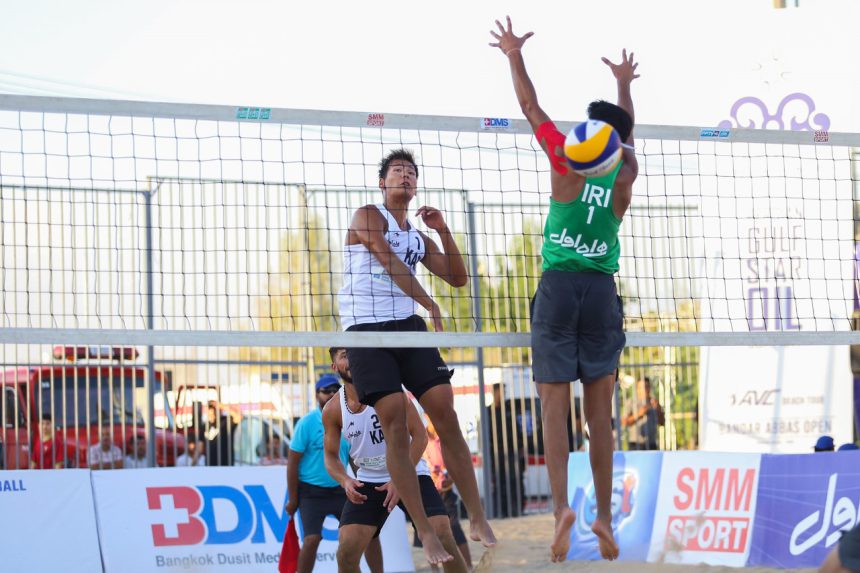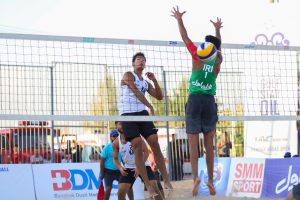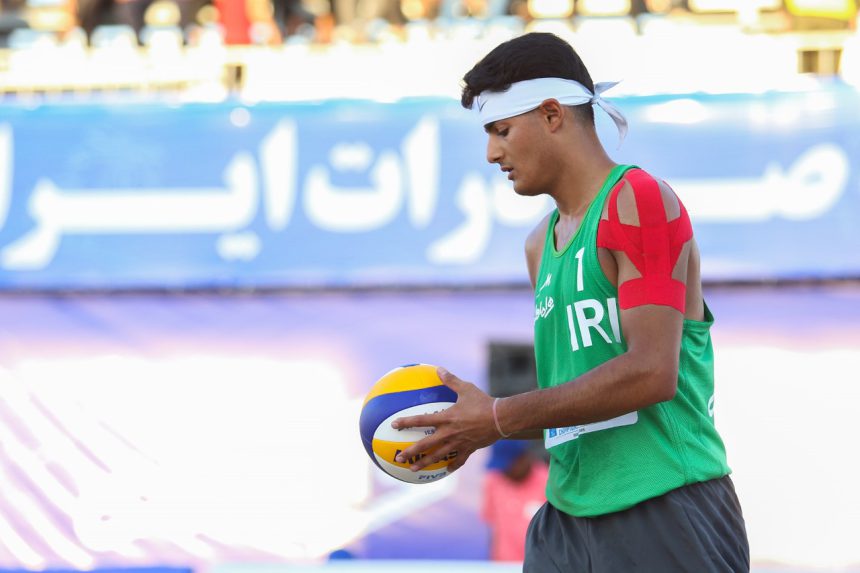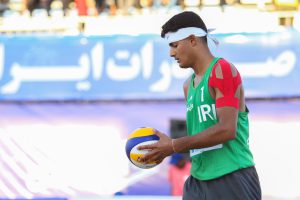 Aro Mojtaba/Mahdi Mahfouzi also came back to beat Kazakhstan's Nurdos Aldash/Kirill Gurin 13-21, 22-20, 15-9 in their last preliminary match. However, with only top two teams from each pool advancing, Iranians Aro/Mahdi, who succumbed to two losses in Pool F, came in third place in the pool to become the only Iranian team to bow out in the first round of the continent's topflight championship.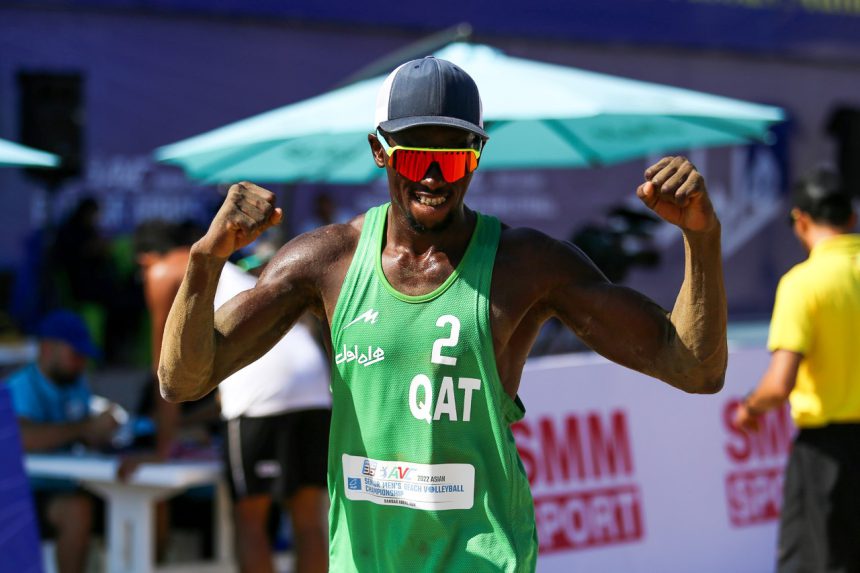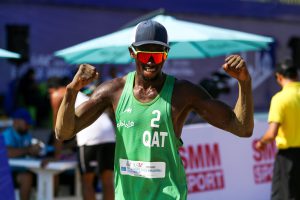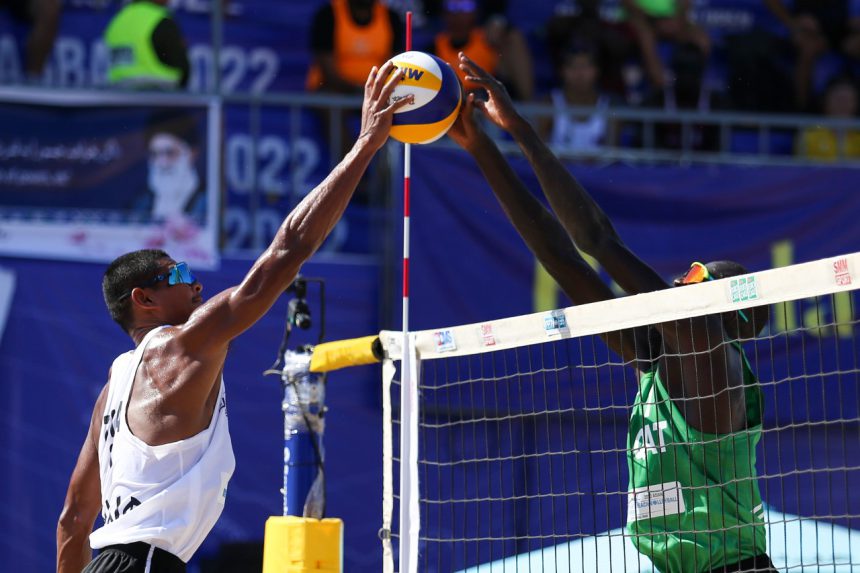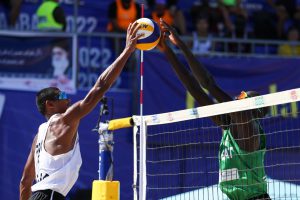 Qatar enjoyed mixed lucks on Wednesday, with the 2020 Tokyo Olympics bronze medallists and second seeds Cherif Younousse/Ahmed Tijan overwhelming Thailand's Dunwinit Kaewsai/Intuch Techakijvorakul 21-9, 21-12 in 27 minutes to maintain their unbeaten run in the championship.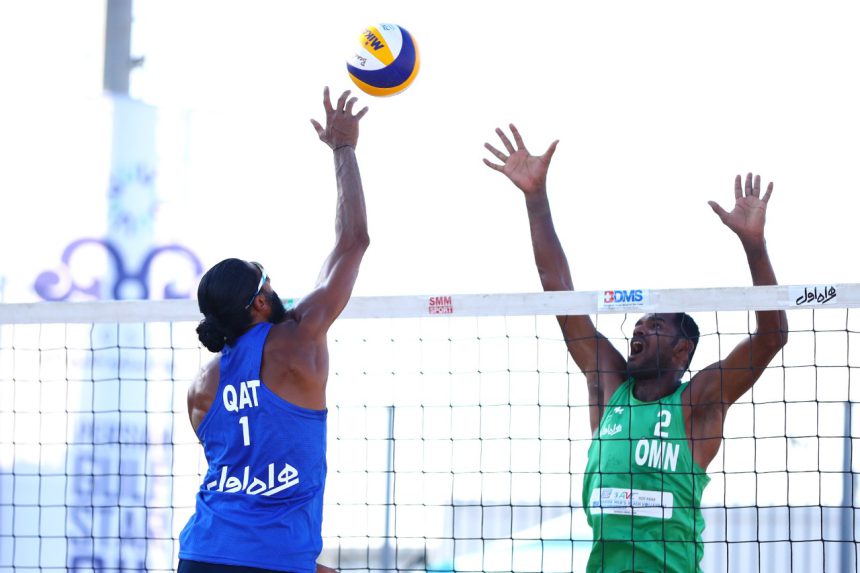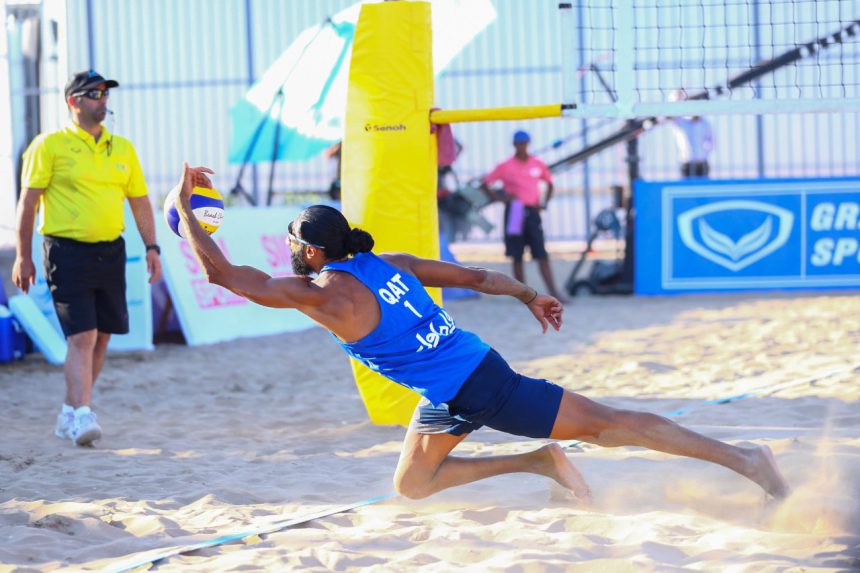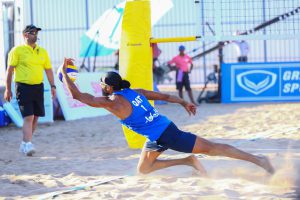 Another Qatari pairing, Saifeddine Elmajid/Ahmed Mahmoud Essam, failed to make their mark on the final day of the pool plays to go down 17-21, 13-21 to Omanis Mazin Alhashmi/Hood Alialaboubi for two losses in Pool H to miss the cut for the Thursday's round of 16.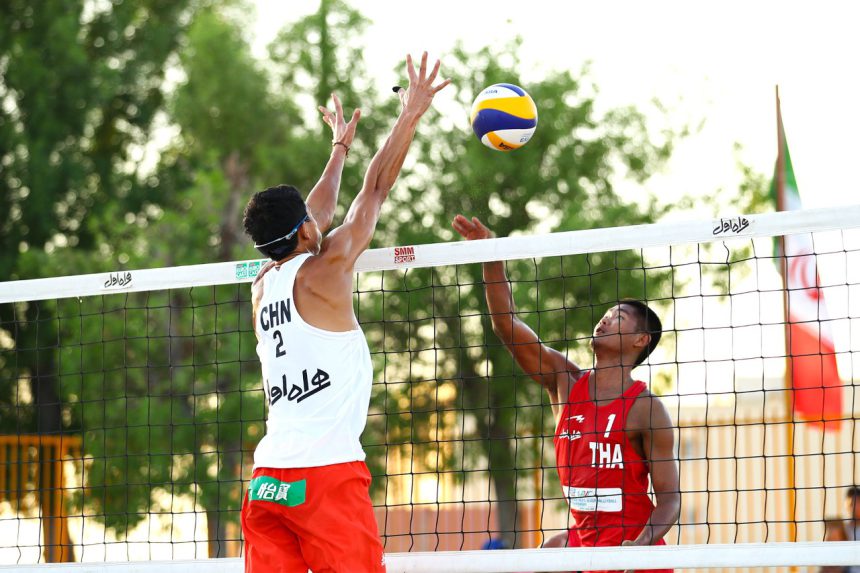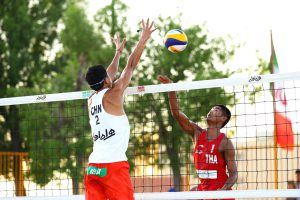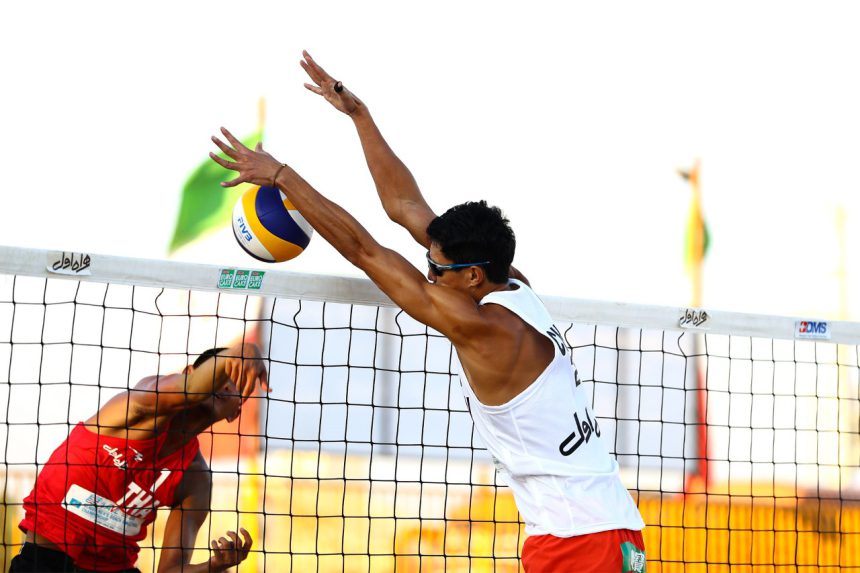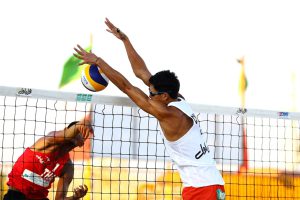 Veterans Ha Likejiang/Wu Jiaxin, fresh from winning the last week's AVC Beach Tour Bandar Abbas Open here, remained a strong team to be reckoned with in this top-tier tournament as the Chinese 6th seeds put it past fighting Thailand's Pithak Tipjan/Poravid Taovato 21-15, 22-20 to complete their pool-play campaign as Pool F winners.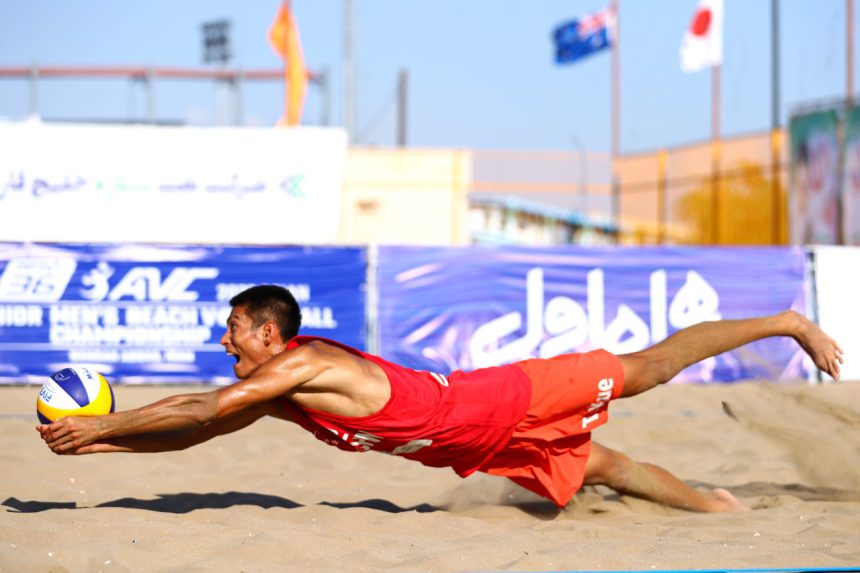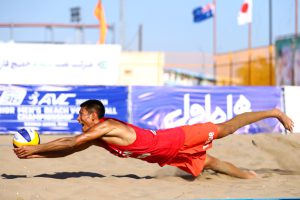 Chinese Li Zhuoxin/Xue Tao also had an easy task on Wednesday to outplay Wong/Lam from Hong Kong, China 21-13, 21-13 in Pool G.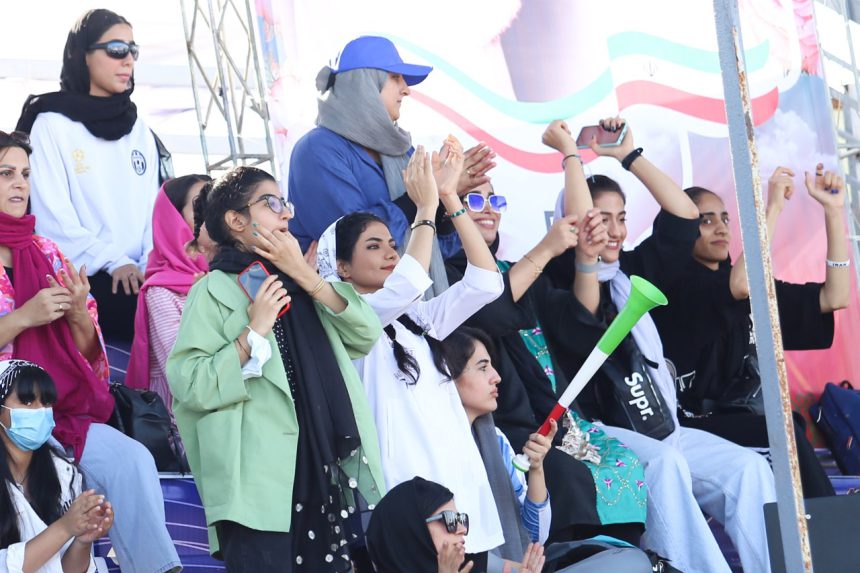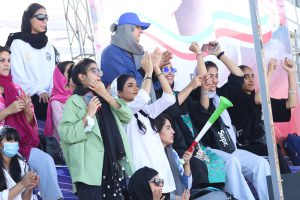 Like Qatar, Kazakhstan had mixed fortunes on the final day of the pool plays on Wednesday, with Aldash/Gurin going down to Iranians Aro/Mahdi in Pool F.
The other two Kazakh pairings, Dmitriy Yakovlev/Sergey Bogatu and Vladislav Pustynnikov/Artem Petrossyants, snatched their wins in respective Pool D and Pool E.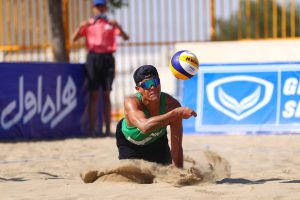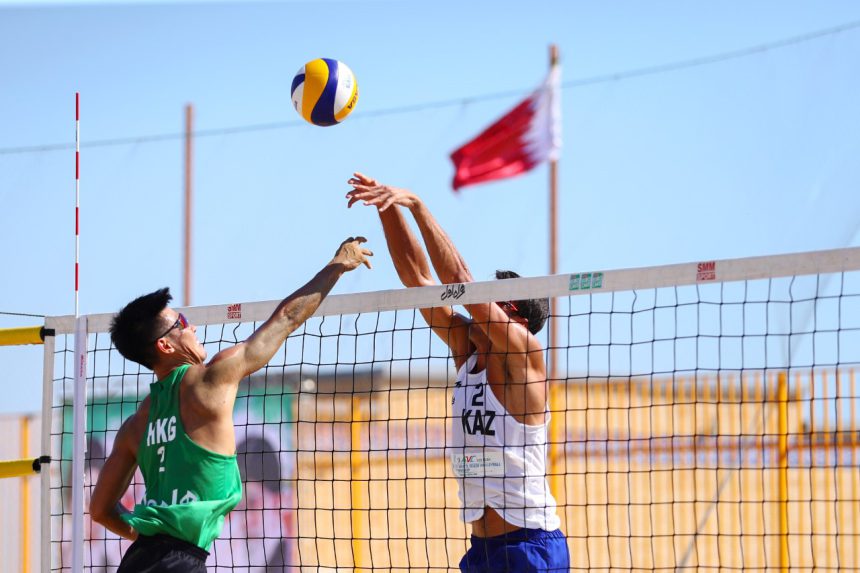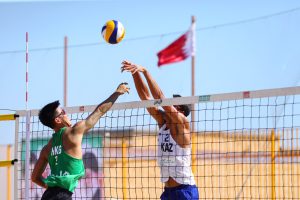 The 20th seeds Yakovlev and Bogatu proved too strong for Wong Kayun/Tse Kinwang to beat the Hong Kong, China pairing 21-14, 21-15 in 33 minutes in Pool D, while Pustynnikov/Petrossyants produced fantastic comeback to beat Indonesians Pribadi Danangsyah/Ramadhan Gilang , who claimed bronze medal at the 2018 Asian Games, 21-23, 21-15, 15-7.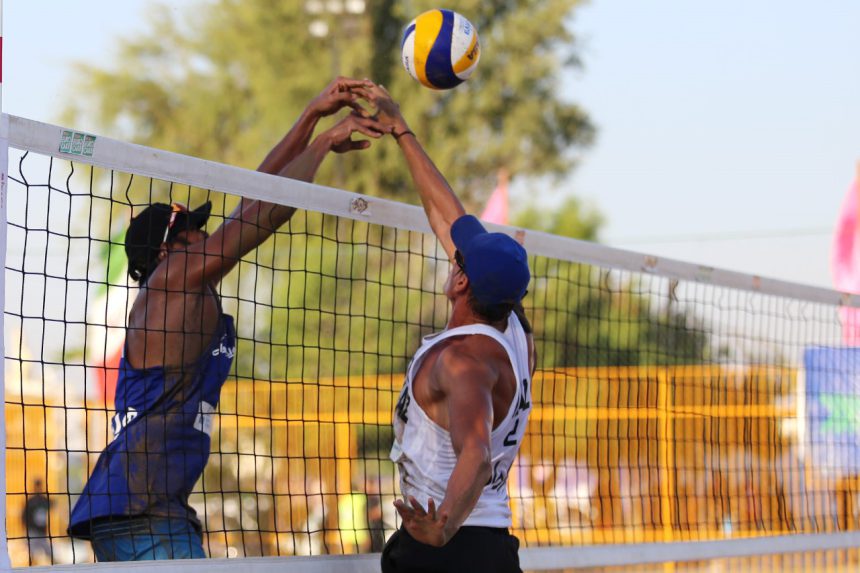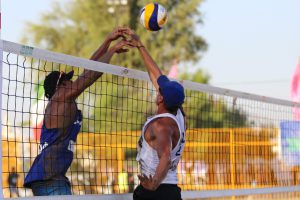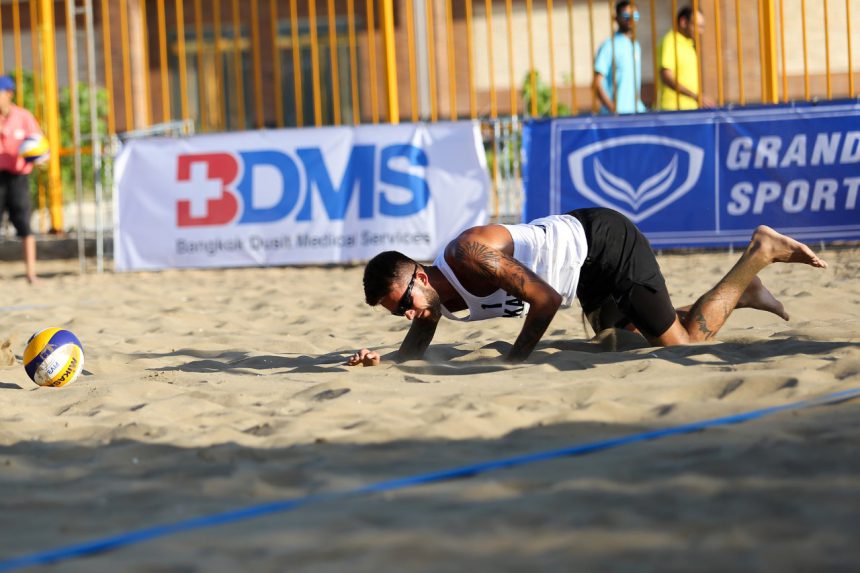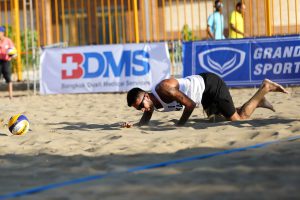 At the completion of the pool plays on Wednesday, Iran's top seeds Mirzaali/Vakili finished on top of Pool A with 6 points, followed by Qataris Abdallah Nassim/Mohamed Ihab Zaki and Japanese Takahashi/Furata.
Pool B was dominated by Qatari second seeds Cherif/Ahmed, who claimed gold medal at the
last month's Volleyball World Beach Pro Tour Challenge event in Maldives, with a perfect sweep and 6 points, while Thailand's Dunwinit/Intuch and Chinese Wang/Zhou finished second and third places respectively.
In Pool C, Aussies McHugh/Burnett, Indonesians Ashfiya/Candra and Japanese Shoji/Ikeda had 5 points from similar performances of two wins against one loss. However, McHugh and Burnett emerged as the Pool C winners, followed respectively by the Indonesian and the Japanese pairings.
Unbeaten Yakovlev/Bogatu of Kazakhstan stayed atop Pool D with 6 points. Australians Carracher/Nicolaidis, Omanis Ahmed/Haitham, Hong Kong China's Wong/Tse finished second, third and fourth places respectively.
Australians Schubert/Hodges claimed top spot in Pool E, with Kazakhs Pustynnikov/Petrossyants, Indonesians Daang/Gilang and Japanese Hasegawa/Kurasaka ending in respective second, third and fourth places.
Chinese Wu/Ha and Thailand's Pithak/Poravid finished top two in Pool F. Iranians Salemi/Aghajani and Chinese Li/Xue claimed a one-two finish in Pool G, while Iranians Shekar/Pourasgari and Omanis Mazin/Hood ended their pool-play campaigns in top two positions in Pool H.
Only top two teams from each pool made the cut for the knockout round of last16, which saw 3 teams each from hosts Iran and Australia, 2 teams apiece from Qatar, China, Kazakhstan and Thailand and one team each from Indonesia and Oman remain in contention for the eventual Asian title.
The drawing of lots for round of 16 was conducted shortly after completion of the pool plays on Wednesday. Match schedule as well as match results and pool standings can be seen at the bottom of the story.
MATCH RESULTS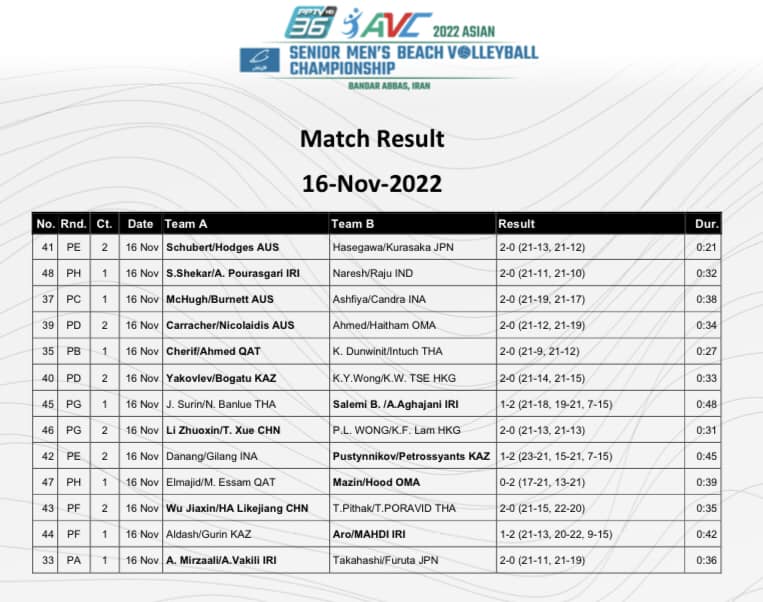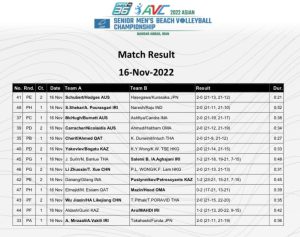 POOL STANDINGS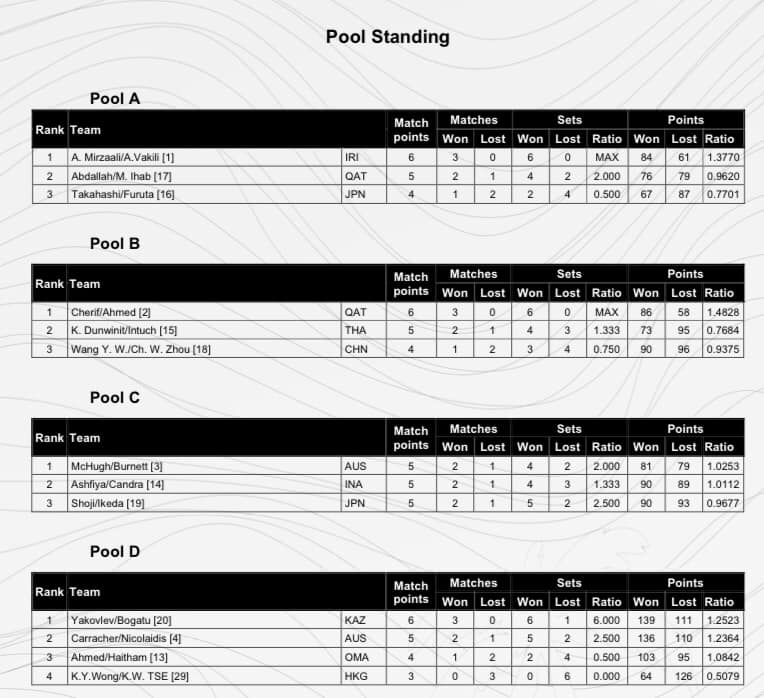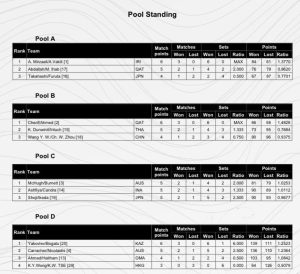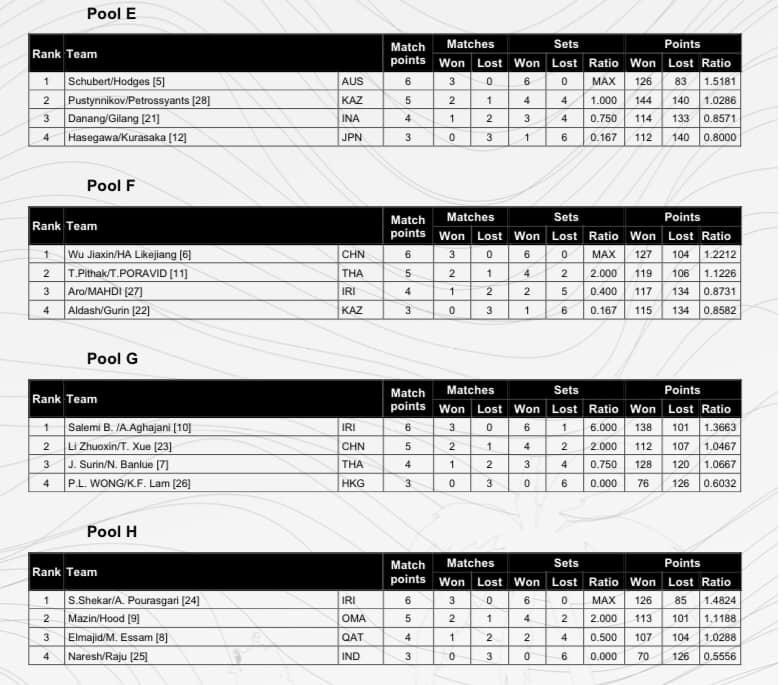 MATCH SCHEDULE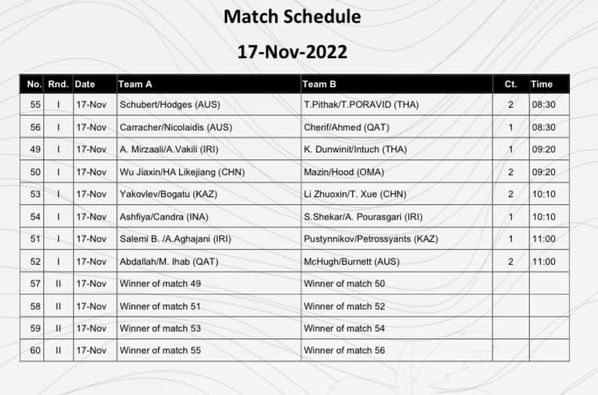 Related links of AVC
AVC Website: click www.asianvolleyball.net
AVC Facebook: click www.Facebook.com/AsianVolleyballConfederation
AVC Twitter: click: www.twitter.com/AsianVolleyball
AVC Instagram: click: https://www.instagram.com/avcvolley/?hl=en
AVC Youtube: click: Asian Volleyball Confederation
AVC WeChat: Asian Volleyball Confederation