Hamburg, Germany, June 28, 2019 – Three players with World Championship gold medals to their credit were successful here Friday morning in the opening two men's matches at the US$1-million FIVB Beach Volleyball World Championships presented by comdirect & ALDI Nord.
With Pool F considered one of the tougher men's pools at the 2019 FIVB World Championships as the four teams have combined to play nearly 750 matches on the international beach volleyball circuit, 2013 world champs Alexander Brouwer and Robert Meeuwsen of the Netherlands scored an opening win Friday.
Seeded 19th, Brouwer and Meeuwsen were extended to three sets by 30th-seeded Canadians Grant O'Gorman/Ben Saxton as the Dutch prevailed 2-1 (23-21, 19-21, 15-9) in a 52-minute side court match at Am Rothenbaum Stadium.
"It's really important to win your first match, especially in a pool where you have a lot of good teams," said Meeuwsen as he and Brouwer defeated the Canadians for the second time in as many matches. "There's no easy team in this pool. You like to start the tournament well, it's important. We're not there yet in this season as a team. We had both positives and negatives today, but overall a good feeling."
After leading 16-12 and 19-16 in the first set, Meeuwsen said: "Our focus went away a little bit and they started serving well. You could see them go all in on the serves and they put good pressure on us. In the second set it was kind of the same and they put pressure on us, and we lost. I'm happy with the way we recovered in the third set. We had good focus and we played really well there."
Amid his ninth-season with Brouwer, Meeuwsen said: "Experience is really important. We had a good game plan against them, but they started to change a little bit. We figured it out quite fast, we were able to adapt to that and got the good block-defense against it. That's the difference in experience, those changes, you make them and it's easier."
Dalhausser/Lucena victorious in Pool F
Phil Dalhausser, who captured the 2007 world title with Todd Rogers, and Nick Lucena posted the first win on Friday as the sixth-seeded Americans scored a 2-0 (21-14, 21-13) Pool F victory over 43rd-seeded Julian Azaad/Nicolas Capogrosso of Argentina in 31 minutes.
"Any win is a relief," said Lucena, who teamed with Dalhausser to place fifth at the Rio 2016 Olympic Games. "I felt like we had two good weeks of training. We came out with a strategy and we executed well. So, to do that is very promising, but I think we can play better."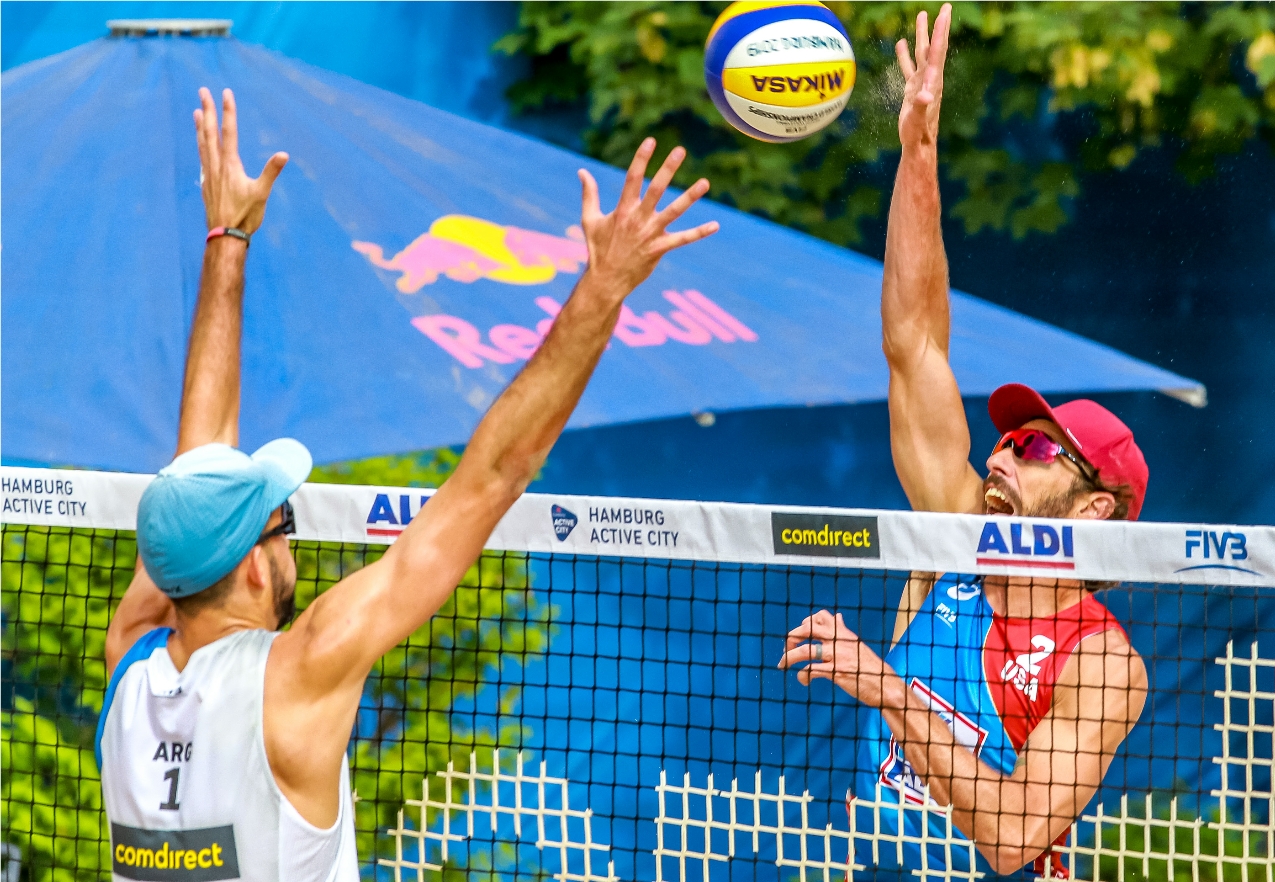 Pool F continues on Sunday with evening matches as Dalhausser and Lucena play Saxton/O'Gorman on the Am Rothenbaum Stadium centre court at 7:15 p.m. (local time) with the Dutch playing the Argentineans at 7 p.m., on an Am Rothenbaum Stadium side court.
While Brouwer and Meeuwsen will be playing Azaad and Capogrosso for the first-time on the FIVB World Tour, the Americans and Canadians will be meeting for the third time with Dalhausser and Lucena holding a 2-0 edge.
Group play for the Americans, Argentineans, Canadians and Dutch concludes on Tuesday with Dalhausser/Lucena playing Brouwer/Meeuwsen in a 3 p.m. centre court match while O'Gorman/Saxton versus Azaad/Capogrosso at 5 p.m. on an Am Rothenbaum Stadium side court.
Related links of AVC
AVC Website: click www.asianvolleyball.net
AVC Facebook: click www.Facebook.com/AsianVolleyballConfederation
AVC Twitter: click: https://twitter.com/avcvolley
AVC Instagram: click: https://www.instagram.com/avcvolley/?hl=en
AVC Youtube: click: Asian Volleyball Confederation
AVC WeChat: Asian Volleyball Confederation