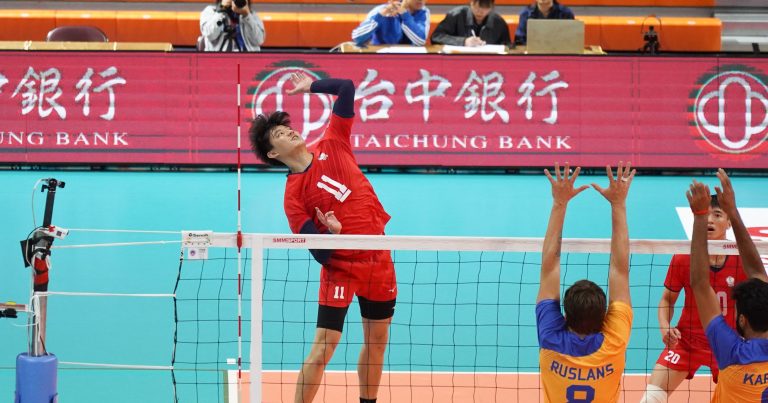 Taipei, Chinese Taipei, April 21, 2019 – Determined Chennai Spartans produced a terrific comeback 3-2 (23-25 25-16 23-25 25-20 15-11) win over hosts Taichung Bank, as Panasonic Panthers and Varamin Municipality remain unbeaten and will set up a clash of the Titans in Monday's top-eight playoff match of the 2019 Asian Men's Club Volleyball Championship at the University of Taipei (Tianmu) Gymnasium.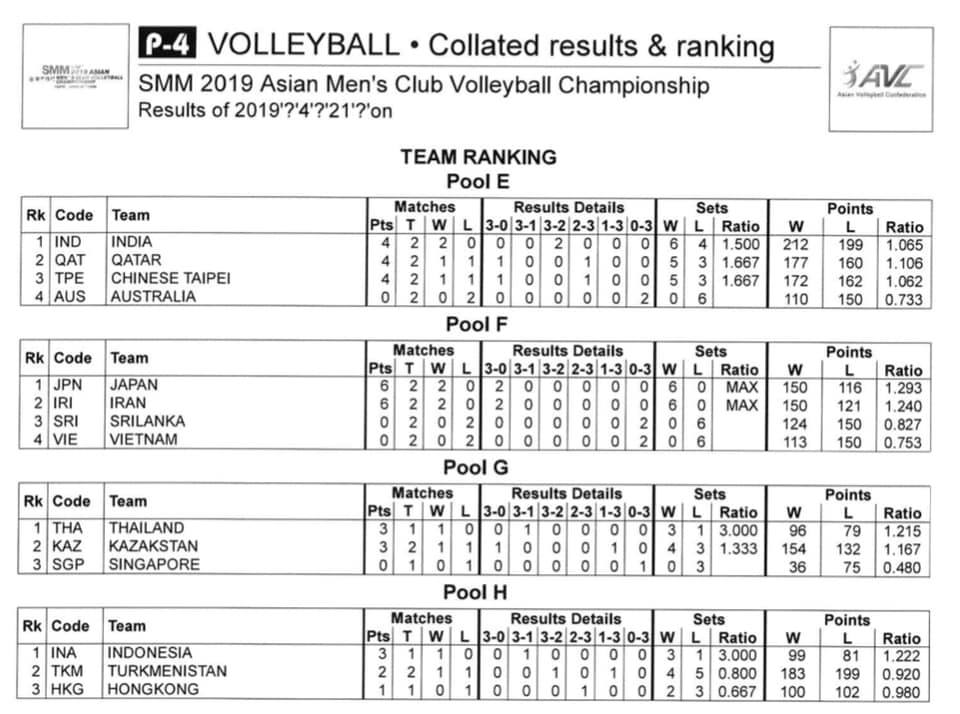 Against Chinese Taipei's Taichung Bank, champions in 2015 when Taipei hosted this topflight competition for the first time, promising Vinith Jerome chipped in with 25 points from 21 attacks, 2 blocks and 2 aces for Chennai Spartans, while Latvian Sorokins Ruslans and Raja Naveen made good company after scoring 14 points apiece for the winning team. Wu Tsung-Hsuan led Taichung Bank with 14 points including 13 kills from 37 attempts, while Chiao Hsuan-Cheng contributed 11 points including 9 attacks and 2 blocks.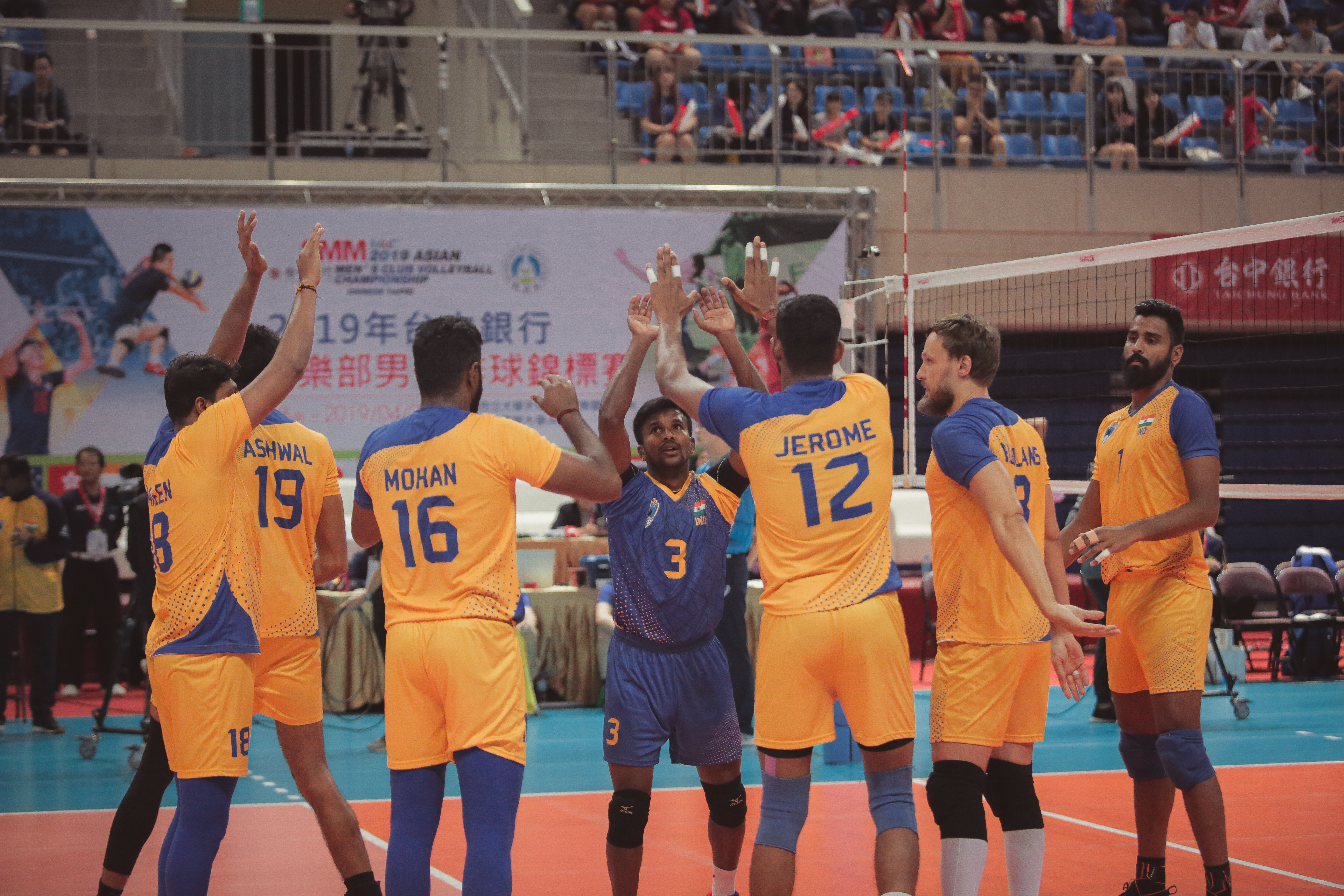 Chennai Spartans, fresh from a stunning 3-2 win against Qatar's Al-Rayyan the previous day, remained strong defensively with the likes of ace spiker Jerome, Ruslans and powerful hitter Raja Naveen.
After the match, Chennai Spartans' head coach Dr M.H. Kumara said he was satisfied with his team's performance, citing that it was a good match against a strong opposition.
"Technically, I think it was a good match. Taichung Bank had outstanding techniques with good middle blockers. As usual, we opened up with some mistakes in the first set and tried to improve on the following sets and that's why we always played five sets with our rivals. However, I think the key to our team's success was setter and No.9 A. Karthik, especially in the fifth set. I think my team played well. We next take on Australia's Queensland Pirates and hope that we can beat them.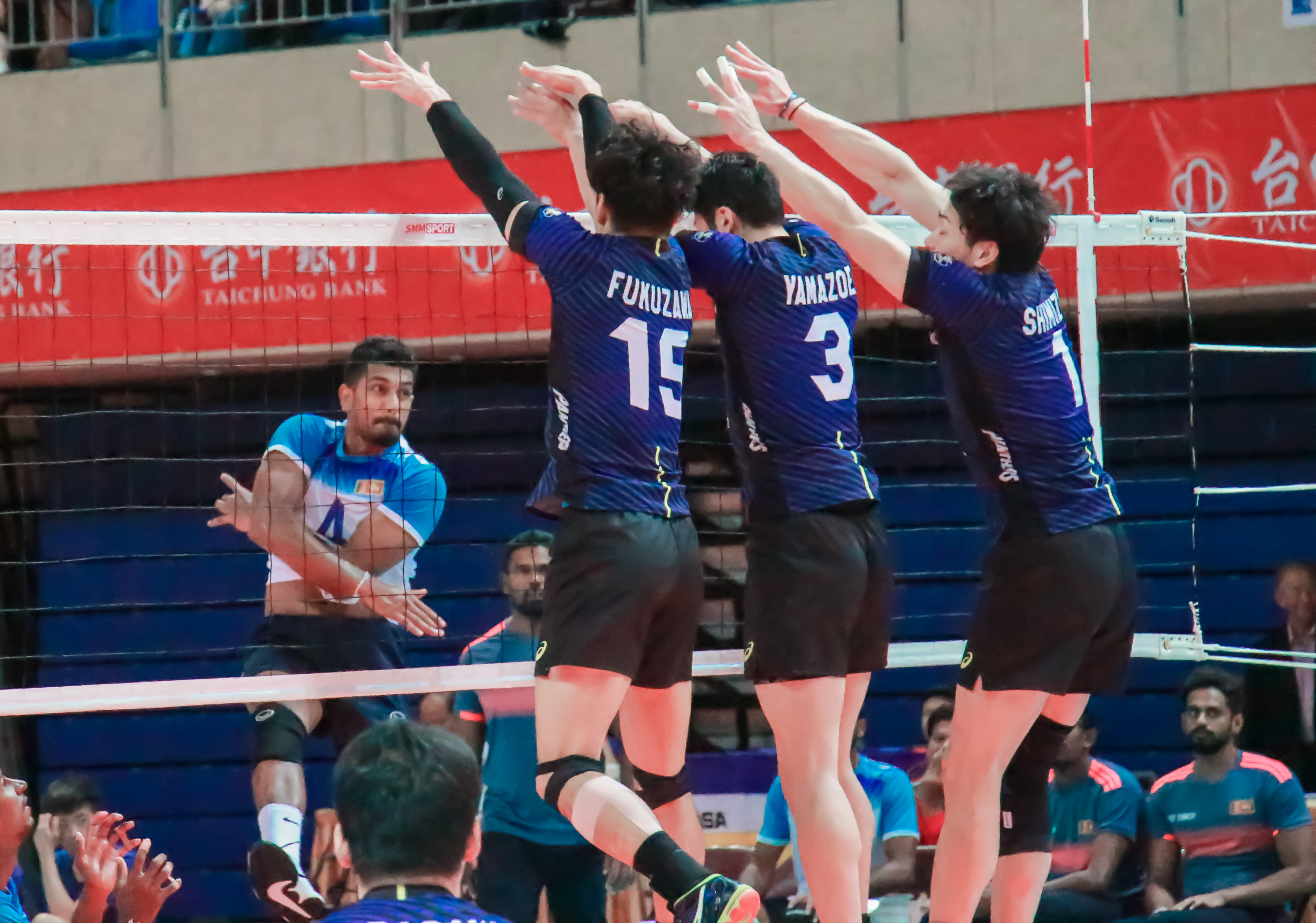 Earlier, Japan's Panasonic Panthers survived a sturdy challenge from Sri Lanka Ports Authority Sports Club to demolish the fighting rivals in hard-fought three-setter 25-21 25-23 25-21.
Tatsuya Fukuzawa scored a team-high 16 points from 13 attacks and 3 solid blocks for Panasonic Panthers, while Kenji Shirasawa contributed 12 points including 5 blocks and 2 aces. Janitha Surath led Sri Lanka Ports Authority Sports Club with 17 points.
After the match, Panasonic Panthers' head coach Shinji Kawamura said that he was satisfied with the victory, citing that the team still had something to correct ahead of the next tough match against Iran's Varamin Municipality.
"It's good to win again although the match against the Sri Lankan team was very close. I think we played difficultly in the first two sets because we did some mistakes and when you have to play a strong team from Iran the following day, you have to clear those mistakes. However, I believe our next match against Varamin Municipality will be a good match. We will do our best."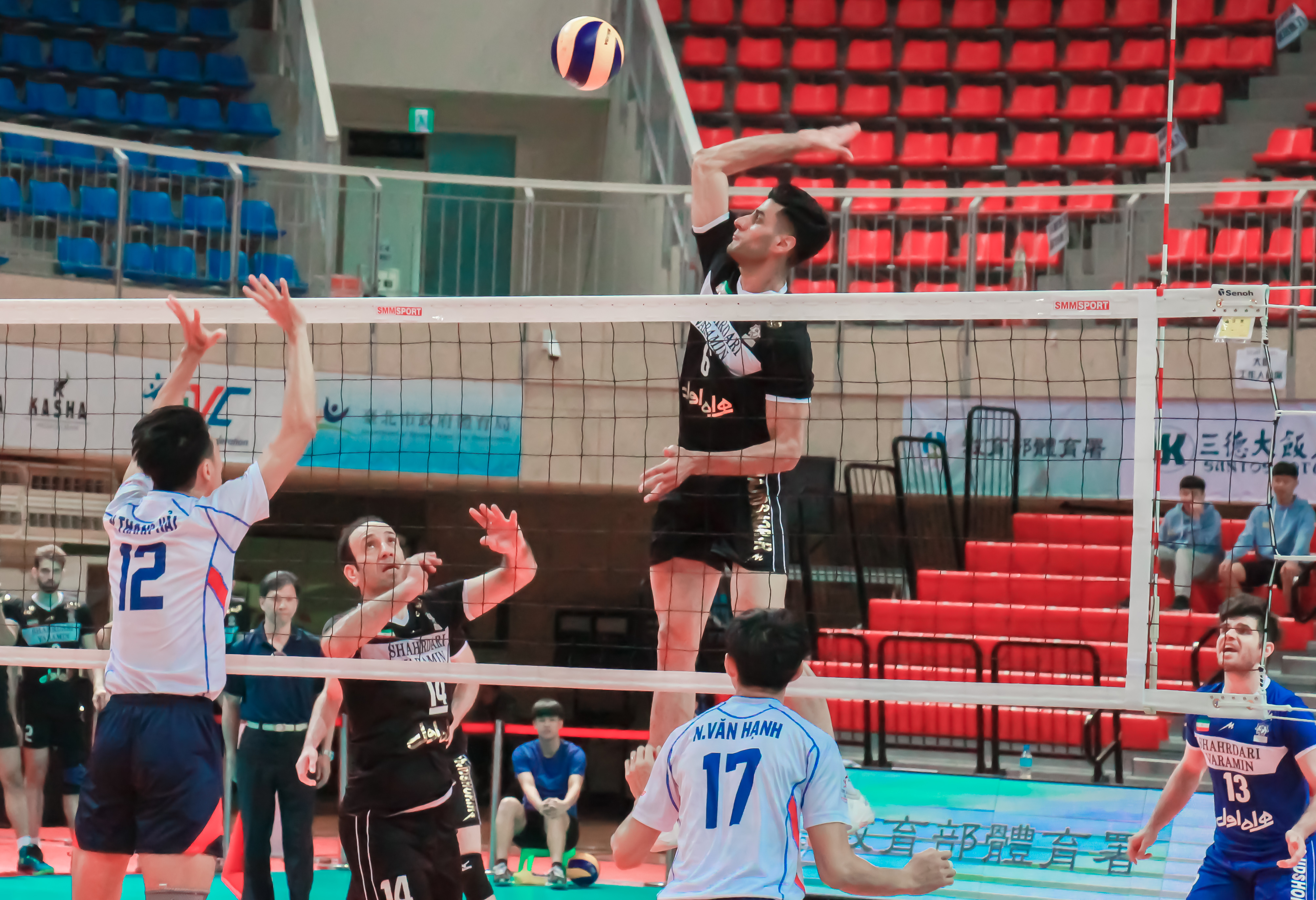 Meanwhile, ace spiker Alireza Jalali scored a match-high 19 points as Cultural and Sports Club of Varamin Municipality continued their remarkable unbeaten run at the 2019 Asian Men's Club Volleyball Championship after demolishing Ho Chi Minh City in thrilling straight sets 25-22 25-20 25-20.
Alireza Jalali chipped in with 14 attacks from 25 attempts, one block and 4 aces for the winning side, while Nguyen Van Hanh was the lone Vietnamese player who scored double-digit 22 points for Ho Chi Minh City including 20 kills from 30 attempts and one ace.
Varamin Municipality, which made a clean sweep in Pool B in the pool round-robin preliminaries, fielded a strong lineup including Alireza Jalali and Mohammad Razipoor, both of whom competed in the gold-winning Khatam Ardakan at the previous edition last year in Myanmar, while powerful hitter Nguyen Van Hanh and Le Quang Khanh spearheaded Ho Chi Minh City.
"It's the first match we played in this main hall, but we tried to keep quality. In the beginning of the match, we had a little problem with their combination attacks, but after that we knew how to play and how to block them. We had a very good result. Against Panasonic Panthers in our next match, I think it will be the most important match for us since if we can beat them, we will top the pool and the next match after that will be much easier for us. Panthers are also a good team in this tournament. They bring all the players and I think they are one of the strong teams to be reckoned with. We will do our best and hope the Japanese enjoy our match," Varamin Municipality's head coach Mohammadirad Rahman commented after the match.
Qatar's Al-Rayyan also faced no issues in shutting out Australia's Queensland Pirates in convincing straight sets 25-21 25-17 25-21.
Kamil Rychlicki led Al-Rayyan with 13 points from 11 attacks and 2 solid blocks, with Marko Vukasinovic making good company to add 11 points including 9 kills from 14 attempts. William Mercer scored a team-high 16 points for Queensland Pirates including 15 attack hits.
After the match, Kamil Rychlicki, a key player who always scored highest points foo Al-Rayyan, said, "We want to clear favourite in this game and so we could win the match without losing a set. We did our best in putting them under control, but still, I think they played well. We lost 2-3 to Chennai the previous day, but fortunately we still secured the top of the pool. Our game with Chennai did not go as planned. I think it's very difficult to play in nine days as you have to shape yourself each day for the up-and-down performances. I hope my team will have a beautiful game against hosts Taichung Bank the following day."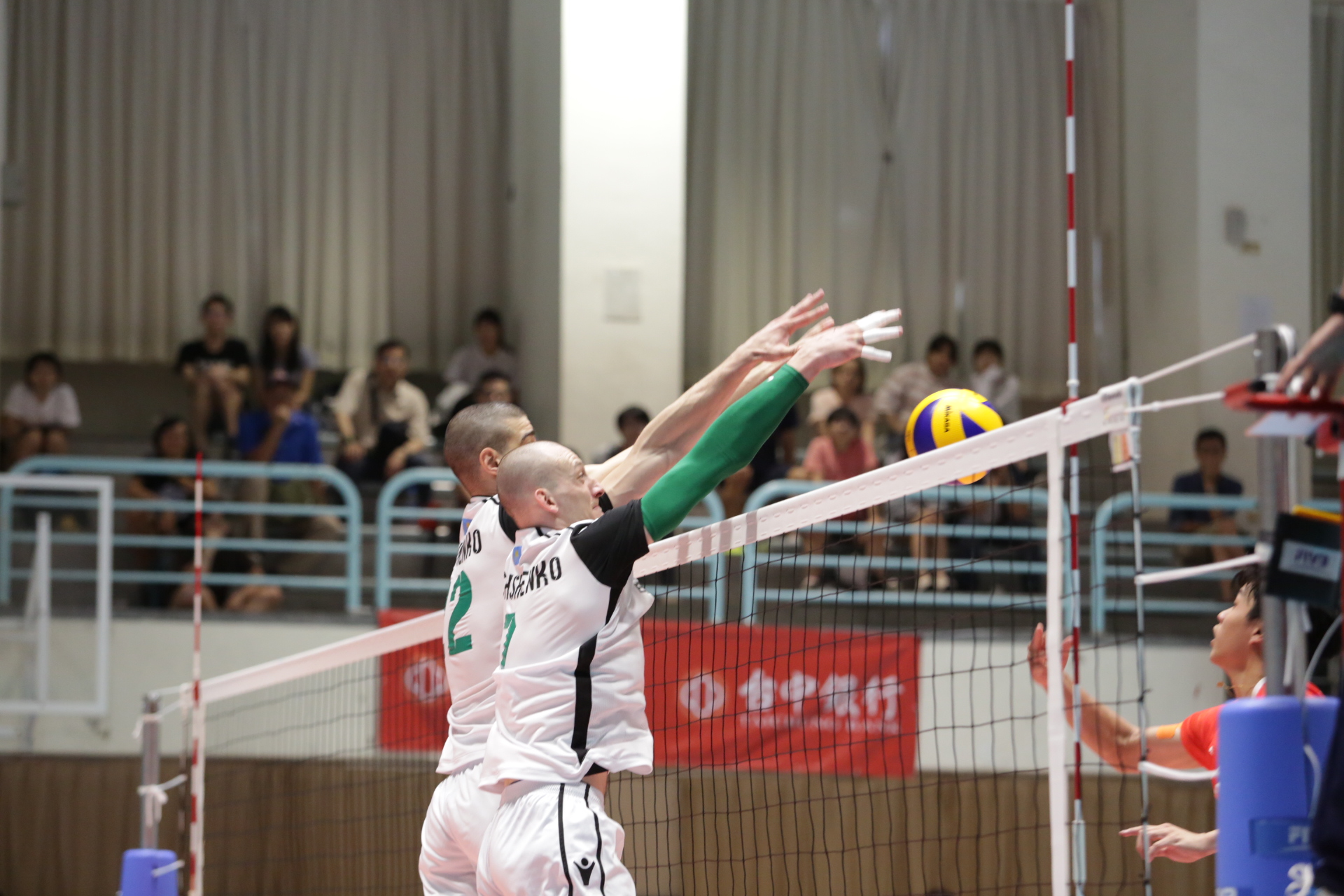 At the National Taipei University of Education Gymnasium, Kazakhstan's TNC Kazchrome VC showed no mercy to Club Singapore to crush the lower-ranked side in a completely one-sided battle 25-14 25-18 25-4 in just 64 minutes in the 9th-14th playoffs.
The other match saw Turkmenistan's Galkan in a tense encounter with Hong Kong China's Dragon Team before winning 3-2 (25-21 19-25 25-18 18.25 15-11) in exhausting 120 minutes.
On Monday, the last day of the playoff round, Sri Lanka Ports Authority Sports Club take on Vietnam's Ho Chi Minh City, Varamin Municipality set up a mighty clash with Panasonic Panthers, Chennai Spartans meet Queensland Pirates and Taichung Bank face Al-Rayyan in the top-eighth playoff matches, while Polri Samator Indonesia take on Dragon Team and Est Cola play Club Singapore in the 9th-14th playoffs.
Related links of AVC
AVC Website: click www.asianvolleyball.net
AVC Facebook: click www.Facebook.com/AsianVolleyballConfederation
AVC Twitter: click: https://twitter.com/avcvolley
AVC Instagram: click: https://www.instagram.com/avcvolley/?hl=en
AVC Youtube: click: Asian Volleyball Confederation
AVC WeChat: Asian Volleyball Confederation