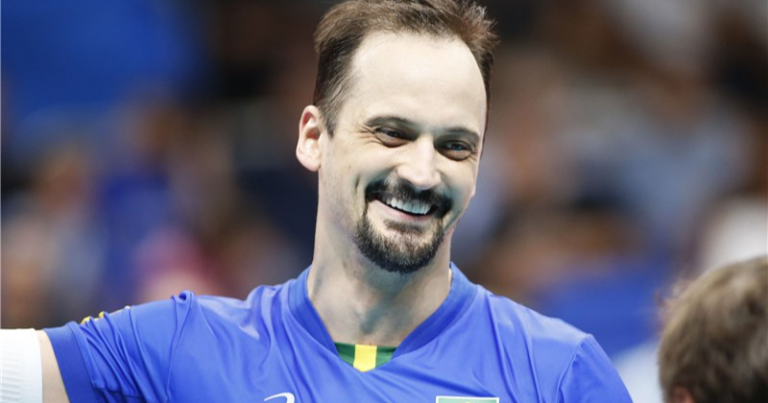 JTEKT are one match behind Wolfdogs Nagoya for last playoff spot
The JTEKT Stings faced JT Thunders Hiroshima in their two matches in the Japanese V1 Men's League over the weekend. On Saturday, Brazilian Luiz Felipe "Lipe" Fonteles contributed 18 points including two blocks in the 3-1 win for the Stings. In Sunday's match, he also contributed 15 with two blocks and two aces, while Yuji Nishida was explosive with 30 points, including six blocks and four aces. Nishida gets most of the press as the team's superstar, but Lipe Fonteles has been critical to the Stings' return to playoff contention this season.
Wolfdogs Nagoya took on the Panasonic Panthers in a battle between two Polish superstars, Bartosz Kurek for Nagoya and Michal Kubiak for Panasonic. Panthers opposite Kunihiro Shimizu basically played Kurek to a draw with 43 points (one ace and one block) in the two matches, while Kurek had 45 points (one block and three aces). However, over both days, Panasonic had fewer hitting errors and serve errors, which kept the Wolfdogs from winning a single set. Both matches finished 3-0 for the Panthers allowing them to jump into second place. The two wins by JTEKT and the two losses by Nagoya brought the Stings within one win of tying for third place with the Wolfdogs.
Suntory Sunbirds dominated their two matches with Oita Miyoshi Weisse Adler, with 3-0 sweeps. Suntory's magic number (combination of wins and JTEKT losses) for making the playoffs is seven.
FC Tokyo and Sakai Blazers split their two matches, Sakai coming behind from a 2-1 deficit on Saturday to win 3-2 and Tokyo winning 3-1 on Sunday.
In Saturday's match for the Toray Arrows and VC Nagano Tridents, both teams had to battle not only each other, but also fatigue. The encounter stretched to four sets with playing time extending to two hours and 24 minutes. The match had 48 points that were played in extra points (past a 25-23 or 24-24 score).
So essentially an entire set was played with neither team having more than a one or two point lead.
In the first set, Toray used two Krisztian Padar points and a block to have a 3-0 run at 22-22 and win the set 25-22.
The second set alone took 47 minutes to play. Toray had two set points at 24-22, but a service error and a hitting error by the Arrows tied the score at 24-24.
Toray had 14 set points (in addition to the two earlier ones), while Nagano only had 3 set points. At 41-41 Padar spiked for Toray and then served an ace to give Toray the set 43-41, and a 2-0 set lead.
The third set was not as long and Nagano had a 24-21 lead, but could not hold it with Padar tying at 24-24 through two spikes. Indonesian Rivan Nurmulki spiked on back-to-back points for Nagano to give them the set 27-25, Toray 2-1 sets.
The fourth set had Toray at match point 24-23, but Nurmulki finished to push the match to extras at 24-24. Padar killed for the Arrows to make it 28-27 and another match point. Nurmulki got a swing for Nagano, but Takaaki Tomimatsu blocked him to end the set 29-27 and the match 3-1 to Toray.
Padar finished with 43 points (2 blocks and 2 aces), 39 kills on 73 swings. His teammate Kentaro Takahashi had 12 points (3 blocks and 3 aces) in the win. Nurmulki for Nagano finished with 37 points (2 aces), 35 kills on 28 swings in the loss.

Match results for February 19, 2021
Toray Arrows – VC Nagano Tridents 3-1 (25-20, 25-20, 22-25, 25-15)
Match results for February 20, 2021
JTEKT Stings – JT Thunders Hiroshima 3-1 (20-25, 25-21, 25-17, 25-21)
Sakai Blazers – FC Tokyo 3-2 (17-25, 25-18, 19-25, 25-20, 16-14)
Panasonic Panthers – Wolfdogs Nagoya 3-0 (25-22, 25-22, 25-22)
Suntory Sunbirds – Oita Miyoshi Weisse Adler 3-0 (25-21, 25-22, 25-16)
Toray Arrows – VC Nagano Tridents 3-1 (25-22, 43-41, 25-27, 29-27)
Match results for February 21, 2021
JTEKT Stings – JT Thunders Hiroshima 3-1 (25-14, 25-21, 21-25, 25-19)
FC Tokyo – Sakai Blazers 3-1 (20-25, 25-23, 25-21, 25-19)
Panasonic Panthers – Wolfdogs Nagoya 3-0 (27-25, 25-18, 25-23)
Suntory Sunbirds – Oita Miyoshi Weisse Adler 3-0 (25-16, 25-15, 25-21)
Related links of AVC
AVC Website: click www.asianvolleyball.net
AVC Facebook: click www.Facebook.com/AsianVolleyballConfederation
AVC Twitter: click: https://twitter.com/avcvolley
AVC Instagram: click: https://www.instagram.com/avcvolley/?hl=en
AVC Youtube: click: Asian Volleyball Confederation
AVC WeChat: Asian Volleyball Confederation