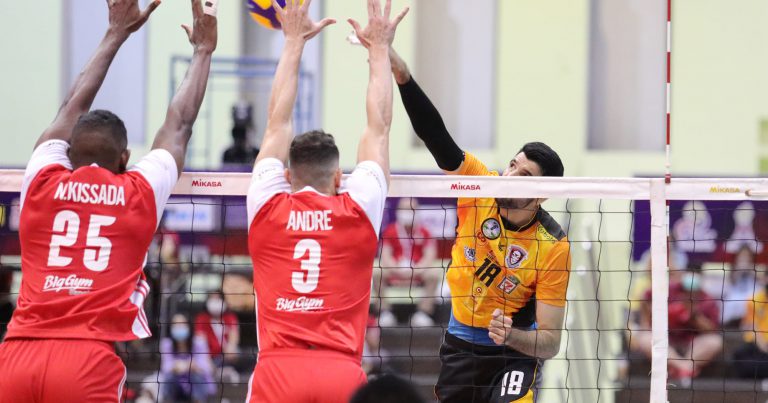 Photos courtesy of Thailand Volleyball Association
Bangkok, Thailand, April 4, 2021 – Defending and six-time champions Nakhon Ratchasima The Mall's VC stopped Diamond Food's remarkable unbeaten run in the men's event, but their women's squad went down to star-studded Diamond Food in their last first-leg match of the Daikin Volleyball Thailand League Finals at The Mall Bangkapi's MCC Hall on Sunday.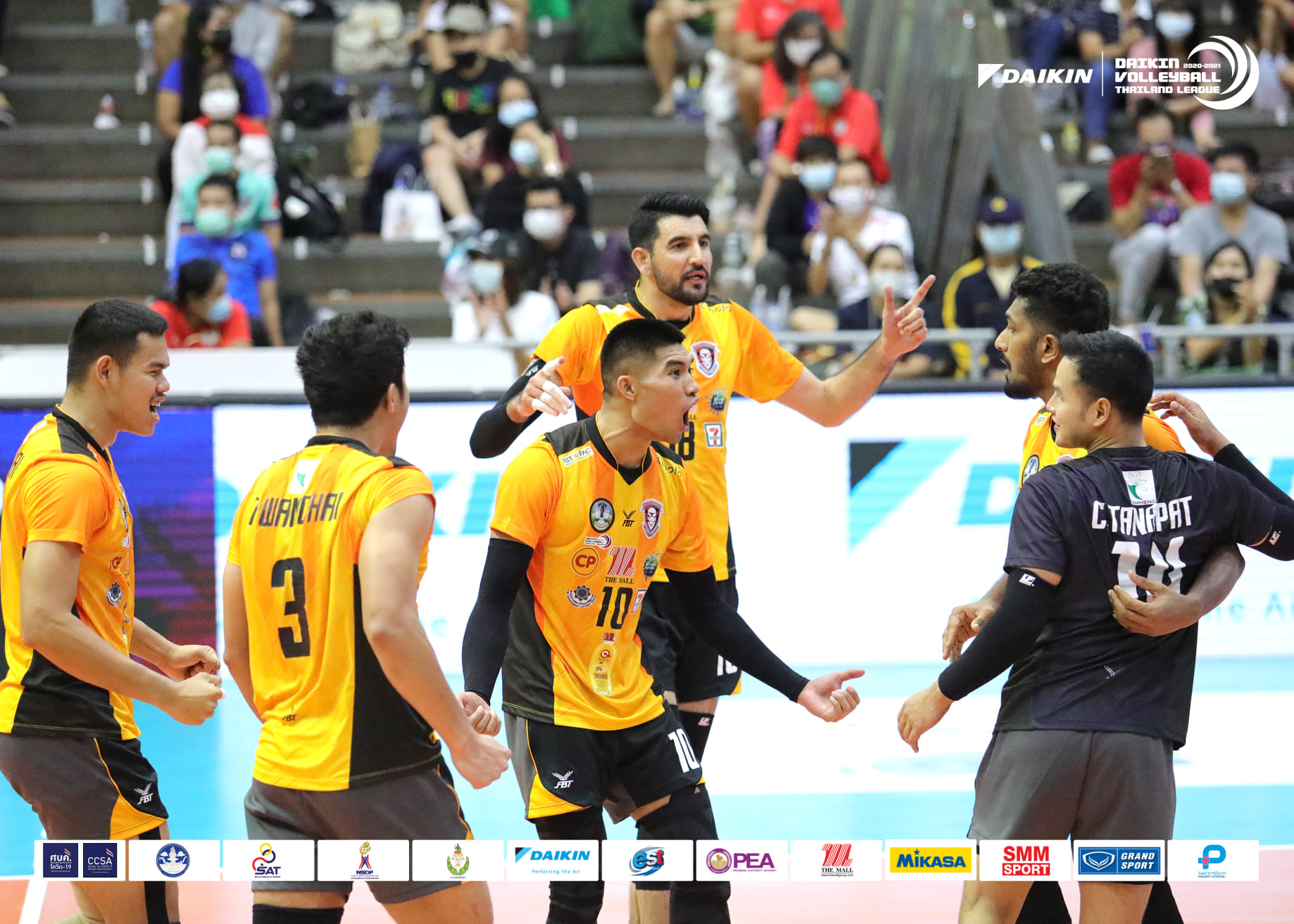 On Sunday, the last day of the first leg, Nakhon Ratchasima and Diamond Food set up a tough clash of the two unbeaten teams. Both sides had the similar 6 points from two straight wins and the highly-anticipated match would decide the eventual first-leg winners with a clean sweep.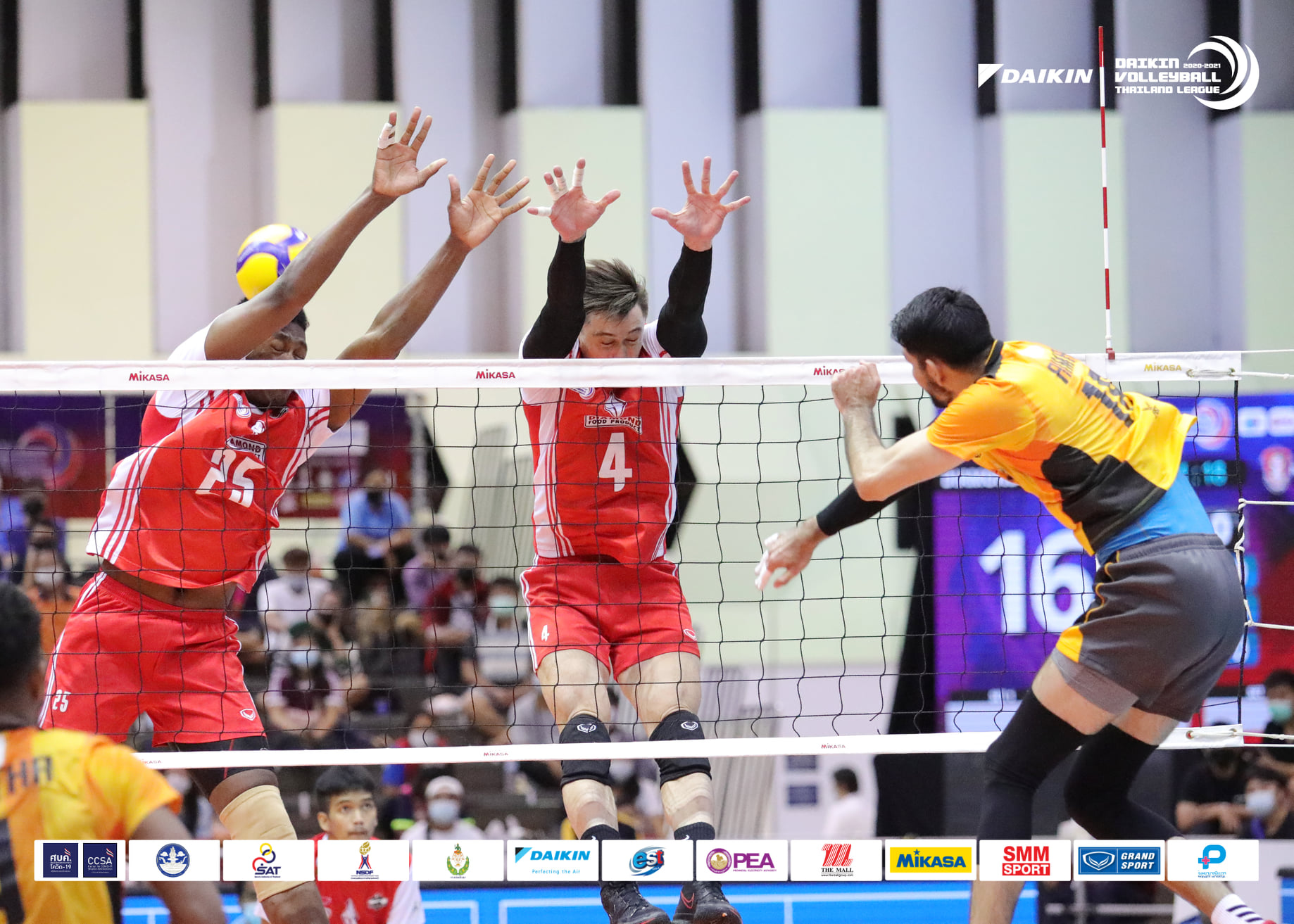 As Pakistani cannon Aimal Khan, Sri Lankan hitter Janitha Surath and hard-hitting Wanchai Tabwises were the backbone of Nakhon Ratchasima, Diamond Food fielded a strong lineup led by Kittikun Sriutthawong, Jirayu Raksakaew and two Brazilians, Luiz Perotto and Andre Luiz Queiroz Franca.
Aimal was a focal point in the Nakhon Ratchasima's attacks in the first set as he punctured the rivals' defence with his sharp spikes and solid blocking to help the team clinch the opening set in strong fashion 25-20.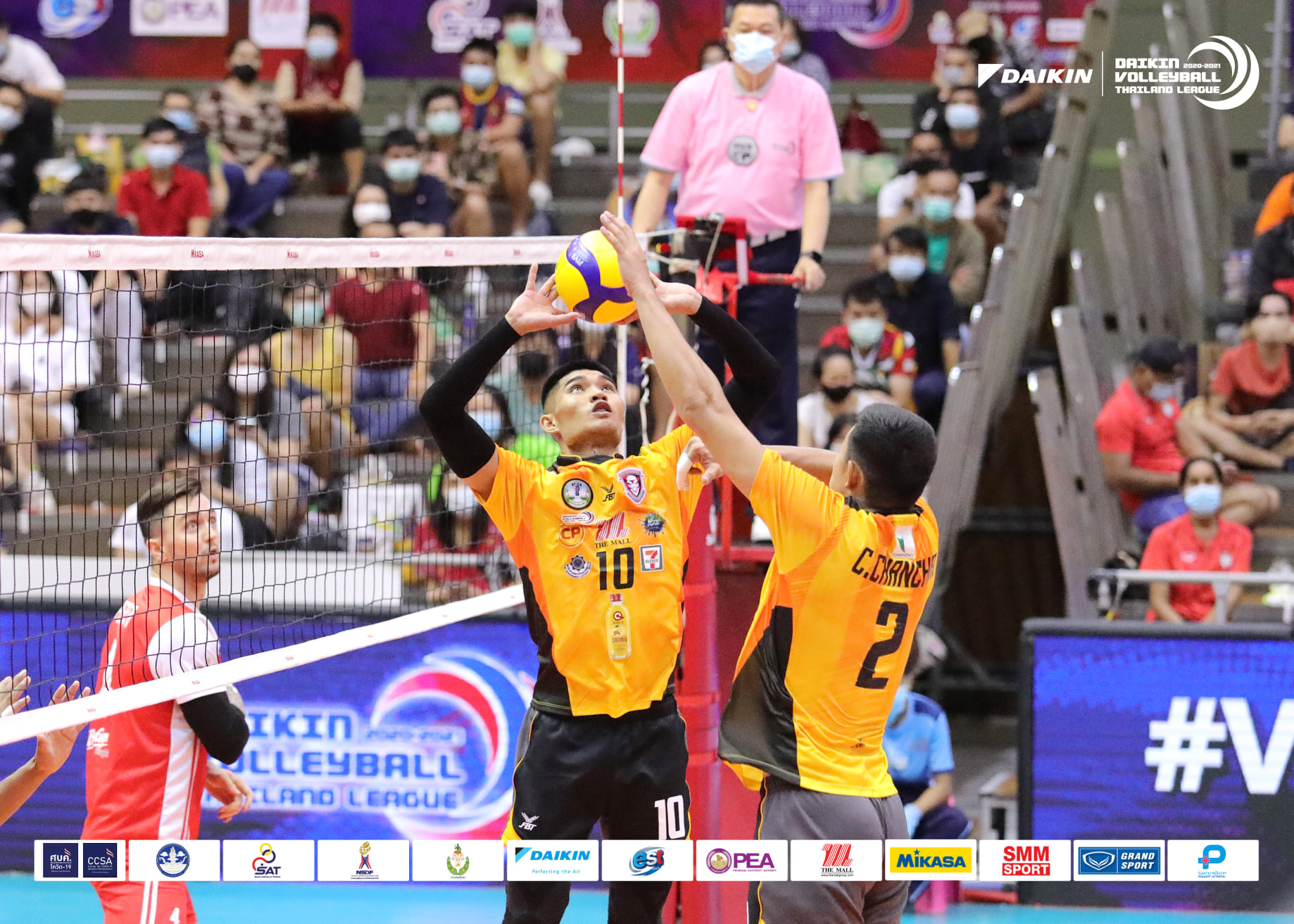 Nakhon Ratchasima still took control of the second set from the outset, racing to a commanding 17-10 lead. Diamond Food replaced Perotto with Kantapat Koonmee with determined efforts of improving their game. Still, Nakhon Ratchasima continued their exceptional teamwork and form.
Aimal became a constant threat from spike range and Boonyarid Wongthorn's and Aimal's well-placed serving and blocking ability proved thorns in the Diamond Food's attacks. Nakhon Ratchasima claimed the one-sided set 25-16 to stretch the lead to 2-0.
To improve their fortunes, Diamond Food roared back gallantly in the third set. Kittikun and Kantapat came up with wonderful spikes to score some crucial points to help the team close the margin at 23-23 before young star Sutthipong Donlakkham, who stands 200cm tall, overcame the smaller blockers with his devastating spike to move Diamond Food ahead 24-23, needing only one more point to win the set.
However, Diamond Food let the win slip through their fingers as Nakhon Ratchasima gradually pulled their game together and played more consistently to catch the tough rivals at 24-24 and 25-25 before advancing 26-25. Nakhon Ratchasima sent Thanat Bamrungphakdee into the court to serve for the set and he did not let the team down as he served an ace to end the rivals' challenge. Nakhon Ratchasima took the hard-fought set 27-25 and match.
Aimal Khan scored a match-high 19 points for Nakhon Ratchasima, while Wanchai Tabwises added 14 points.
In the other match, left-hander Amorntep Konhan steered Phitsanulok VC to a magnificent comeback 3-2 (20-25, 25-17, 22-25, 27-25, 15-11) win over Prince VC, led by veteran Kitsada Somkane.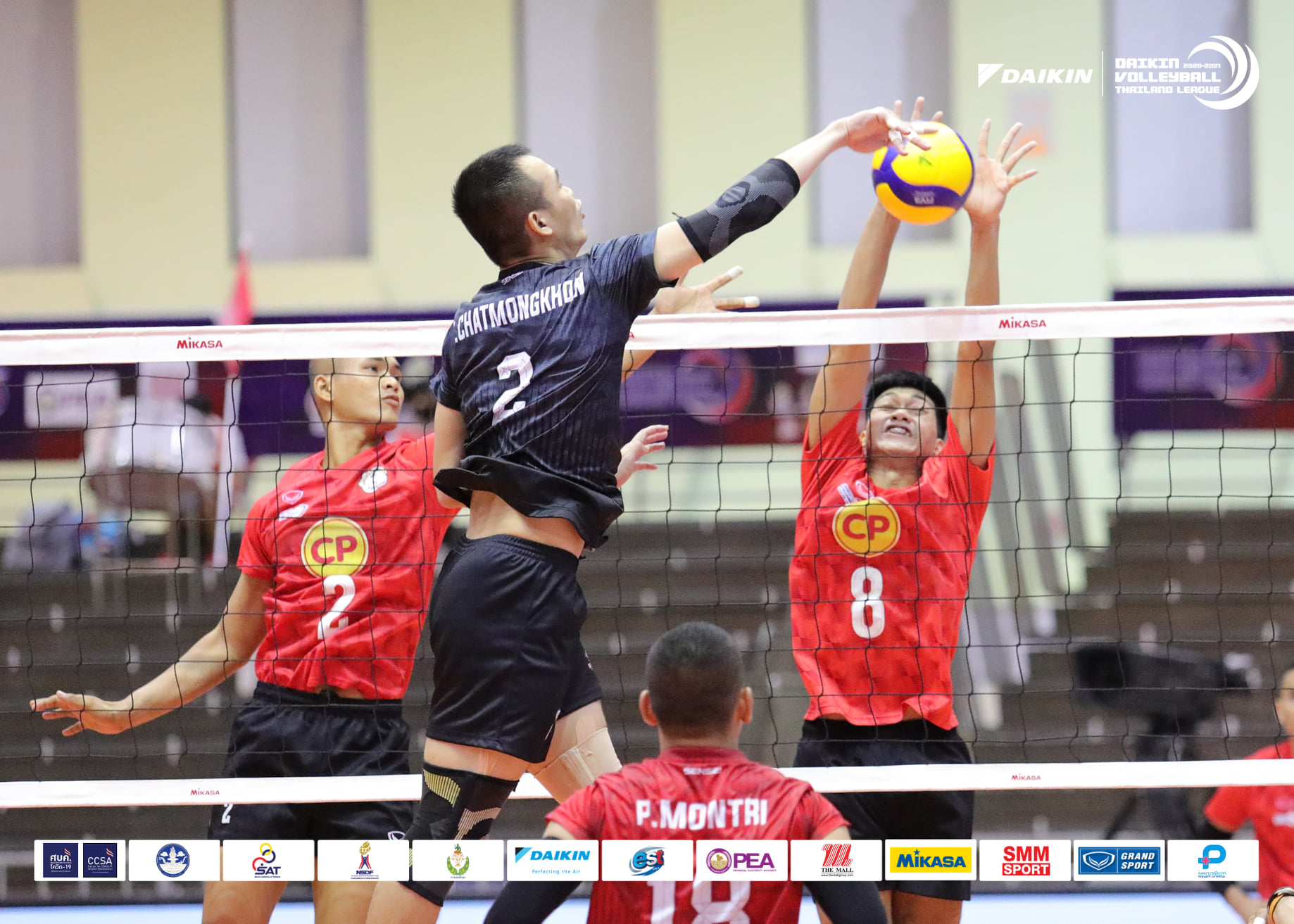 At the end of the first leg on Sunday, Nakhon Ratchasima led the charge with 9 points from three consecutive wins, followed by Diamond Food with 6 points from two wins against one loss. Phitsanulok VC bagged 2 points and winless Prince VC had no point.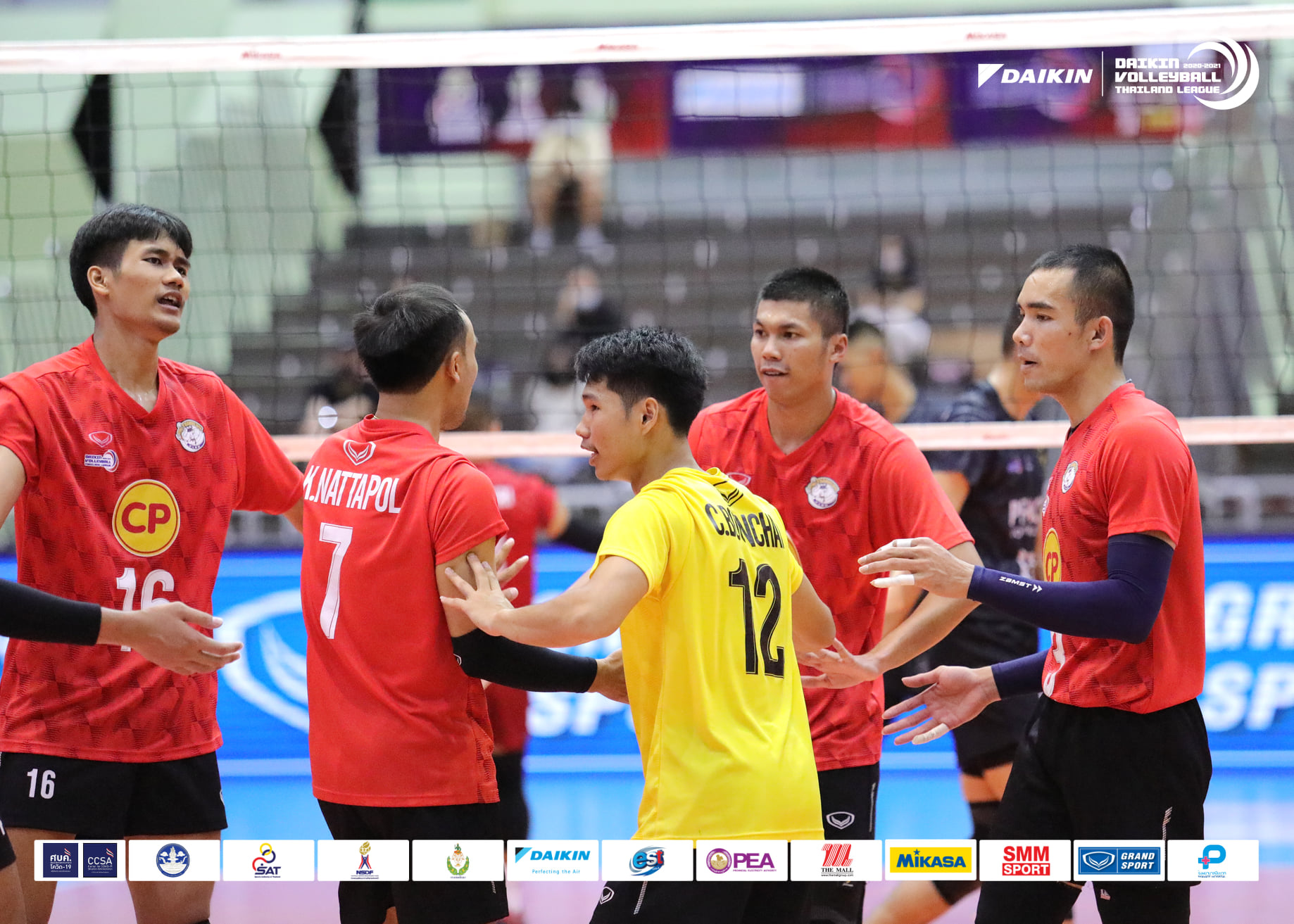 In the women's event, Diamond Food still proved that they are strongest this season. After beating 3BB Nakornnont and title-holders Supreme Chonburi E-Tech in the first two matches in the Final Four, Diamond Food continued their unbeaten streak on Sunday after breezing past the error-prone Nakhon Ratchasima in comfortable straight sets.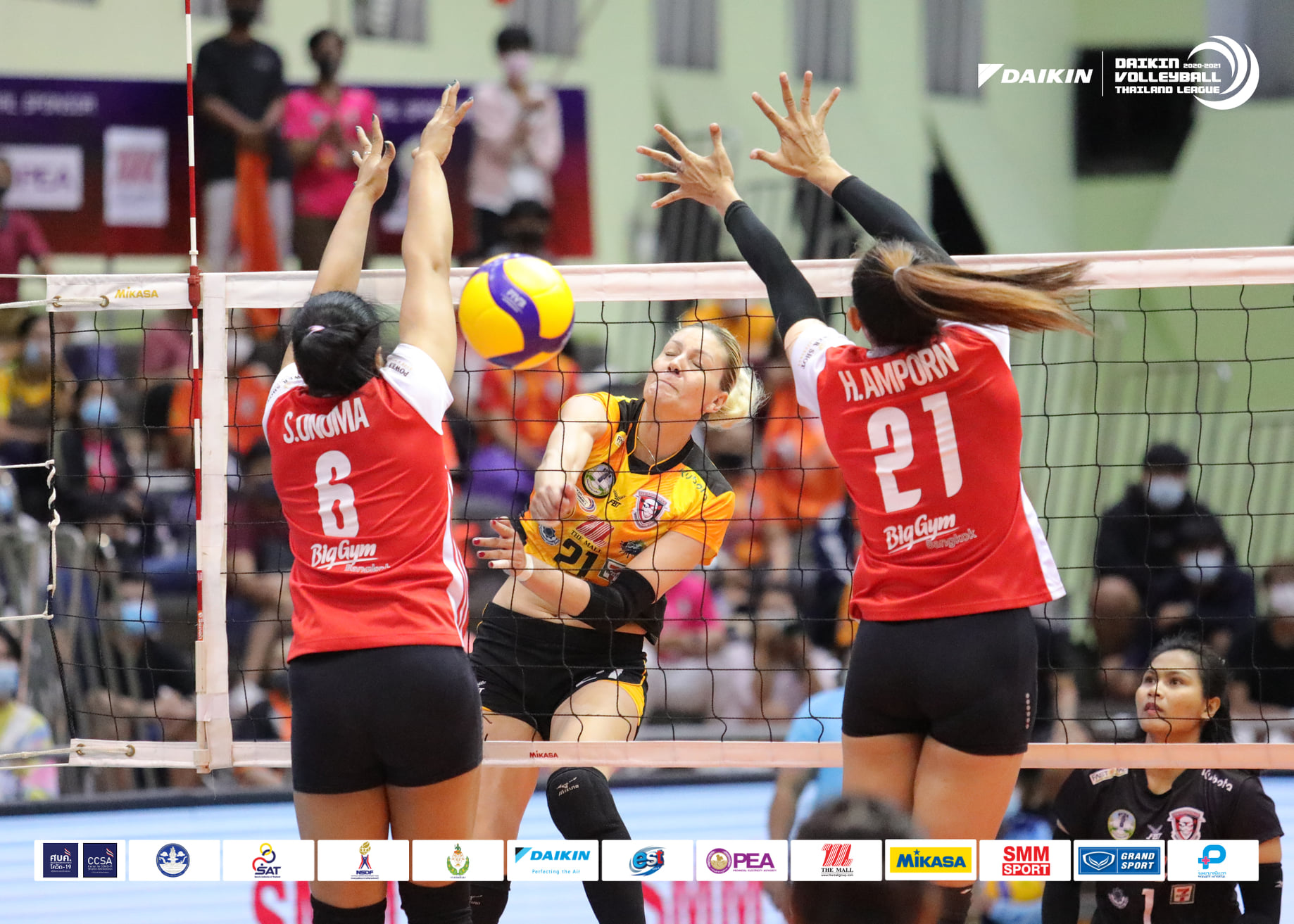 Hoping to make amends for the 1-3 loss to Diamond Food in their second-leg preliminary match, Nakhon Ratchasima relied on tall and towering Yeliz Basa from Turkey and sensation Chutchu-on Moksri. However, they still proved no match against the much stronger rivals.
Diamond Food, fielding more individual talents including highly-experienced setter Nootsara Tomkom, ace spikers Onuma Sittirak and Sasipaporn Chanthawhisut, cruised to a confident 3-0 (25-19, 25-15, 25-11) win against the former four-time champions.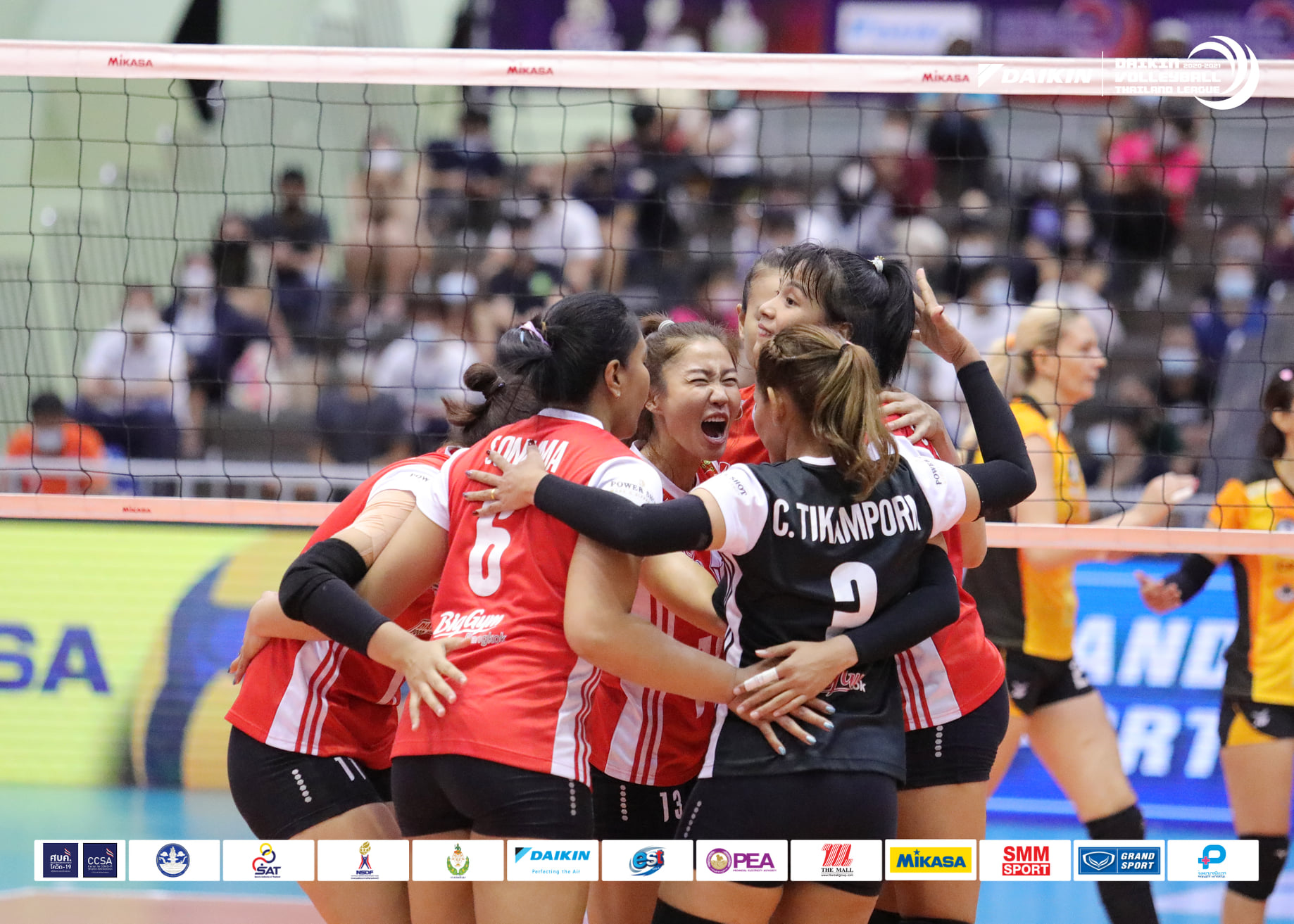 Onuma Sittirak scored 13 points for Diamond Food, while Nakhon Ratchasima's Yeliz Basa scored a game-high 14 points in a losing effort.
The other encounter saw defending champions Supreme, fielding veterans Wilavan Apinyapong and Pleumjit Thinkaow and hard-attacking Ajcharaporn Kongyot, power past 3BB Nakornnont in straight sets 25-18, 25-18, 25-16.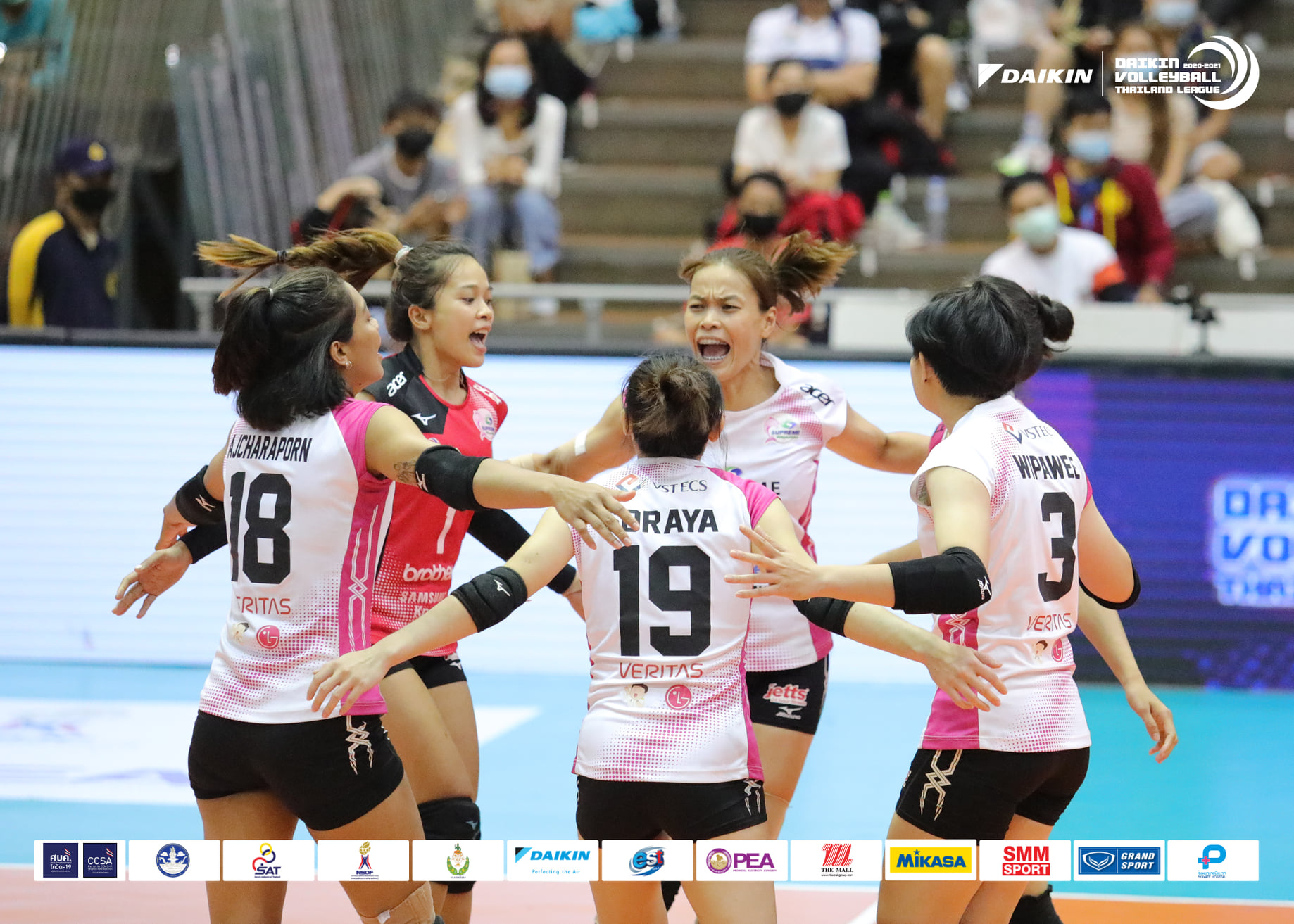 At completion of the first leg in the Finals on Sunday, Diamond Food, seeking their first-ever VTL champions this season, captured the pole position with 8 points from three successive wins. Nakhon Ratchasima came in second place with 6 points from two wins against one loss. Supreme and 3BB Nakornnont finished third and fourth places respectively.
All participating teams in both men's and women's events completed their first-leg campaigns on Sunday, while the second-leg encounters with the same round-robin format will resume next Friday, April 9 and continue until season-ending April 11. The team with the most wins and the highest accumulated points in each category will be crowned the 2020-2021 VTL champions.
FINAL FOUR RESULTS
FIRST LEG
Sunday, April 4
MEN
Phitsanulok VC b Prince VC 3-2 (20-25, 25-17, 22-25, 27-25, 15-11)
Nakhon Ratchasima The Mall's VC b Diamond Food VC 3-0 (25-20, 25-16, 27-25)
WOMEN
Diamond Food VC b Nakhon Ratchasima The Mall's VC 3-0 (25-19, 25-15, 25-11)
Supreme Chonburi E-Tech b 3BB Nakornnont 3-0 (25-18, 25-18, 25-16)
STANDING
MEN
1. Nakhon Ratchasima The Mall's VC 9 points (3 wins, no loss)
2. Diamond Food VC 6 points (2 wins, 1 loss)
3. Phitsanulok VC 2 points (1 win, 2 losses)
4. Prince VC 1 point (no win, 3 losses)
WOMEN
1. Diamond Food VC 8 points (3 wins, no loss)
2. Nakhon Ratchasima The Mall's VC 6 points (2 wins, 1 loss)
3. Supreme Chonburi E-Tech 4 points (1 win, 2 losses)
4. 3BB Nakornnont 0 point (no win, 3 losses)
SECOND LEG
Friday, April 9 to Sunday, April 11, 2021 at The Mall Bangkapi's MCC Hall
Related links of AVC
AVC Website: click www.asianvolleyball.net
AVC Facebook: click www.Facebook.com/AsianVolleyballConfederation
AVC Twitter: click: https://twitter.com/avcvolley
AVC Instagram: click: https://www.instagram.com/avcvolley/?hl=en
AVC Youtube: click: Asian Volleyball Confederation
AVC WeChat: Asian Volleyball Confederation