Photos courtesy of Thailand Volleyball Association
Bangkok, Thailand, April 11, 2021 – Diamond Food VC completed their Daikin Volleyball Thailand League 2020-2021 campaign with a bang on Sunday as they beat Nakhon Ratchasima The Mall's VC in both men's and women's events in their season-ending matches contested behind closed doors at The Mall Bangkapi's MCC Hall, but Nakhon Ratchasima stole the show to retain their men's title.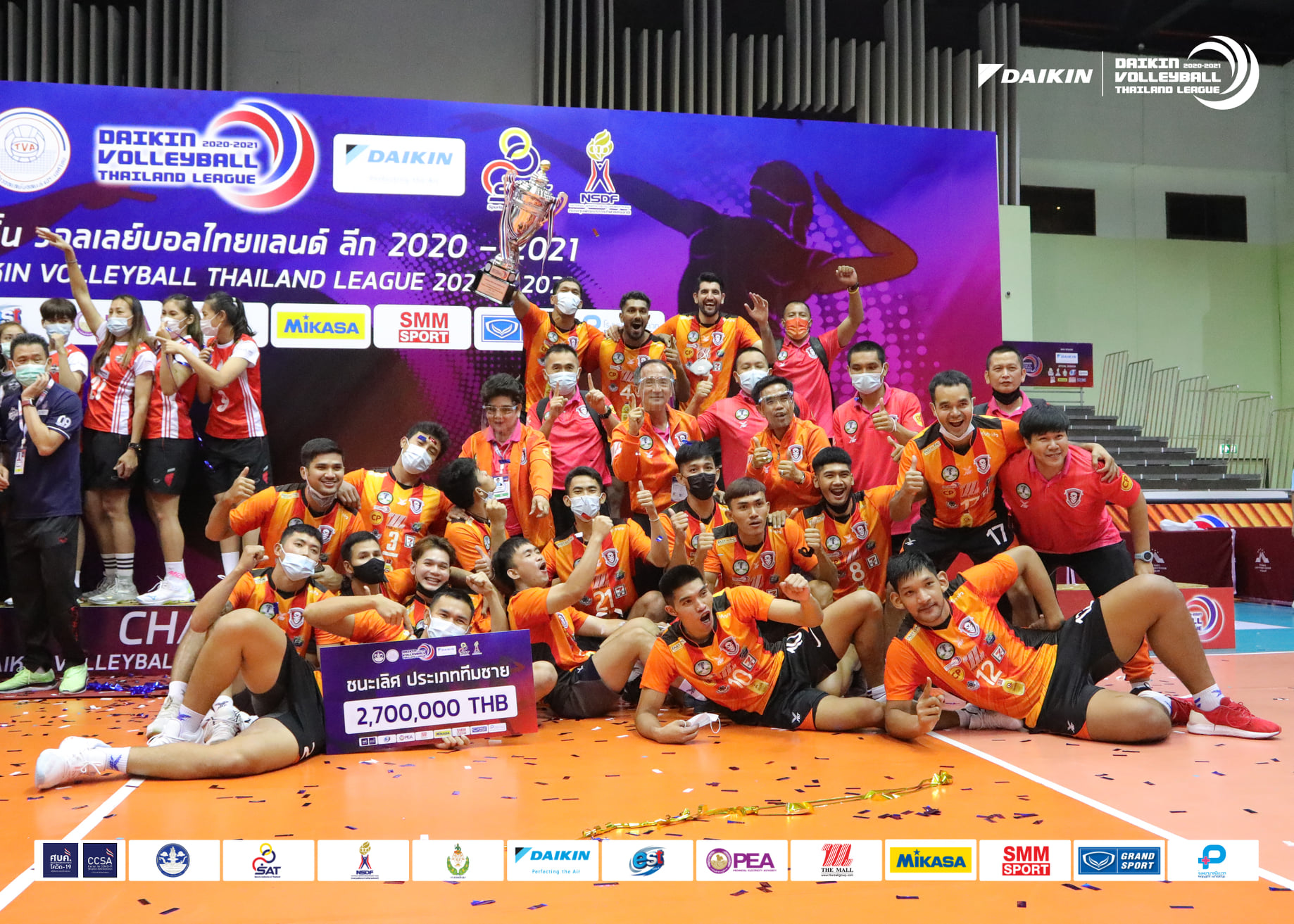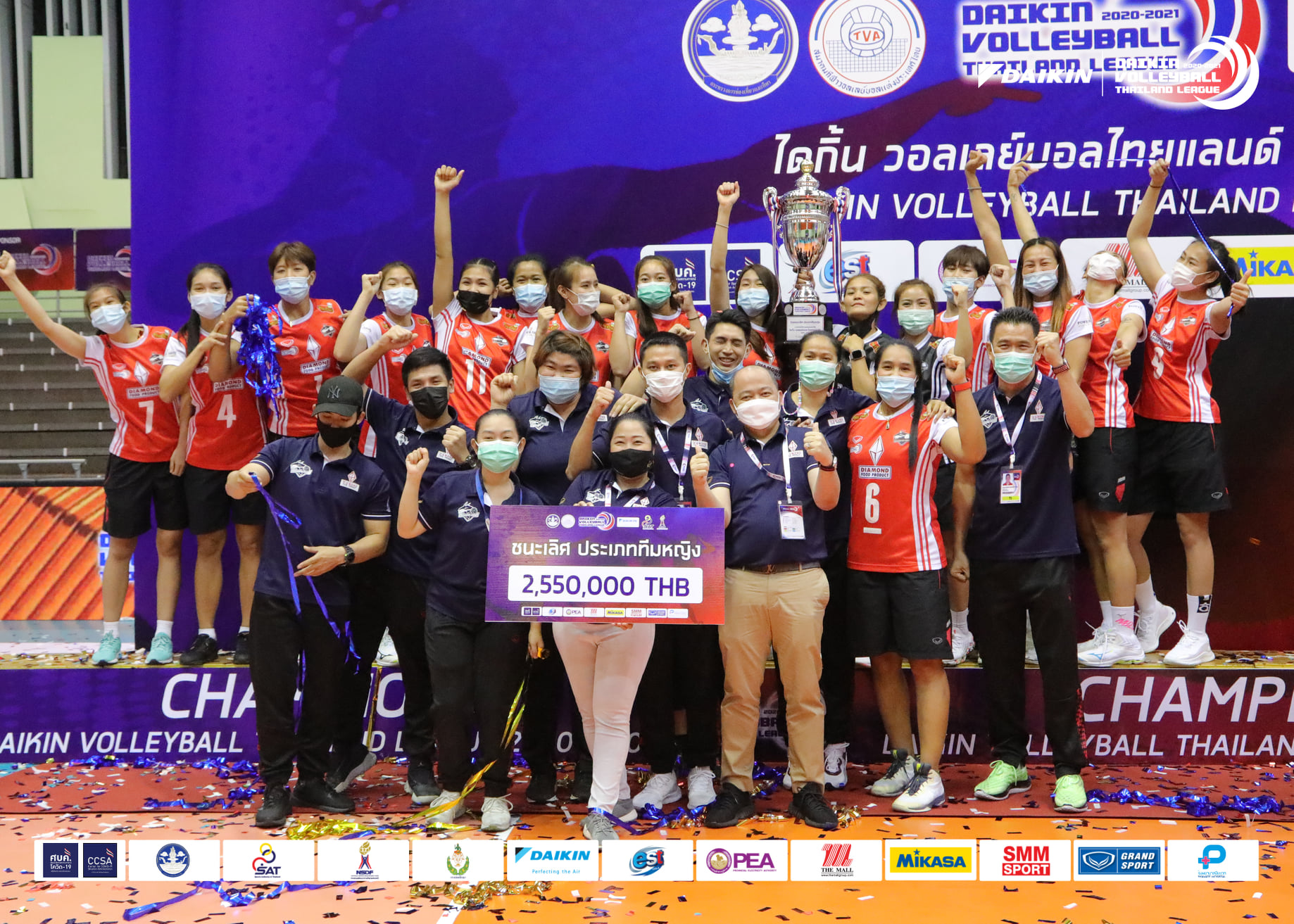 Nakhon Ratchasima had already captured the title in the Thailand's top-flight professional volleyball league earlier on Saturday due to their better sets ratio in comparison with Diamond Food's (the possible Sunday's match result had also been counted in advance to see the final ranking). Therefore, winning or losing in their last match against Diamond Food on Sunday, Nakhon Ratchasima would be finally crowned the men's VTL champions for sure.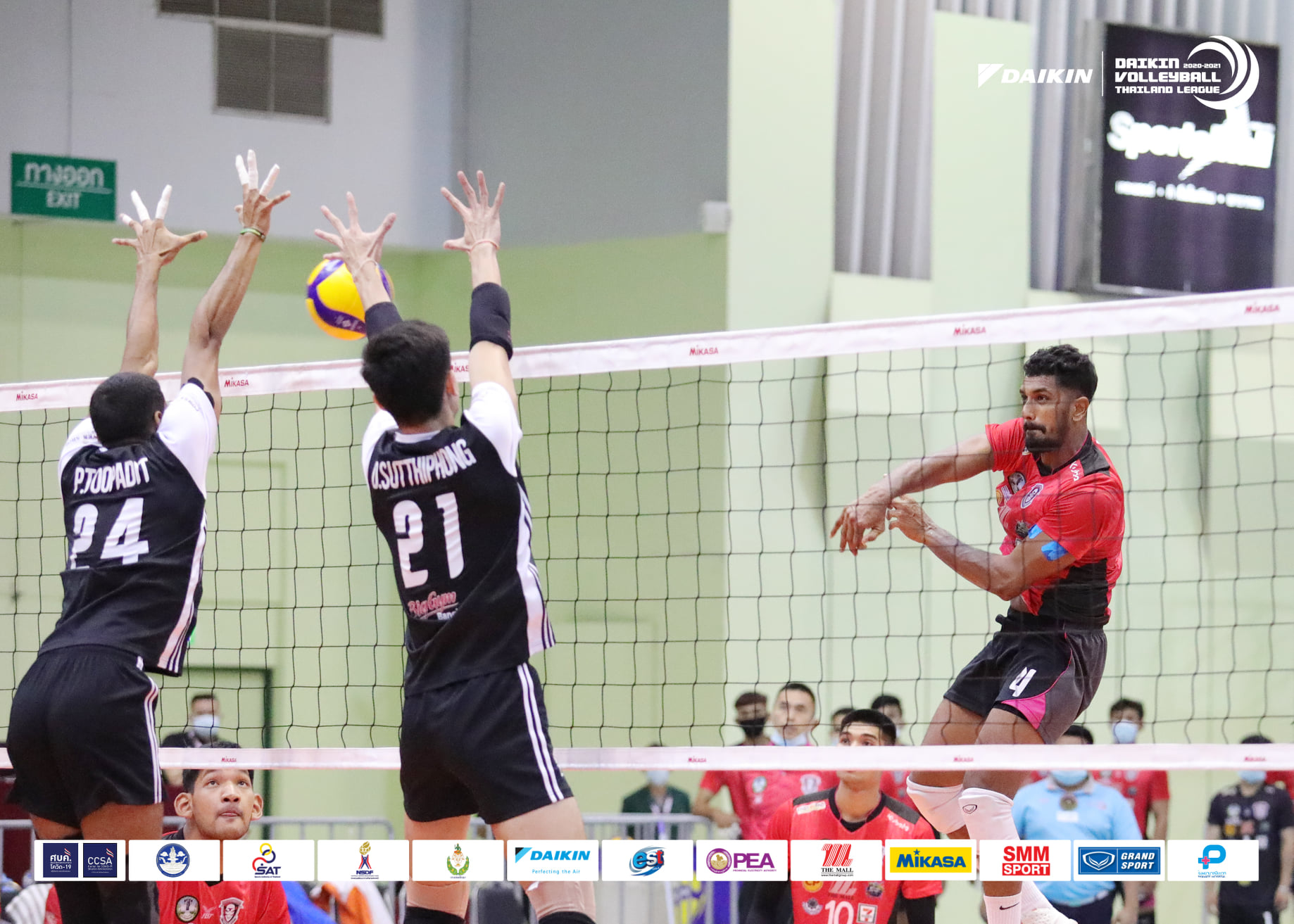 Against formidable Diamond Food, the team they had already beaten in straight sets in the round-robin, first week Finals, defending and six-time champions Nakhon Ratchasima rested Wanchai Tabwises in the opening set and instead fielded Jakkrit Chandahuadong. However, the squad remained strong offensively with the likes of Sri Lankan Janitha Surath and Pakistani Aimal Khan.
Diamond Food made a confident start to the match as the rivals had no answer for the irresistible Kantapat Koonmee, who continued to notch crucial points for the team in the first set, which they won 25-20.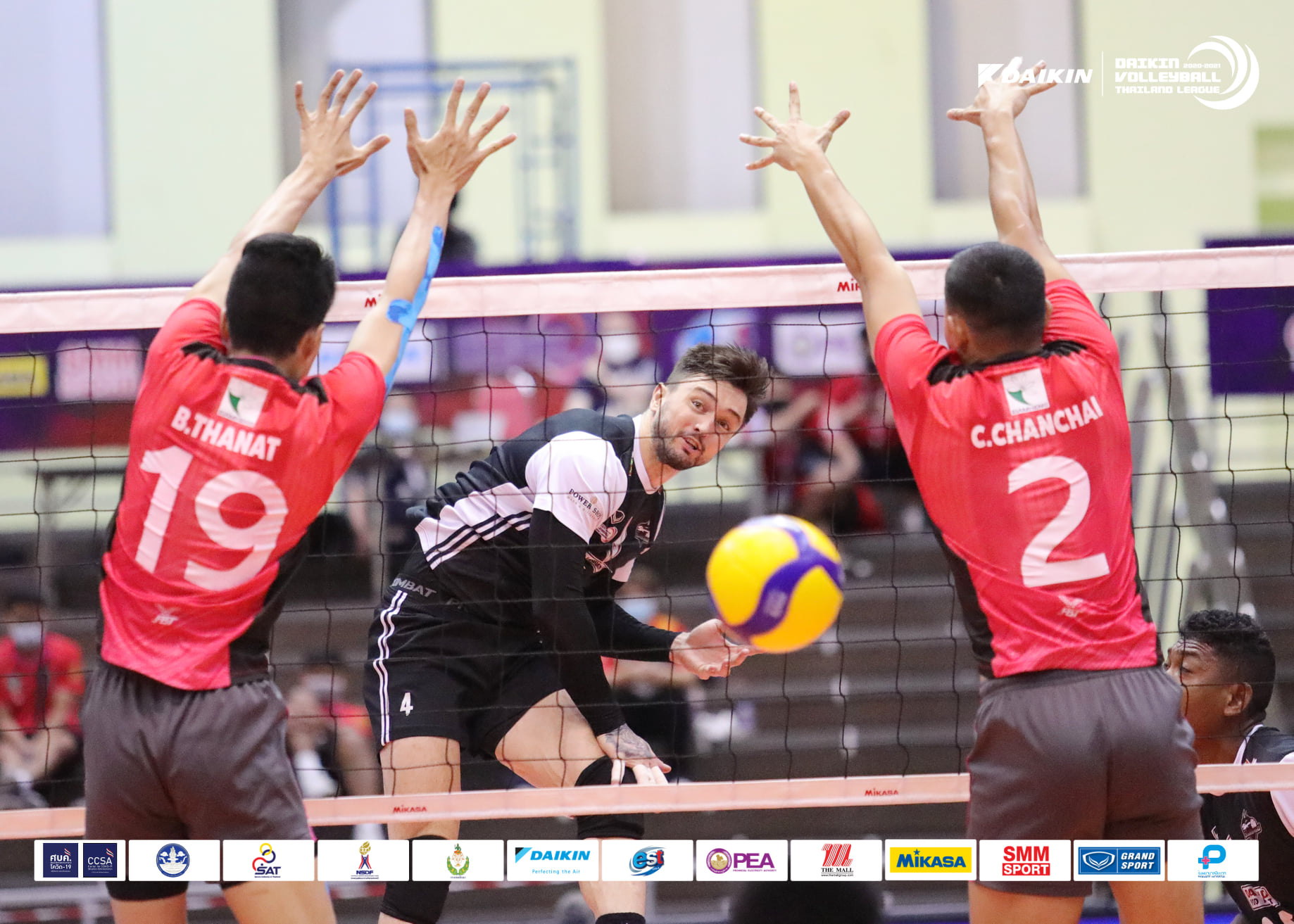 Aimal Khan and Janitha Surath were the driving forces of Nakhon Ratchasima for their strong comeback in the next two sets 25-20, 25-18.
Diamond Food gained the upper hand initially in the fourth set 9-5 and stretched the lead to 13-10. To improve their fortunes, Nakhon Ratchasima put their acts together to narrow the margin 17-18, but veteran Kittikun Sriutthawong and Brazilian Luiz Perotto brilliantly orchestrated the Diamond Food's offence. With the superb duo taking turns puncturing the rivals defence with their spectacular attacks, Diamond Food stormed on to win the set 25-19 for a 2-2 tie to force the decider.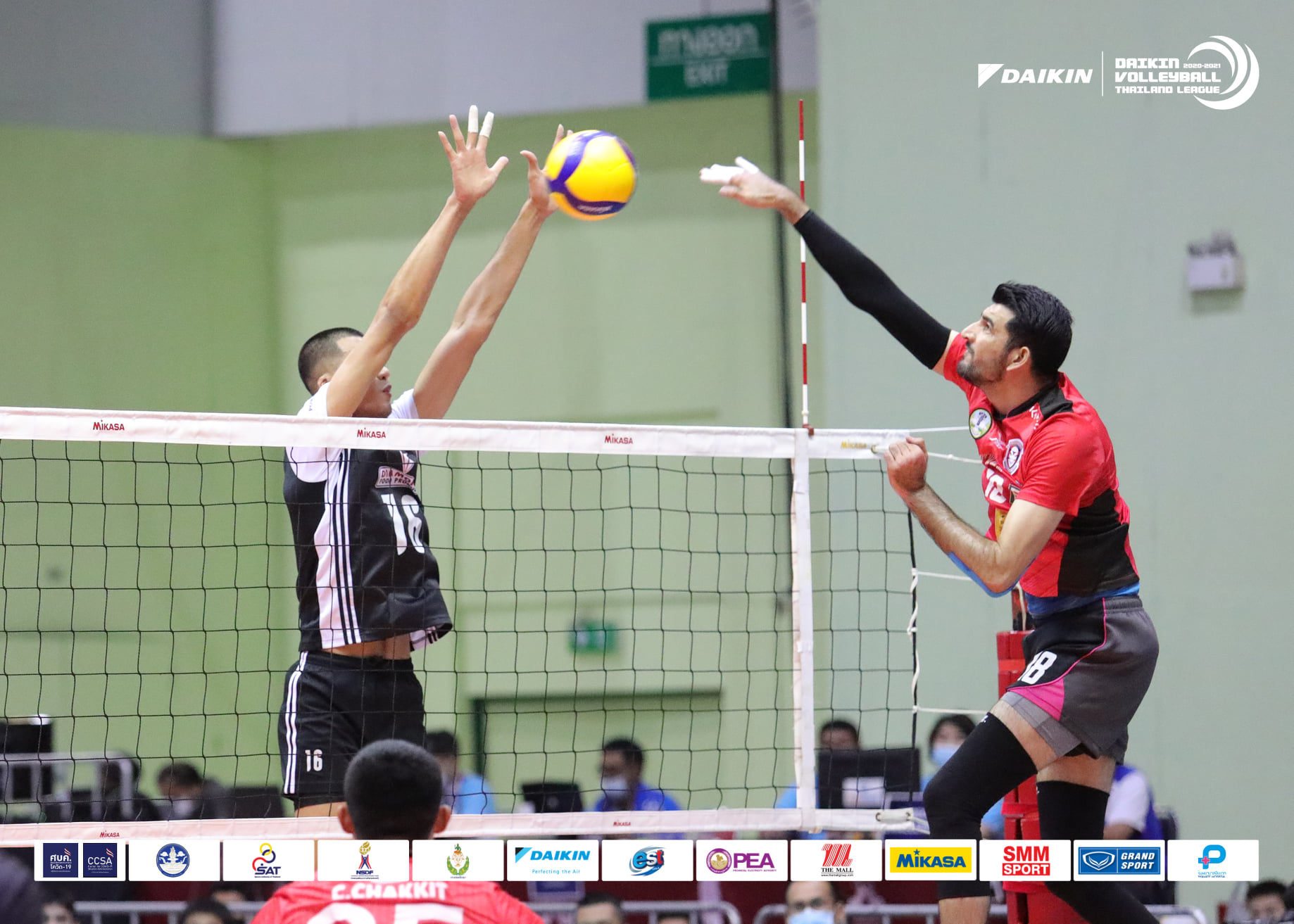 In the tie-breaker, Kittikun and Perotto still proved major forces for Diamond Food to be reckoned with as they combined extreme power to attack exceptionally well and help the team waltz into a 6-1 lead. As Diamond Food were working as a well-oiled machine, Nakhon Ratchasima tightened their defence and played more consistently to reduce the gap 9-11. Two thundering spikes and a well-placed serve from Kittikun moved Diamond Food ahead 14-11 before Nakhon Ratchasima net faulted which caused them dear. Diamond Food won the deciding set 15-11 and match.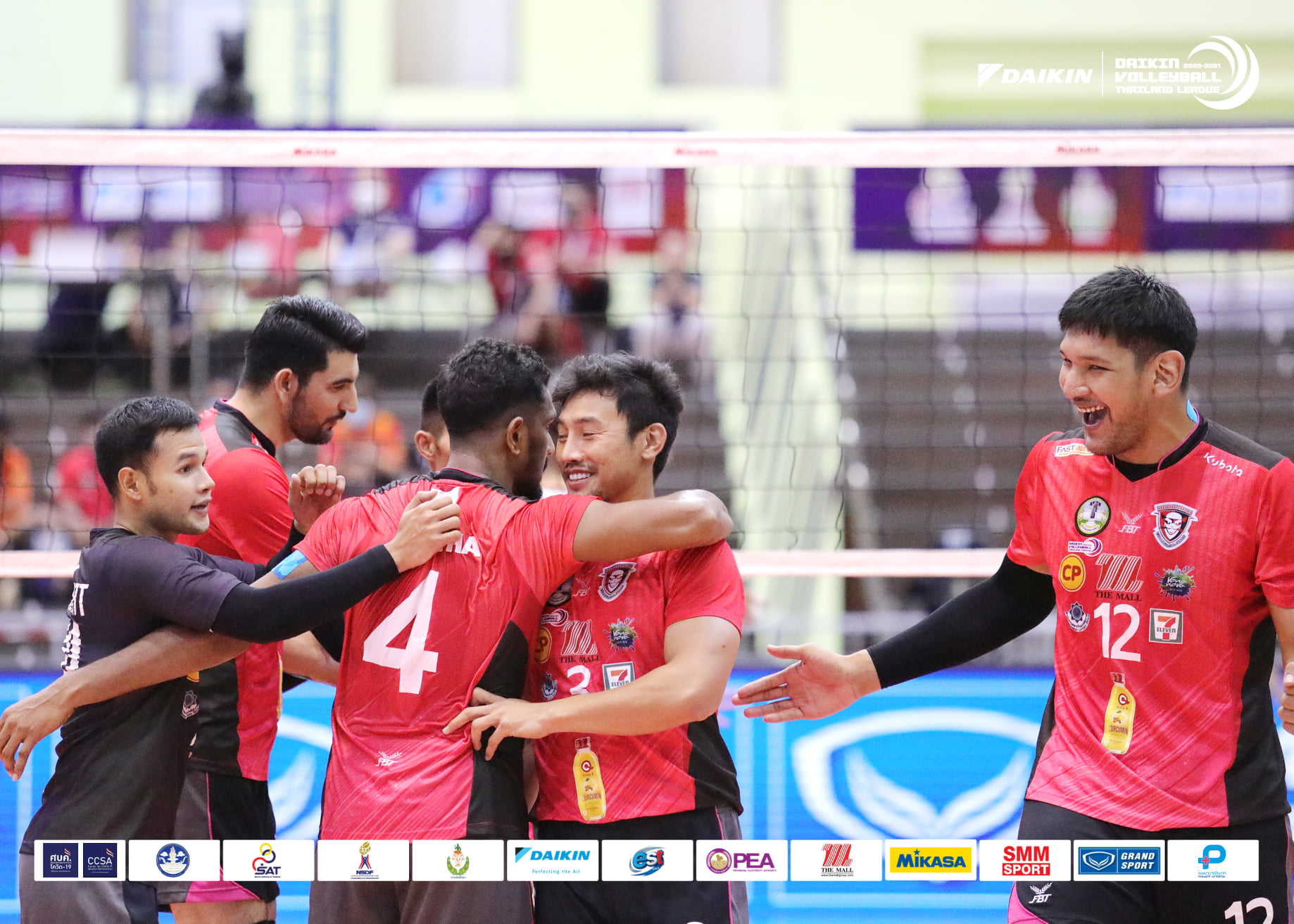 However, as Diamond Food were celebrating their win in this season-ending match, Nakhon Ratchasima were in jubilant mood as they danced cheerfully for their successful title defence in the Thailand League.
It was Nakhon Ratchasima's 7th title in the VTL. They had already captured the League title for six times consisting of 2007-2008, 2012-2013, 2013-2014, 2014-2015, 2017-2018 and 2019-2020. In the previous season (2019-2020), Nakhon Ratchasima stunned Diamond Food 3-2 in the final match to reign supreme.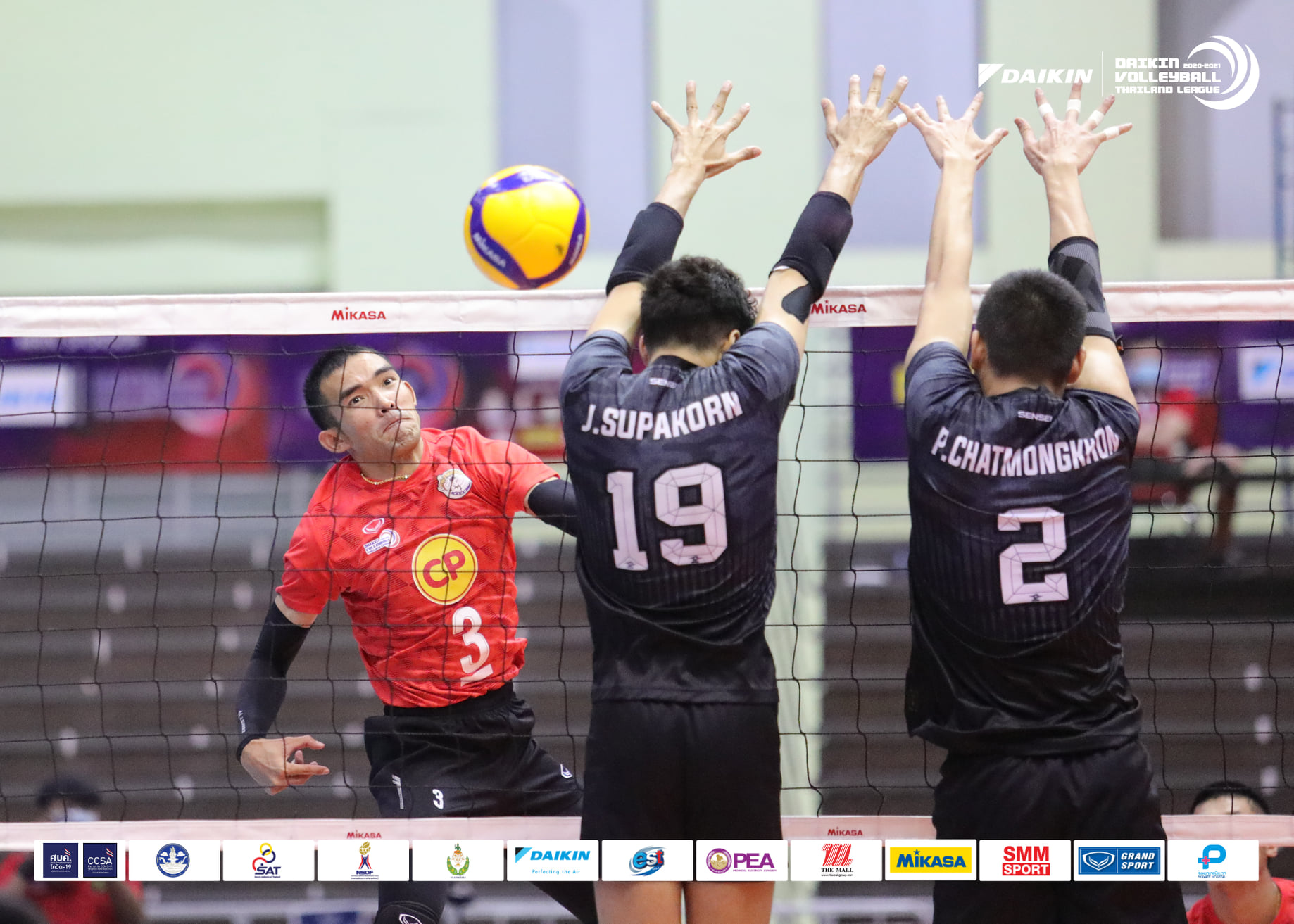 Earlier, Phitsanulok VC, steered by left-hander Amorntep Konhan, produced an epic comeback for the hard-fought five-set win 17-25, 21-25, 25-17, 25-18, 15-13 against Prince VC in their last match of the Final Four. Phitsanulok came in third place overall with 4 points from 2 wins against 4 losses, while winless Prince VC finished fourth with no point earned.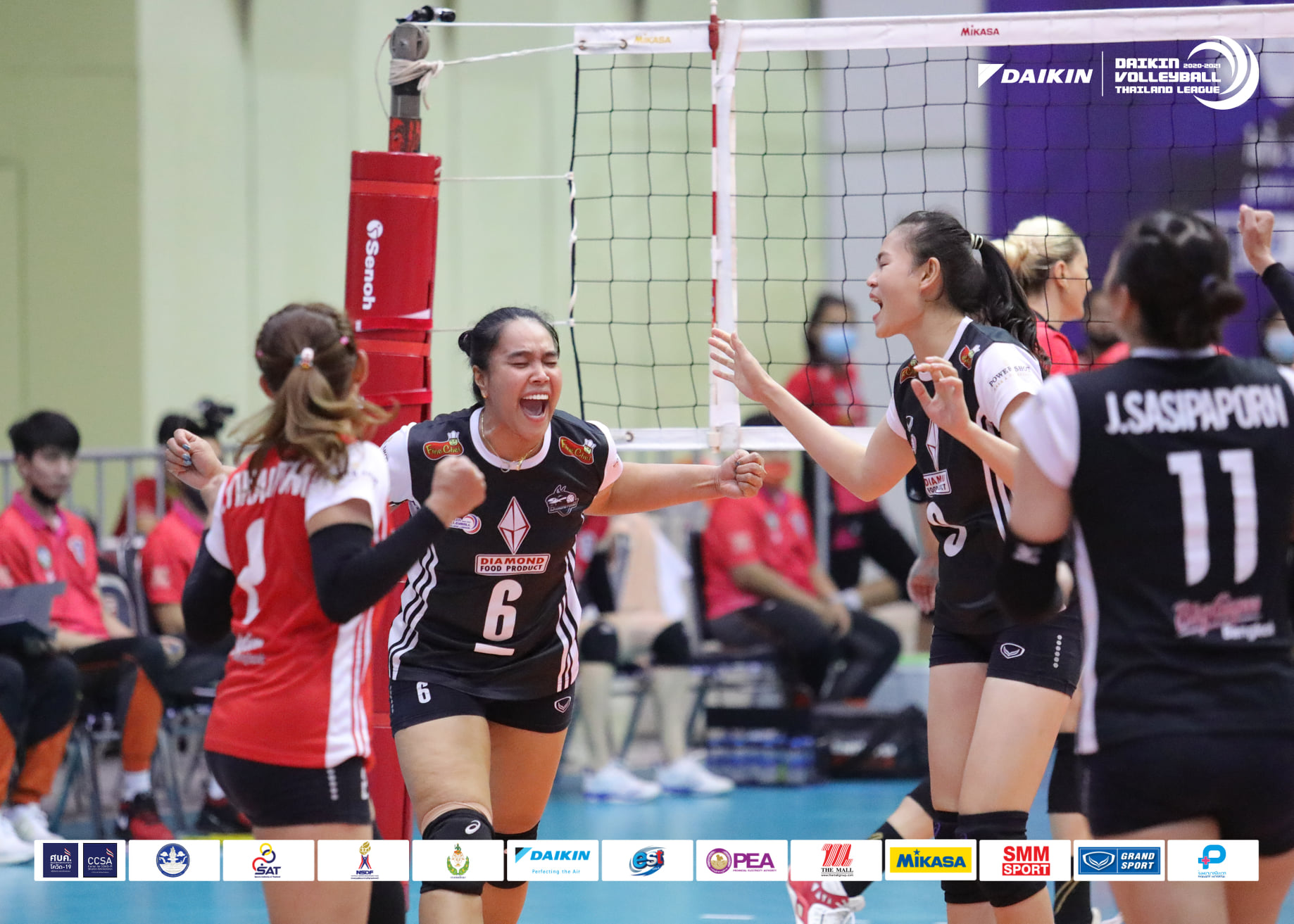 Meanwhile, star-studded Diamond Food VC were on cloud nine on Sunday. Fielding strong lineup including four veterans Onuma Sittirak, Malika Kanthong, Amphon Hyapha and highly-skilled setter Nootsara Tomkom, Diamond Food on Sunday pulled off a dramatic 3-1 (26-28, 25-19, 25-15, 25-23) triumph over Nakhon Ratchasima The Mall's VC, powered by talented Chutchu-on Moksri and Turkish Yeliz Basa.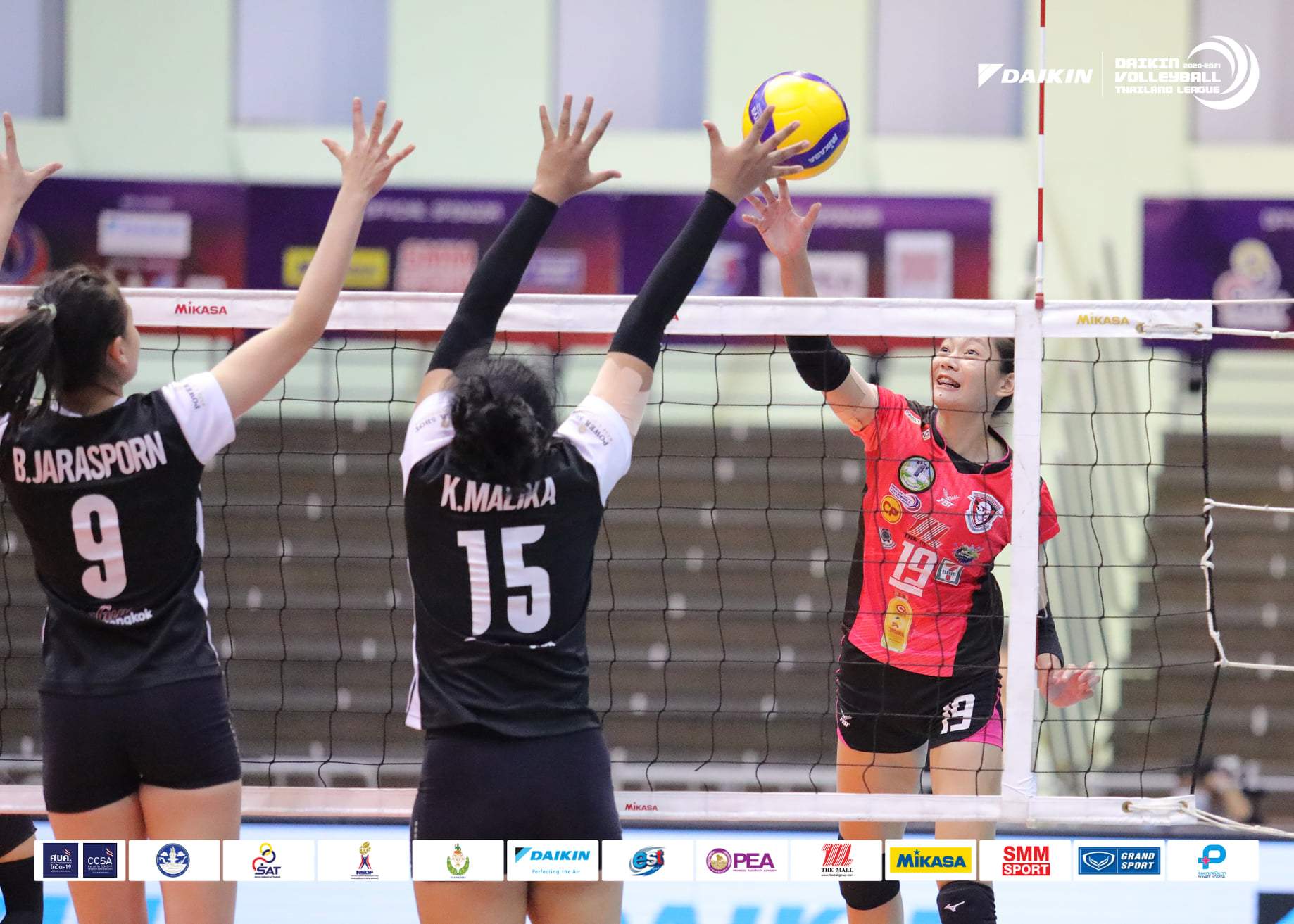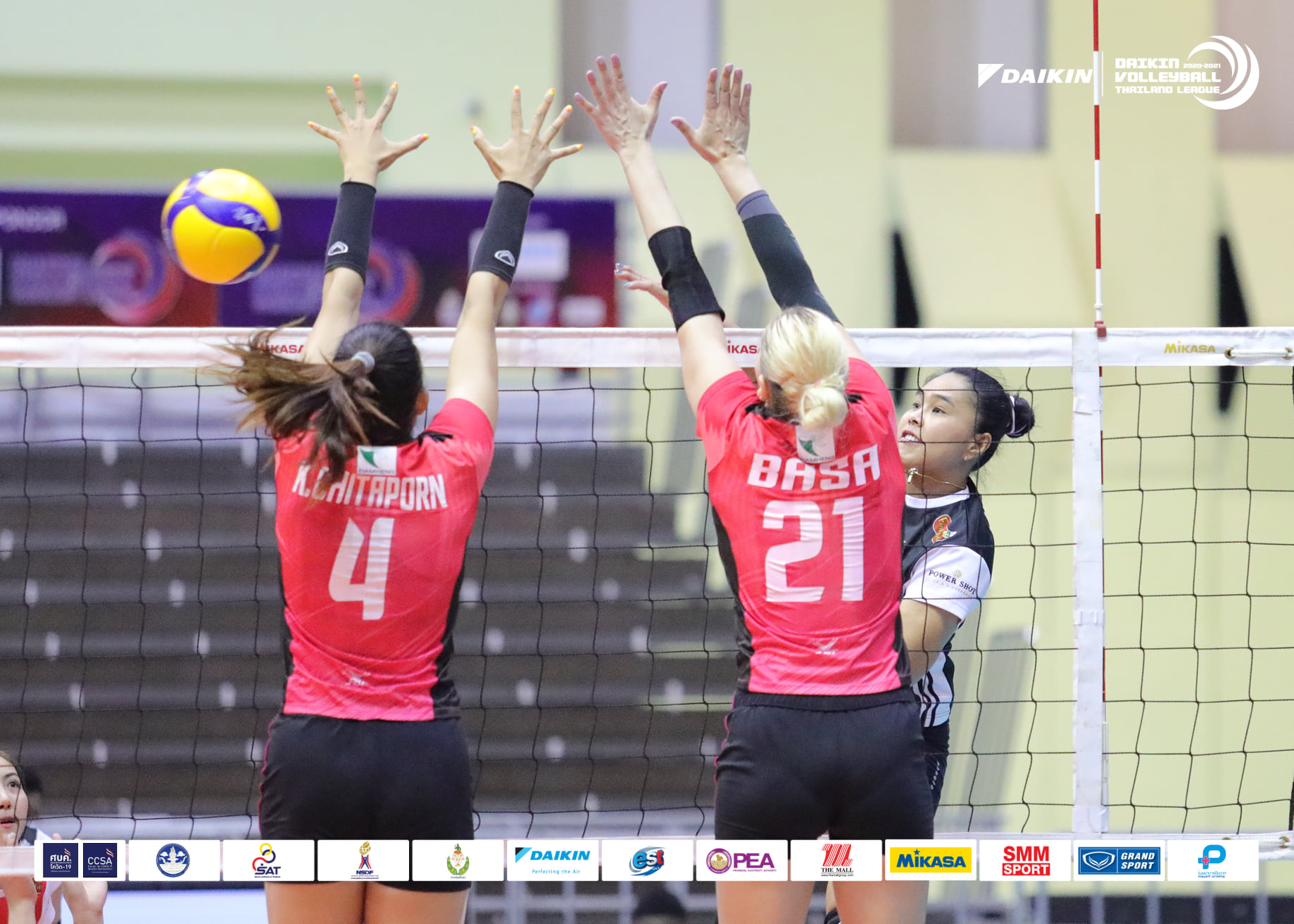 Diamond Food completed their Final Four campaign in the Thailand League 2020-2021 season with remarkable unbeaten record. They had 17 points from six straight wins in the Final Four to capture the women's title for the first time in history. Nakhon Ratchasima finished second place overall with 11 points from 4 wins against 2 losses.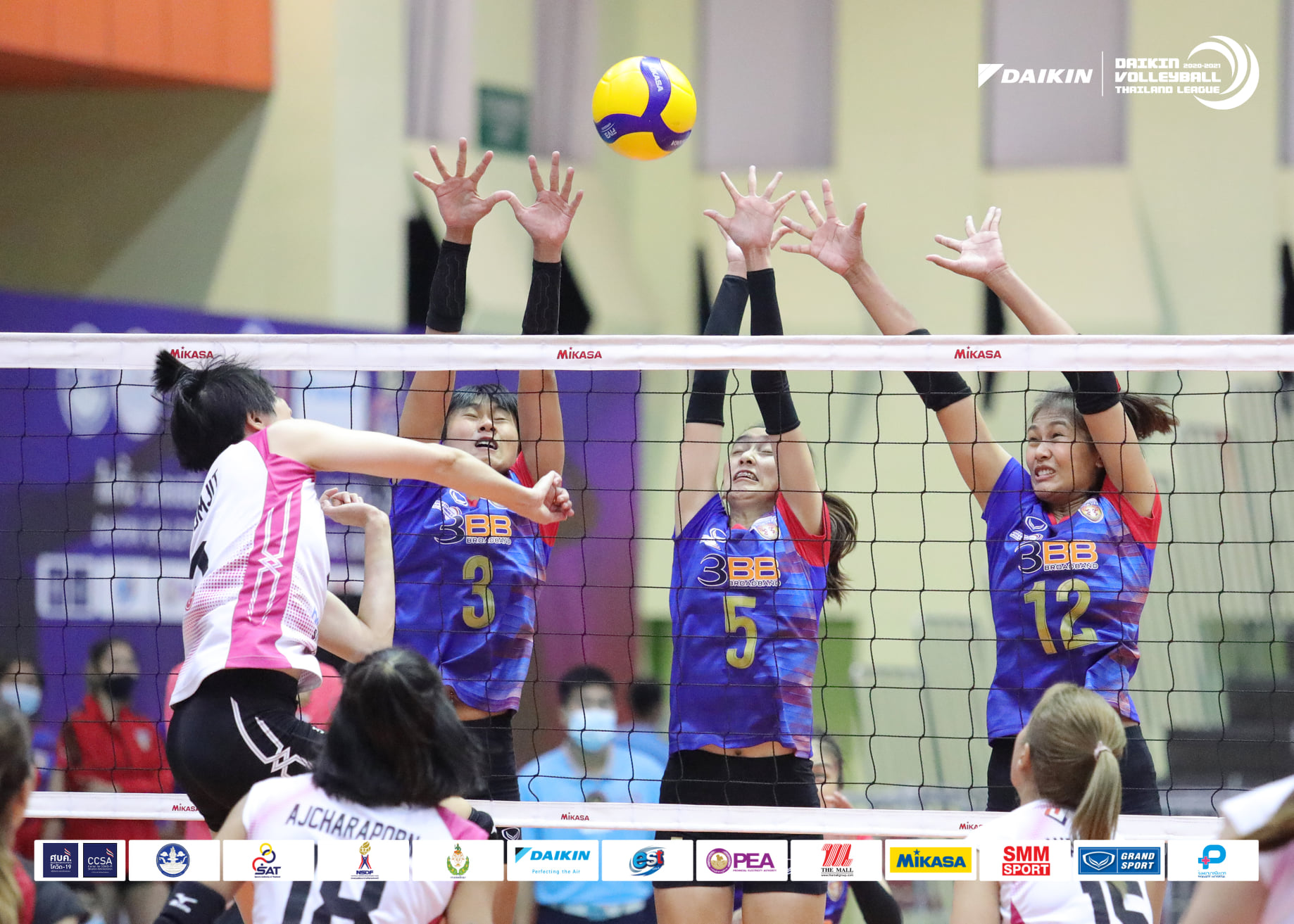 Supreme Chonburi E-Tech, title-holders and former consecutive two-time Asian Women's Club winners, came in third position with 8 points from 2 wins against 4 losses, while winless 3BB Nakornnont finished fourth.
Supreme, fielding two veterans Pleumjit Thinkaow and Wilavan Apinyapong and hard-attacking Ajcharaporn Kongyot, saw off 3BB Nakornnont 3-1 (25-16, 25-18, 24-26, 25-19) in their final match on Sunday.
During the awards presentation, Sri Lankan Janitha Surath from Nakhon Ratchasima The Mall's VC took the MVP award in the men's event, while Diamond Food's Onuma Sittirak claimed the MVP award in the women's category.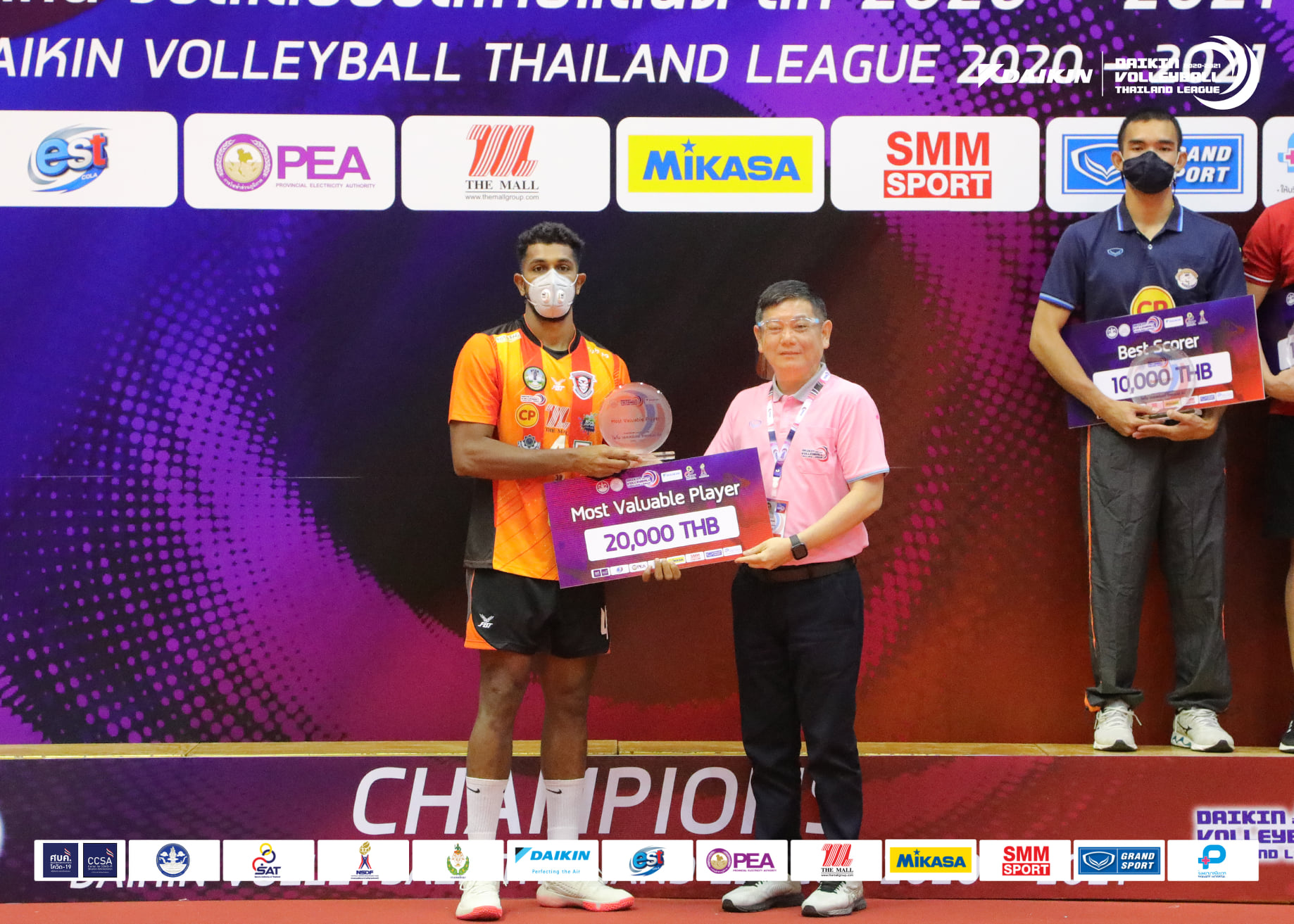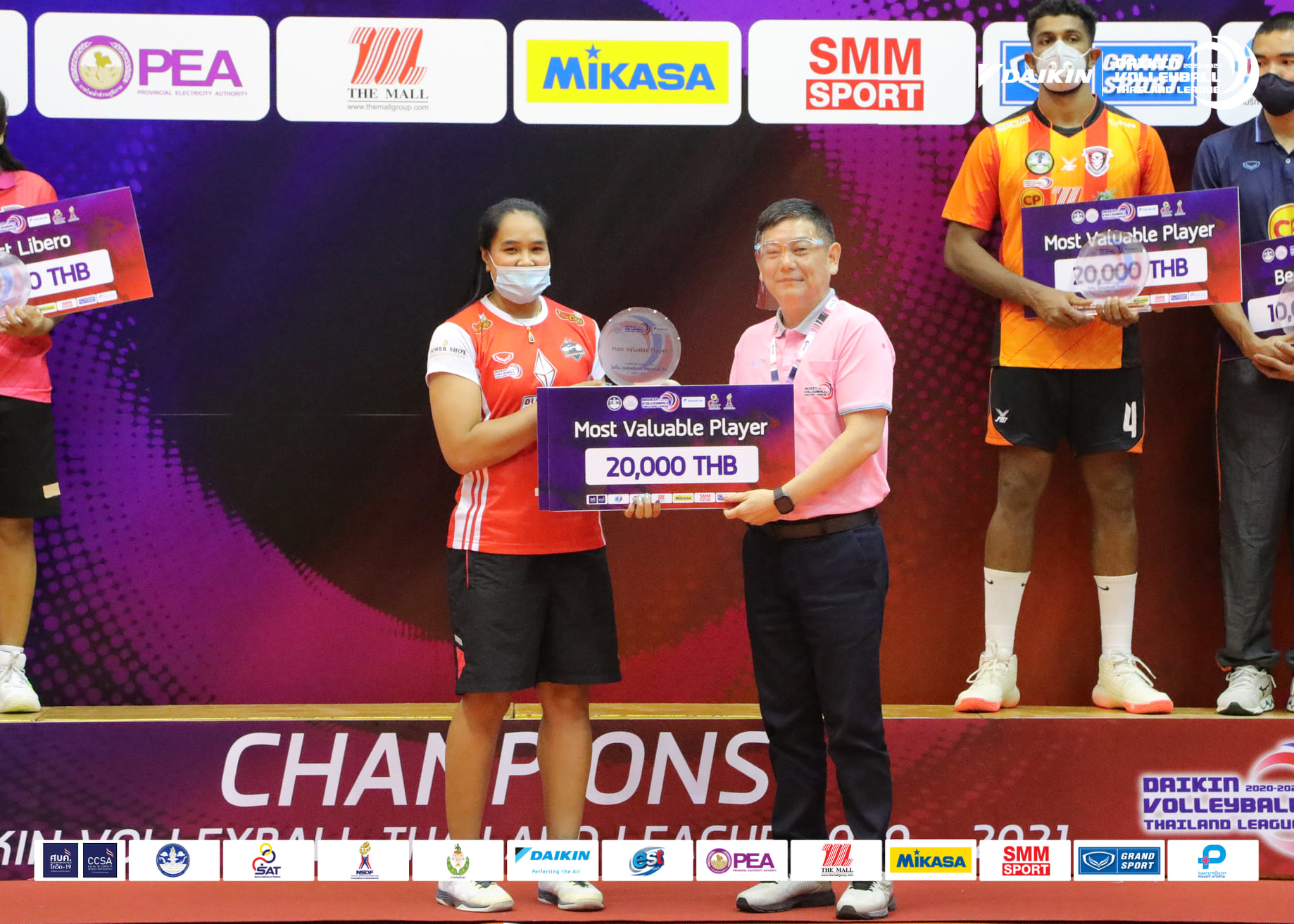 FINAL FOUR RESULTS
Second week
Final day, April 11, 2021
MEN
Phitsanulok VC b Prince VC 3-2 (17-25, 21-25, 25-17, 25-18, 15-13)
Diamond Food VC b Nakhon Ratchasima The Mall's VC 3-2 (25-20, 20-25, 18-25, 25-19, 15-11)
WOMEN
Supreme Chonburi E-Tech b 3BB Nakornnont 3-1 (25-16, 25-18, 24-26, 25-19)
Diamond Food VC b Nakhon Ratchasima The Mall's VC 3-1 (26-28, 25-19, 25-15, 25-23)
FINAL STANDINGS
FINAL FOUR
MEN
1. Nakhon Ratchasima The Mall's VC 16 points (5 wins, 1 loss)
2. Diamond Food VC 14 points (5 wins, 1 loss)
3. Phitsanulok VC 4 points (2 wins, 4 losses)
4. Prince VC 2 points (no win, 6 losses)
WOMEN
1. Diamond Food VC 17 points (6 wins, no loss)
2. Nakhon Ratchasima The Mall's VC 11 points (4 wins, 2 losses)
3. Supreme Chonburi E-Tech 8 points (2 wins, 4 losses)
4. 3BB Nakornnont no point (no win, 6 losses)
Related links of AVC
AVC Website: click www.asianvolleyball.net
AVC Facebook: click www.Facebook.com/AsianVolleyballConfederation
AVC Twitter: click: https://twitter.com/avcvolley
AVC Instagram: click: https://www.instagram.com/avcvolley/?hl=en
AVC Youtube: click: Asian Volleyball Confederation
AVC WeChat: Asian Volleyball Confederation