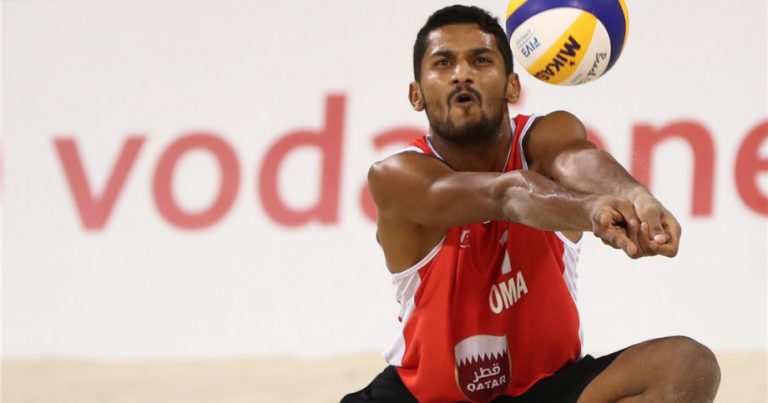 Oman's Nouh Al-Jalbubi
Lausanne, Switzerland, September 20, 2020 – Nouh Al-Jalbubi carries Omani pride with passion and drive into world beach volleyball, a decade on from the country's hosting of the Asian Beach Games in the capital city of Muscat.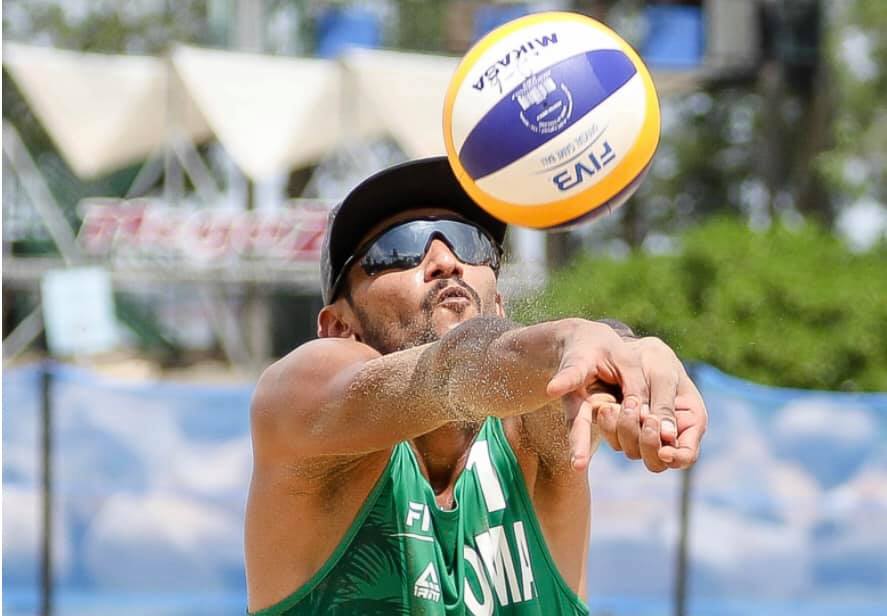 "My country has good beaches, which provides a good venue for training and competition. There are four good venues with quality sand that can be used for training and hosting tournaments.
"Beach volleyball has good potential in the country because we have a long coastline which is frequented by locals and many players. There are many sand courts in various cities where people can play daily.
"Oman beach volleyball teams have also won many cups and medals that adorn the walls of our national federation. The Oman Volleyball Association also organises a lot of national tours, seminars, courses, and international events like the GCC Championship, Arab Championship and the FIVB World Tour."
Nouh is proud of his country's rich resources, and shares his passion for beach volleyball with friends from all over the world.
"As an athlete, I try to promote beach volleyball in my country by inviting many friends from all over the world to come visit Oman and enjoy playing beach volleyball. I get in touch with them through social media."
This passion started in the coastal town of Al-Suwaiq in the Al Batinah region, located in the northeastern part of Oman. Nouh learned from his father before getting formal training in his hometown's sports club.
"My father supported my passion because he himself is a volleyball player, and a lover and fan of the sport. I am here today because of him. He taught me at home and at the beach, then he sent me to the youth training centre to learn from specialist coaches who made me a volleyball player.
"I was also very lucky to be living near the beach, and I had an easy access to the beach courts in my city.
"I started playing for the youth national volleyball team and represented my country in beach volleyball in regional tournaments. I continued to play beach volleyball in college and represented Oman in continental competitions and at the World University Games."
Nouh eventually played at the senior level, but he started as a reserve. His opportunity came one day when one of the main players got injured and had to be replaced. He grabbed the opportunity to display his abilities and has not looked back since.
"I had the chance to play at the GCC zonal tournament when one of the players had an injury and had to be replaced. This was my first time to be in the senior team and my chance to impress the coaches who would decide whether I was good enough to play. Fortunately, I was able to play well with my partner and impressed my coaches.
"The challenges and responsibilities of being a national team member are that you have to maximise your talent and be consistent with your performance. In beach volleyball, your predecessors sometimes become your opponents or your partners. You have to be independent in beach volleyball because there are no substitute players or coaches that can give you instructions during the game."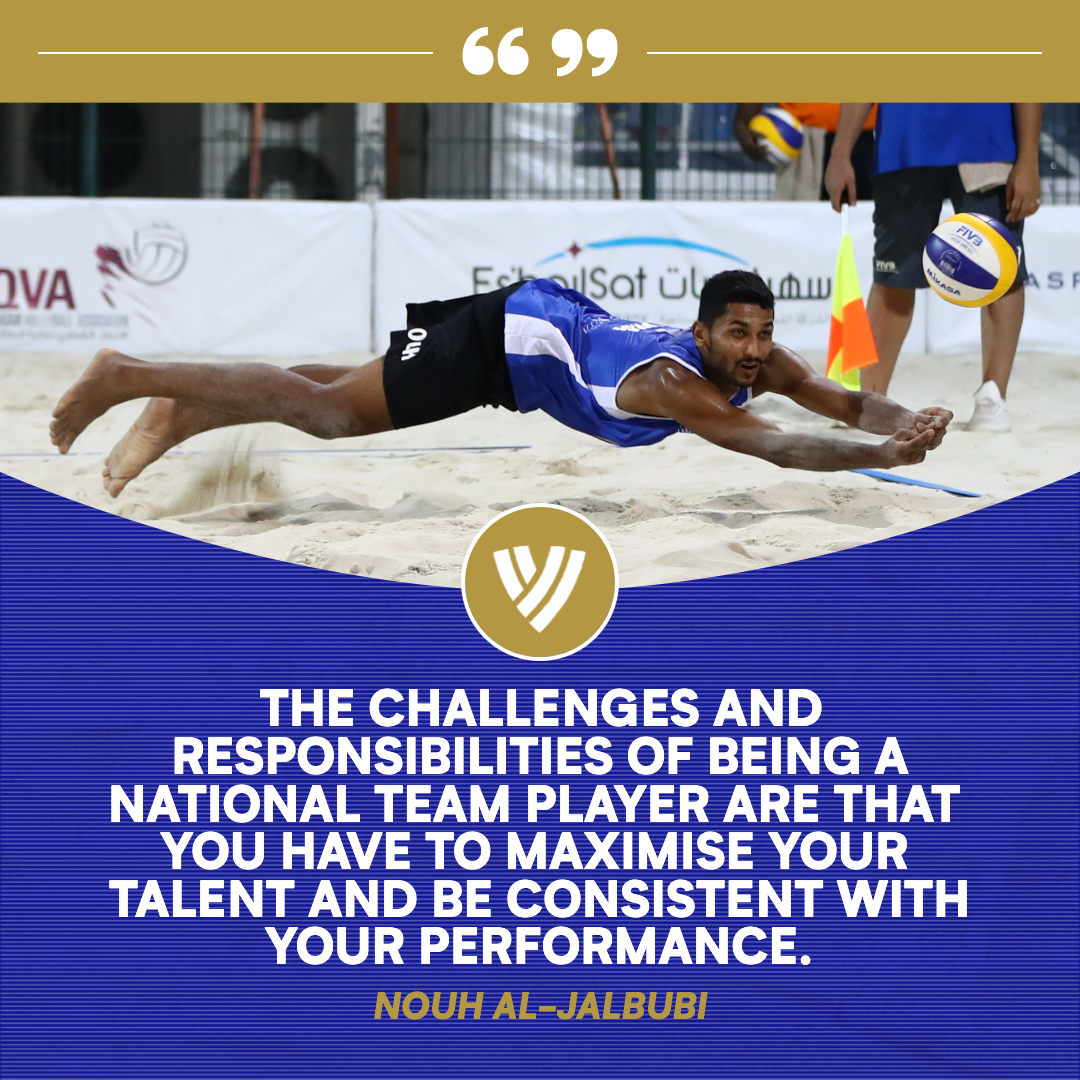 After establishing a good relationship with his partner and his coaches, he soon became a full-time member of the national team bringing home medals in regional and world tournaments.
"I am in the military and I am able to continue my beach volleyball career because I am part of the military's sports department.
"We competed last year in China at the World Military Games, where Oman claimed bronze behind gold medallists Brazil and runners-up Germany. We also won gold at the Arab Championship in the same year.
"It was memorable for us because we were able to prevail against many high-level teams to bring home bronze, which is a big honour for me to give to my country and to my work in the armed forces.
"I still remember my first tournament. It was the GCC zonal tournament in Qatar, where I had a rush of emotions. I would play well in some matches but would not play well against experienced teams. I was also not used to the pressure when playing in front of a lot of spectators and there was a TV broadcast, which destabilized me at times.
"My very first World Tour event was in Portugal in 2014. The first few competitions were difficult since I had no experience, but eventually, I became better and reached fourth place at my very first World Tour 1-star event in front of our home crowd. Of course, the philosophy I had then and now are different. I now understand the game better."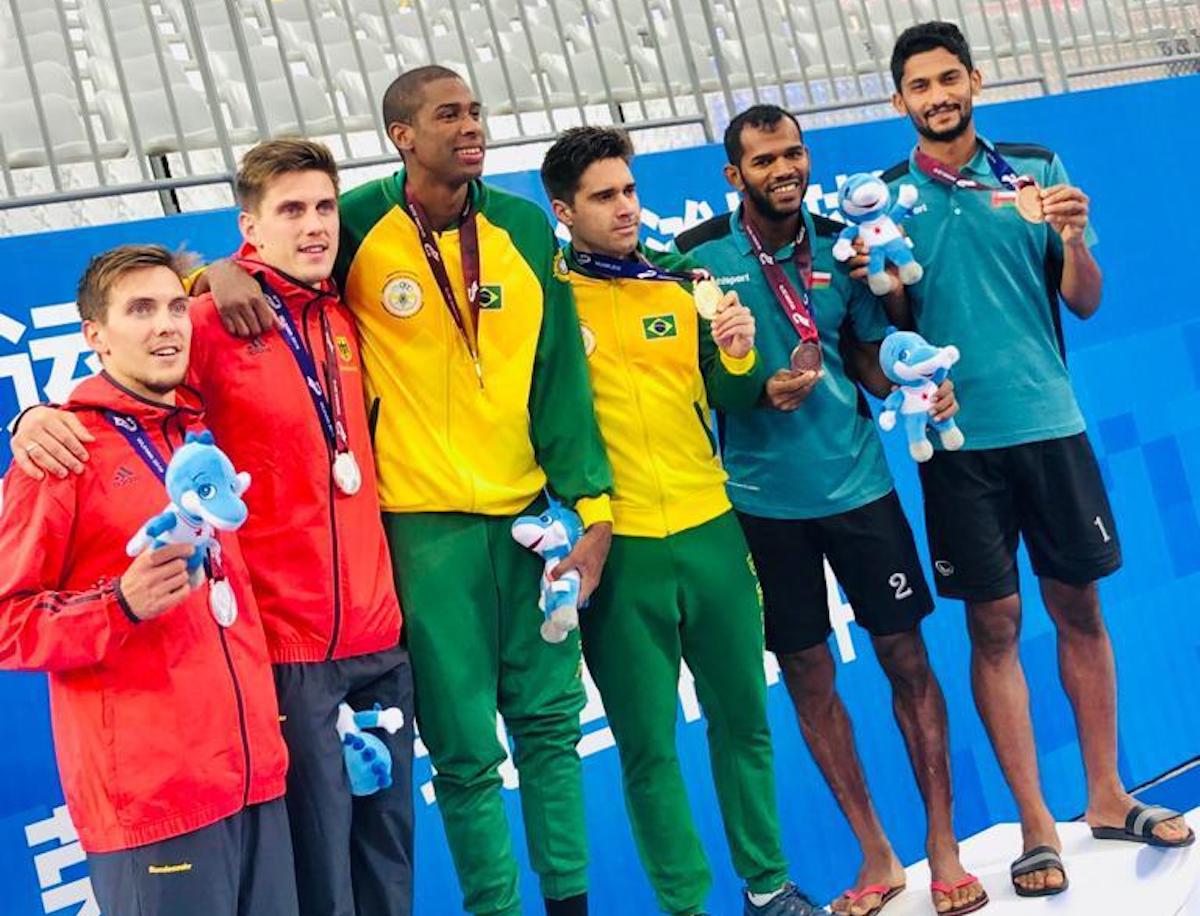 Al-Jalbubi's understanding improved but there were times when he needed to remind himself that he and his partner were good enough to compete at a high level.
"I was at the World Tour 2-star event in Singapore and we were competing in the qualification round, where there were many good teams. I checked out from the hotel and my coach saw me with my bags. He was surprised to see me with my bags, and he thought maybe someone got injured and that that was why I would no longer be competing.
"I told him that we would not make it to the next round, and I was ready to go. He just laughed at me and told me that I didn't have self-confidence. He told me to keep up the fight to make it to the next round. So, we fought with good teams in qualification and won, then qualified to the next round."
Nouh believes there is still a lot of work to do to be a better athlete.
"This sport has taught me to be patient to be able to achieve something. Nothing in life comes quickly, so one must work hard to get an opportunity.
"Before we start a season, we have to do some medical tests, then follow our coach's training plan to guide us to be physically, mentally, technically and tactically prepared to compete in a tournament."
The 28-year-old still lives near the beach, where he trains and enjoys family life – truly a luxury for any beach volleyball athlete.
"My wife and I have a simple life. We have a small home near my father's, and I enjoy life with my family. I have two other brothers who are also volleyball athletes – one plays beach volleyball. My home is near the beach, so I do my daily exercises in the sand there. I enjoy watching movies and swimming in the beach."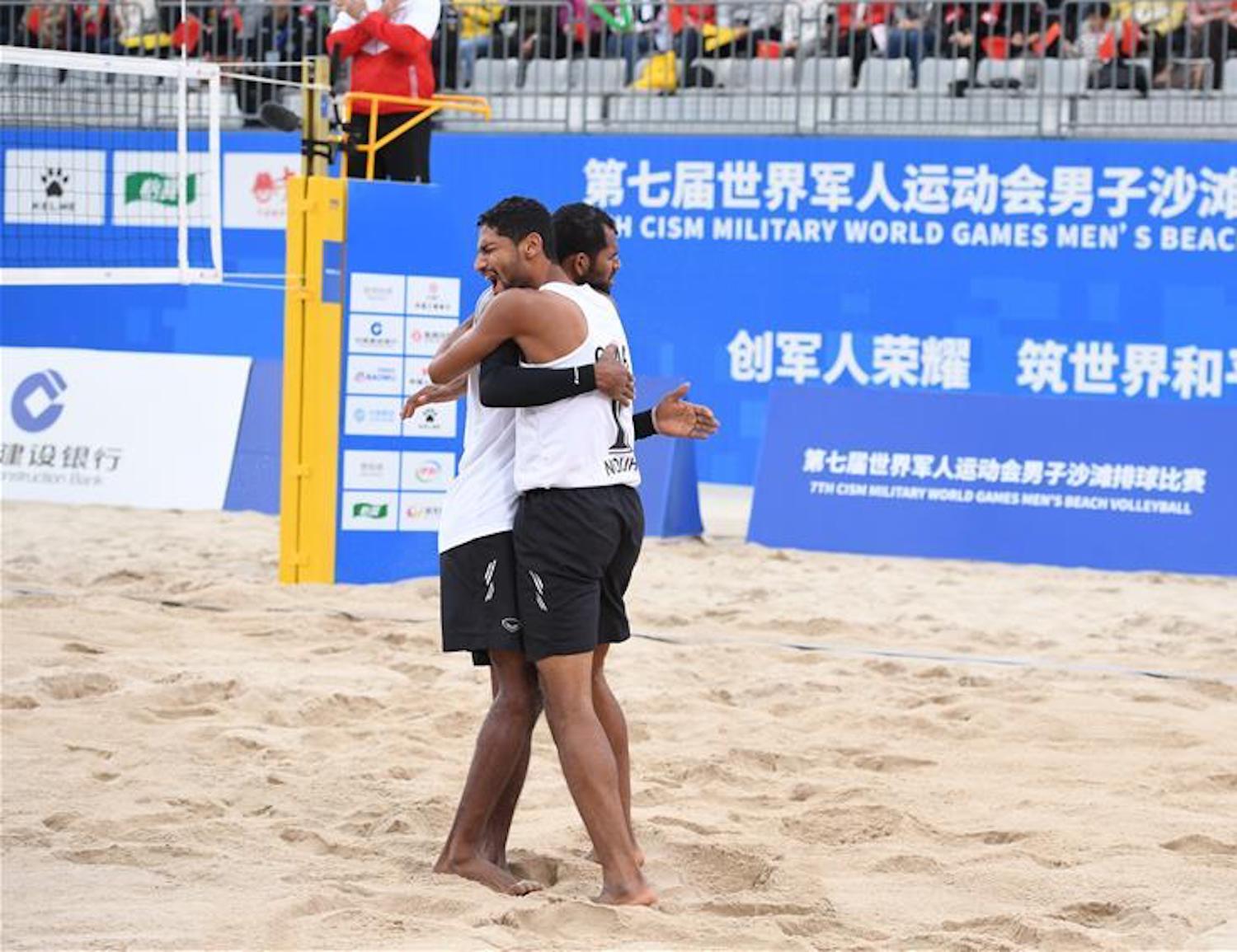 In the future, he still would like to be doing things related to the sport but for now he wants to reach his goal as an athlete in the next five years.
"My long-term goals are no different from any other beach volleyball player's who would like to compete in many competitions. I would like to raise the level of my game and increase my ranking points.
"I hope to qualify for the Paris 2024 Olympic Games through the Continental Cup, as well as participate in more Asian Tours, Asian Games, Asian Beach Games, the FIVB World Tour and World Championship.
"I hope I can develop my game quickly through my World Tour participations and by competing against the world's top players. I hope to be one of the best Asian players in the coming years.
"I also want to share my knowledge and experience with young children in schools and in training centres in Oman.
Related links of AVC
AVC Website: click www.asianvolleyball.net
AVC Facebook: click www.Facebook.com/AsianVolleyballConfederation
AVC Twitter: click: https://twitter.com/avcvolley
AVC Instagram: click: https://www.instagram.com/avcvolley/?hl=en
AVC Youtube: click: Asian Volleyball Confederation
AVC WeChat: Asian Volleyball Confederation