Bangkok, Thailand, February 1, 2022 – The Euro-Asia Coaches Cooperation Project, national team development programs, qualified coaches and coaches courses were core topics discussed at the AVC Coaches Committee Meeting on Zoom on Tuesday.
Committee Chairman Mr Park Ki Won from Korea chaired the February 1 meeting, with six members consisting of Mr Mohamed Ahmed Al-Thawadi from Bahrain (Secretary), Mr G.E. Sridharan from India, Ms Feng Kun from China, Mr Yuichi Nakagaichi from Japan, Mr Shihab Al Din Ahmed Said Al Riyami from Oman and Mr Bader Abdulrahman Alkous (for Kuwait Development) in attendance.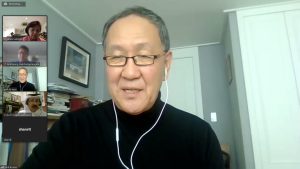 Park
Also joining the meeting were AVC Executive Director Mr Shanrit Wongprasert, AVC Secretary General Mr Kiattipong Radchatagriengkai and Ms Mingkwan Pusiddusid, Director of AVC Development Department.
AVC President Mrs Rita Subowo from Indonesia presided over the meeting and gave an opening speech.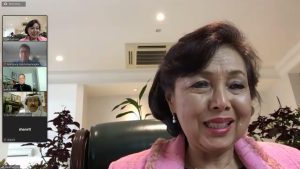 AVC President Mrs Rita Subowo
"I'm very happy to see everybody in good health. The Coaches Committee Meeting is very important because of the importance of the national team and FIVB has a special fund to be able to help all national players in respective countries become good national teams and so, they can participate in every championship and international events. I'm so happy that all of you are participating in this very important meeting and I really do hope that in the future, because from you, all the technicals and all the future technicals for competitions, referees and coaches, you will deliver this message to our prestigious athletes," Subowo was quoted as saying.
"I'm so proud of our team, our country and hopefully, we can start from your coordination and your meeting. I strongly hope that in the near future, Asian countries will reach the international level we have aimed for. In this opportunity, I would like to ask you to be able to see your website in your country regarding team ranking, all national players in your respective countries in order that Asian athletes and all athletes across the world can see your team ranking and learn the achievement from them. Thank you for your participation and thanks everyone at AVC Headquarters to make this meeting happen. Have a nice and fruitful result for us," she said in her speech.
After that, Shanrit kept the meeting updated on the Euro-Asia Coaches Cooperation Project, citing that either Phuket or Bangkok is well-prepared to organise a unique initiative between the two confederations.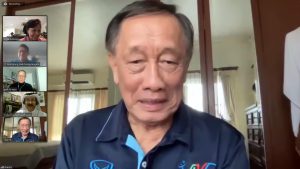 Shanrit
"CEV wants to conduct a course to train the instructors for the Euro-Asia Coaches Cooperation Seminar maybe within this year because CEV badly needs to organise this in 2022. The AVC Headquarters had sent all relevant information to CEV to make a decision on the size of this course to train the instructors of Europe and Asia in Phuket or Bangkok. However, it came as a relief that from today February 1, the Thailand's Test and Go scheme has been rebooted for foreign visitors," Shanrit said.
"The visitors could get out and about if their first RT-PCT test upon arrival came back negative and on the fifth day after their arrival, the second test will be conducted. We have already informed the CEV that we are ready for the Euro-Asia Coaches Cooperation Project to be organised either in Phuket or Bangkok. Both cities feature their strengths and weaknesses. In Phuket, it's always good if we have some rest days, but in terms of facilities, hotels and all the services, I recommend Bangkok that we can provide much better. I hope within this week, it should be clear where to conduct this course in March.
"Another key topic is on the coaches course. Under the leadership of AVC President Madam Rita, AVC has already allocated some budget for coaches courses in every zone at least two courses a year. That means at least 10 courses can be organised in five zones. You can recommend what kind of course you want to conduct and AVC Finance Committee will allocate the budget for air tickets and per diem for the instructor. If you have proposals on this, please submit them to AVC Headquarters and we will collect and present them to AVC Board of Administration Meeting maybe in April or at the latest in May," he said.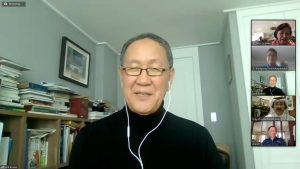 Park
Park later informed that the meeting was held online due to the COVID-19 pandemic and he asked Members to share their opinion and ideas during the meeting for the sake of the brighter prospect of Asian volleyball. He also pointed out optimistically that if the pandemic is over, a face-to-face Coaches Committee Meeting should be held once in Korea.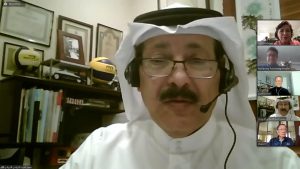 Mohamed Ahmed Al-Thawadi
The meeting also approved the Agenda and the Minutes of last year's meeting, while further considerations on key topics including coaches courses, technical seminars and FIVB Development Center had been made and main activities of each Member discussed.
After that, Park informed the attendants of the updates from the FIVB Technical and Coaching Commission Meeting which focussed on their role in the future development of the sport which included coaches courses, national teams and changes of Olympic Qualification.
Members also shared their points of view on how to increase the professionalism of coaches and seek qualified coaches for national teams.
In this occasion, Shihab delivered a positive message to all. "We have to work as a team, teamwork not individual. We also need a unique coaches seminar with high hopes of upgrading and improving the coaches level. It's about raising the level of our players by first improving the level of coaches. How can we train the athletes if we don't have qualified coaches? We have to make a better future plan for coaching seminars and courses."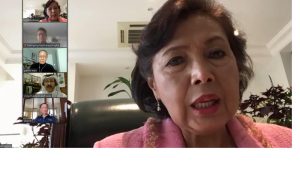 Subowo
Continuation is more important than ever as AVC President Subowo stressed that competitions can be postponed, but work plan should continue.
"We can postpone the tournaments including the Olympics, but coaches are very important for every country to develop their national teams and their plans should continue. Therefore, let the AVC Headquarters know you need to conduct extra meeting such as online like this. Continue your plan until you can't continue due to the pandemic. We can add another plan, anyway. Truly speaking, continuation is an important step every coach of every country makes to be able to strengthen their athletes. The competition is still there, but you can continue whatever you had planned earlier. Let the Headquarters be informed and at the same time contact FIVB in some cases such as the deadline of the applications. This is a matter of training the athletes.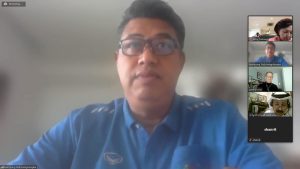 Meanwhile, G.E. Sridharan, himself the AVC Expert on the Euro-Asia Coaches Cooperation Project, reported on the progress of the campaign, while Kiattipong said that Bangkok-based AVC Headquarters and Thailand Volleyball Association are working closely in an effort of throwing full support to the AVC Coaches Committee in organising the Euro-Asia Coaches Cooperation Project in Thailand no matter which city, Bangkok or Phuket, will take centre stage.
Related links of AVC
AVC Website: click www.asianvolleyball.net
AVC Facebook: click www.Facebook.com/AsianVolleyballConfederation
AVC Twitter: click: www.twitter.com/AsianVolleyball
AVC Instagram: click: https://www.instagram.com/avcvolley/?hl=en
AVC Youtube: click: Asian Volleyball Confederation
AVC WeChat: Asian Volleyball Confederation