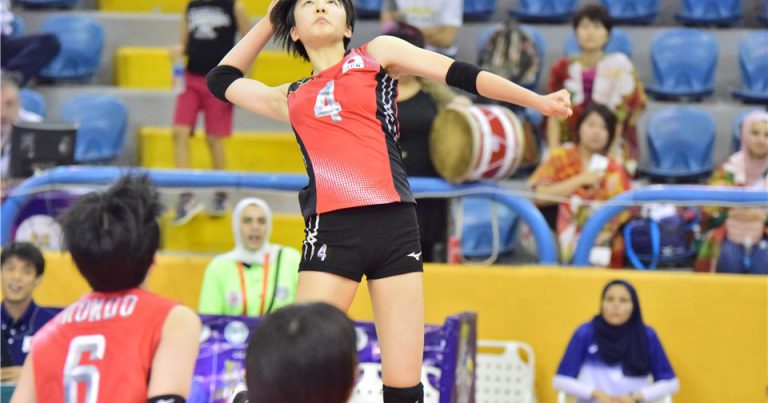 Ismailia, Egypt, September 9, 2019 – Mexico were on the brink of scoring a humongous upset to advance to the Top 16 of the 2019 FIVB Girls' U18 World Championship but fell in dramatic fashion to defending champions Italy allowing Korea through. But Argentina bagged the win they needed over Thailand to punch the last remaining ticket to the knockout stage that begins Tuesday in the Egyptian cities of Ismilia on the Suez Canal and the capital city Cairo.
Round of 16
• In Ismailia:
Italy v Puerto Rico
China v Korea
Brazil v Canada
USA v Egypt
• In Cairo:
Peru v Argentina
Japan v Thailand
Russia v Bulgaria
Roumania v Turkey
• Cameroon, Mexico, Belarus and Congo will form a round robin pool for classification in positions 17-20.
Italy stay unbeaten – but only just
Mexico did the unthinkable and stood up to mighty Italy in a desperate bid to score their first win in the tournament and advance to the Top 16 (at the expense of Korea).
Mexico led 2-1 and were on the brink of bringing down Italy (and possibly forcing the European side into a tougher Round of 16 matchup), but it was not to be. Italy reacted just in time, forced a tie-break and built up an insurmountable four-point lead in the fifth before Beatrice Gardini put away the last ball with a crosscourt spike for the final 3-2 (25-15, 21-25, 22-25, 25-20, 15-12).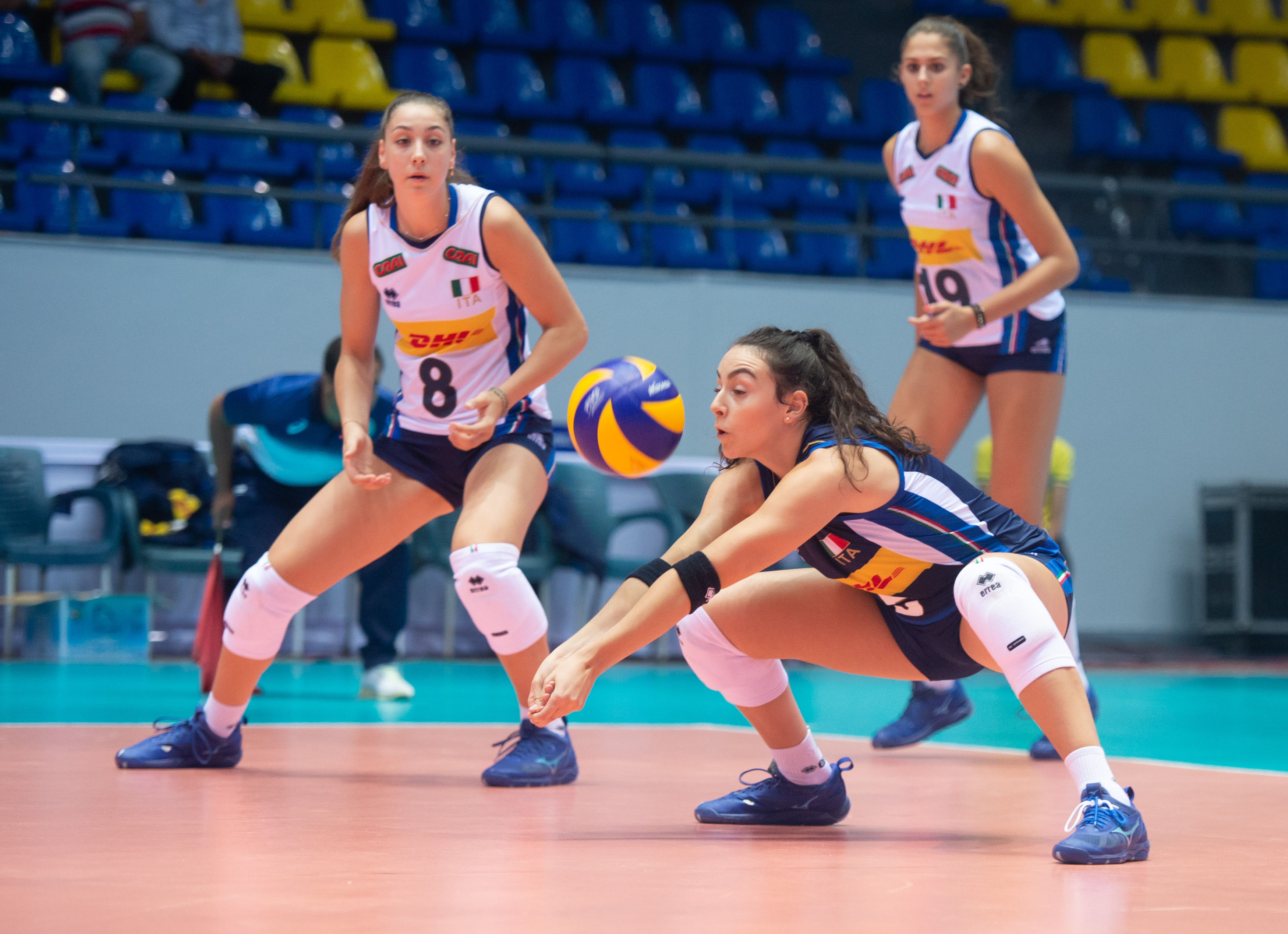 It was the combination of serving and subsequently blocking in the fifth set that clinched the match for Italy, who remained undefeated and set themselves for a matchup with Puerto Rico on Tuesday in the Round of 16. It left Mexico winless in Pool B – now having to play out for positions 17-20.
Giorgia Frosini with 16 points once again led the scoring for Italy, though it was Mexico's Melanie Parra who posted the match high of 19.
USA, meanwhile, demolished Canada 3-0 (25-10, 25-13, 25-16) to claim second place in the pool. USA will meet hosts Egypt and Canada will go up against Brazl in Tuesday's knockout matches.
Jessica Mruzik, Devyn Robinson and Emily Londot each scored seven points for USA, as Canada conceded as many as 42 unforced errors and never for a minute put up any resistance to their southern neighbours.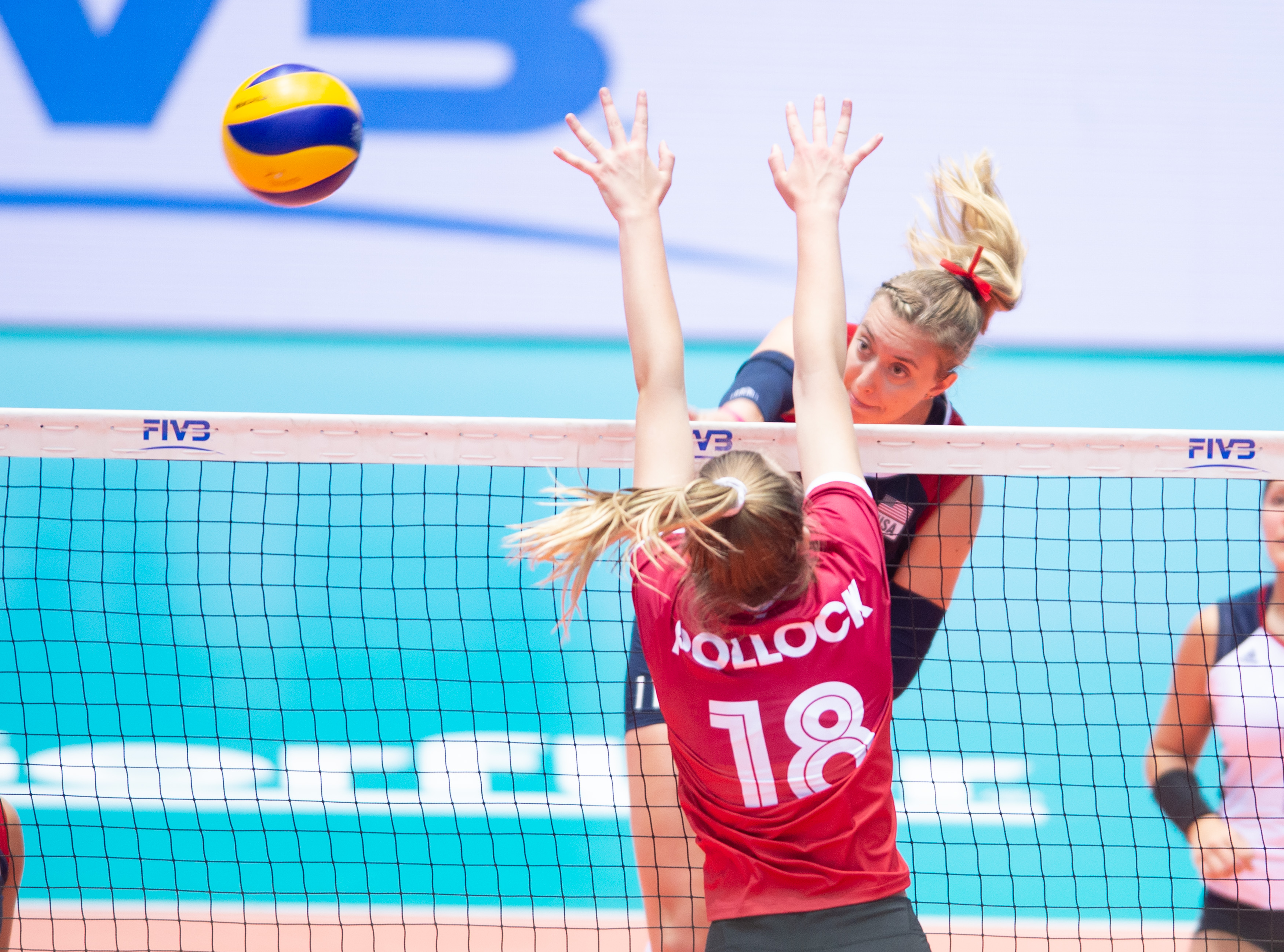 Argentina power through to Top 16
Argentina did exactly what they needed to, shutting out Thailand 3-0 (25-13, 25-22, 25-15) to leapfrog both Belarus and Thailand themselves for third place in Pool C and a spot amongst the best 16 teams of the world.
The results means Argentina will now face Peru in an all-South America affair for a shot at making the quarterfinals.
It was Bianca Cugno's turn to produce the scoring for Argentina, bagging 16 points, while Balbanera Ulla contributed five of her teams total ten blocks (to Thailand's none).
Russia ran away with the first set which is all they needed to secure first place in Pool C, but it eventually took them five sets to down Romania 3-2 (25-7, 24-26, 22-25, 25-20, 15-13). This means they'll face Bulgaria on Tuesday, leaving Romania to fight it out with Turkey in a Balkan derby for a quarterfinal berth.
Russia could have gone two sets up, but they blew both their set points at 22-24, allowing Romania a four-point run ending with an attack by Alexia Carutasu to tie the game overall.
Russia had to rally from 14-17 down in the fourth, but made a 7-0 run to go ahead by enough to force a tie-break.
Romania again opened up a 4-0 lead at the start of the fifth and were two points ahead at side switch, but once more Russia rallied from 8-10 with a 6-0 run to reach match point with four to spare. Romania closed in to within a point, before Natalia Slautina blocked Georgiana Popa to close the match.
Slautina was Russia's high scorer on 16 points (including six blocks and five aces), with Valeriia Gorbunova adding another 15. But the match high was 20 by Carutasu (including six blocks), while Andreea Murar contributed six aces to Romania's tally.
China unstoppable
In Pool A, China confirmed their dominance with a 3-0 (25-16, 25-18, 25-18) sweep of Puerto Rico to top the standings and earn a Round of 16 knockout match against Korea on Tuesday.
Wu Mengjie with 16 points and Zhuang Yushan with 15 led the Asian side, who outblocked Puerto Rico 12 to 2 (six blocks from Zhuang alone).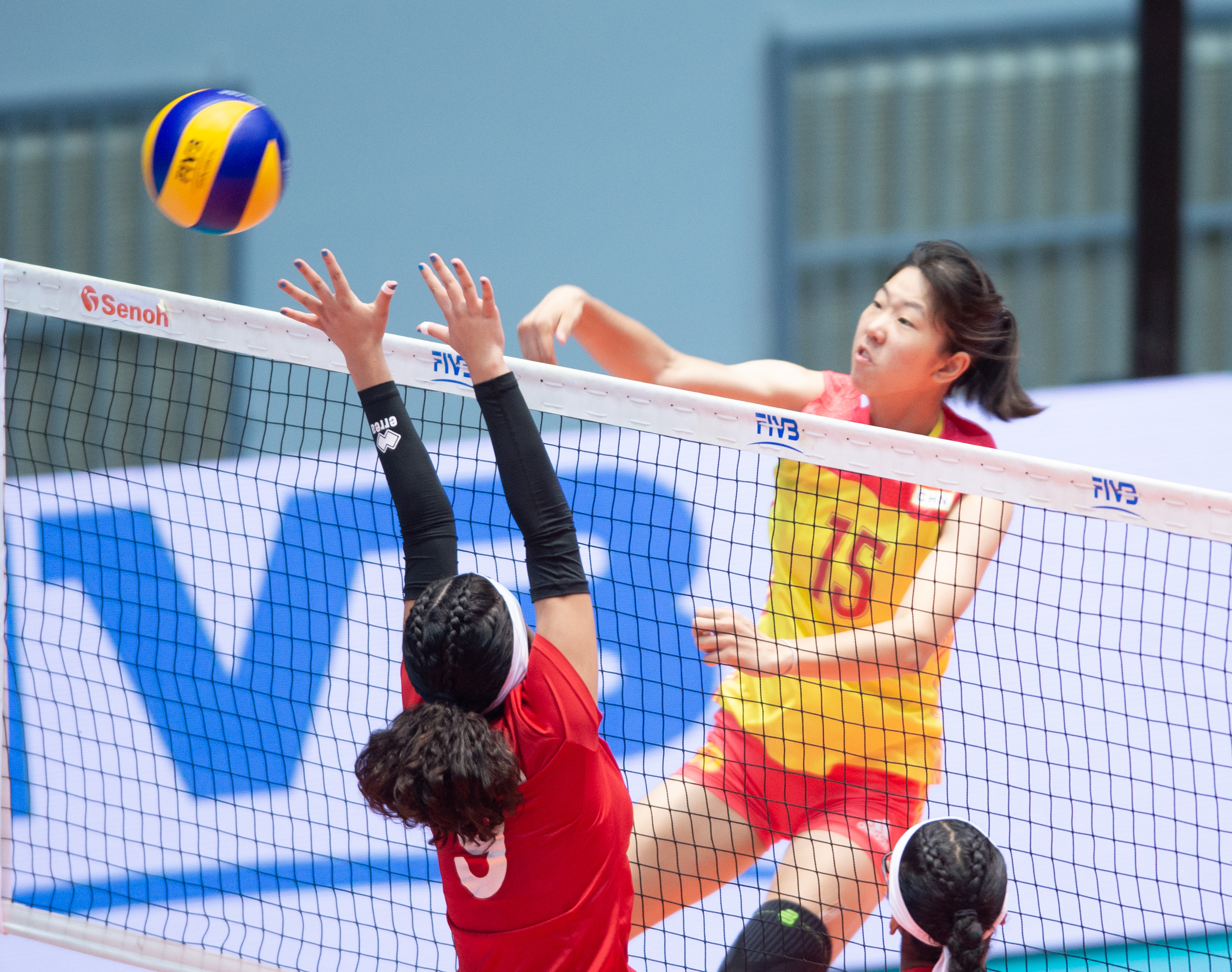 Laer, Brazil cancelled two Egyptian set points art 22-24 and made a 4-0 run with Julia Kudiess serving an ace on Farida Elhenawy to bring home the first set and set the pace for a 3-0 (26-24, 25-16, 25-19) sweep to decide second place in Pool A.
Brazil will now face Canada in a bid for a top eight stop, while Egypt will clash with USA in Tuesday's Round of 16.
Egypt made a last attempt to stay alive when they opened up a 13-18 lead in the third. But again Brazil showed character, drew level by 19-19 and made a 6-0 sprint to the finish with Marcelle da Silva serving and fittingly delivering an ace on the base line for match point.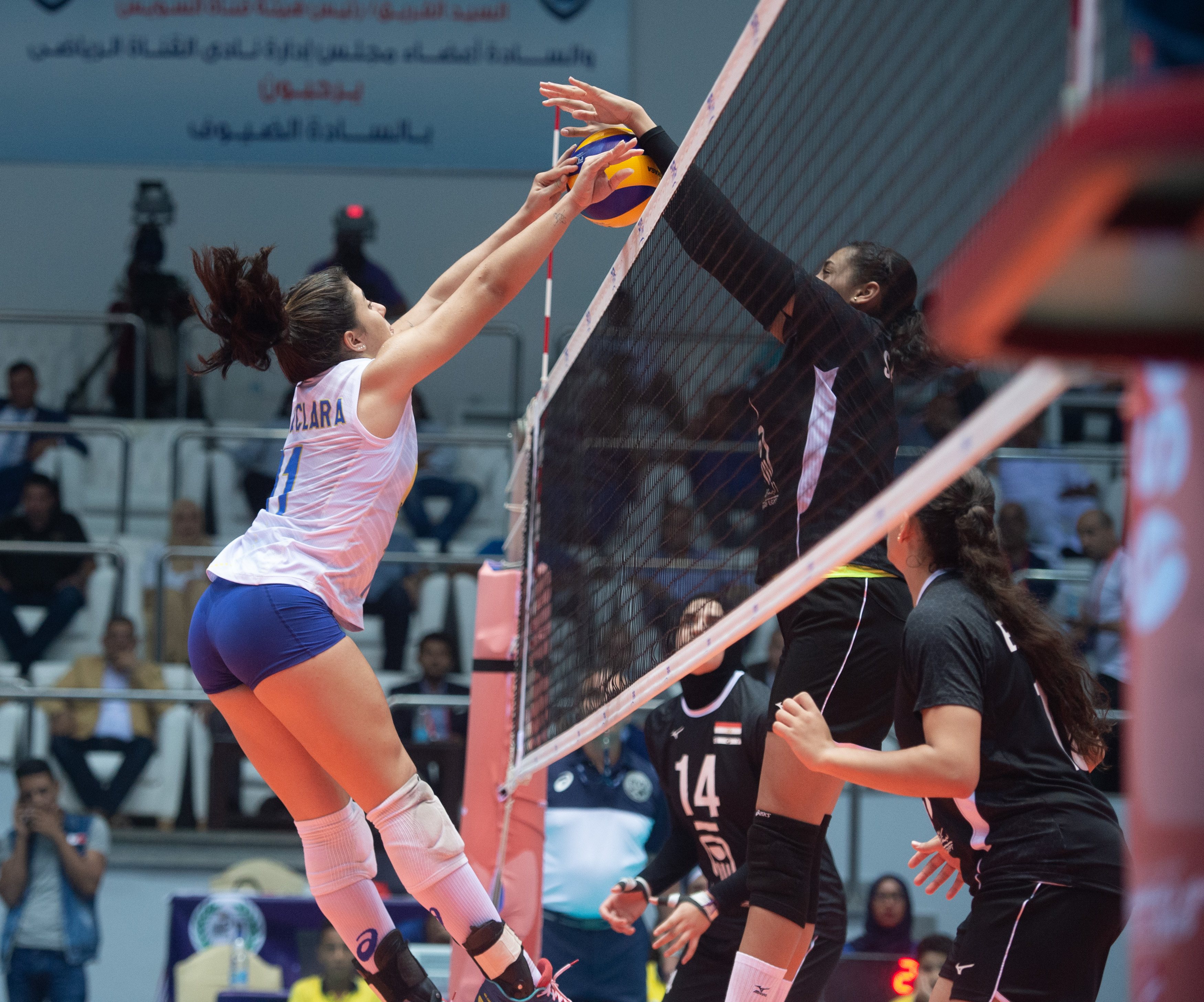 Japan stay unbeaten for all-Asia knockout clash
In Cairo, Yoshino Nishikawa led Japan in their 3-1 (25-20, 25-23, 20-25, 25-8) scoring a match high 18 points. It leaves the Asian side undefeated at the top of Pool D, setting up an all-Asia derby with Thailand on Tuesday for the Round of 16. Bulgaria finished fourth despite their two wins, on worse points than Peru and Turkey who also finished on 2-2 records and now have to face Russia.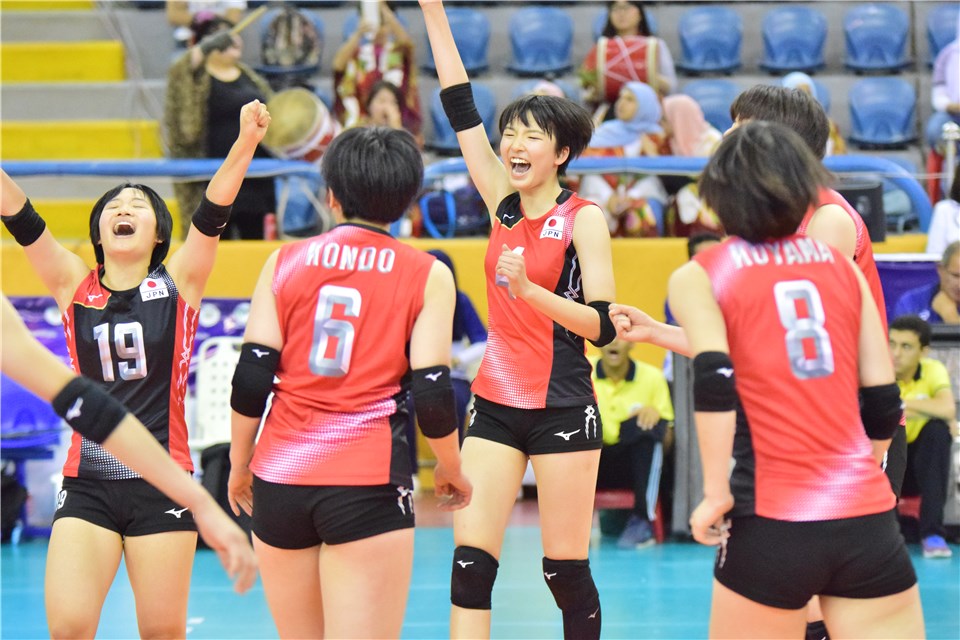 Turkey had previously shut out Congo 3-0 (25-9, 25-9, 25-14) in just 55 minutes, but could not match Peru's set ratio. Hanife Nur Ozaydinli bagged 13 points for the match high in scoring, as Turkey served 20 aces (to Congo's 3).
Related links of AVC
AVC Website: click www.asianvolleyball.net
AVC Facebook: click www.Facebook.com/AsianVolleyballConfederation
AVC Twitter: click: https://twitter.com/avcvolley
AVC Instagram: click: https://www.instagram.com/avcvolley/?hl=en
AVC Youtube: click: Asian Volleyball Confederation
AVC WeChat: Asian Volleyball Confederation