Kg Speu, Cambodia, March 10, 2019 – Top seeds Maxim Sivolap and Artem Yarzutkin won  their first medal since their partnership at the start of 2018 as the Russian duo turned in a remarkable performance to capture the FIVB Beach Volleyball World Tour Kg Speu 1-Star tournament on Sunday.
Sivolap and Yarzutkin pulled off a scintillating 21-18 21-18 victory over South Africans Grant Goldschmidt and Leo Williams in the Sunday's final showdown, winning the team's unprecedented gold. Sivolap first partnered Yarzutkin in 2015 when the Russians finished 5th place at the 2015 CEV U20 European Championship in Larnaka, Cyprus.
Sivolap later teamed up with Igor Velichko to finished a distant 25th in the Sochi Open in Russia in their debut effort in the same team. Since then, they had gradually gained momentum and started to shoot into fame with wins in some events including the gold medal at the 2017 World Tour Qinzhou 3-Star tournament in China.
Sivolap renewed his partnership with Yarzutkin at the beginning of March 2018 to finish a disappointing 25th place in the World Tour Fort Lauderdale 5-Star tournament in USA. The best effort of Sivolap and Yarzutkin was also in 2018 when they took part in the CEV European Championship and left host nation Netherlands with the 17th position.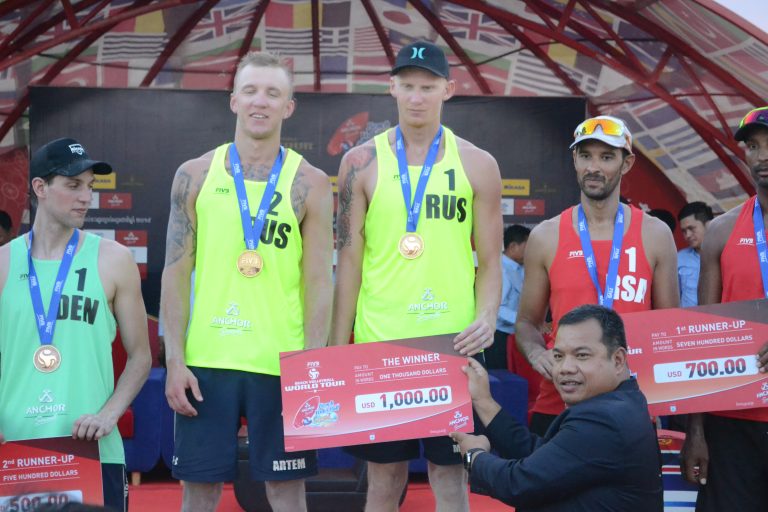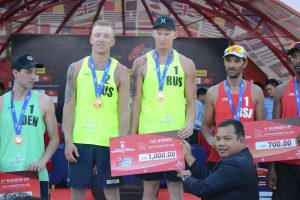 En route to the Sunday's showdown, the Russians powered past Danes Mads Rosager/Jacob Stein Brinck 21-18 21-19 in the semi-finals earlier, with Goldschmidt/Willaims beating Austrians Moritz Fabian Kindl and Arwin Kopschar in thrilling three-setter 21-18 12-21 15-8.
With the convincing win over Goldschmidt and Williams on Sunday, Sivolap and Yarzutkin were crowned the champions at the FIVB Beach Volleyball World Tour Kg Speu 1-Star tournament. The South Africans picked up silver.
The third-place playoff earlier, Danes Rosager/Brinck struggled to beat Austrians Kindl and Kopschar 21-18 18-21 15-10.
Another Russian pairing of fourth seeds Sergey Gorbenko and Vasilii Ivanov, who won the 2017 CEV U20 European Championships and who continue to progress through the World Tour despite both being 19, finished in joint 5th place.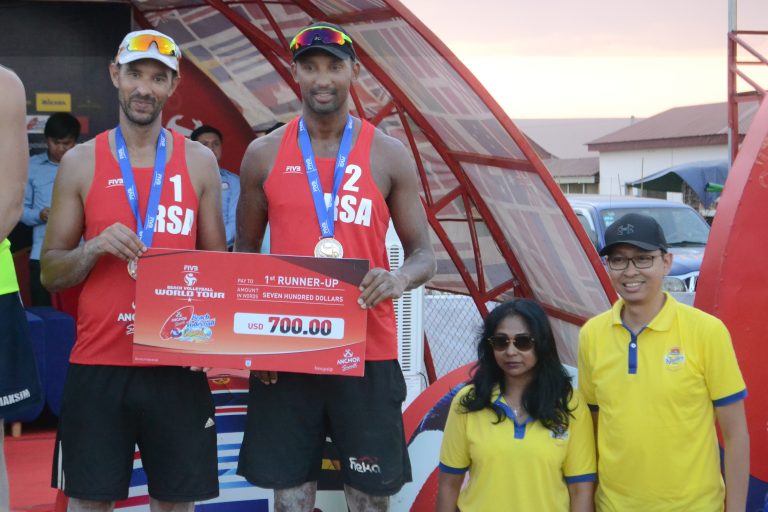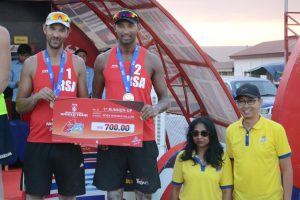 Meanwhile, Japanese Hitoshi Murakami/Takashi Tsuchiya and Kensuke Shoji/Masato Kurasaka failed to make their mark to finish joint 9th position.
Hosts Cambodia had two teams in the draw, 15th seeds Khlork Sim and Samith Sam and 16th seeds Phoun Borey and Sea Kosal, but both pairs could not go the distance following their straight two losses in pool play to finish joint 13th place.
Cambodia will host its second women's event on the 2018-2019 FIVB Beach Volleyball World Tour schedule and fourth overall as Battambang will stage its inaugural international tournament from April 4 to 7.
During the final weeks of February, Phnom Penh had hosted an FIVB event for the second-straight season. In March, aside from the FIVB Beach Volleyball World Tour Kg Speu 1-Star tournament, Cambodia will also organise another men's-only event in Siem Reap between March 21 and 24.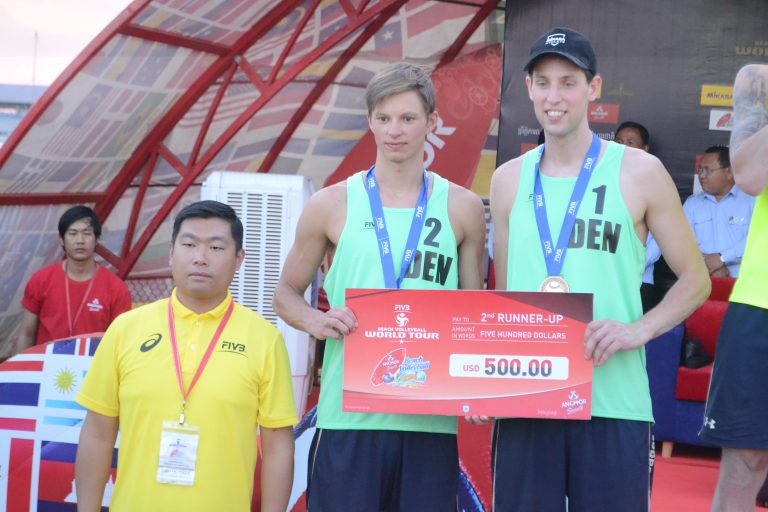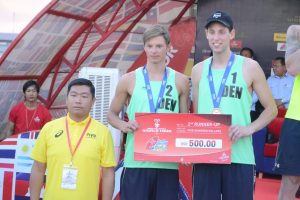 FINAL RESULTS
QUARTER-FINALS
Goldschmidt/Williams (South Africa) b Burik/Satterfield (USA) 2-0 (22-20 21-18); Kindl/Kopschar (Austria) b Fecteau-Boutin/Reka (Canada) 2-1 (12-21 21-13 17-15); Rosager/Brinck (Denmark) b Gorbenko/Ivanov (Russia) 2-1 (21-17 22-24 17-15); Sivolap/Yarzutkin (Russia) b Pokersnik/Plahutnik (Slovenia) 2-0 (21-7 21-14)
SEMI-FINALS
Goldschmidt/Williams (South Africa) b Kindl/Kopschar (Austria) 2-1 (21-18 12-21 15-8); Sivolap/Yarzutkin (Russia) b Rosager/Brinck (Denmark) 2-0 (21-18 21-19)
FINALS
Bronze-medal match: Rosager/Brinck (Denmark) b Kindl/Kopschar (Austria) 2-1 (21-18 18-21 15-10)
Gold-medal match: Sivolap/Yarzutkin (Russia) b Goldschmidt/Williams (South Africa) 2-0 (21-18 21-18)
FINAL RANKINGS
1. Sivolap/Yarzutkin (Russia)
2. Goldschmidt/Williams (South Africa)
3. Rosager/Brinck (Denmark)
4. Kindl/Kopschar (Austria)
5. Fecteau-Boutin/Reka (Canada); Gorbenko/Ivanov (Russia); Pokersnik D./Plahutnik (Slovenia); Burik/Satterfield (USA)
9. Liotatis/Chrysostomou (Cyprus); Sramek/Samec (Czech Republic); Murakami/Tsuchiya (Japan); Shoji/Kurasaka (Japan)
13. Borey/Kosal (Cambodia); Sim/Sam (Cambodia); Tay Z.H.K/Shen (Singapore); Wang C/Hsieh Y.J. (Chinese Taipei)
Related links of AVC:
AVC Website: www.asianvolleyball.net
AVC Facebook: www.Facebook.com/AsianVolleyballConfederation
AVC Twitter: https://twitter.com/avcvolley 
AVC Instagram: https://www.instagram.com/avcvolley/?hl=en
AVC Youtube: Asian Volleyball Confederation
AVC WeChat: Asian Volleyball Confederation