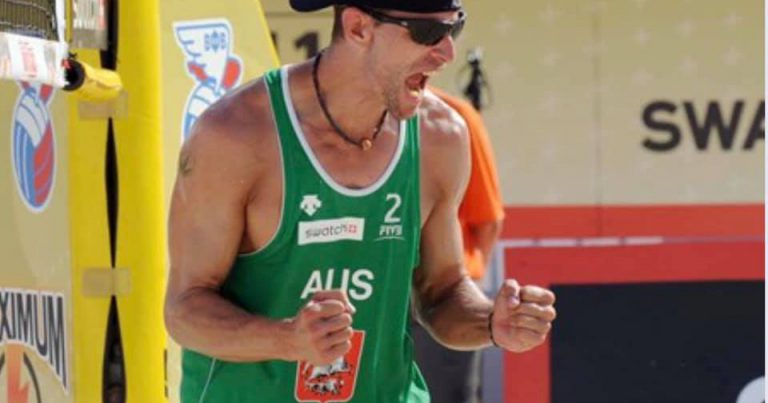 Australian Olympian serving a great purpose these days!
One of 33 players to compete in three or more Olympics since the introduction of beach volleyball at the Atlanta 1996 Summer Games, Australia Joshua Slack is serving a greater purpose these days as he celebrates his 44th here today.
"I am working extra hard actually making sure the Australian public have access to the things they need," said Slack about his position with the country's Public Service Department. "As for the pandemic, nobody in my family lost their jobs. My sister is a nurse, so she and her family had to be extra careful. My parents had retired already so they were locked away in their retirement resort."
Competing in 137 FIVB-sanctioned events during his 13-season (1999-2008, 2010-2012) international career, Slack participated in the Sydney 2000, Athens 2004 and Beijing 2008 Olympic Games. Since his retirement from the sport, he continues to be involved with the country's elite players.
"I am still assisting the Beach VolleyRoos with video analysis and statistics," said Slack, who ranks third among Australians in FIVB events played. "It is great to still be involved. I may still play on the Queensland State Beach Tour also, winning events as I go."
With only Natalie Cook (165) and Julien Prosser (145) competing in more FIVB events than Slack, he said competing in the Sydney Olympics with Matthew Grinlaubs was his "most memorable. It was my first Olympics, and it was a home Olympics. It was extra special as my family were able to come to Sydney and watch also. As most of our international events were overseas, they didn't get to see many."
In never playing against Prosser on the World Tour, Slack tabbed his Australian rival "as one of the pioneers for Australian beach volleyball players traveling overseas. His skill level, touch and mental strength made him a great player for many years."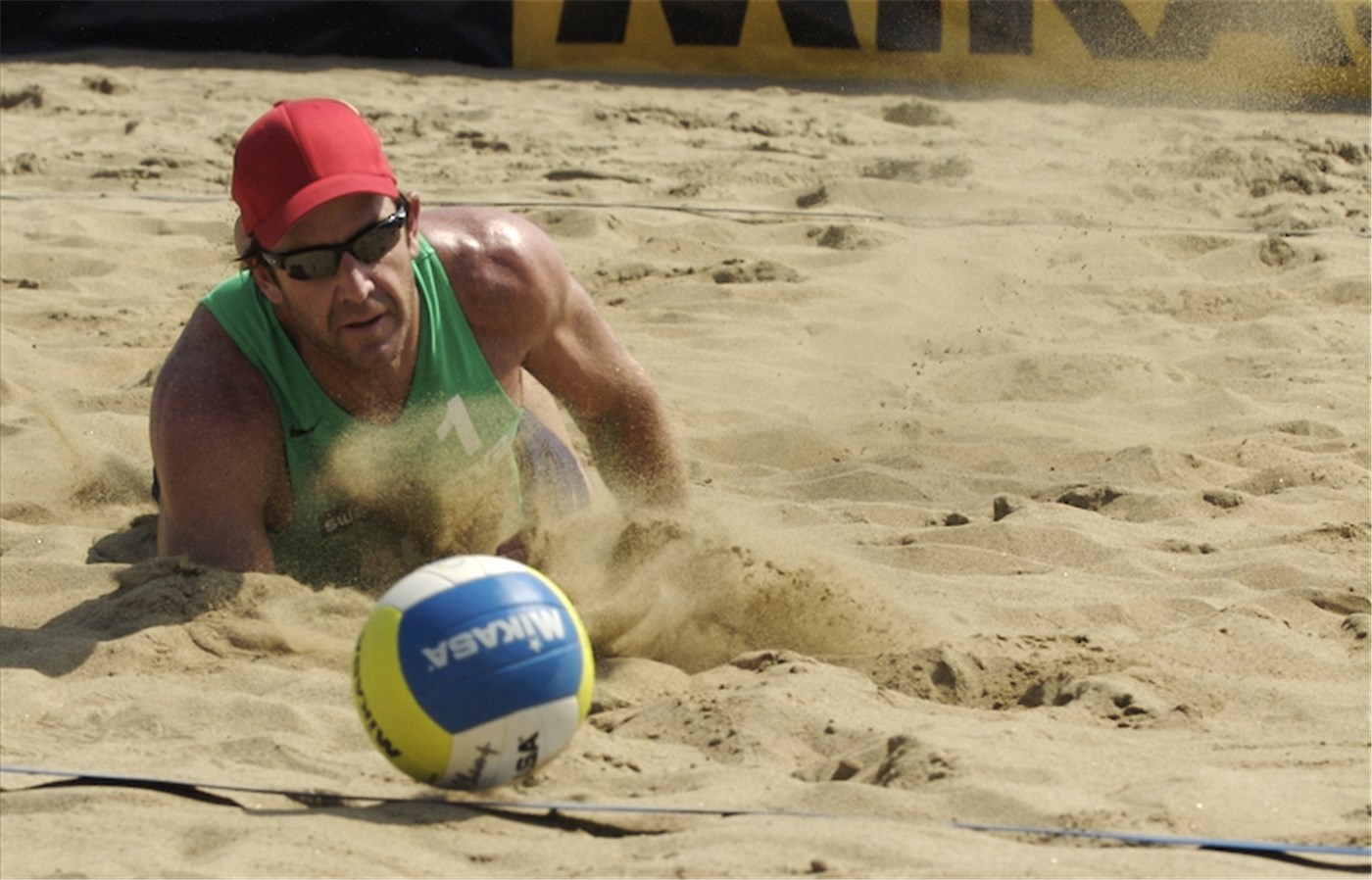 Julien Prosser of Australia
While Prosser posted the best finish by an Australian men's team in the Olympics when he and Mark Williams advanced to the Athens 2004 Summer Games semifinals, Slack teamed with Andrew Schacht to claim the country's only men's medal at the Gstaad 2007 World Championships.
"The Gstaad event was always one of my favourites and winning a cowbell was definitely one to cross off the bucket list," said Slack. "To achieve this against the legends that are Emanuel (Rego) and Ricardo (Santos) made it even more special."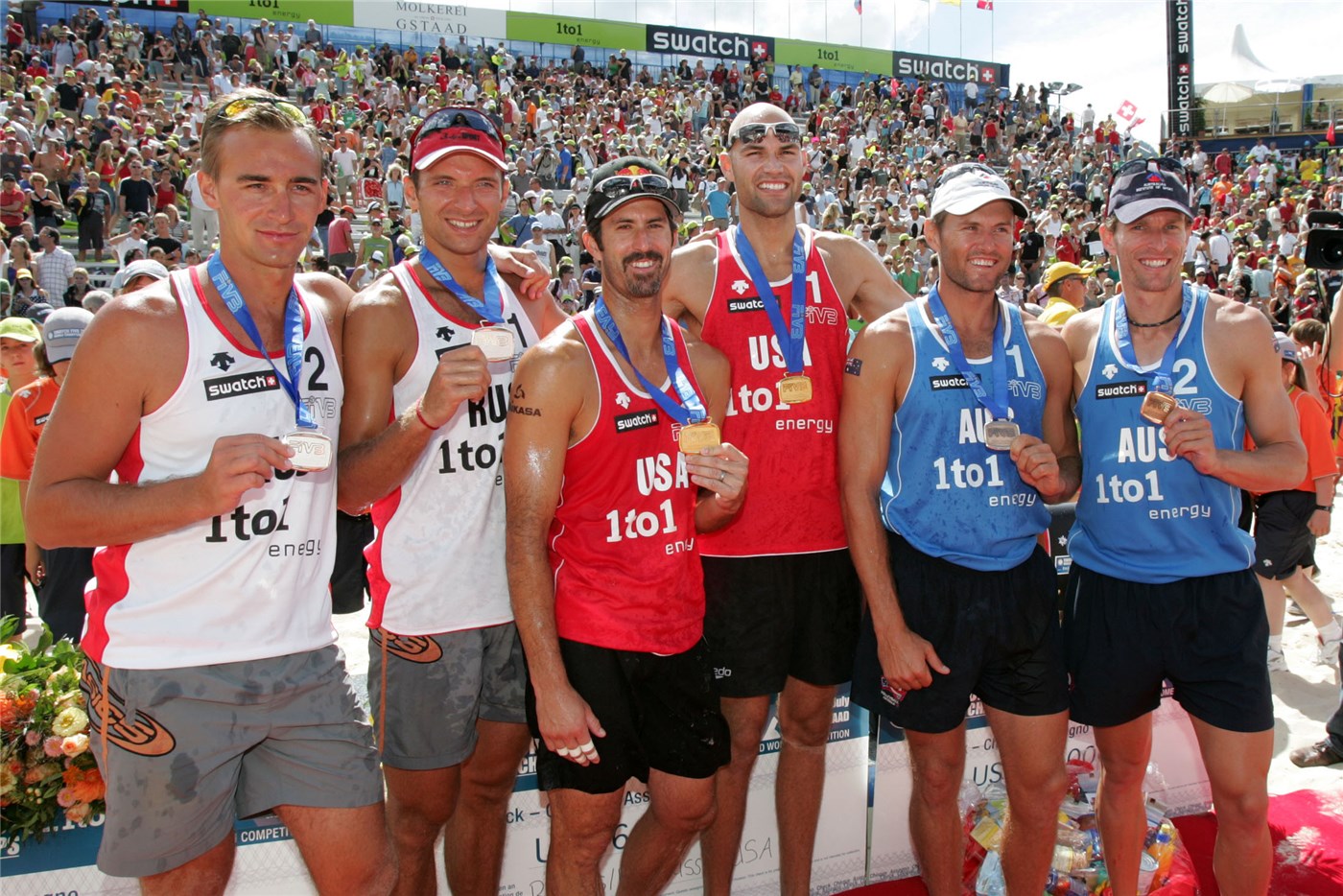 Joshua Slack (right) with his world championship medal along with (left to right) Dmitri Barsouk, Igor Kolodinsky, Todd Rogers, Phil Dalhausser and Andrew Schacht
After losing their first match at the 2007 worlds in the Swiss Alps village, the 16th-seeded Slack and Schacht won their next five matches highlighted by a 2-0 (21-19, 21-16) win over Jian Li and Shun Zhou of China, who had defeated the Australians 2-0 (21-18, 21-19) earlier in the competition.
After falling 2-0 (21-13, 21-19) to sixth-seeded Dmitri Barsouk and Igor Kolodinsky of Russia, Slack and Schacht scored a 2-0 (21-17, 21-19) win in 42 minutes over the top-seeded Emanuel and Ricardo in the bronze medal match. It was the Australians' third win in their last four meetings with the Brazilians, who had captured the gold medal at the Athens Olympics.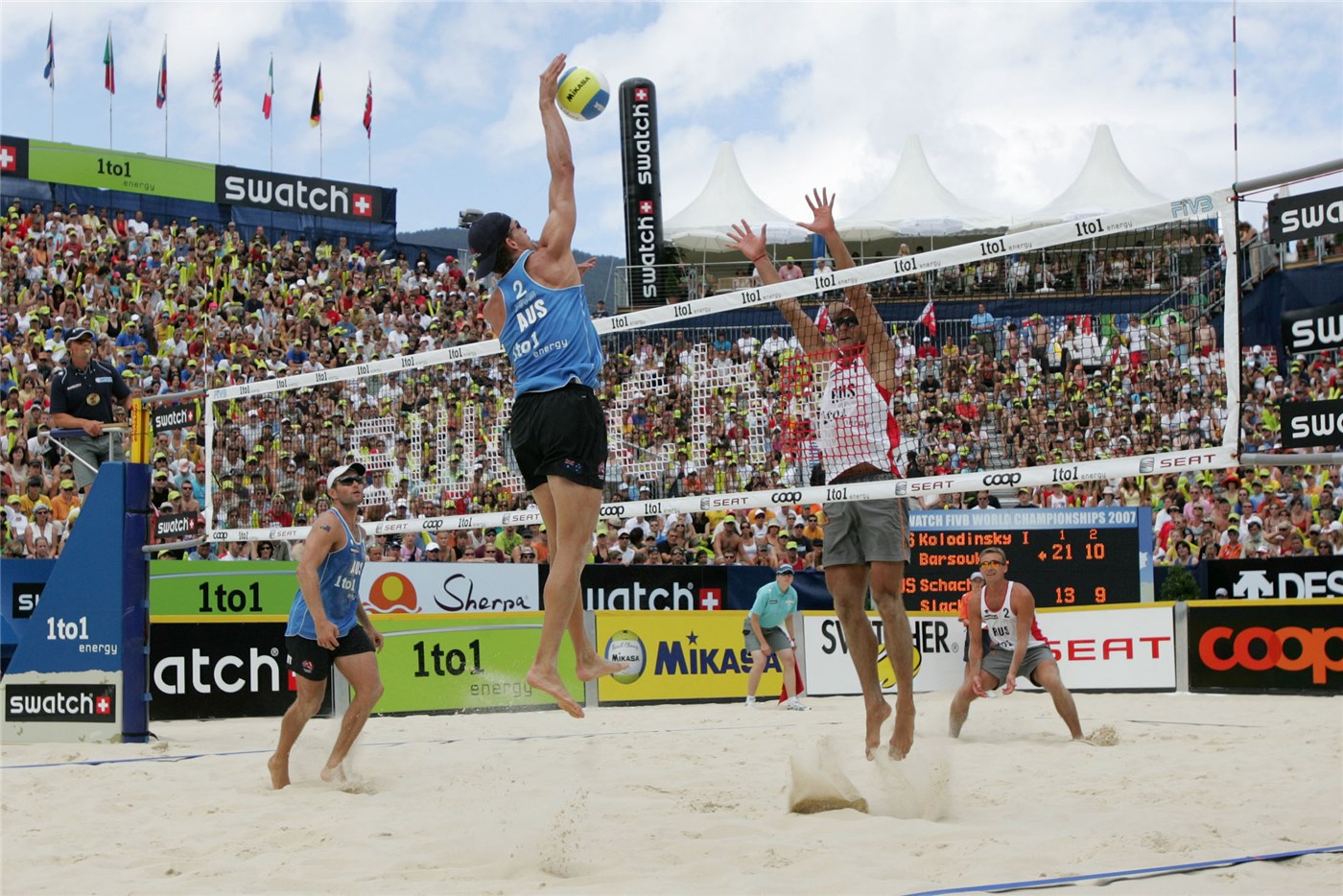 Josh Slack second from (left) of Australia spikes against Russian Igor Kolodinsky (second from left) in the semi-finals at the 2007 FIVB World Championships in Gstaad, Switzerland
The legendary Brazilian pair won eight of 13 FIVB matches with Slack and Schacht with two of Emanuel and Ricardo's wins in Olympic pool play at the Athens 2004 and Beijing 2008 Summer Games. Slack and Schacht placed ninth at both Olympics with Emanuel and Ricardo claiming the bronze medal in Beijing.
"Emanuel and Ricardo were definitely one of our toughest opponents," said Slack. "We modelled our game to try and beat them. We had the mentality that if our game could beat them, then it could beat most other teams in the world. Playing against Emanuel and Ricardo made us play at 95-100% of our best at all times, otherwise we had no chance. We trained for this and this was the mentality we tried to bring against all teams."
The Gstaad 2007 match was the second time the two teams met for an FIVB medal as Emanuel and Ricardo defeated Slack and Schacht 21 days earlier for the gold medal in Montreal where the Brazilians won 2-1 (17-21, 21-13, 18-16) in 61 minutes.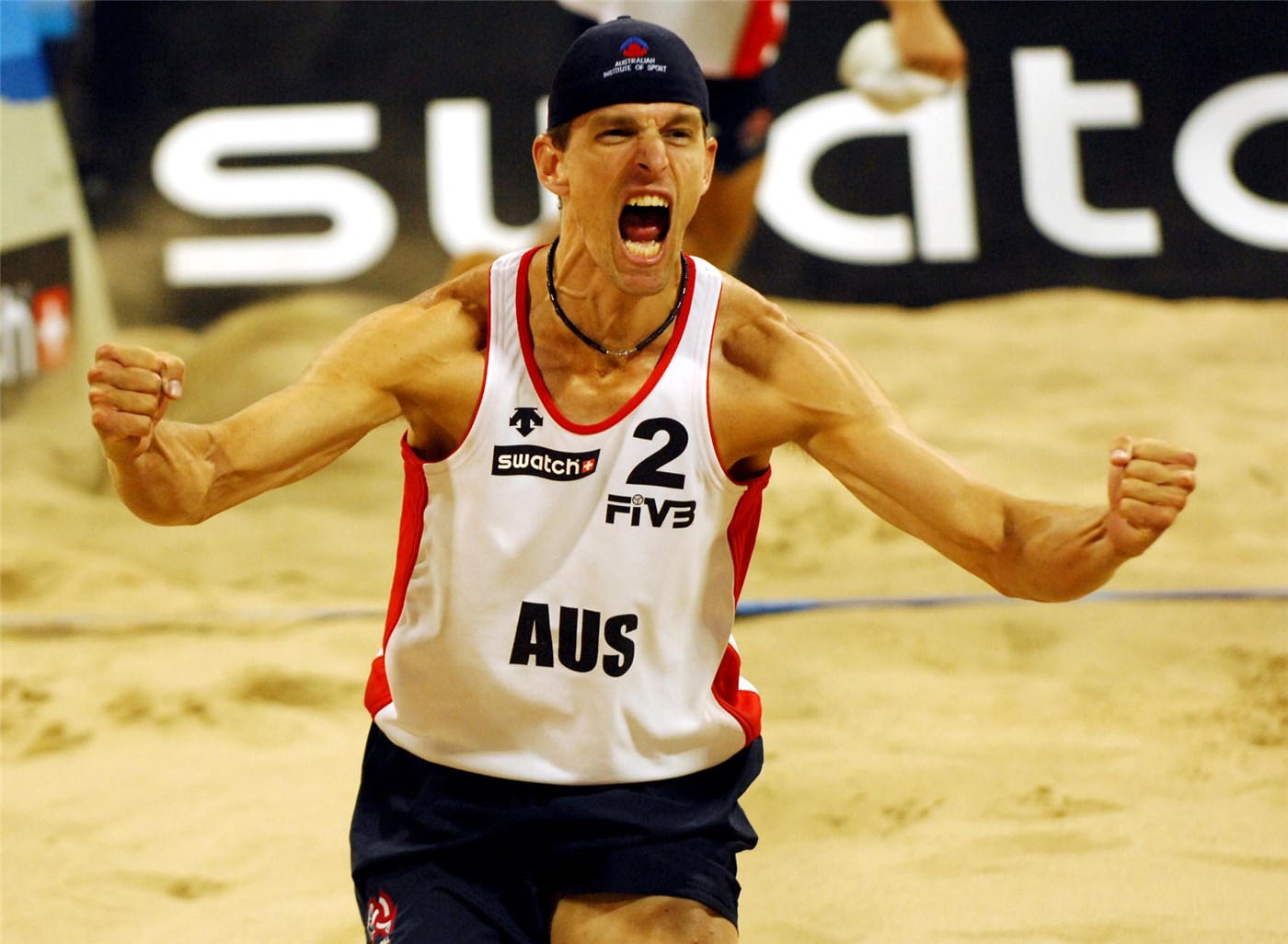 Montreal madness for Aussie Joshua Slack
Slack also listed Phil Dalhausser and Todd Rogers as another top opponent as the Americans captured the gold medals at the 2007 World Championships by defeating Emanuel and Ricardo (2-1 (21-16, 13-21, 19-17) in the semifinals before claiming the title by defeating the Russians in the final.
"They were a great team and at the peak of their abilities at the time Andrew and I were playing," said Slack. "The one team that we had some great battles with was Baracetti (Mariano) and Conde (Martin). We had some amazing matches against these guys."
While the Slack and Schacht were 0-3 against Dalhausser and Rogers, who also claimed the gold medal at the Beijing Olympics, the Australians won only one of 10 FIVB World Tour matches with Baracetti and Conde, the 2001 FIVB world champions.
Competing with five different partners during his FIVB career, Slack posted a 293-243 match mark (52.6 winning percent), including a 170-140 record (54.7%) in 69 starts with Schacht. Slack missed qualifying for his fourth Olympics with Christopher McHugh as the pair lost to Japan in the Moscow Continental Cup competition.
As for favourite sites on the FIVB Beach Volleyball World Tour along with Gstaad, Slack listed the Polish stop in Stare Jablonki. "The crowd was so knowledgeable," said Slack, who placed third in Stare Jablonki with Schacht in 2008. "The BBQ they put on for the players reminded me of home. This was great as we were away for long periods of time."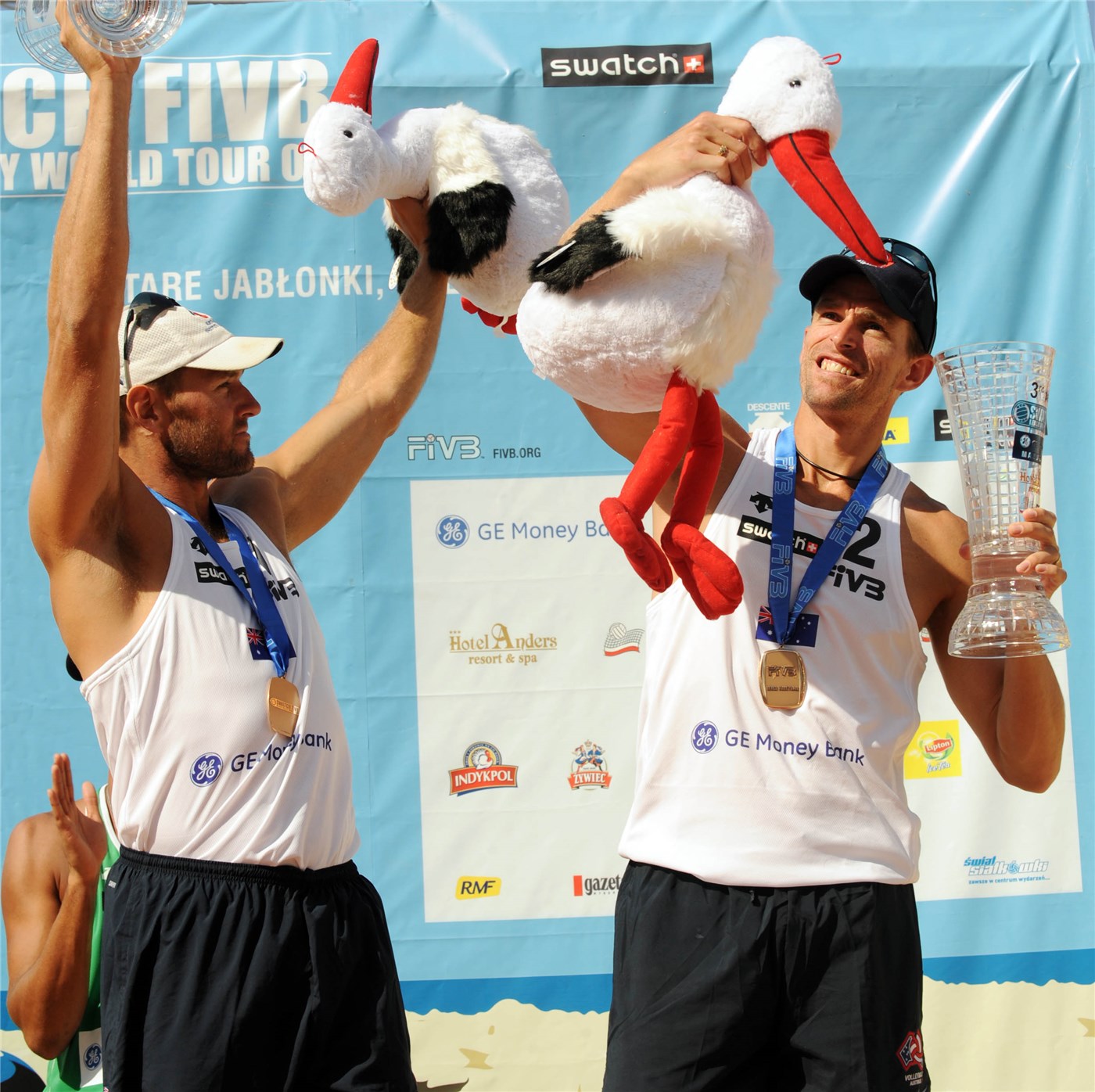 Stare Jablonki 2008 bronze medals for Andrew Schacht (left) and Joshua Slack from Australia
When asked what it takes for teams from your country to be successful on the FIVB World Tour due to the travel from Australia, Slack said "back in our day, the Tour was back to back so we would spend months away from home. To be successful family had to be resilient and be exceptionally good at moving on from week to week."
In looking back on his career, Slack said "to be able to represent Australia at three Olympic Games is a huge honoUr for me. But to be able to give back to the sport has been just as rewarding. I still love going to State Tour events and talking volleyball with younger players, sharing my knowledge and experiences."
Slack concluded his final comments by saying "one of the things I love doing now, outside of beach volleyball, is using my smoker. Creating melt-in-your-mouth meals with great taste gives me much enjoyment these days."
Related links of AVC
AVC Website: click www.asianvolleyball.net
AVC Facebook: click www.Facebook.com/AsianVolleyballConfederation
AVC Twitter: click: https://twitter.com/avcvolley
AVC Instagram: click: https://www.instagram.com/avcvolley/?hl=en
AVC Youtube: click: Asian Volleyball Confederation
AVC WeChat: Asian Volleyball Confederation